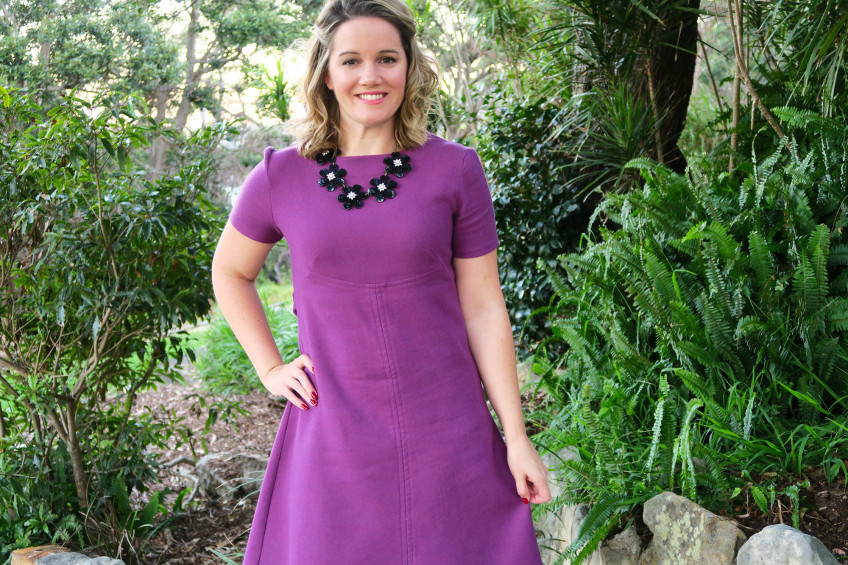 It's getting cold down under and the winter woolies from my wardrobe are starting to make an appearance. It's at this point I could quite easily hibernate for the next 3 months. How I ever lived in Scotland and survived two of their winters, I'll never know! This year I will be more planned though when it comes me what I'll be wearing. I have one coat that I cut out two winters ago that I must finish. It haunts me everytime I see it in my sewing room. I'm also planning on sewing up a Christine Haynes Ellsworth coat in the next couple of weeks. I also had jeans making on my 2017 hit list. Jeans are pretty much my weekend go-to during the colder months - I won't include trackpants here because they rarely are seen in public and thats how it should stay. So if I nailed the perfect hand made fitted jeans, that would be amazeballs.
I made this dress during the tail end of last Winter. It was an attempt to introduce at least some solid colours in my wardrobe. I also have this thing about 1960's shift dress being in one solid colour than in print. Let the accessories do the talking I say. The pattern is one of Simplicity's vintage reproduction patterns - Simplicity 3833. This pattern has been around for quite some time and I think it's pretty versatile with respect to fabric choices and alterations options. I love the bodice seam lines on this one, it screams 1960's.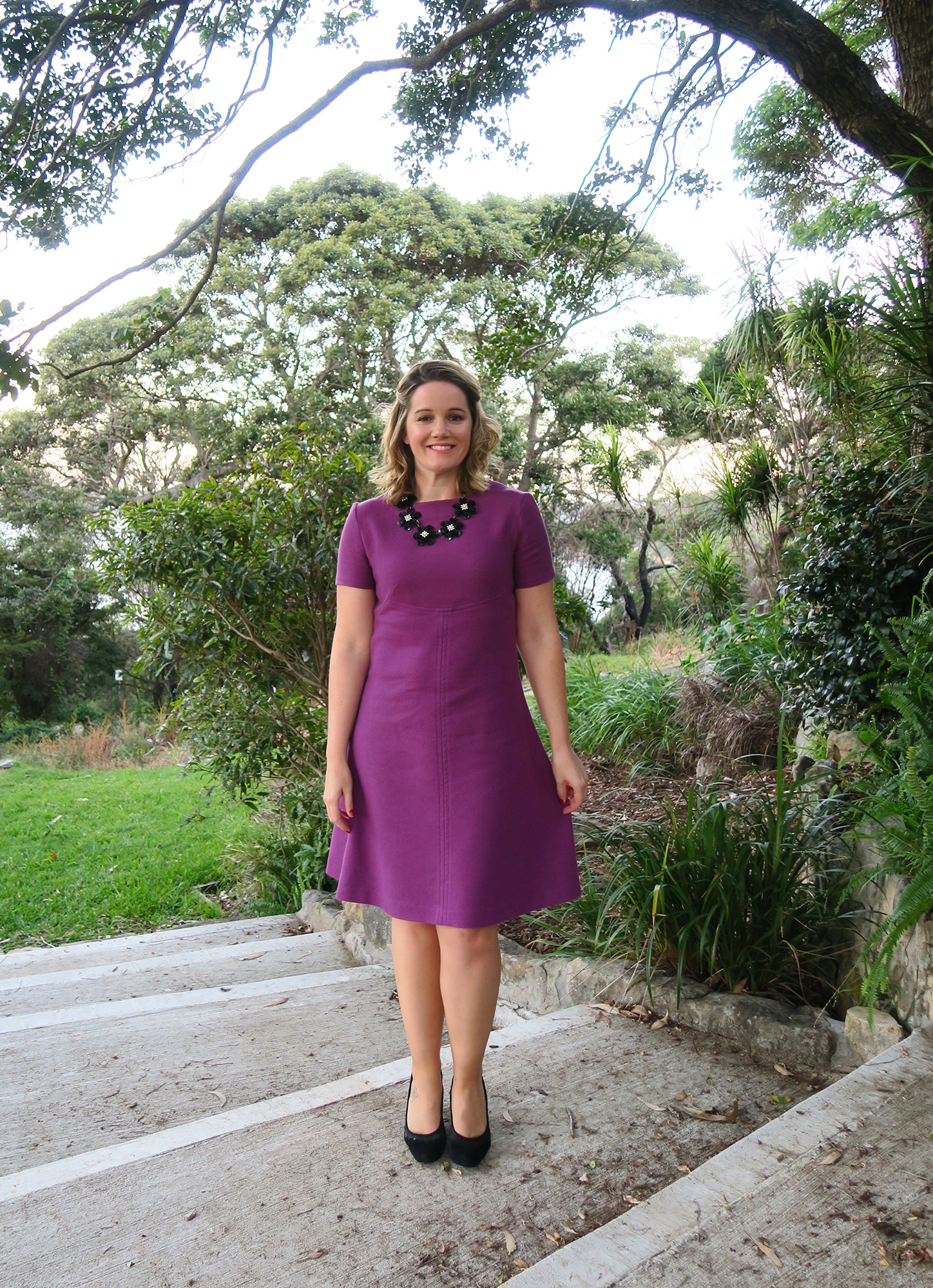 I made this out of a fabric I picked up at The Fabric Store in Sydney about 9 months ago. It's a wool with a bit of lycra in it. It's super cosy to wear, and you can get away with it during the warmer months too. It's relatively thick fabric, which works well with this pattern because it needs a little structure. Anything too drapey and you would lose the A-line of the dress style. I cut this dress out in a size 12, but I did grade out to a size 14 from the hips down. I've found with a few 60's vintage pattern they are narrower on the hips and I've needed to grade out everytime. I also added about 5mm to thw width of the sleeves in case the fit was too tight.
For the fit of this dress, I only made changes to the side seams, taking it in a little around the bust. I also added about 1.5 inches to the length of it. I would love to wear it shorter to fit the style more, but I'm just not a short dress/skirt wearing gal. Especially at work. You could do a shorter hem if you chose to wear black tights with it - I think that would work really well.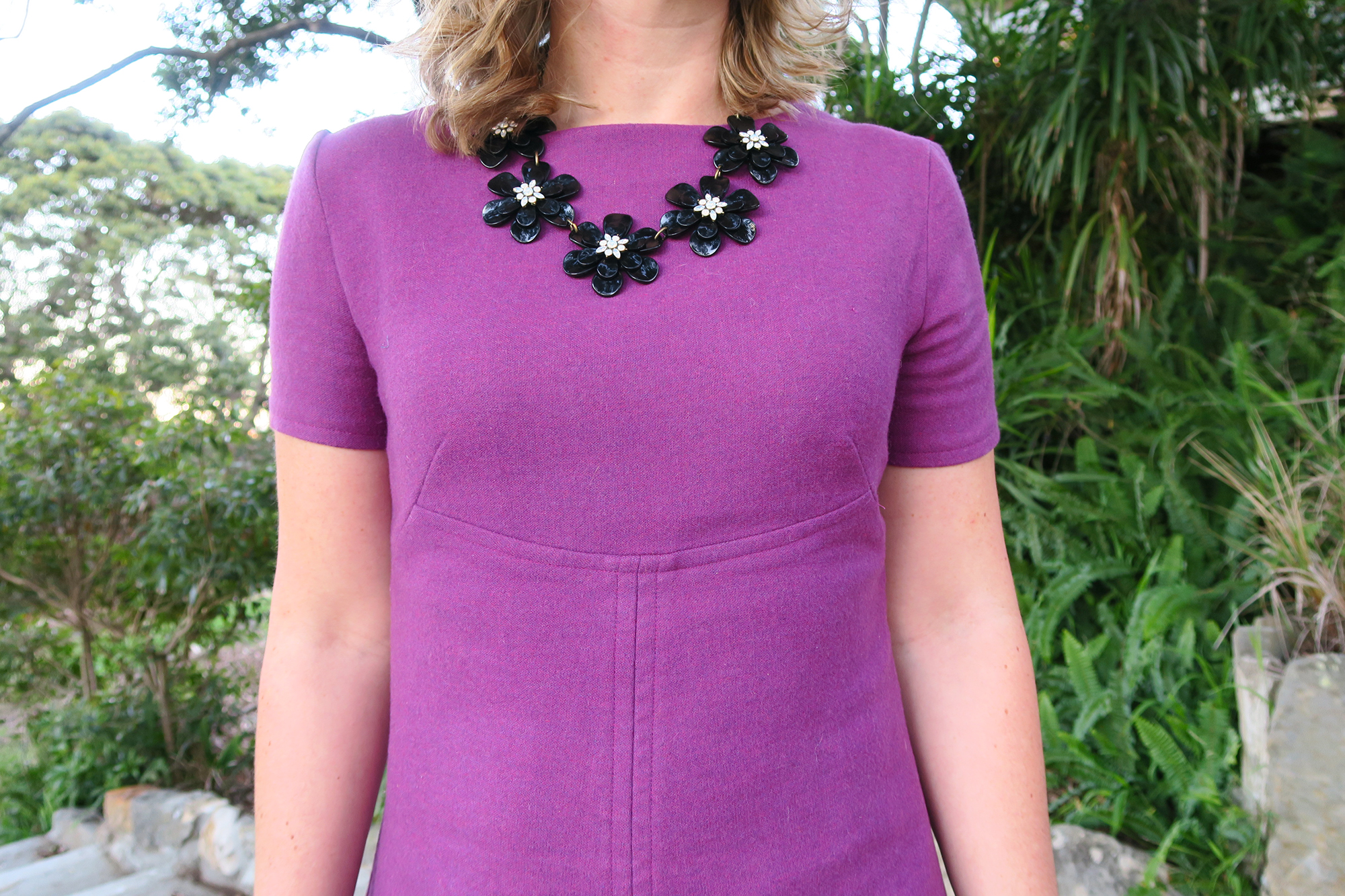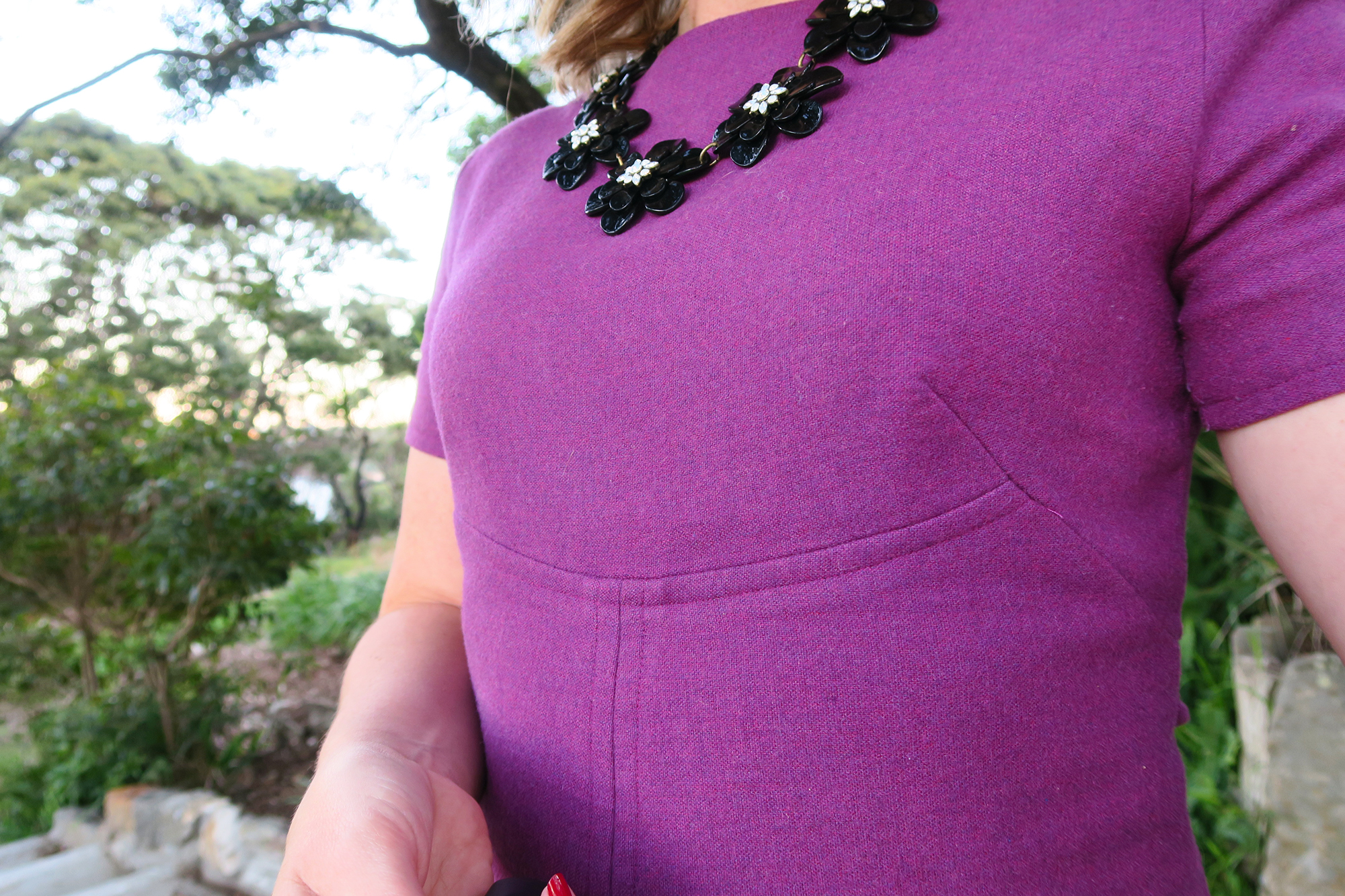 In keeping with the vintage look of it, and limitations with thicker fabric, I put in a lapped zipper at the back instead of my ususal invisible zipper. The outcome of said zipper insertion is the one thing I'm unhappy about with this dress. Due to the movement in the fabric it took a couple of goes to get a good zipper inserted, and I'm not 100% happy with how it turned out at the bottom of the zip. The stretch in the fabric led to it bunching a bit at the bottom. I couldn't handle the idea of unpicking it again, so I'm just living with it. It is a little hidden by the strap across the back that adds a bit of feature. No idea what the strap should be called! I finished off with a hand stitched hem.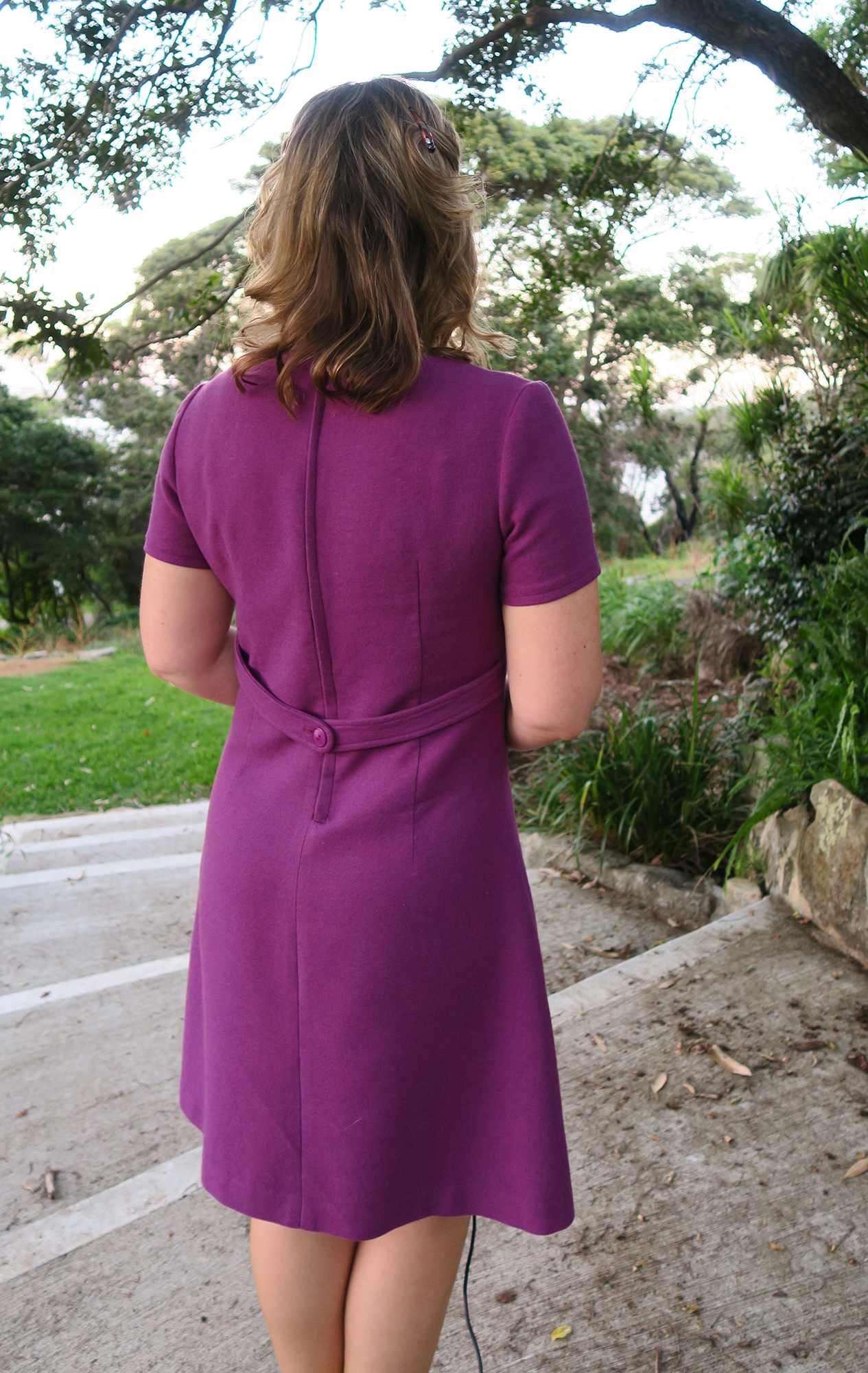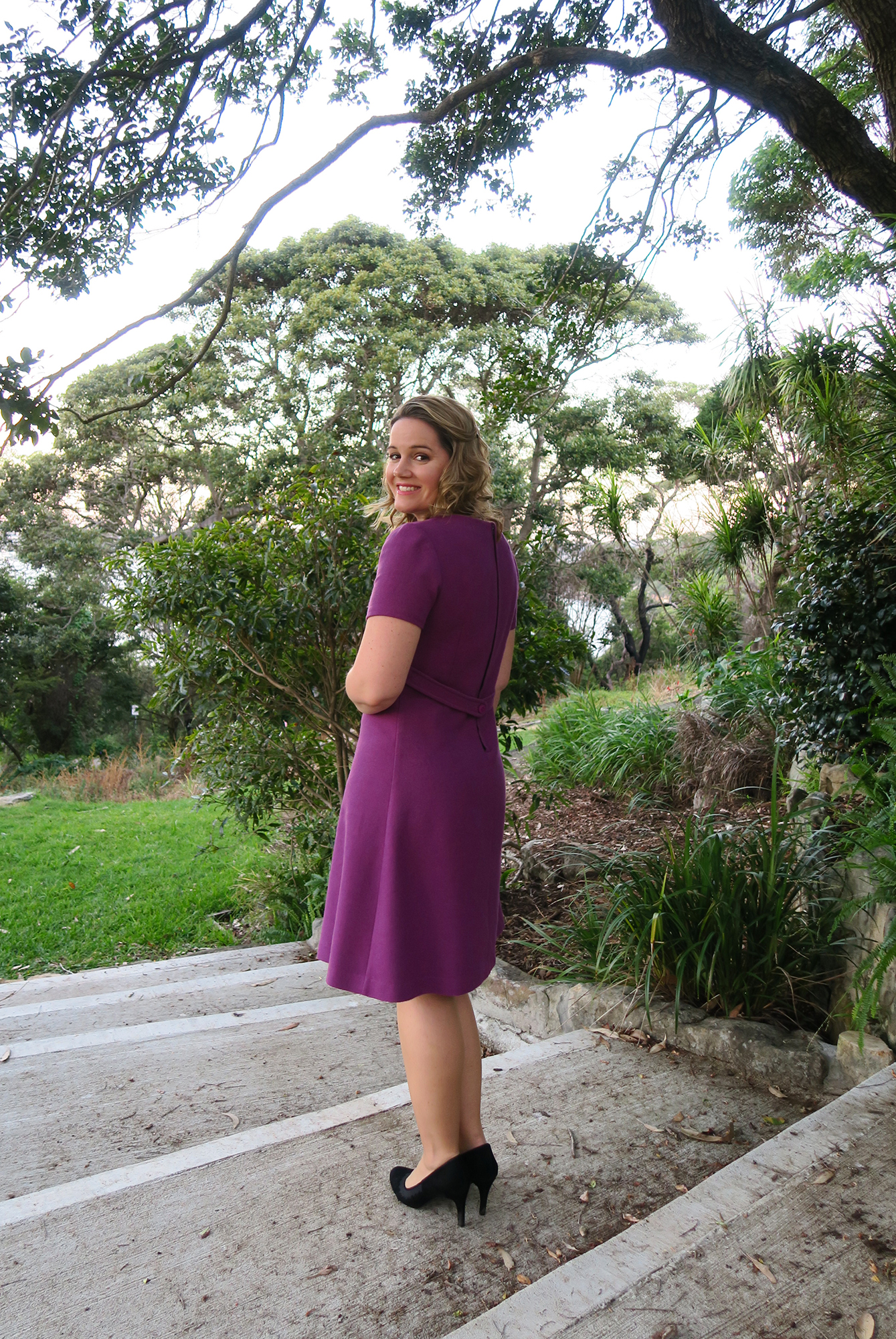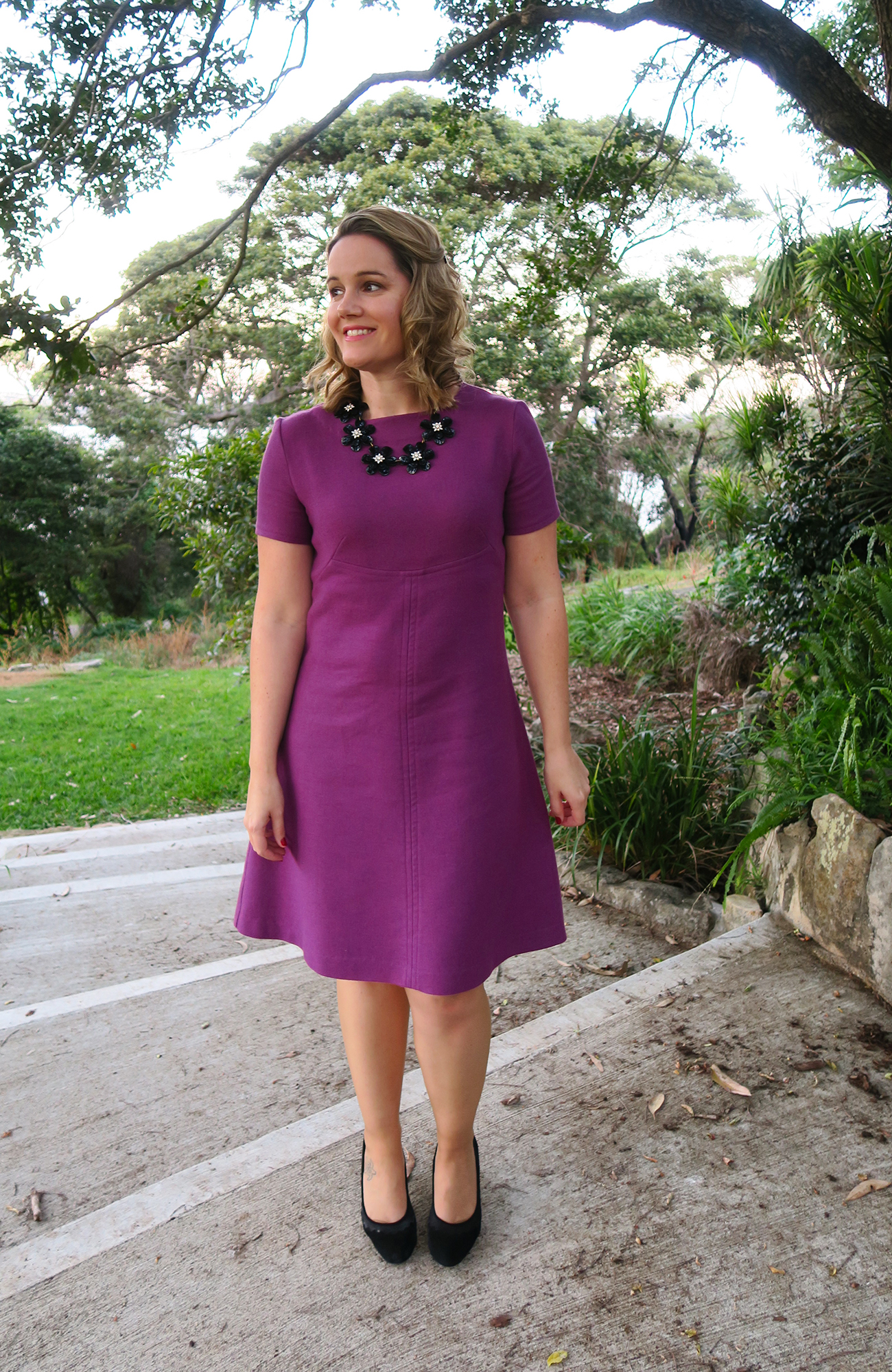 I'm happy with how this turned out and it is comfortable and cosy to wear in the colder months, which is great. It also requires no ironing, which is a big win!