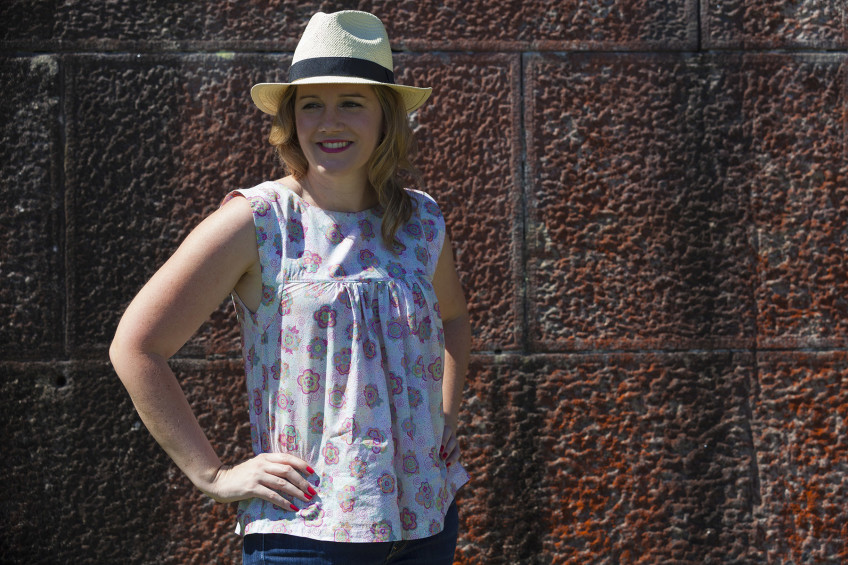 Well it's my first post for 2015 and I'm sitting in a hostel in Cairns waiting to head off to the airport. I've just spent a lovely week in Cairns with my Scottish friend Rhiannon. We saw the amazing Daintree Rainforest, The Great Barrier Reef and the Atherton Tablelands. So many beautiful natural wonders of the world in one spot. We did head here during monsoon season so we copped a fair bit of rain, but who cares when you're swimming under a waterfall in the rainforest!
In Cairns I did also discover a laneway of lovely vintage stores. I could have died and gone to vintage heaven. The prices are so much more reasonable than the vintage stores in Sydney and they had some great stock. I picked up 3 vintage sewing patterns including a 1960 Paris Vogue Original by Lanvin still factory folded for $10. I also bought a cute 1960's dress that someone had home sewn and it fitted me perfectly - check it out here. It makes me wonder what ever happened to that home sewer and would they have ever thought I would be wearing their dress today. It made me think that I should label all my home sewn clothing before it goes to charity, as you never know one day someone might look up Bobbin & Baste and stumble across my 50 year old blog!
Despite the fun I have had on this trip I did miss my girl Bernina. When I have had downtime between sights I wished I could have just popped my machine out of my suitcase and whipped up something to wear. This is the longest sewing-free time I have had since Vietnam last April and I'll be glad to have her nearby soon enough!
I have lots of outfits to blog about given the blog neglect of late, so let's start with this little number – the Alice top/dress byTessuti. I think what drew me in to buying this pattern was seeing it made up in Liberty fabric. Any ol' excuse to sew with Liberty, right? I also thought it looked like an easy versatile top to wear. It was also meant to be as I had pink Liberty print and had just bought matchy pink pants at Gap. Winning.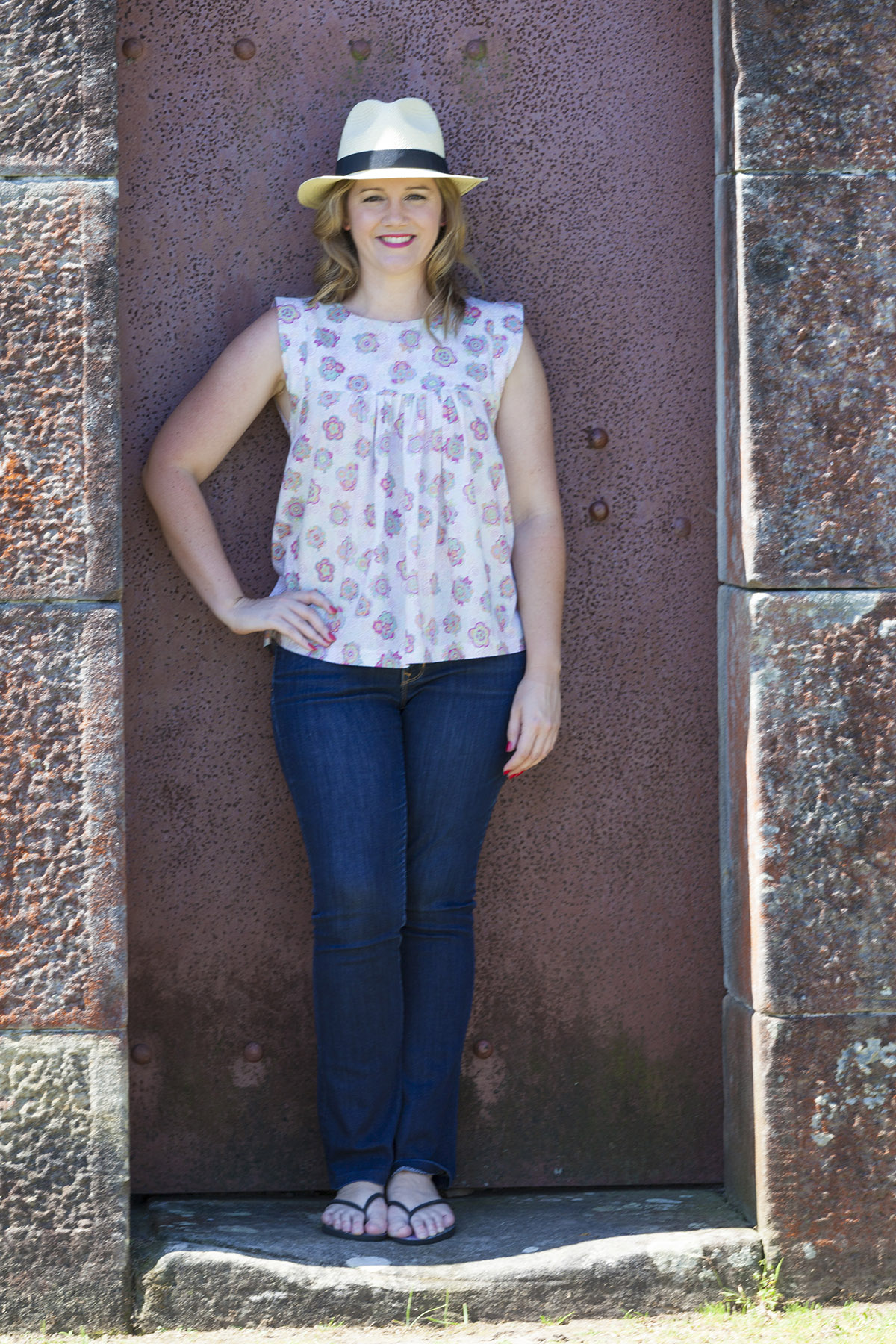 The Alice pattern is a smock style top/dress with a self-lined yoke bodice with shaped armholes and a softly gathered body on front and back. It rocks a bit of a maternity style vibe, but that's what makes it comfortable, so bring it on.
As I mentioned, I used up a Liberty print I already had in my stash from a UK trip I made a couple of years back. I don't rush into sewing up my Liberty fabrics, but I don't really know why as it's not like they are limited edition. I just can't bear to cut into them sometimes.
I cut out the top in a size small and sewed it up in about half a day. The instructions are great and it is a good beginners top. I didn't make any alterations to fit but if I made it again I might allow for more roominess around the bust as I feel it does pull a bit across. The only main change I made was to shorten it about two inches. I felt having it original length didn't do me any favours as someone on the shorter side. I think the longer length might suit someone taller and/or leaner in build.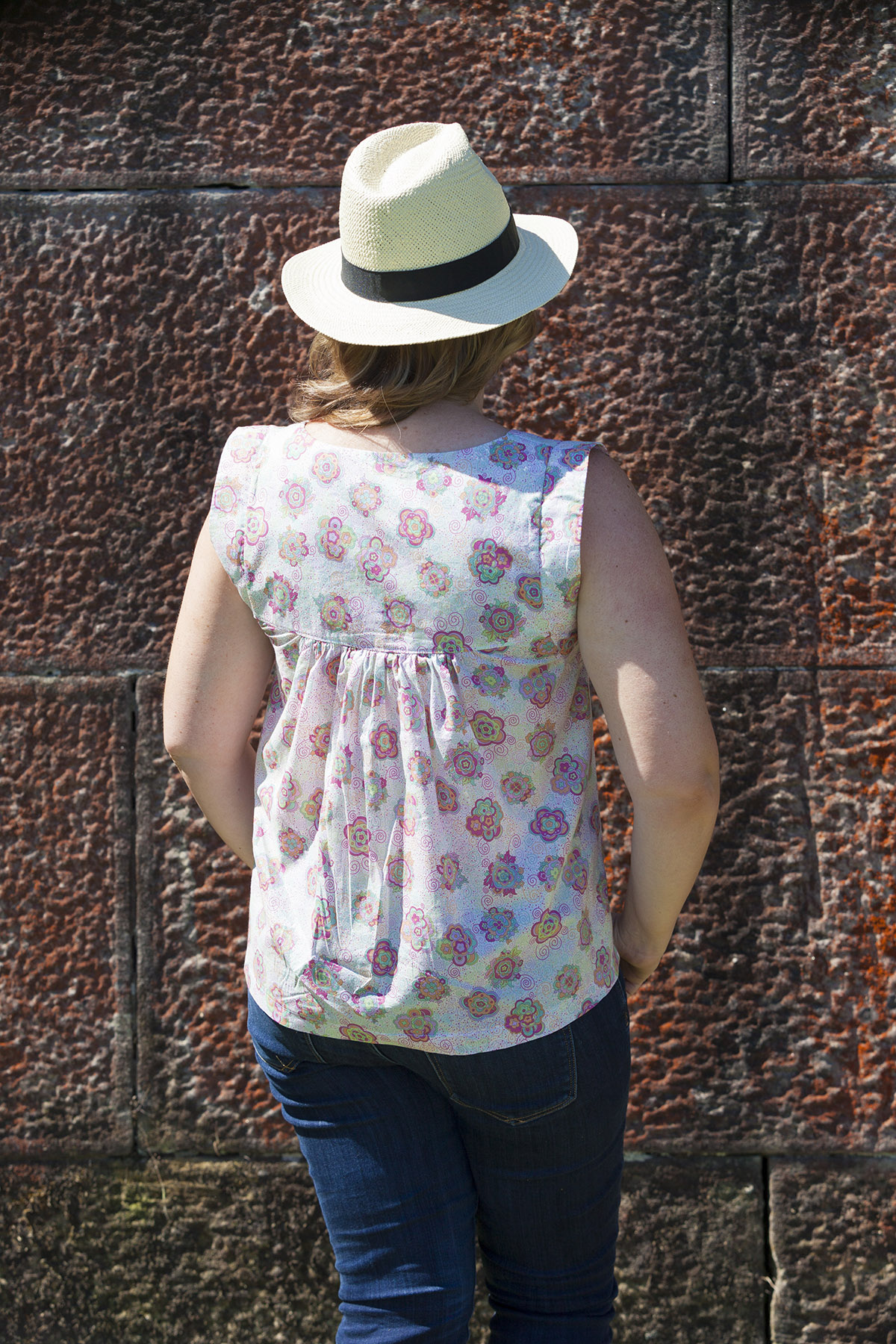 I can't say much more about this one, except that if you are after an easy summery top to mooch about in, then this is your go-to. No buttons, zippers, collars....too easy!