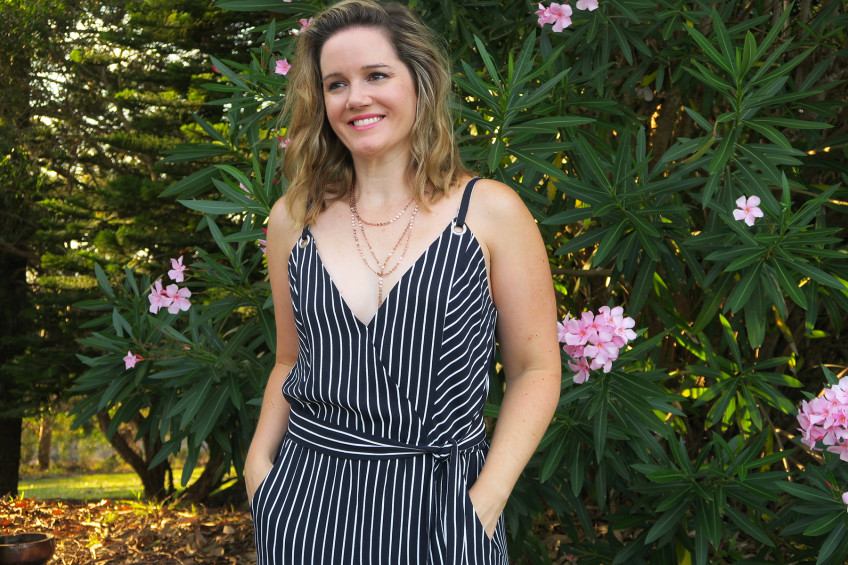 I'm blogging at 10pm on Friday night (rock n roll!) exhausted after a pretty big week, but this is the only window of opportunity I have until next week. Somehow I've managed to overpack my weekend, and I may not get to sew at all. Bit of a disaster given I have been hoping to make an outfit for my BF's 40th birthday party next weekend, for weeeeeks now. Grrr. I might manage a bit of fabric (window) shopping though because I'll be in the vicinity of one of my favourite fabric shops - The Remnant Warehouse - whilst volunteering for Dress for Success. If you're in the area, amirght?
When my birthday hit last November, I organised a lunch with some of my favourite people at a fab pizza restaurant at Manly Wharf, which on a sunny day there can be no better place to be. So given the occasion, I hit the sewing machine to make an outfit. I've been a little inspired of late to give a jumpsuit a crack given I'd seen so many fab ones in the fashion pages and amongst the sewists. I have always felt a jumpsuit wasn't something in my future, because I rarely wear pants and I just didn't think it would work for me. But, I decided to throw caution to the wind and give it a go. I went with one I'd seen a few times on Insta that I quite liked the wrap style bodice and 'relaxed fit' of - New Look 6493. It has an elastisized waist - who doesn't love that when eating pizza!? I also liked the thin straps and wrap bodice front and back. I paired the pattern with some lovely drapey striped viscose from The Remnant Warehouse which enabled me to play with the direction of the stripe on the side bodice pieces which are cut on the bias.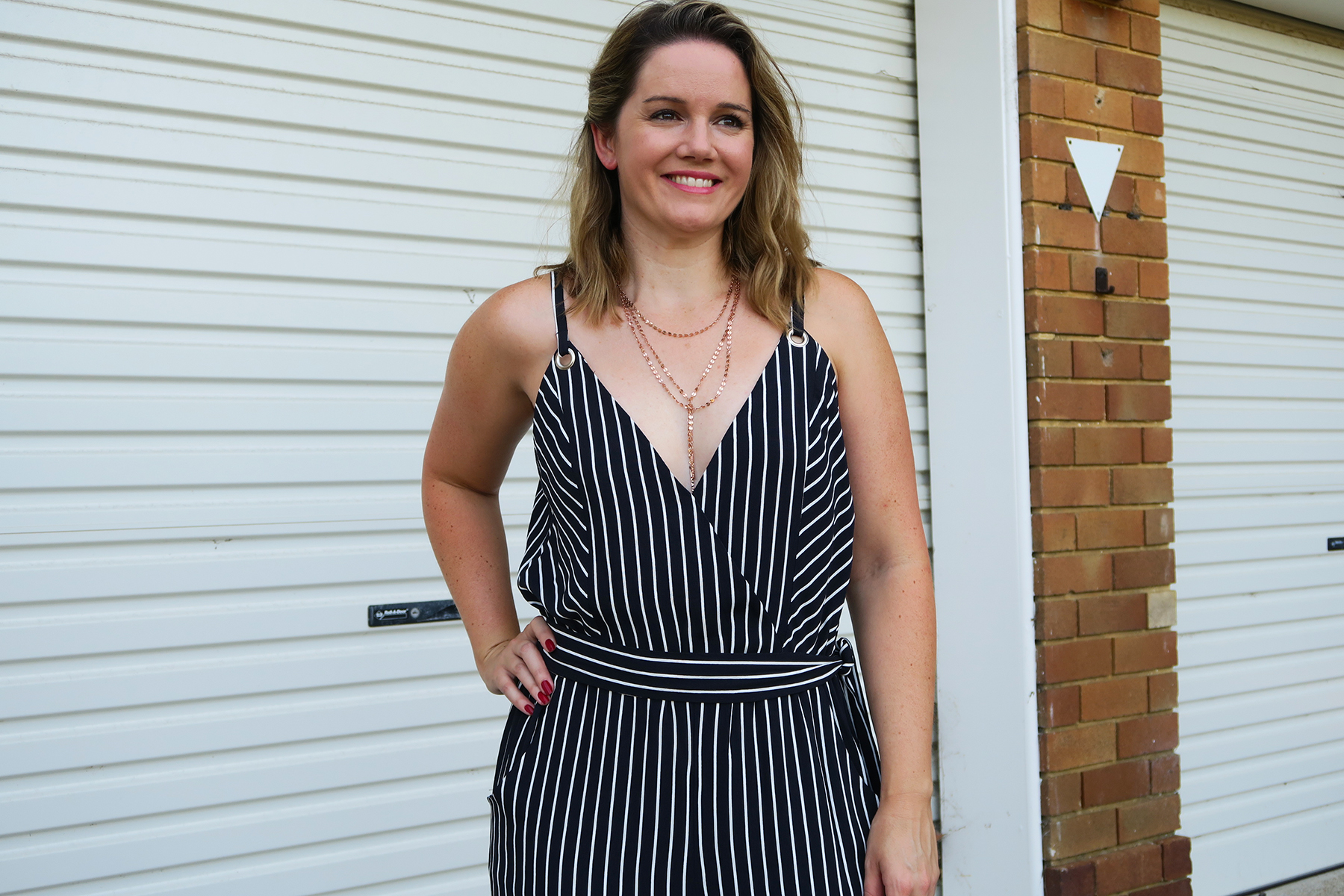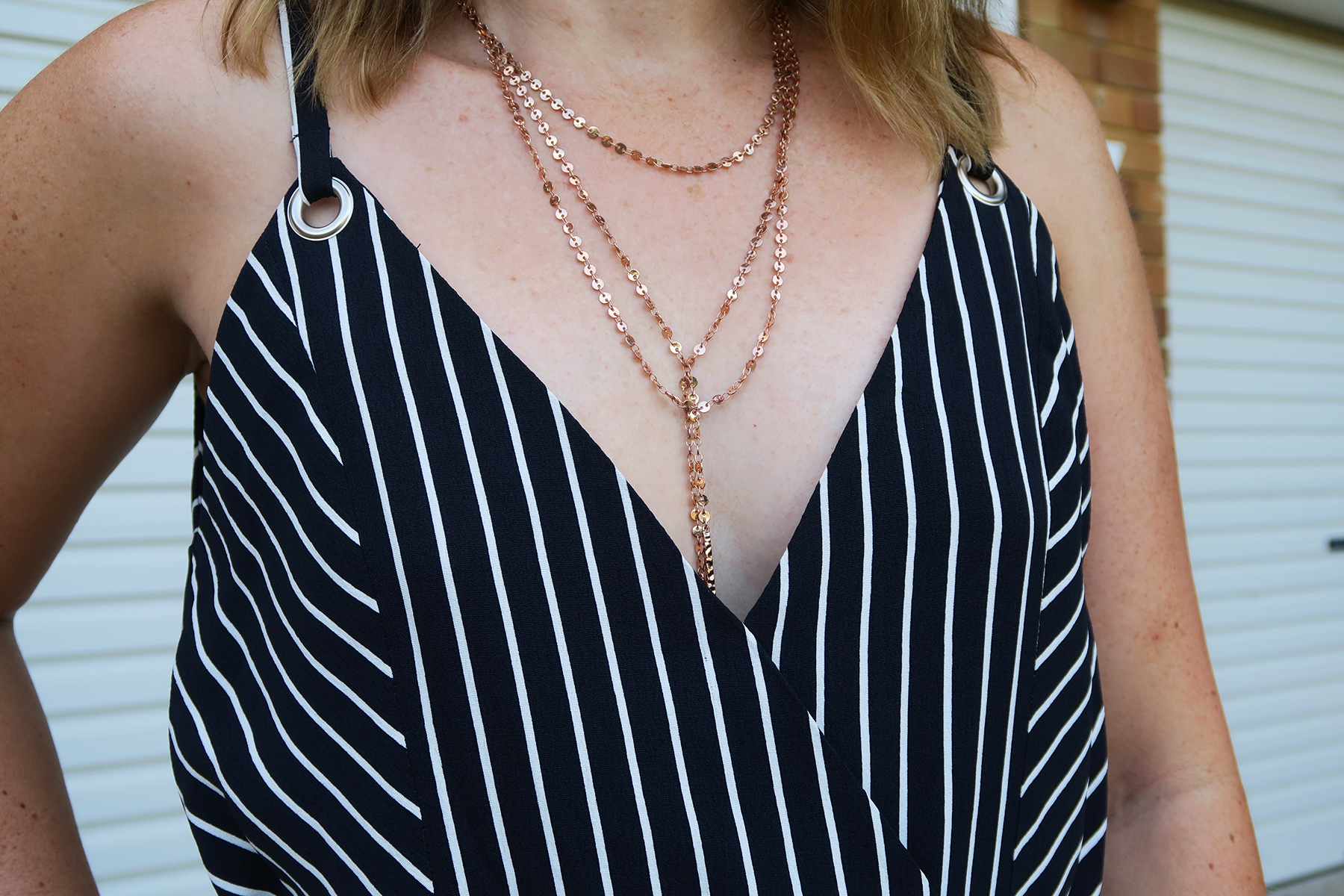 Given my lack of pant making, I wasn't sure of what sizing to go with. But a lot of reviews on patternreview.com suggest that the pattern sizes are generous, so I went with a size 12 slightly graded so it's more like a size 13 for the pants, and I cut out the bodice in a size 10 given my lack of boob, and the fact I wont be accommodating a bra with the outfit. There isn't much fitting involved with this pattern because of the elasticized waist it's pretty forgiving. I didn't use the elastic guide for the waist and just put the elastic around me and made a call on how tight I wanted it to be.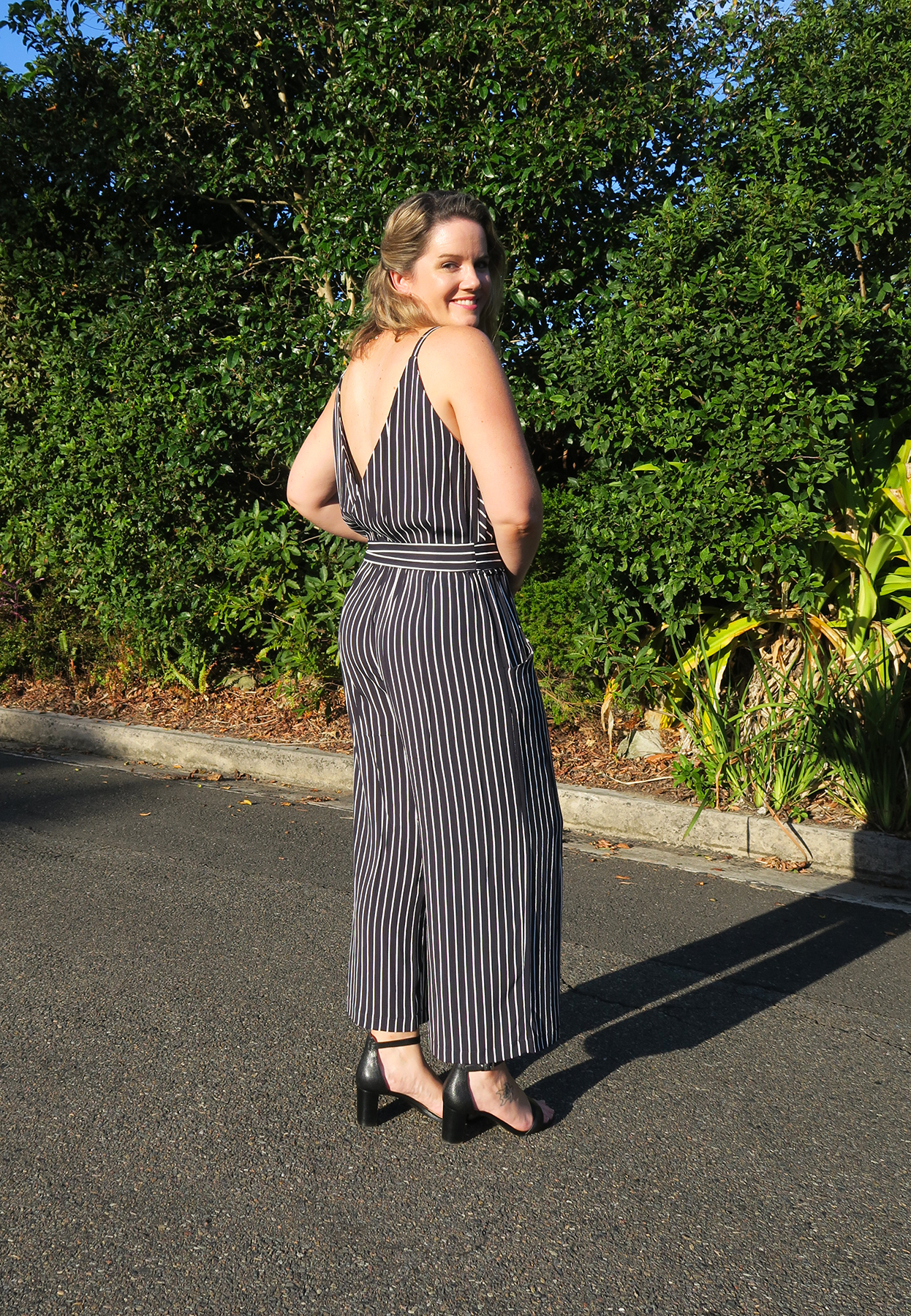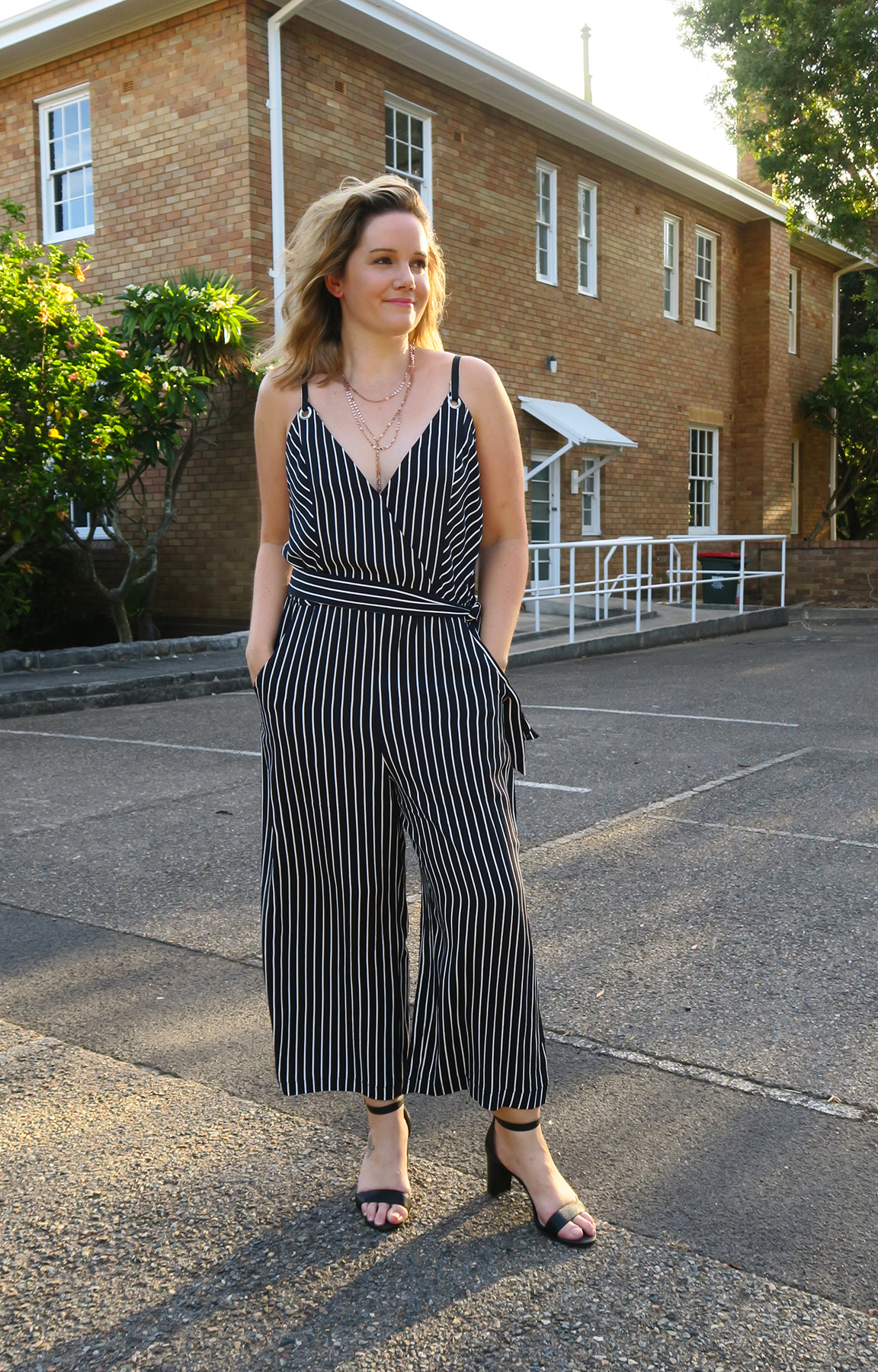 Construction wise, the pattern comes together pretty quickly. There was some back and forth with getting the overlap on the bodice right so when it was sewn together the overap sat in the right spot for my chest. I did make a couple of changes to the jumpsuit. Firstly, I couldn't decide what length to go with originally, so I cut out the long length then sought council from my girlfriends on full length or cropped legs. Consenus was to go with cropped so I ended up shortening them quite a lot at the end of the construction process. I also spotted in a magazine a top with straps held onto the bodice with giant eyelets which I though was pretty groovy, so I tried that out to on the front of my bodice. Shame I had to spend about $15 on a packet of eyelets when I only needed two of them. I do like how it turned out though and might eyelet more things in my future. I have spare!
To avoid nipplegate, I did a small handstitch through all layers on the bodice front where the wrap meets just to feel a little more secure. I also ended up wearing fashion tape along the wrap edging so I would feel less worried about bending over.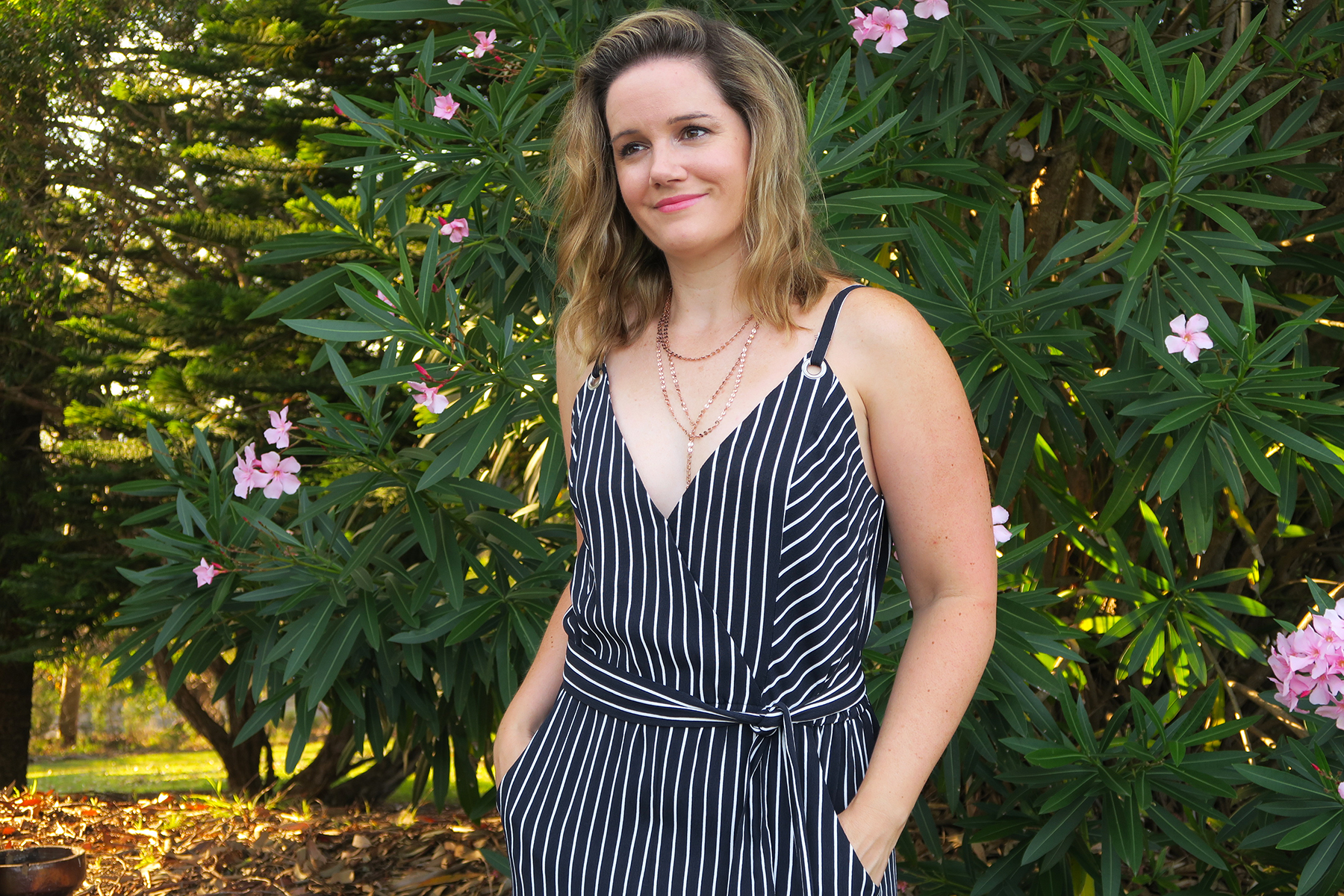 I think I am now a convert of striped jumpsuits. I'm already thinking of making another one in blue and white striped linen. Now I just need to choose which pattern because there are quite a few good ones out there at the moment. The comfort factor overrrides the annoyance of having to basically get nude when going to the toilet. It's really not an outfit I would wear in the winter. Till next time folks...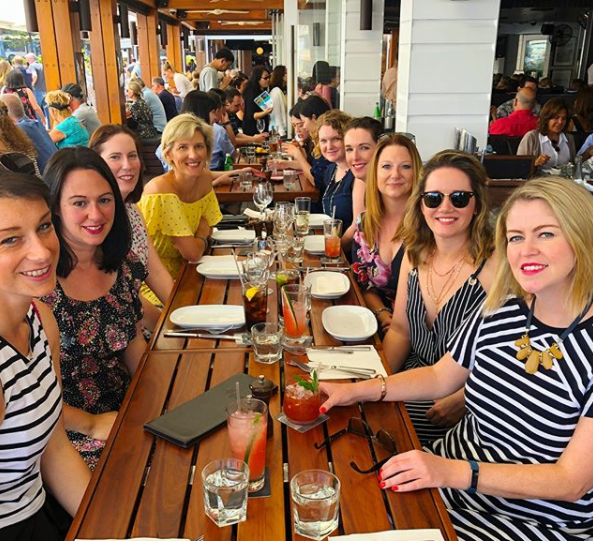 Birthday lunch....apparently stripes are in.