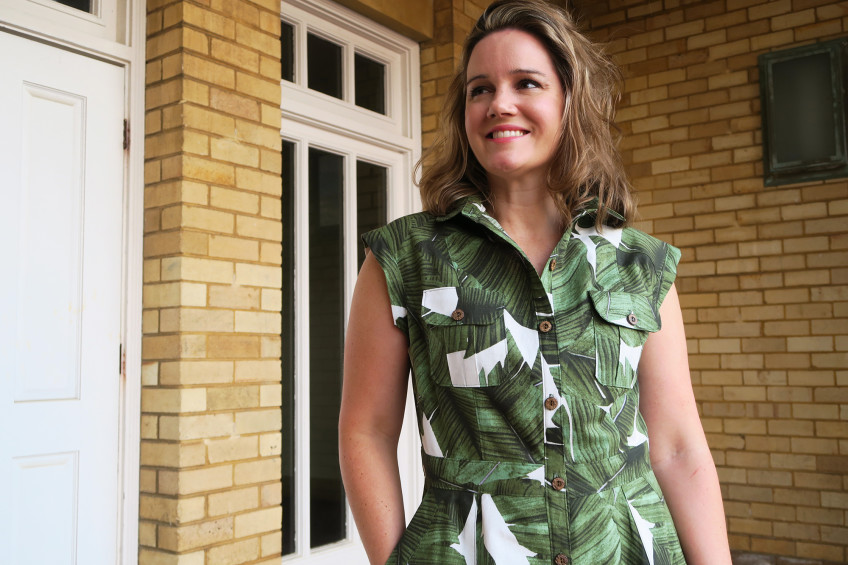 Hey y'all. After a short hiatus, I'm back to the blog. I didn't stop sewing, I was just struggling to find the time to take snaps for the blog. If I'm honest it was probably because I hate doing it. Nothing feels more awks than taking pictures of yourself in public. I do my best to find location where there are no people - even though I'm sure no one gives a shit about what I'm doing anyway - and a location where the wind doesn't get in the way. The wind is so infuriating for taking photos. Wedding photographers must loath taking pictures on windy days. Hair flying about everywhere. Dress flipping up. Grrr.
So these pictures were taken on one of those windy days, so there were a lot of photos deleted! I'm probably about the one millionth sewer to make something out of this fabric. I heard from my local Spotlight it was very popular, and if social media if anything to go by - yes, it is! It's a cotton linen with a banana leaf print on it. It's not something I'd normally go for, but I could always do with more green in my wardrobe. It's also not really the greatest quality. Having recently dipped into the world of linen with some milled linen from The Fabric Store, I can now appreciate the difference in quality. Buuuut in it's defence, it did wash well and maybe the cotton composition in it makes it feel rougher to pure linen.
I bought Megan Nielsen's Matilda dress pattern as soon as it launched. I love a shirt dress, and I loved some of the finer details on this one - the pleated breast pockets, the roomier pockets, the sleeve bands. I decided to use my banana leaf fabric with this dress pattern and rock out my inner safari chic. For this dress I cut out a size medium. I normally cut out a small for Megan's patterns, but I wanted to ensure it was big enough at the hips. So I opted to size up knowing I'd probably take it in a little at the bodice and grade out to the medium on the bottom. This ended up being a wise decision because the fit on the hips is great. I took it in on the bodice sides and shoulders by about 0.5cm on all seams. The dress bodice is still quite roomy, but I think it looks ok.
This dress has A LOT of pattern pieces. Most of my floor was covered in the pieces as I worked through them. But never fear, the dress pattern instructions are fabulous and it's easy to work through all the pieces and see it come together.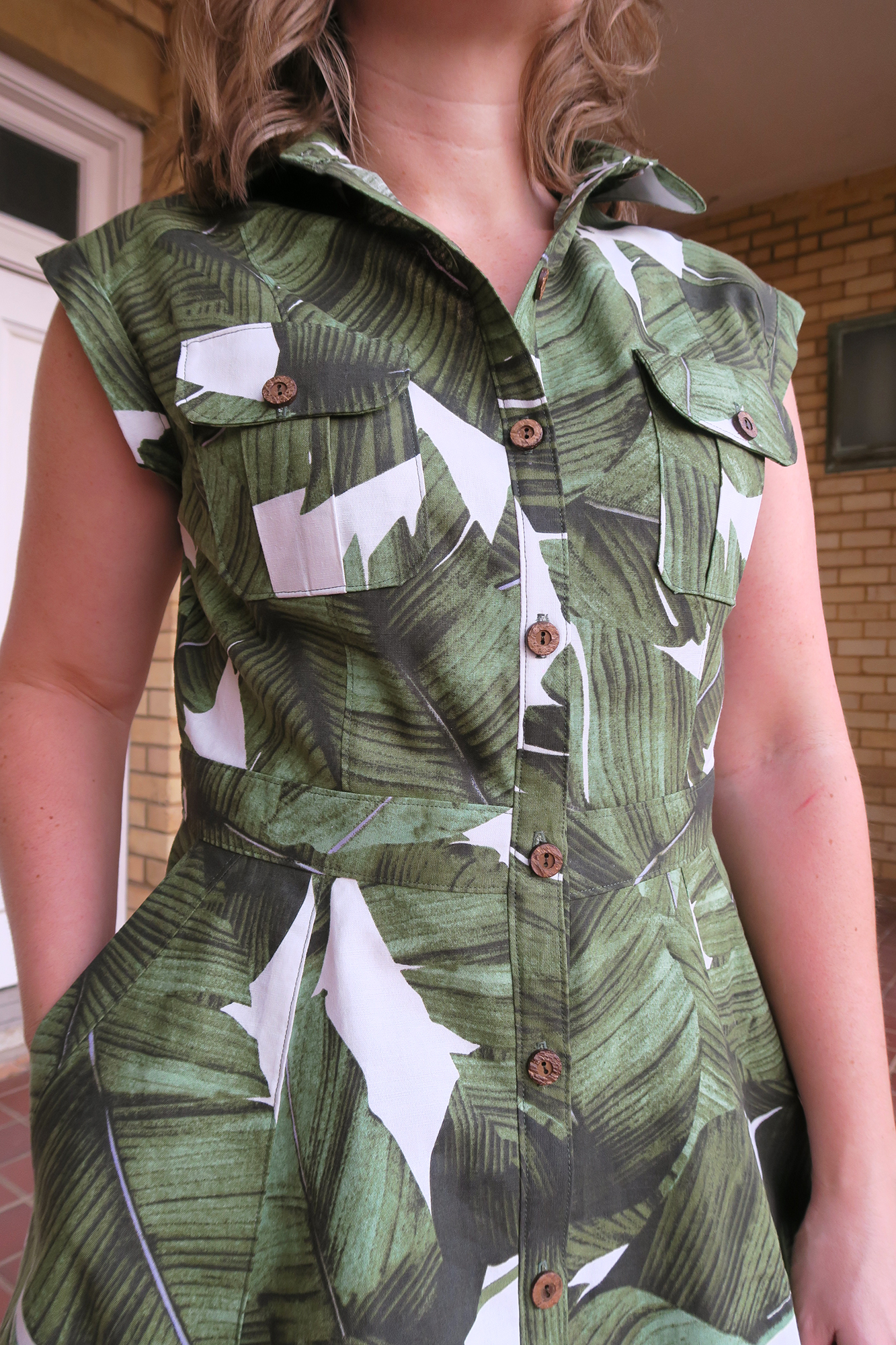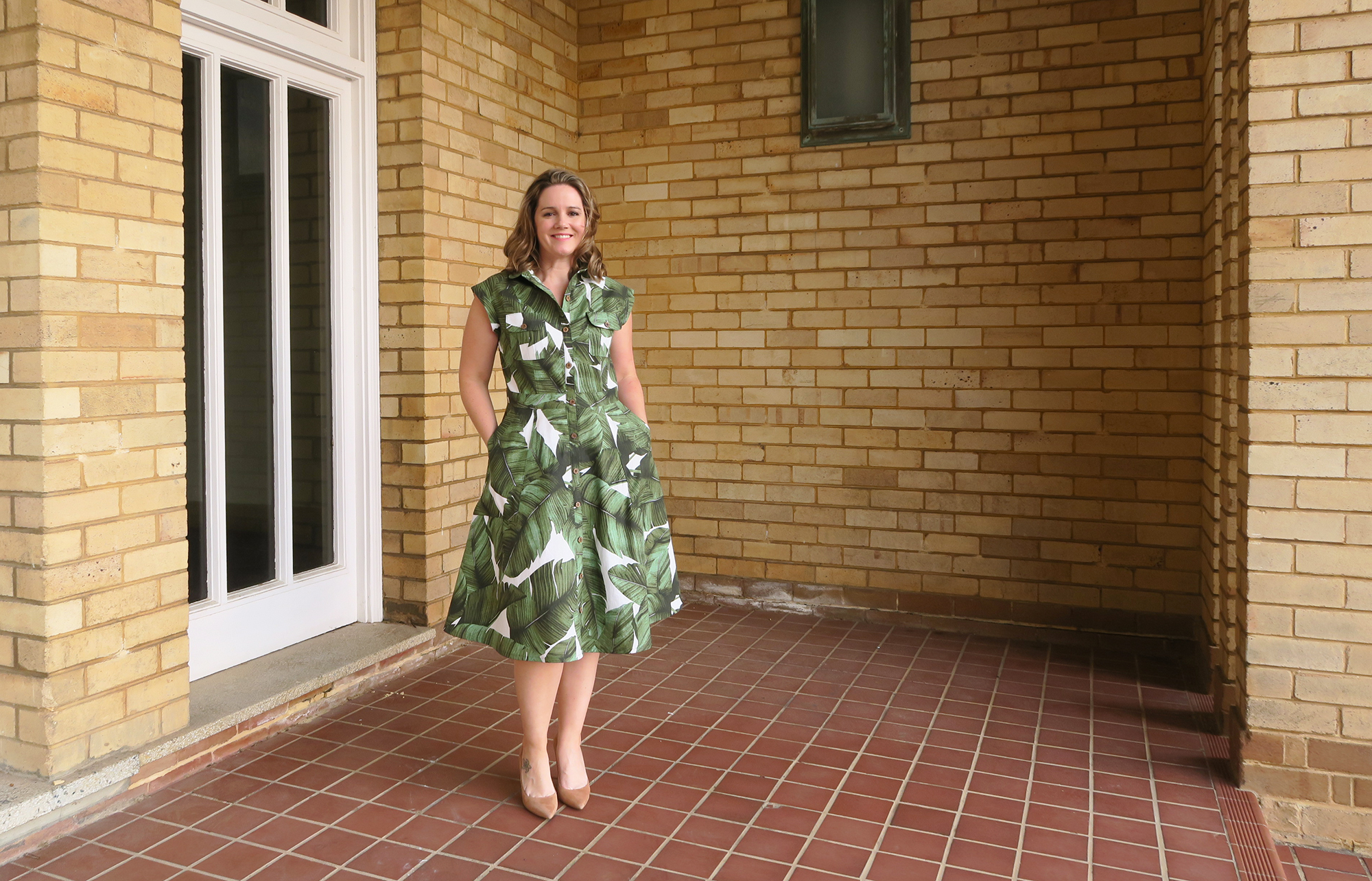 I struggled getting the collar stand in, and it looking bang on around the top button - always the way with me! I find the method Grainline Studios has for inserting the collar stand onto their shirts is better for a neater finish at the collar stand ends. I might use that method all the time instead.
I found when I was putting the button placings onto the dress they didn't seem to match what I could see in the dress drawings on the instructions. I assume that was my brain not functioning. So I put a button hole right on the waist band and then worked from there, evenly spacing them above and below for the rest of them. I'd purchased buttons from Spotlight made from coconut shells - I assume they were made from coconuts because it's cheaper than wooden ones, but have still a similar look to them.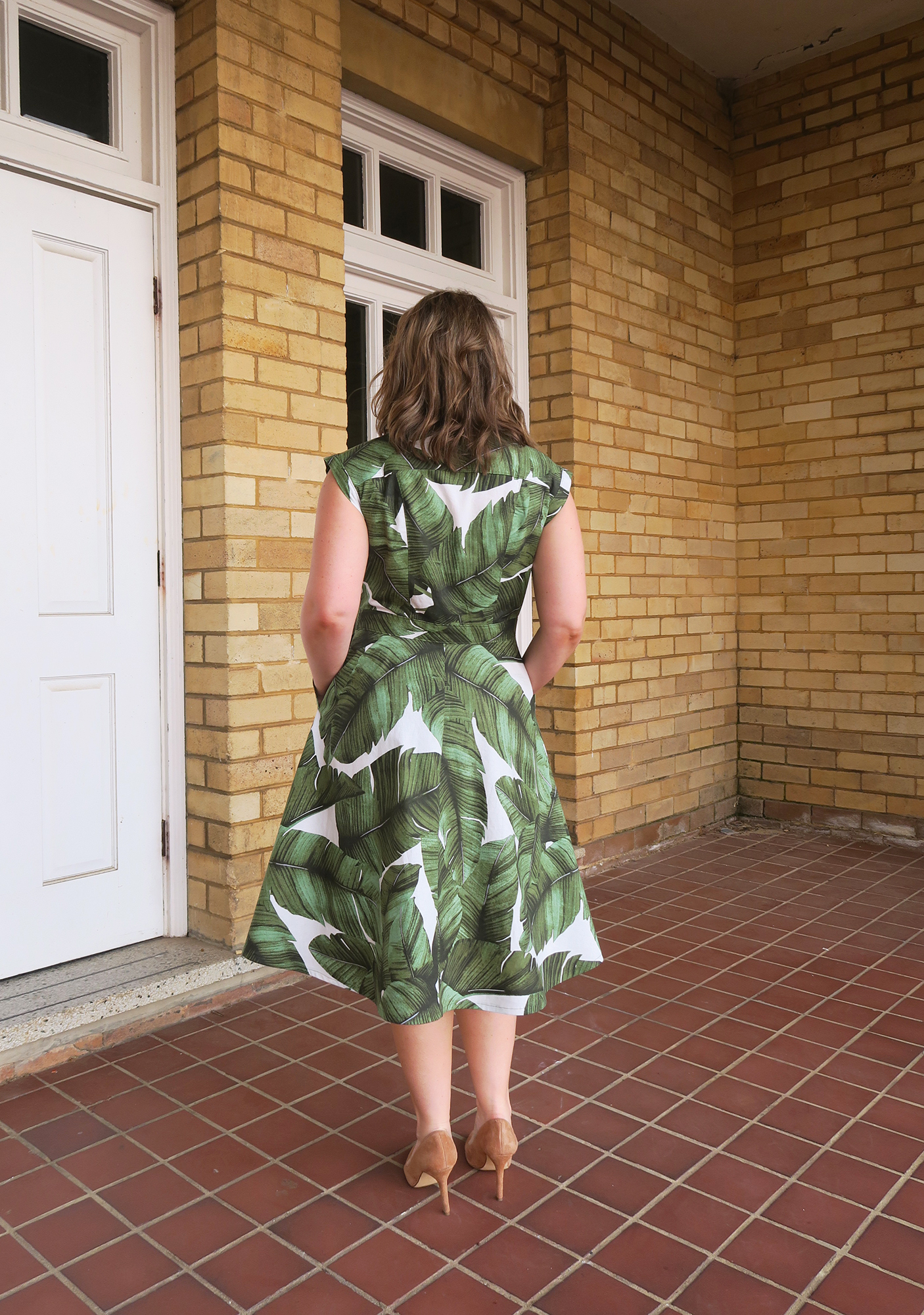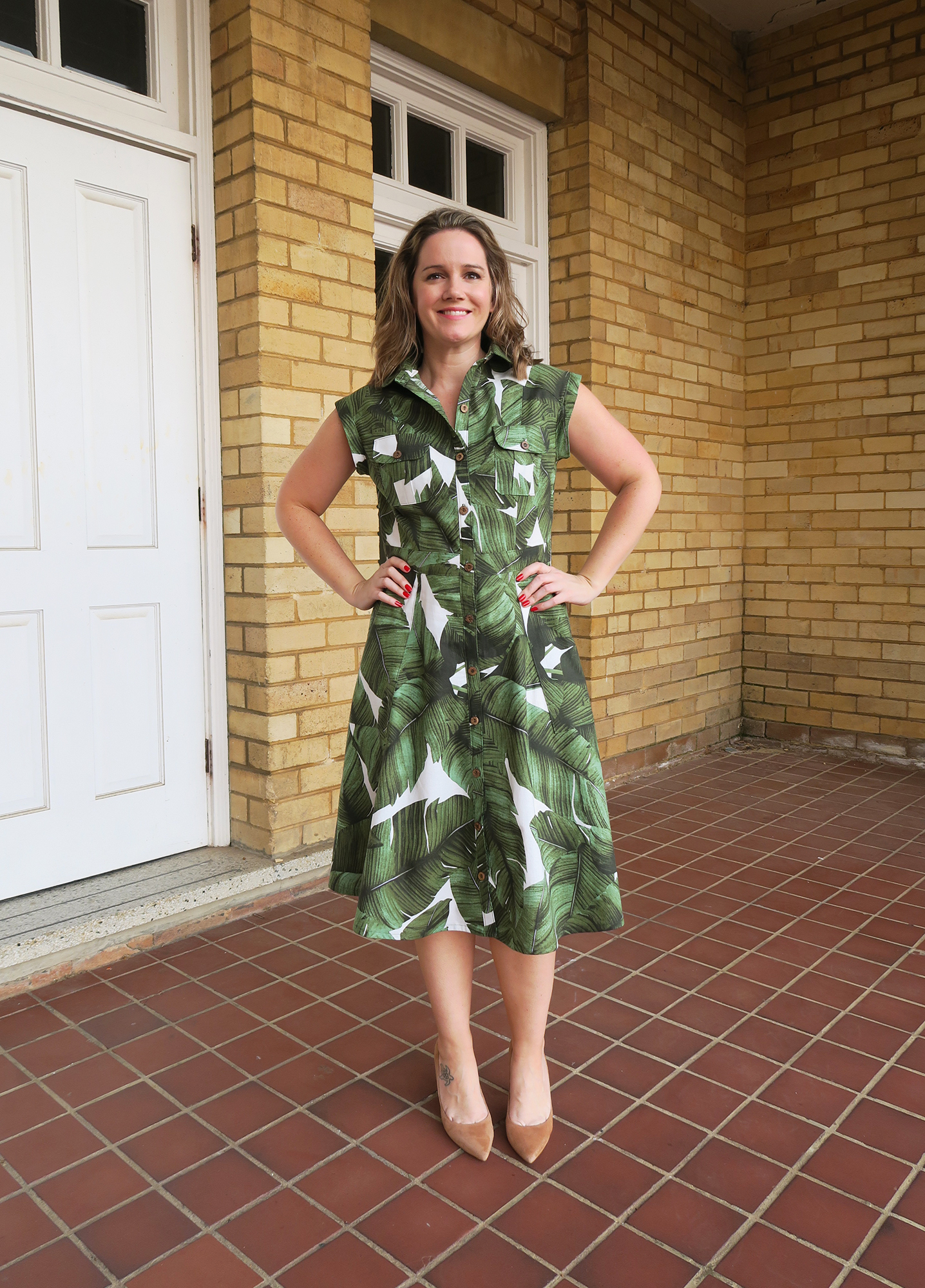 I'm pretty happy with how this has turned out, except I don't like how my collar sticks out a bit. It doesn't seem to want to lay flat against my chest. I'm guessing it's partly because of the thickness of the fabric. I'm yet to make a decision on whether this dress is work approps yet. I think I may need to poll a few colleagues. Might be one I could wear on casual Fri-yays!