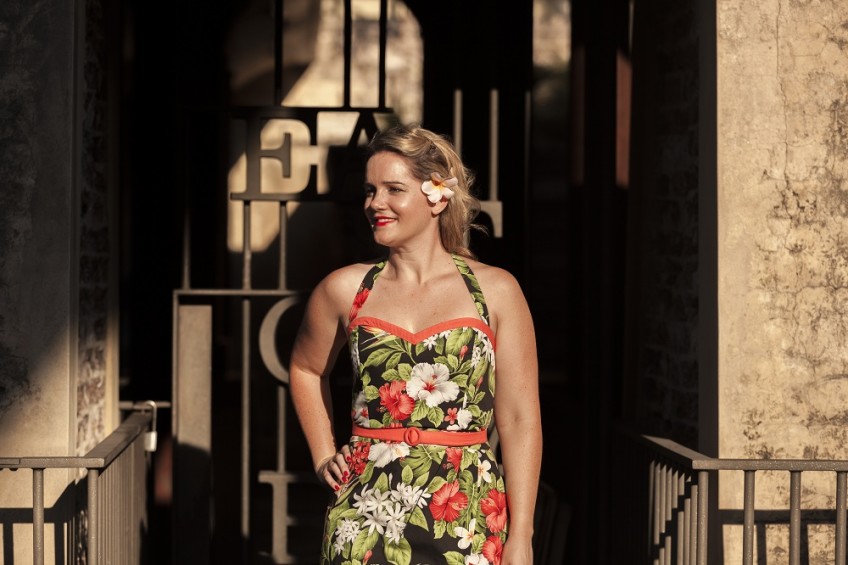 Aaah New Years Eve. That one night of the year that people either seem to love or hate celebrating. I have to admit I am more in the 'hate' camp for a number of the same reasons most people sit in that camp with me - it's overrrated, its like any other night, the crowds are a nightmare, yadda yadda yadda. I can say that I've had some great NYE's in my life - one in Ireland, a couple in Scotland, plenty on a yacht in Sydney harbour and some amongst good friends. So not to be a total negative nelly...but each year the topic of NYE comes up and I dread thinking about what I'll be doing.

I try not to be someone who complains and doesn't find a resolution, so last year a good friend of mine and I decided to do something bigger, better and more excitng than the usual to have something to look forward to. Enter Opera Bar and their famous Beach party. Sydney is well known, and justifiably so, as being a premiere place to ring in the new year. Having seen many a firework in my time in places all over the world, nerry a one has been better than Sydney fireworks on NYE. So the crowds come in their thousands to line the foreshores of the harbour to glimpse the fireworks and plenty are prepared to pay the exurbant prices the bars and restaurants charge to get a seat in one of their venues with great views of the harbour. I have often thought how good it would be to pay the crazy prices and get amazing viewes but never wanted to actually drop the money for the ticket - but I threw caution to the wind last year and thought ' why the hell not!?' with the cavaeat that I'd only do it once in my life. So $375 a ticket later my friend and I were going to Opera Bar (the bar sits right alongside Sydney Opera House) - perfect spot!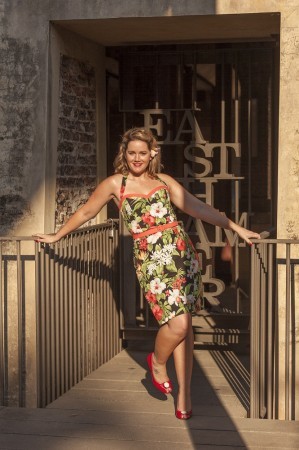 The night is themed as a Beach Party, so the most vital aspect to preparing for the event is to decide what to wear, or for us sewers, 'what will I make to wear?'. I didn't give it much thinking before I yelled Tiki and hells yes. I even managed to get my friend on board too, and we started to research Tiki dress online as I would be making both dresses.

I was quite particular about fabric choices and wanted to make sure I bought a genuine Hawaiian style print and not some cheesey knock off, so I found some great cotton fabric from Marianne of Maui on Etsy. I was REALLY concerned the fabric wouldn't arrive in time as this was the lead up until Christmas and it was coming from Maui. But thankfully it came in the nick of time to allow me to make both dresses up.

I knew I wanted a wrap style skirt and corsetted bodice with halterneck straps. I had a look at the patterns available and in a perfect world I would have done Gertie's bombshell dress but time was of the essence, so I opted to do some pattern mashing to get the dresses my friend and I wanted. I went with New Look 6048 for the bodice. I had sewn this up before so I knew that it worked for me. The only changes I made to it was to create halter neck straps. I didn't use the ones that came with the pattern with small pleats, but flat plain straps instead. I also made the contrasting band along the top of the bodice narrower by 1cm in a contrasting cotton - which I love!

I lined the bodice in the same material that I used as the outer, as the fabric was quite light weight. I also wanted to make sure this baby stays on, so I attached covered boning sewn onto the bodice front, side and back seams. This top aint going no where!

For the skirt I found a wrap style skirt pattern - New Look 6215. I liked this option as it had the gathered top making it look like a sarong. I didn't use the waistband in the pattern and instead made the dress quite high waisted which is more fitting with vintage style Tiki dresses. I lengthened the skirt by about two inches as I wanted it to finish just below the knee. As it turned out it was still not long enough, but I could live with it.

I finished mine off with a fabric covered belt in the coordinating fabric. I think it really helps define the waist.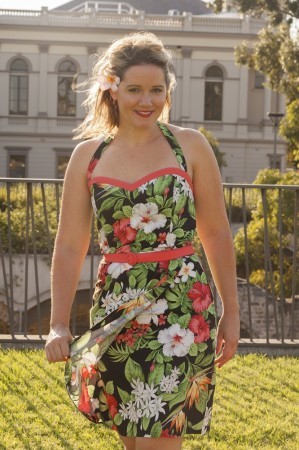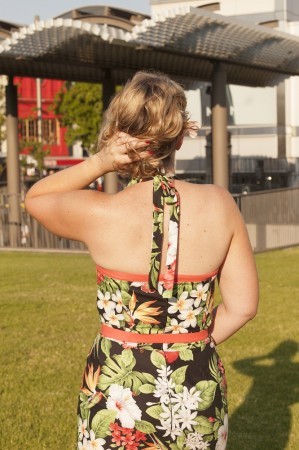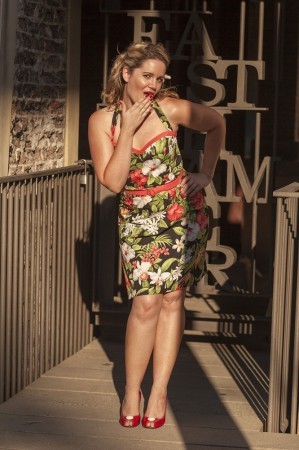 My friend was after a dress that covered up the shoulders a bit so I suggested giving the Sewaholic Cambie dress pattern a go and mixing it with a pencil skirt pattern for the bottom instead of the flared skirt in the pattern. I do love the Sewaholic patterns! I have since made up another Cambie dress so I'll blog about it at another time. Again, I lined the bodice with the same fabric as the outer and finished it off with an invisble zipper down the back.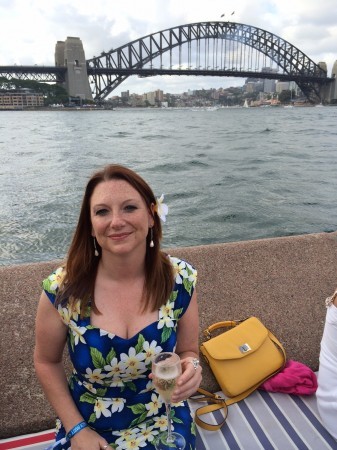 I was really happy with how the two dresses worked out and I think they were well matched! We ended up both having a smashing night and so much for a 'once in a lifetime' opportunuty - I've already decided I want to do it agian this year. Especially given my good friend Rhiannon is in town from Scotland. A midnight Auld Lang Syne sing along might have to happen!