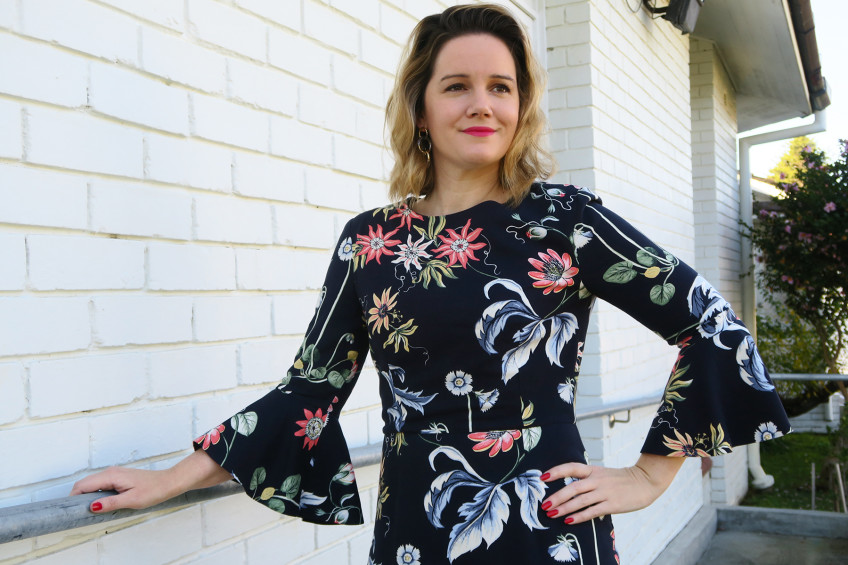 The fabric came before the dress with this one. It was one of those typical fabric sale situations, where you walk into the store with a list of what you need to buy and convince yourself that you will pick only that and leave with nothing extra. Except if you're like me, and you always walk out the door with barely half of what you planned and quite a bit of what you didn't. My last visit to The Fabric Store for a sale where I aimed to only buy jersey fabric and linen to make an 'easy, breazy wardrobe' for my upcoming trip to NY & I walk out with a loud floral rayon. What can I say? I HAD to buy it. ;)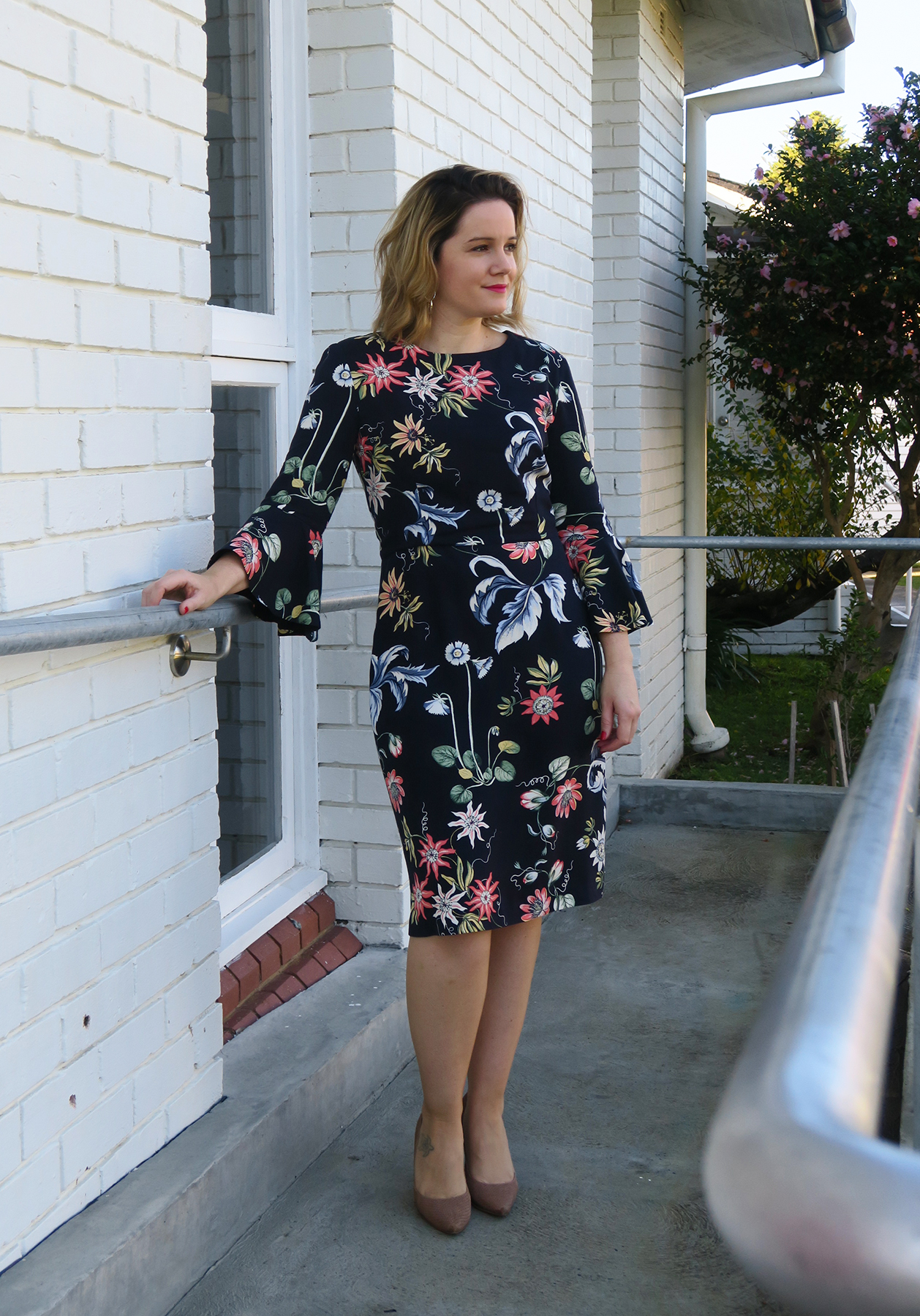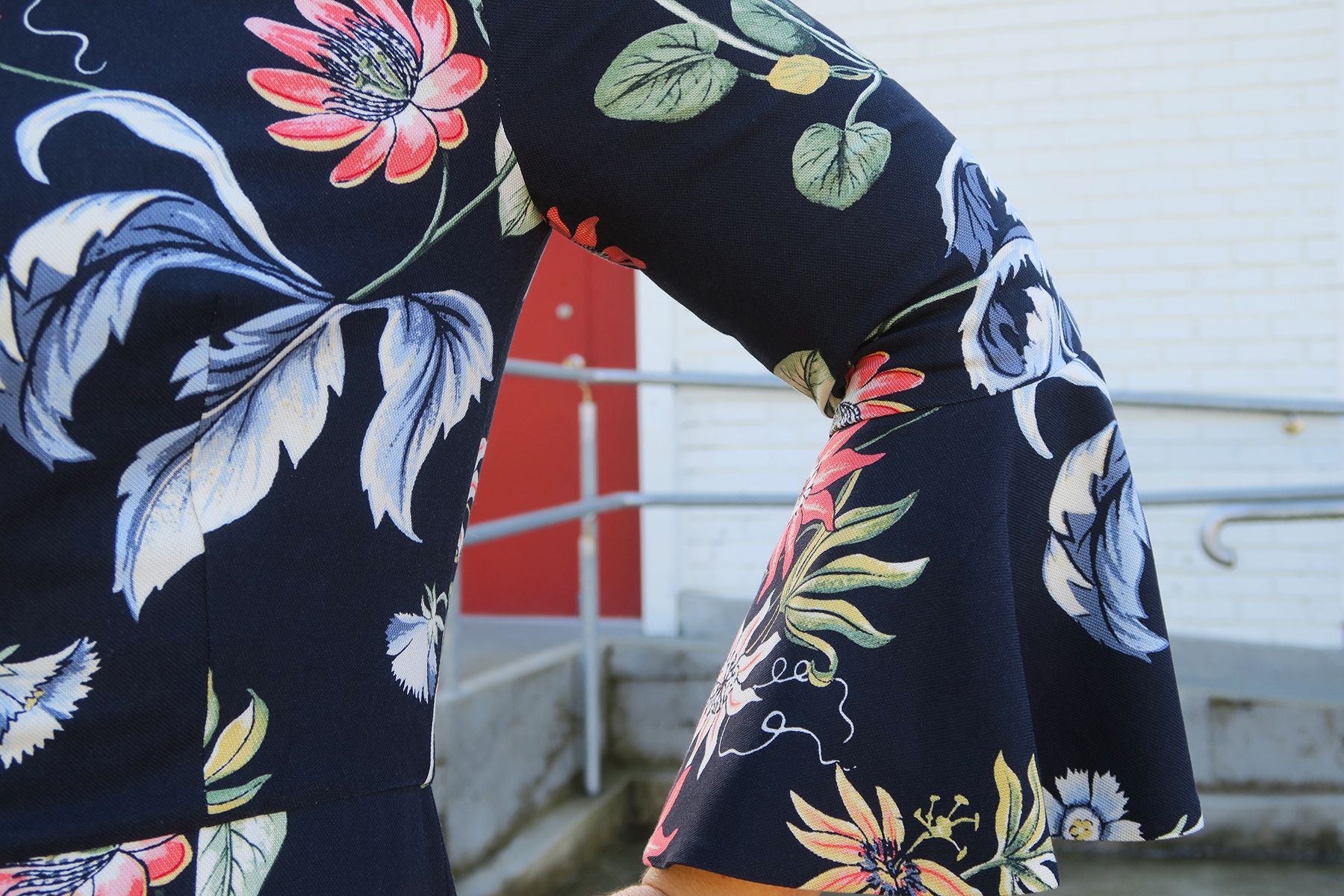 I thought it was worth pimping my winter fabric choices with more floral. I tend to not go near it until summer, but with the navy background of this print, I think I can get away with this for work in the winter. What I hadn't really accounted for was bell sleeves and winter jackets don't mix. Well any kind of jacket really. After wrangling a black jacket over these sleeves, by the time I got into work and took off said jacket I was left with extremely crushed sleeves. Because I knew a day of wearing crushed sleeves would bother me no end, I ended up at the work gym using the iron in the change rooms. Turns out the gym is helpful.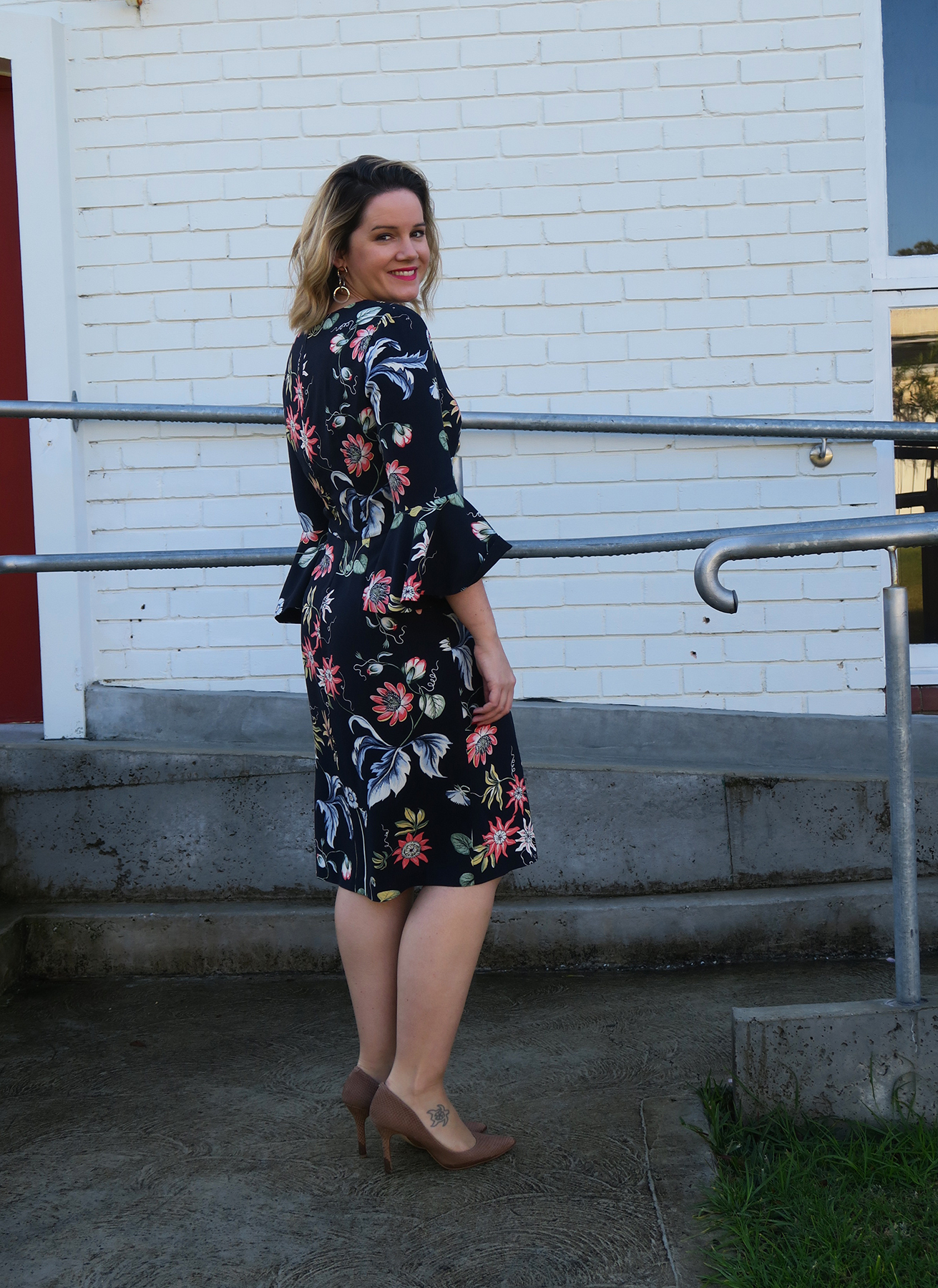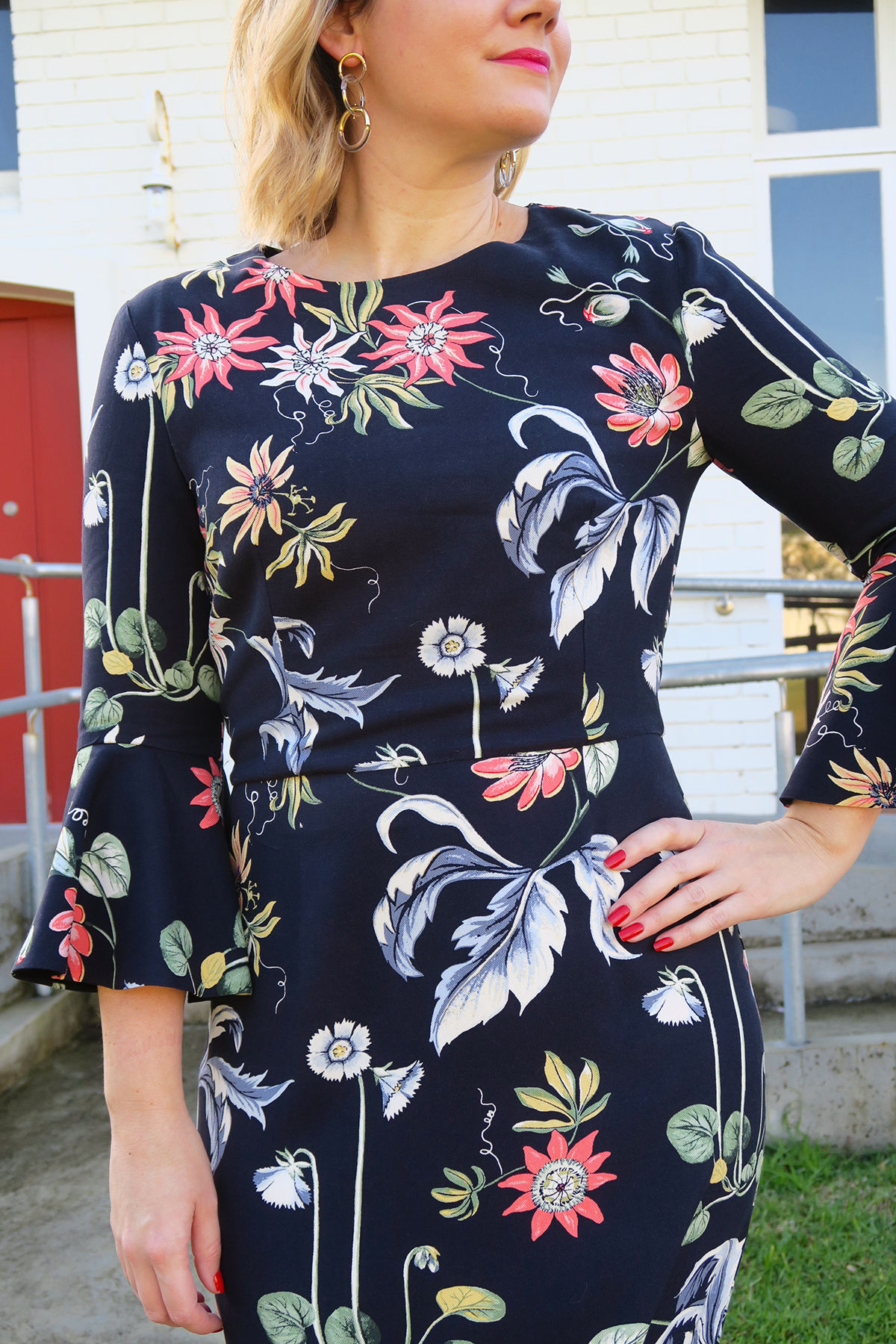 I used Very Easy Vogue pattern 9123 to make this dress. I've always been quite a fan of the Very Easy Vogue collection. Every one of my makes using these patterns so far has worked out really well for me. The patterns can look plain, but it's amazing what the right fabric can do to bring a dress to life. I actually struggled to refer back to the website for the link to the pattern because it isn't filed under dresses or jackets, but Suits & Coordinates. I wouldn't have thought to look there in the first instance.
I cut out the bodice and sleeves in a size 12 and the skirt bottom in the size 14. I also added about 1.5 inches to the length so that it fell under my knees instead of above like the pattern shows. The dress is actually meant to be fully lined but I rarely bother lining skirts, and I just don't like the idea of lining sleeves in case it's too hot and tight for work all day. So I only ended up lining the bodice itself in black cotton voille and the sleeve flounces, because you see the lining of the sleeves so easily. In hindsight, it might have made more sense just to line the sleeve flounces in the main fabric.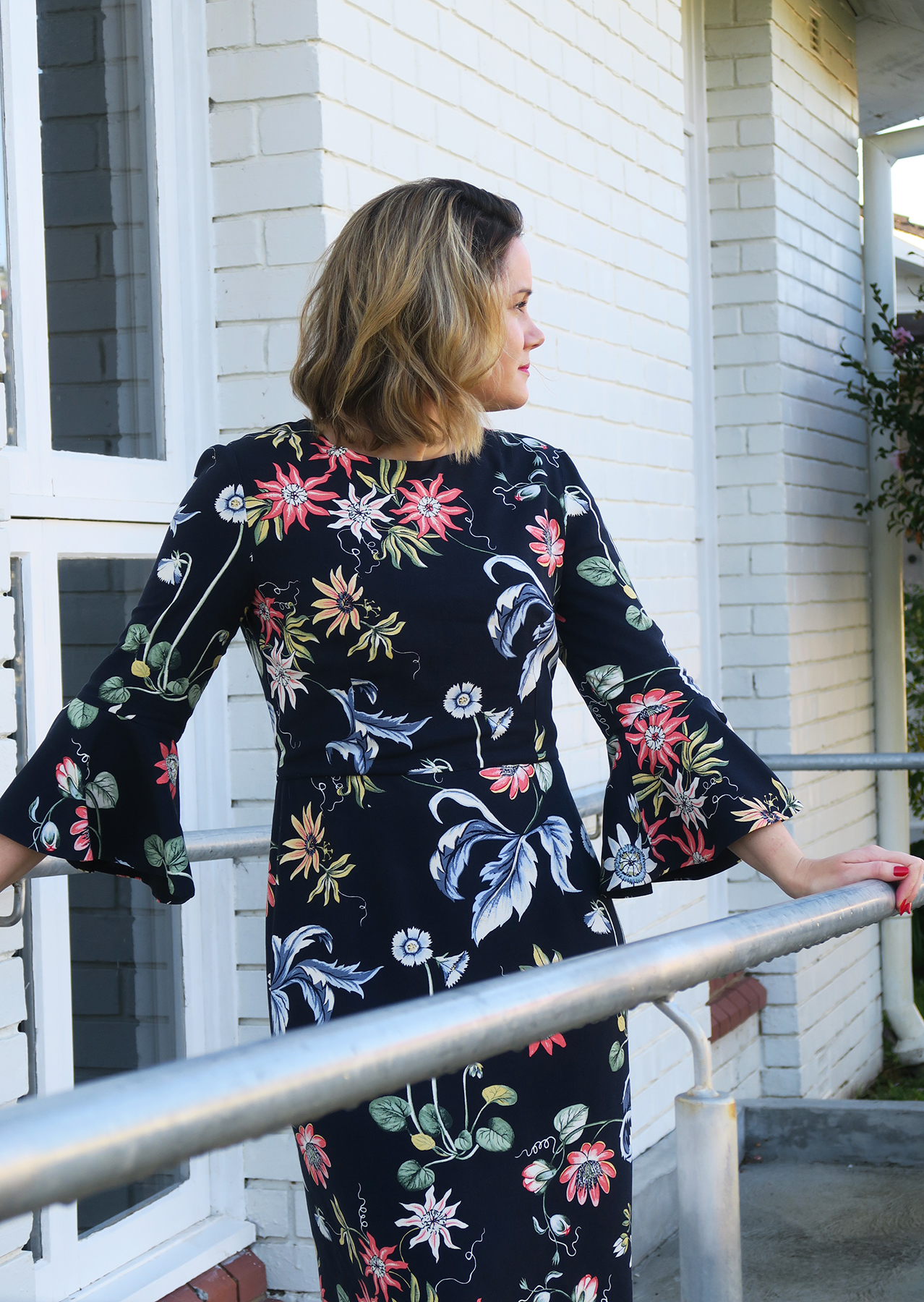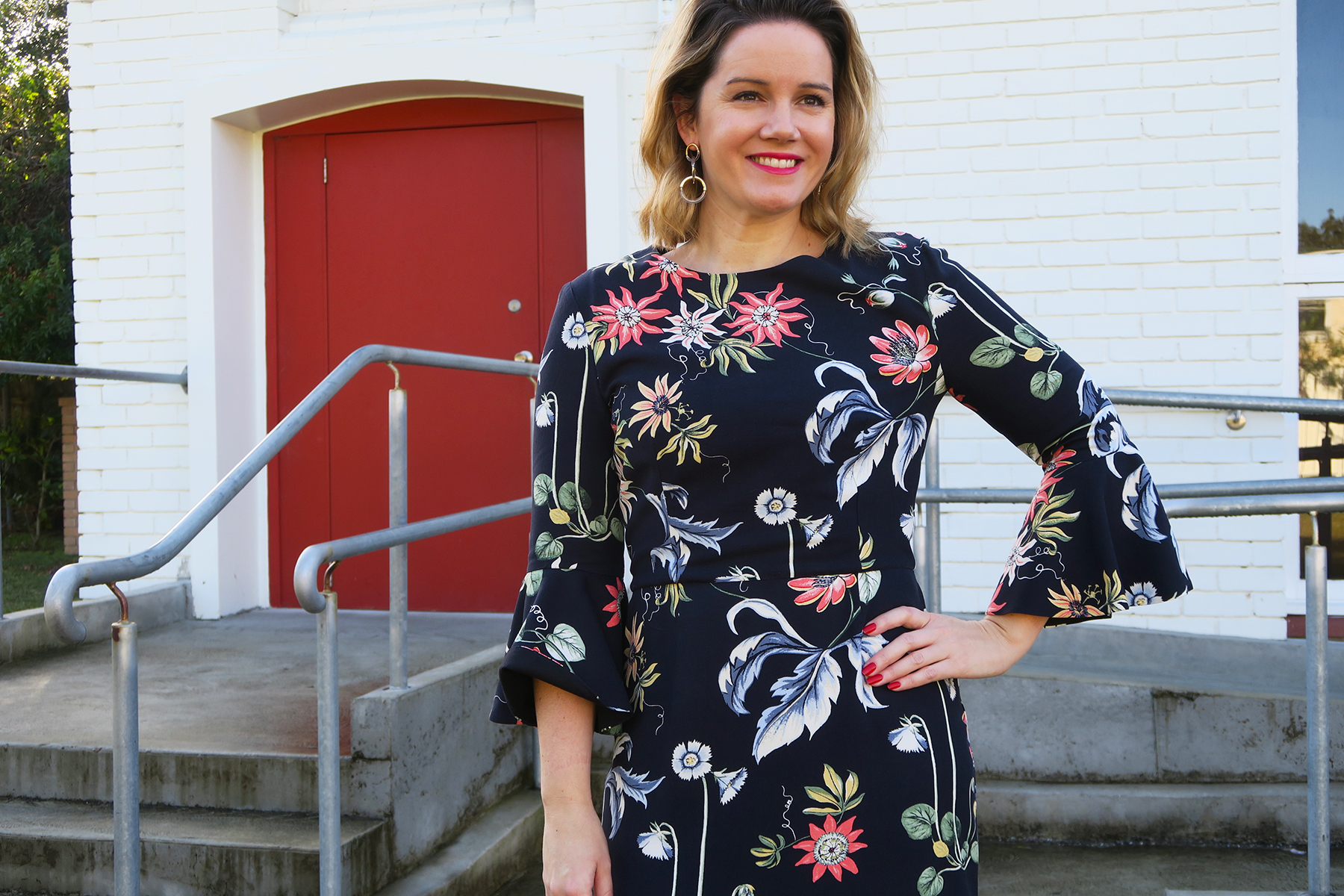 The pattern didn't suggest stay stitching around the neckline but I did that because the rayon fabric had a looser weave and I was worried it would stretch a bit. I now tend to stay stitch necklines every time I sew even if they don't mention it, because I find they stretch quite easily, especially when you're lining the bodice.
There weren't many alterations made to the dress during the construction process - mainly taking out the upper sleeves a little to make them feel less tight, and I ended up taking in the skirt around the waist. When I first tried this on, I was a little concerned that maybe I looked like I dressed in a curtain, but I'm going to roll with it. The older you get, the less f$%ks you give - am I right!?