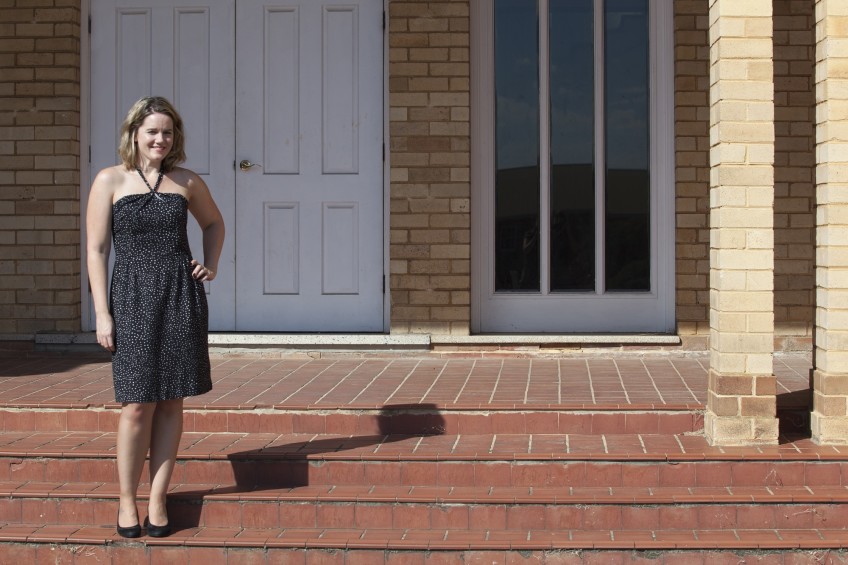 Well I'm back from my holiday in Japan and I think the post-holiday blues have settled in a little. This is my second full week back at work and I am less than excited about it. I think I need to get planning for my next trip, even if it isn't until next year I can head O.S again. First world problems - I need to decide between Canada & Alaska or Mexico & Cuba. So many destinations to visit, and so little time!
Anywhoo, I might not be able to get O.S next year given how busy I'll end up being trying to work my way through my Japanese fabric stash. Jokes. I got onto the plane in Japan heading home with about an extra 10kg's of fabric weighing me down. It should keep me in the sewing game for the foreseeable future! I bought fabric for a number of things - lots of crazy Japanese prints to make a patchwork quilt souvenir of my trip, some cute prints for kids to make my nephew some clothes, traditional Japanese prints to make another quilt, and lastly, a few pieces of fabic to make up some clothing garments for me including a beautiful pink Cherry Blossom print. So safe to say, my friends and family know where they can find me. I will say the fabric choice was amazing over there, especially for cottons. I'll be sure to talk more about my fabric shopping time over there in more details in a future blog post.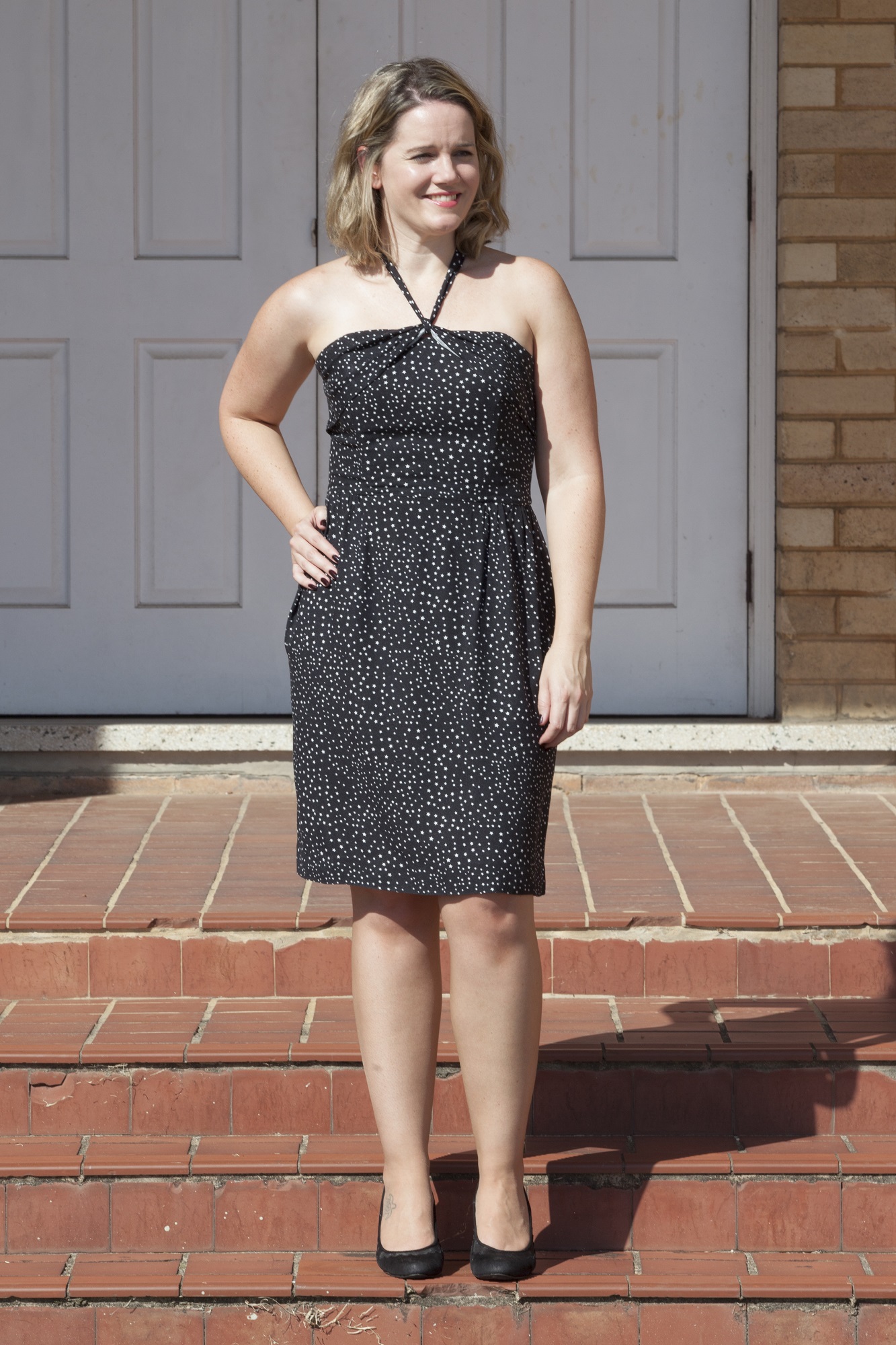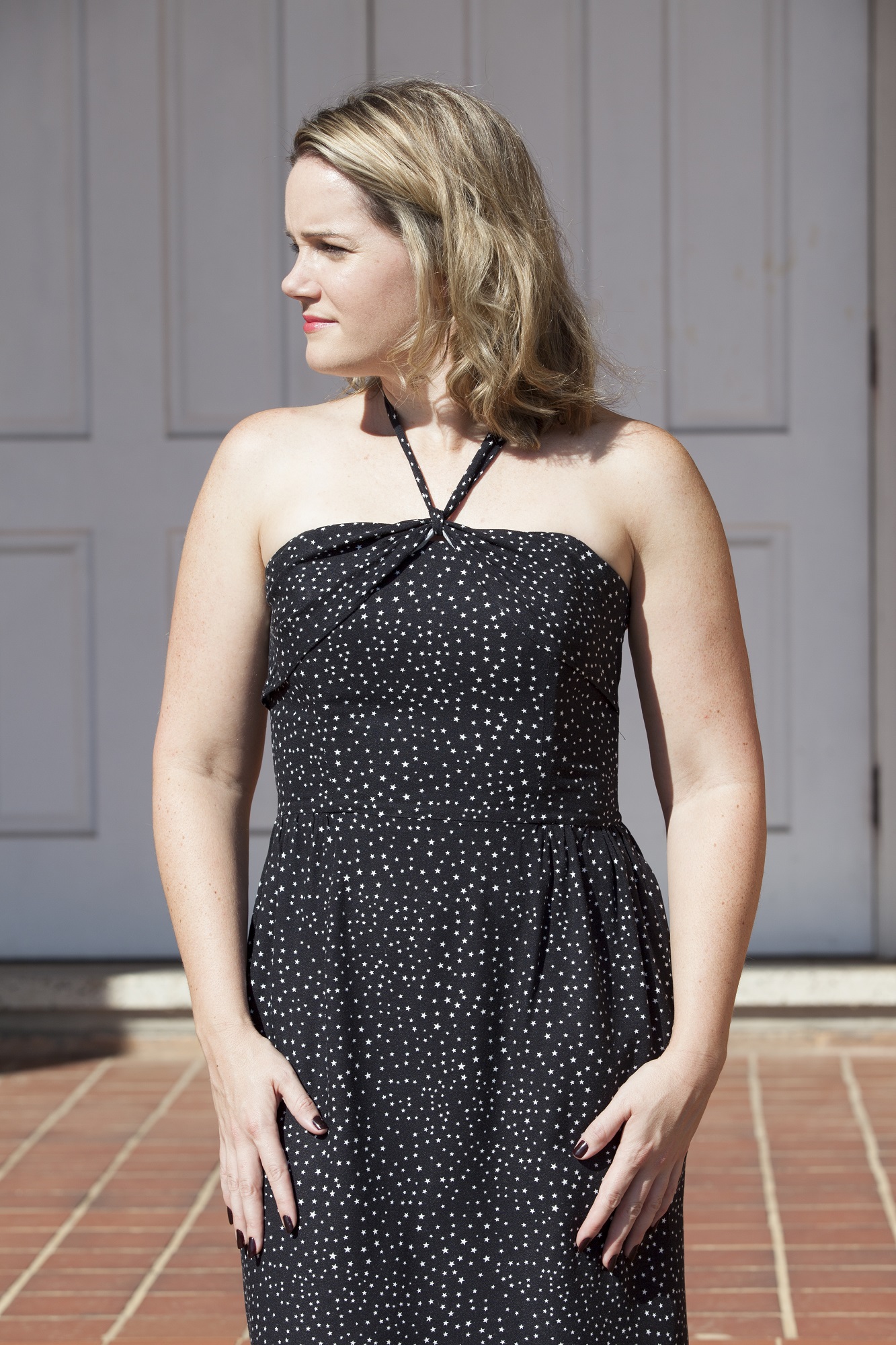 Right now my focus continues to be catching up on my blog writing. I have over 20 items I've made that I want to catalogue on my blog. Afterall, it is my 'diary' of my sewing achievements. This dress is one I made to wear on my birthday last year. I had a nice dinner organised out with mates. It wasn't a big milestone, but any ol' excuse to sew something works for me. The pattern is Simplicity 1876, which has been designed by Project Runway winner Leanne Marshall. I remember watching her on Project Runway yeeeears ago and loving her work. Unfortunately this pattern now appears to be out of print, but I guess all good things must come to an end. I'd like to sew up the petal skirt dress that's included in the pattern, but make it longer because that thing looks short! The halterneck dress I went with has a fitted princess seamed bodice with a straight skirt that has small gathering on the front skirt bottom, instead of where darts would traditionally go. I love when skirt styles have this gathering instead of darts. It has a bit of a vintage vibe and is more comfortable but equally flattering. The dress has ties for the straps which are built into the bodice and meet at the centre to know and tie on.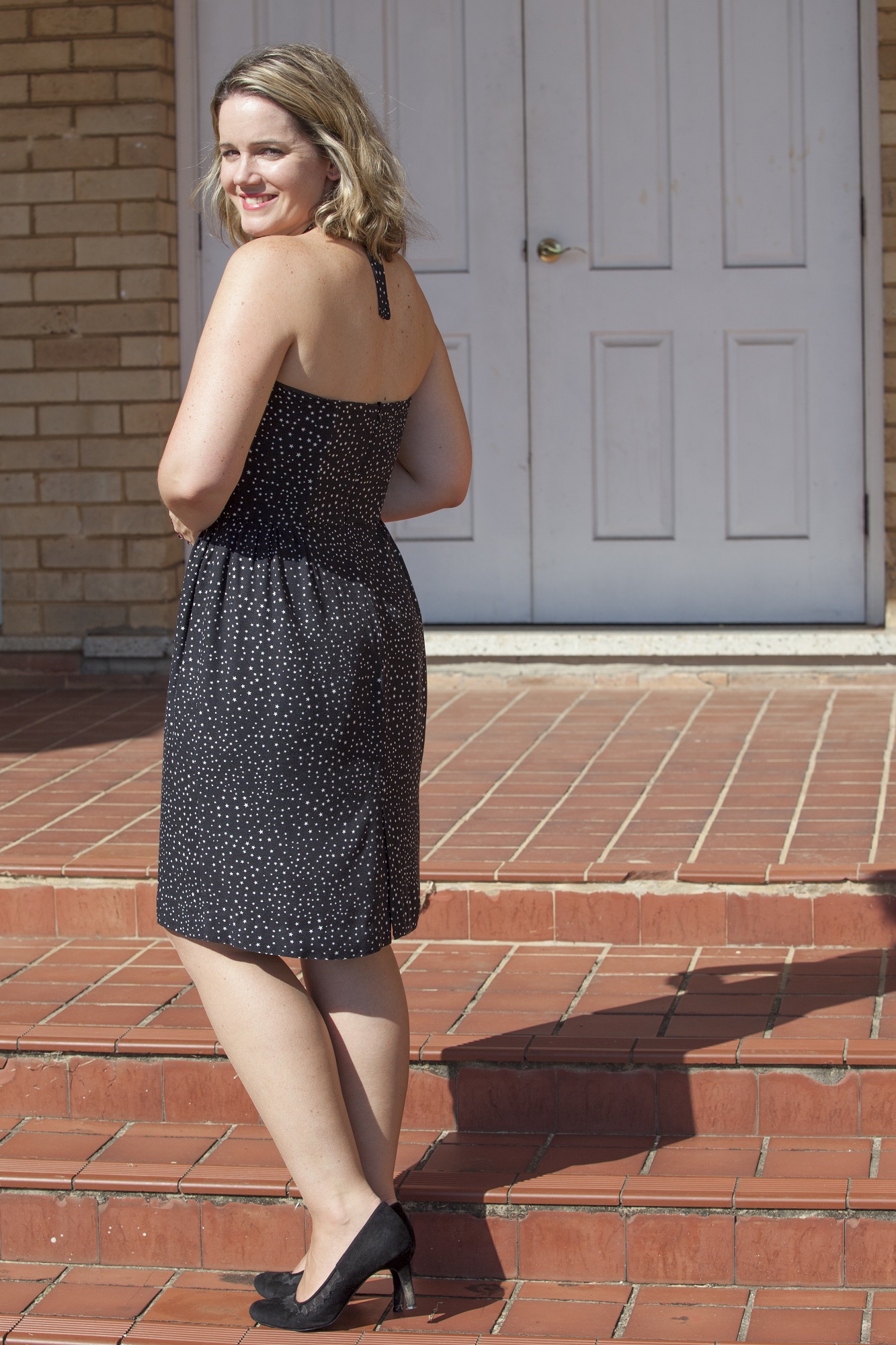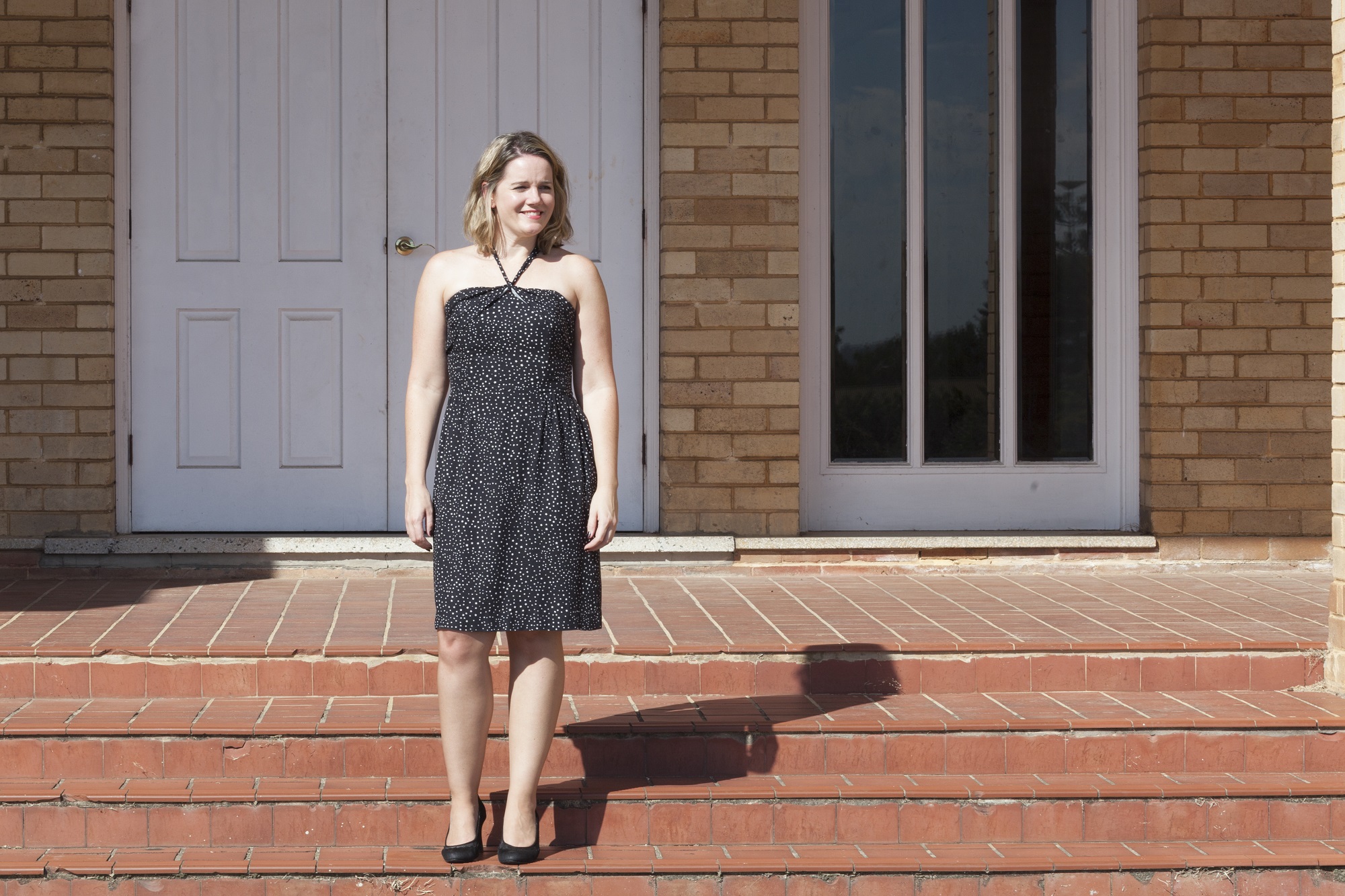 For this dress I picked up a lovely viscose fabric (my new favourite fibre content - drape drape drape!) from Tessuti fabrics in black with little white stars. I would recommend if you are going to make this dress, use light weight fabric with drape. You could get away with making it out of a tana lawn. This fabric was lovely to work with and it had a little give for a better fit.
I cut out a size 12 and graded out to a size 14 for the skirt bottom. The construction of the dress came together pretty well. Nothing was particularly challenging with the construction process. The instructions were pretty clear. The dress requires boning and to ensure this thing stayed up I put polyester boning in all seams of the dress. I also ended up taking it in on the sides for a better fit on the bust and in the princess seams down the front around the bust. I also added about 1-2 inches to the hem so it fell just above the knees. I finished it off with an invisible zipper down the back. I love the halter neck approach to this dress. The straps start from the bodice sides and are sewn into the neckline until the centre front, before knotted and wrapped around your neck. It does have a habit of the fabric flipping so you see the underside which is a little annoying. I guess you could potentially tack down the fabric if it bothered you too much.
I've worn this dress a few times since. It's a good go to dress for summer eveings. It won't be seeing the light of day now until next summer. Nights are getting pretty cold down under!