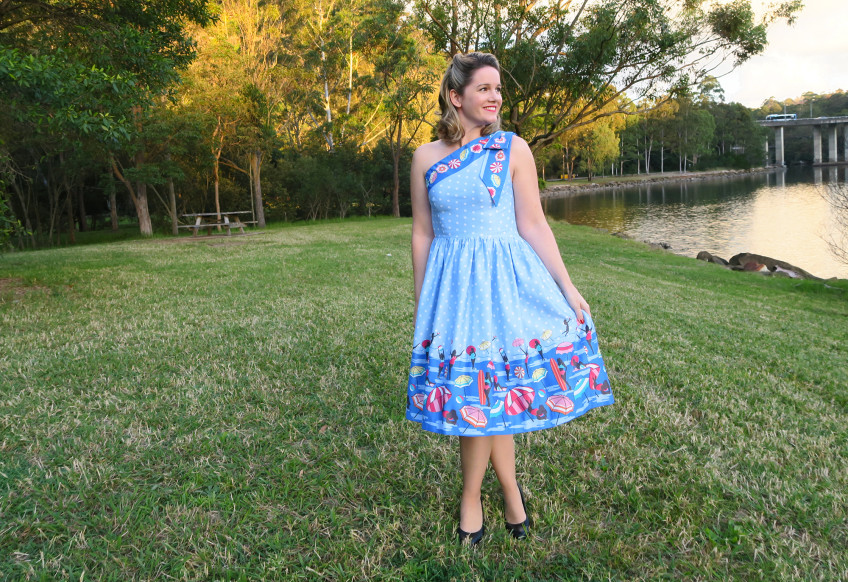 Happy hump day y'all! I'm writing about another pattern by Gertie for Butterick. I was just looking at her patterns online and realised I own the entire range, and I think I've managed to sew up about 70% of them. I think it's safe to say that makes me a fan! I got to meet her recently during her visit Down Under. It was great to hear from her on how she's built her business and see some of her dresses up close. They are on point, that's for sure!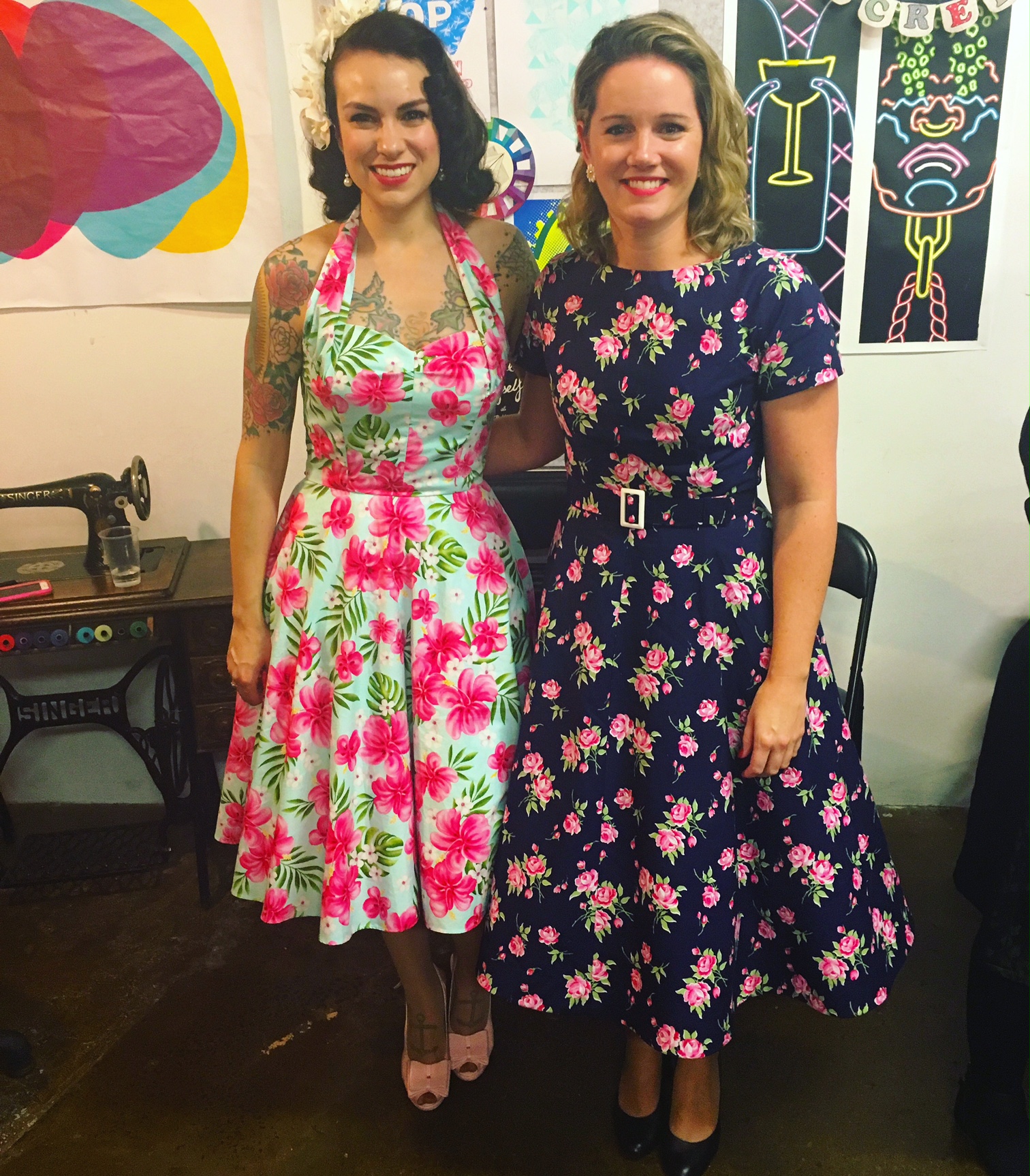 Gertie and I during her visit to Australia a few weeks back.
This dress in this blog post was made using Butterick 6323. I had to have this as soon as I saw it, I just loved it! I've always had this thing for one shouldered tops and dresses. I think it's a classic style, but is still a little bit edgy. Don't get me wrong, I have seen some bad one shouldered outfits, but when you get it right I think it looks hawt! This dress has a fitted boned bodice with a gathered skirt and side zipper. The pattern is rated average, but I'd say apart from the boning, there is nothing too tricky in the construction.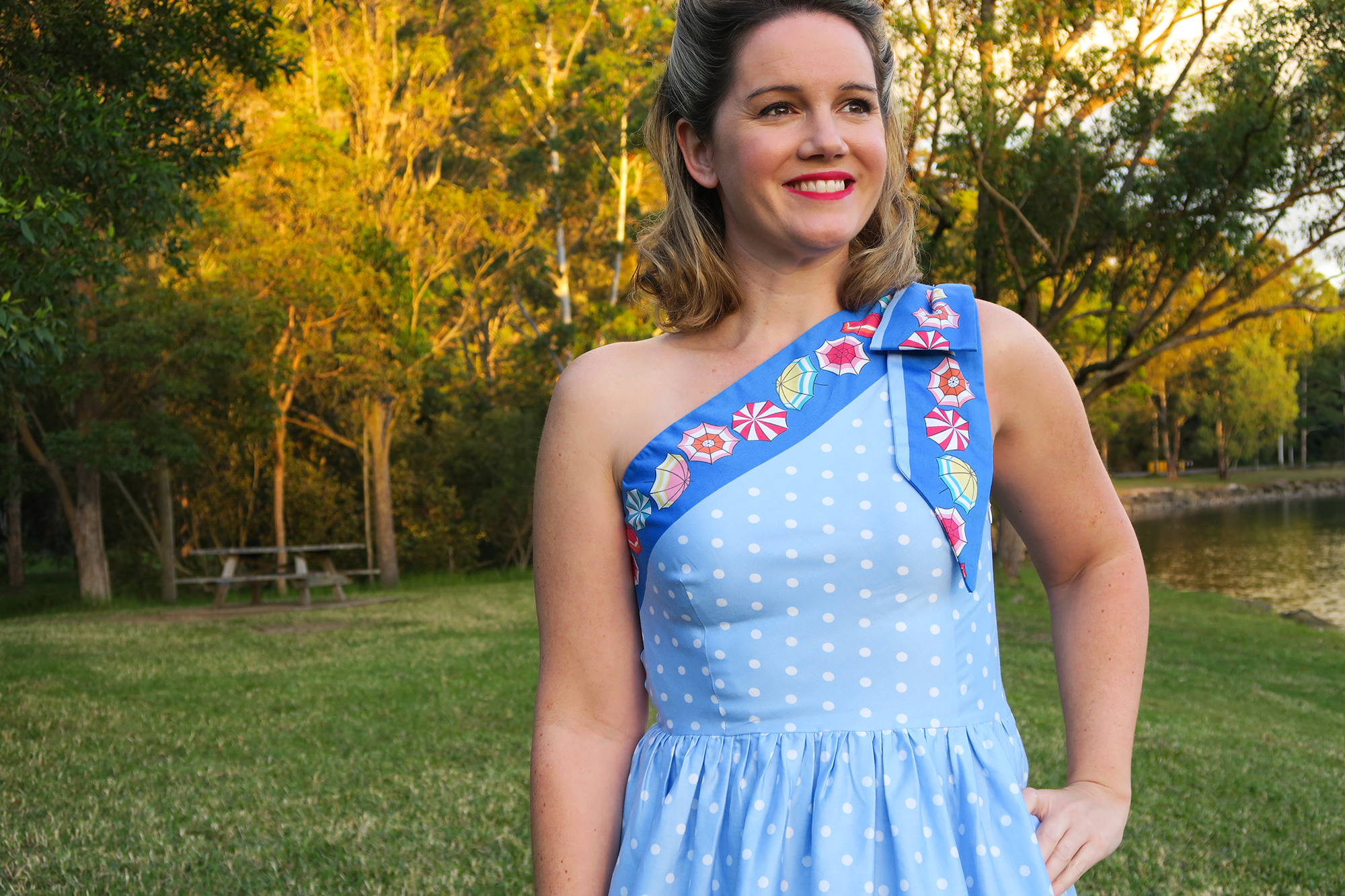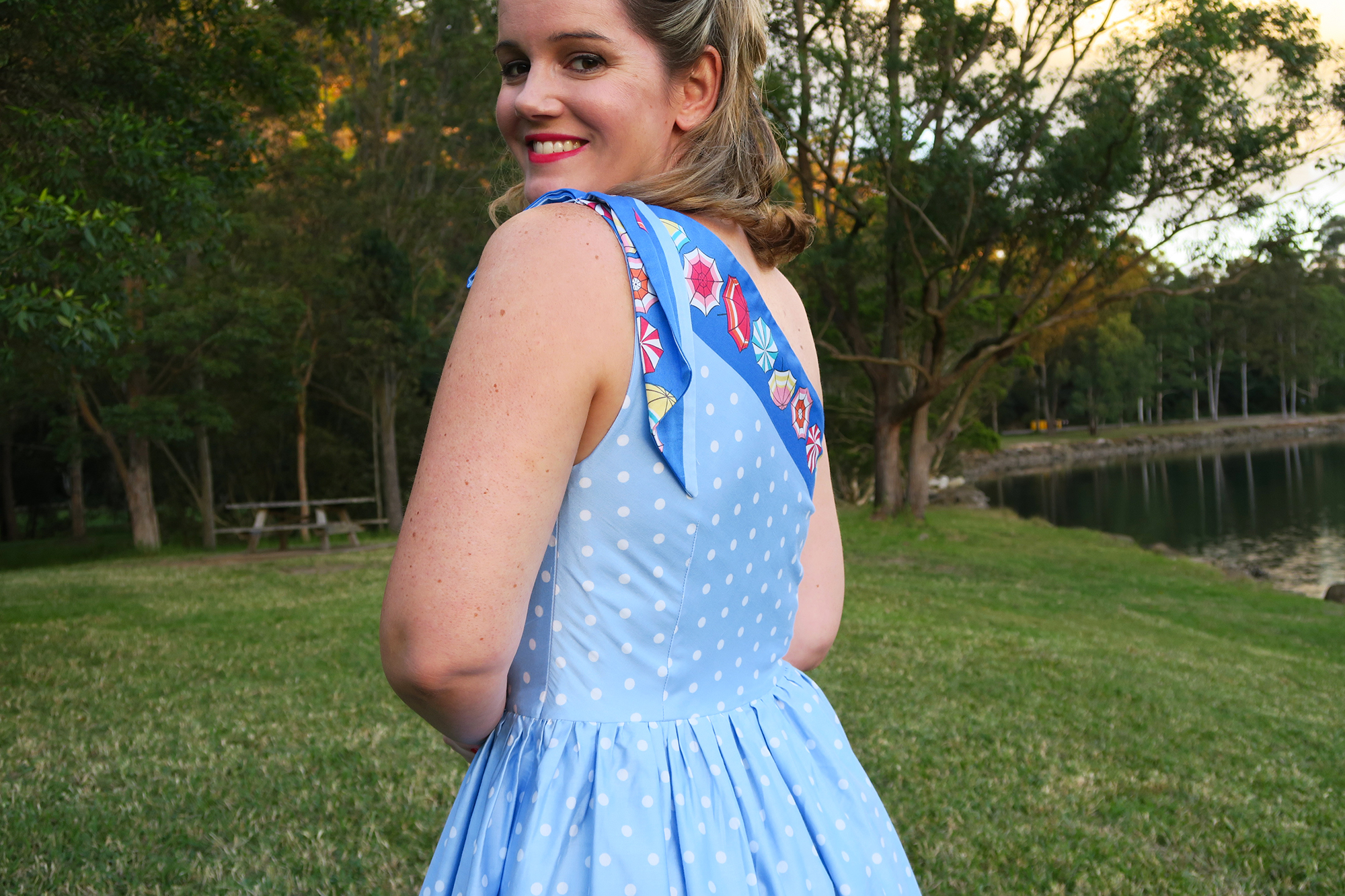 The fabric is from one of Gertie's fabric ranges for Joann's in the US. Unfortunately they don't ship to Australia but I managed to grab some from a seller on Ebay. I LOVE this fabric. Border print fabric is awesome and it works so well with this dress. I was stoked to be able to match exactly what is on the pattern envelope. The fabric itself is a cotton sateen with no stretch. The bodice for this dress is lined in the same fabric. For this dress I cut out my usual size 12 and only had a make a small change during the fitting process by taking it in a little on both sides of the bust at the side seams. You want to make sure you have this pretty fitted so it doesn't feel like it's falling down on the bare side. I used covered polyester boning in the insides. One of these days I'd really like to give spiral steel boning a crack. I mainly haven't tried it because it's harder to purchase (i.e. can't buy at my local Spotty!) and I just need to buy the tools to cut it. I vow to try it next time I need to use boning. I didn't make any alterations to the style of this dress except for adding about one inch to the length so it fell a bit lower on my leg. A nice fct is that there is enough gathering in this skirt that I can fit a crinoline underneath for extra pow.
The pattern suggests a lapped zipper but I don't like inserting them into side seams, so I chose to put in an invisible zipper which I think makes it looks a little smoother. At least compared to the hatch job I could have done with a lapped zipper.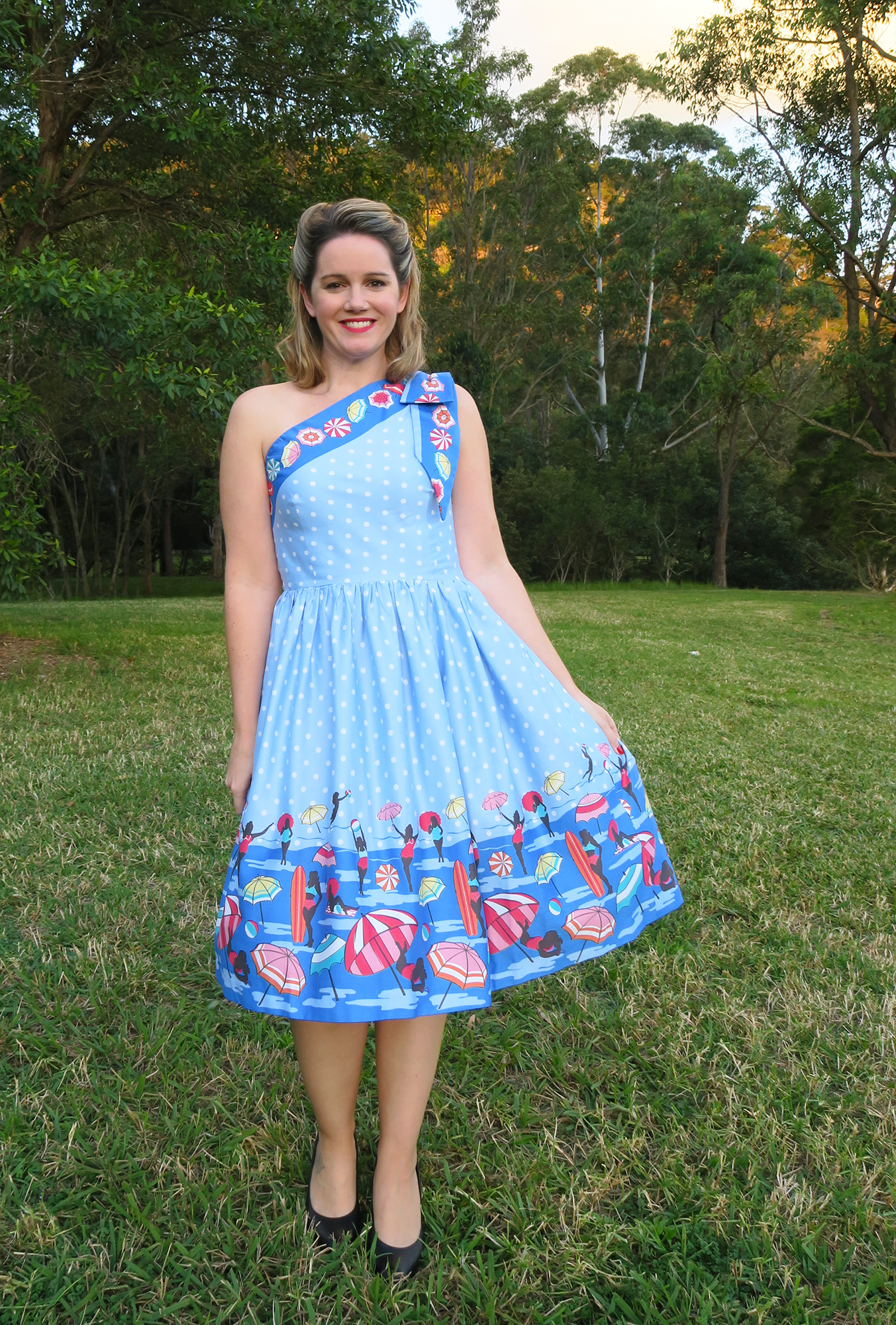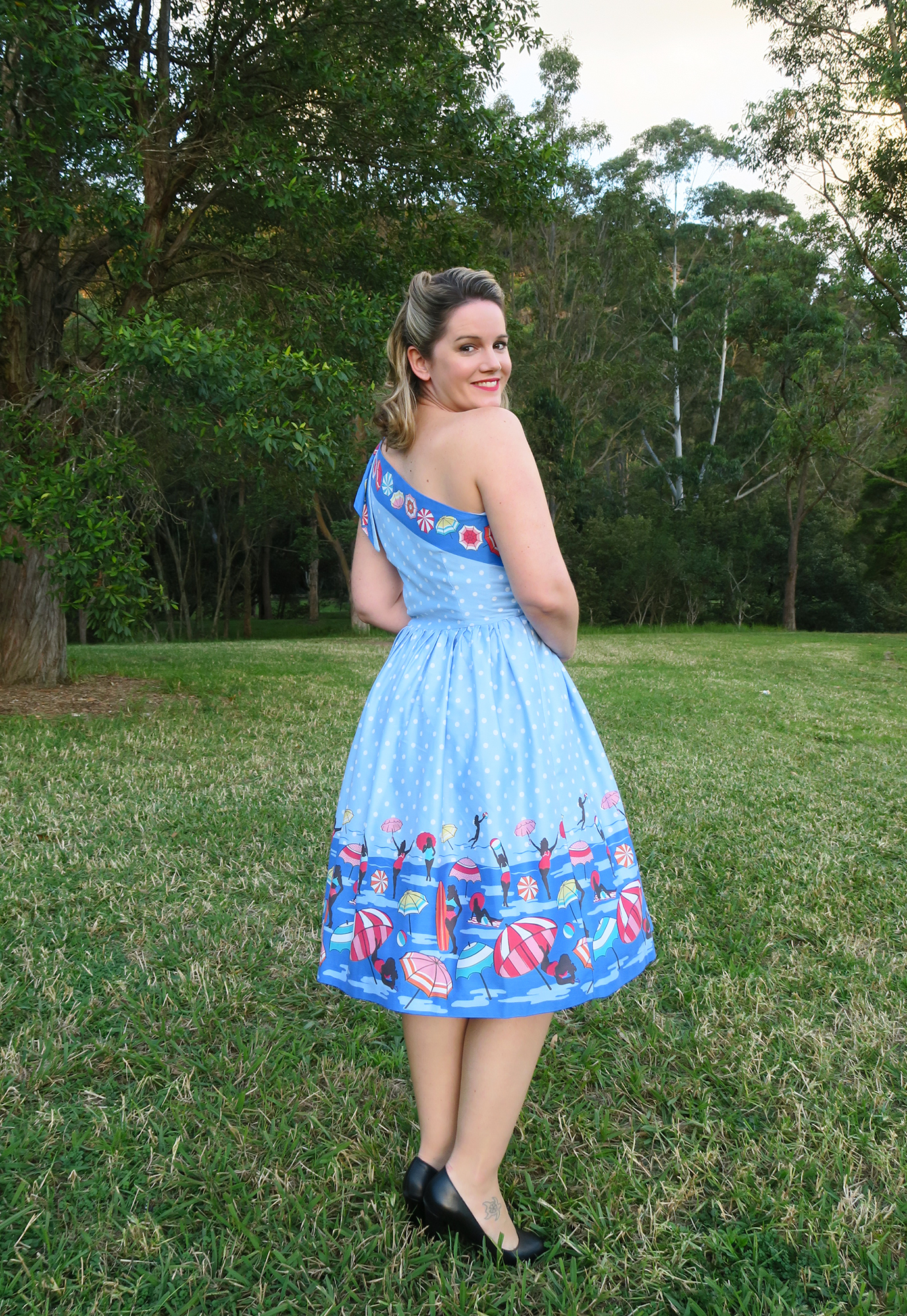 One thing I noticed with this pattern is that the bodice front and its associated lining aren't exact replicas of each other from a fit perspective. The lining is actually a litlte bit smaller. I guess it enables a closer fit? You therefore have to ease the lining onto the bodice front and as a resut I did end up with a small pucker of fabric towards the side seam. It's a small enough pucker that with an iron you hardly notice it - I notice it because it's my handy work and I want it to be perfect. I think the easing process was easier for me because I was using a soft cotton, but it might be more painful if you elected to make this up in a fancier slippery fabric.
Despite this, I'm really happy with how this turned out. I think it's a pretty cute summery dress and having worn it again to take photos of it, I'm reminded that I should have worn it more over the summer. Oh well, next suummer it is...