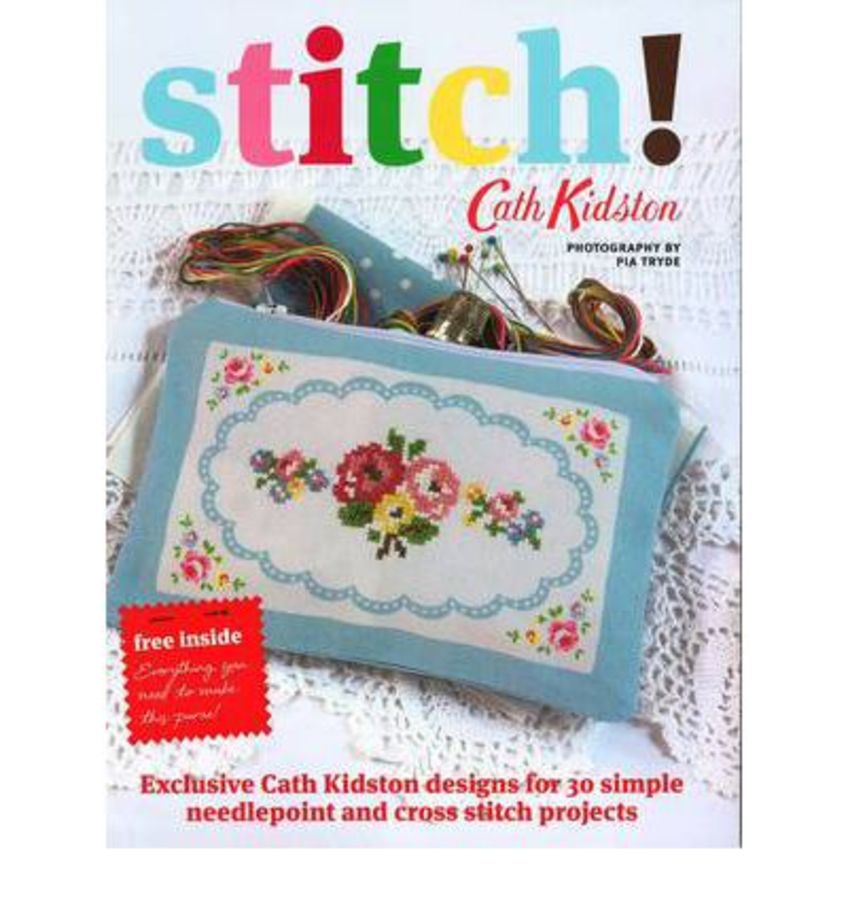 I was introduced to the lovely work of Cath Kidston after spending two years living in the UK. I had not heard of her before then and am so glad I have now, for I adore her products! What makes Cath Kidston so lovely is the fabrics her products are made with. The designs are always a touch shabby chic, a touch vintage, and a big dollop of cute. I now own several of her bags and have purchased much of her haberdashery fabric for future quilt making. The Cath Kidston empire has grown a lot over the years and she has produced some lovely books in that time, so you can make your own little piece of her world. Kidston has books that focus on different crafts, some of which include, 'Sew!', 'Stitch!', 'Patch!', and 'Make!'

I now own a few of her books and have recently road tested one of her designs from the book Stitch! During the colder months, I do love to sit in front of the TV with a blanket and the next stitching project.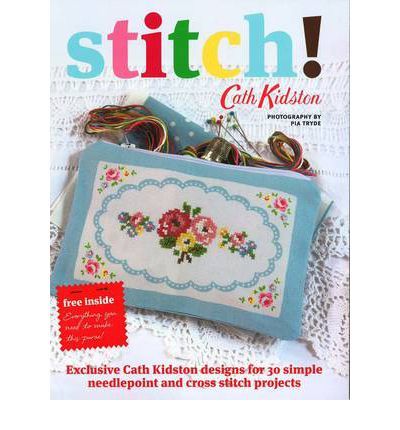 It is a lovely book with lots of bright big pictures and plenty of introductory pages to show you the basics and what supplies you will need. The designs are very true to Kidston's style, but she has veered on the more simple side, so if you are a beginner you won't feel overwhelmed at the projects in side. You only overwhelming part might be the realisation of long many hours it will take you to complete one of the projects, especially the cushions and floor rug!

One big plus I saw from this book was that there was lots of deigns I would love to do in it. Sometimes I find these books look great, but when you get down to it, you will only ever attempt one or two of the patterns inside. Not so in this case.

I opted to tackle the cushion below. Largely because it is my first foray into long stitch, and it looked quite simple! The book suggests you use DMC wool threads and tapestry canvas. Both I found quite readily at my local Spotlight store. The instructions were really easy to follow and the there's a good guide at the book for suppliers. Although we are talking about UK suppliers.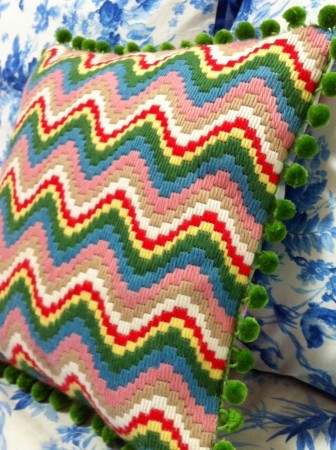 The cushion was super easy to make and did not take as long as I thought it would. I had Kidston home décor fabric for the other side of the cushion and scored some very similar in colour bobble trim from Spotlight to finish it off. I stuffed it with polyester filling which is one of those things you end up needing a lot of to have any impact. The trickiest part of the construction was actually sewing it up. The tapestry canvas is quite a tough material and you have to be accurate to stitch down the sides so that you don't stitch over the stitched pattern but don't leave a gap either. You also have to cut down the corners quite a bit too before you turn it out. I hand stitched it up at the end and voilà – one Kidston project down!