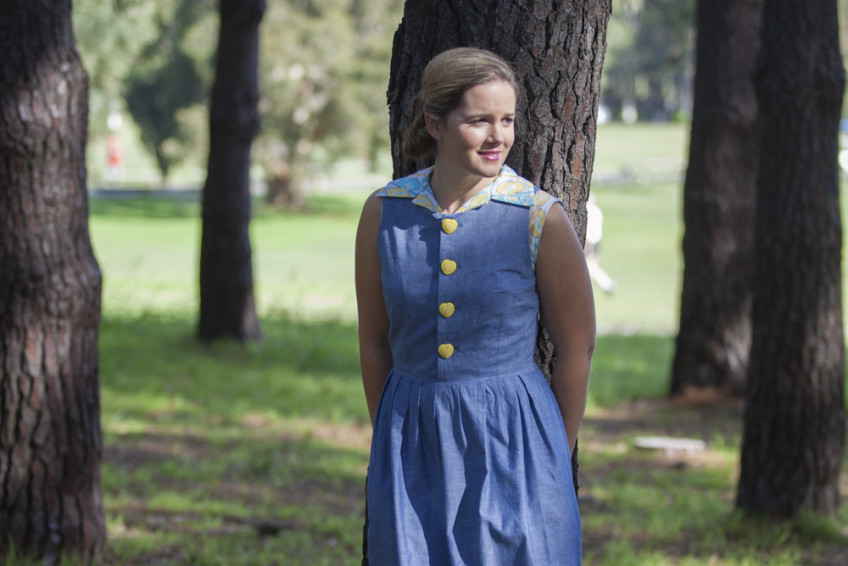 I do like a Cynthia Rowley pattern. I hadn't seen or heard much about Cynthia Rowley before she started producing patterns for Simplicity but since the launch of her patterns I always eagerly await her next designs. Her aesthetic is clean simple lines but often some additional detail is added on to the pattern. Whether that be trimming, piping details, or cut outs. My first go at a Cynthia Rowley pattern was 2215. It met my typical aesthetic which was a dress with a bit of vintage appeal. I opted to make it sans suggested trims and i made the shirt in quick succession after the dress.

Many moons ago (Im taking so many moons going back to 2011) I picked up some light weight denim and a light cotton voille at a Tessuti sale when they closed down their Wynyard store. Sad day for Tessuti but happy day for me. I think denim works well with pretty much any colour and this light blue variety would suit well the yellow and blue cotton voille for the shirt. I cut out the dress and shirt in a size 10 and off i went.

I found the overall construction of the dress pretty straight forward. My main learning was putting pockets in along a zippered seam. Its not complicated as such, but does require some close reading of the pattern to make sure you are on the right track. I'd bought a beautiful soft cotton in bright colours as the lining to the dress and for the pockets. Denim as a lining is just too mch thickness, not to mention uncomfortable. I'm not a huge fan of silky synthetic linings either. The biggest concern I had during construction was getting the button holes right. Button holes are not my favourite thing and this is where working with a 30 year old machine has its limitations. I LOVE my machine to the point I feel guilty for talking ill of her right now. But, she does not do a great button hole. Its a manual process in which you have to change the dial for every edge of the button hole and requires quite a bit of concentration to make sure both edges are the same length. However, this is one dress that needs button holes so i soldiered on and ended up pretty happy with the overall result of the button holes. Given the plain nature of the fabric (check me out - no prints!) I took myself to the button shop in Newtown, Sydney (All Buttons Great & Small) and purchased some interesting buttons for the bodice. Big yellow hearts in a colour that coordinates nicely with the shirt fabric. They were a little tricky to stitch on as you have to make sure the buttons line up straight but I got there in the end. The only real thing I changed about the pattern was the length, and even then, in hindsight I wish I had made it just a little bit longer.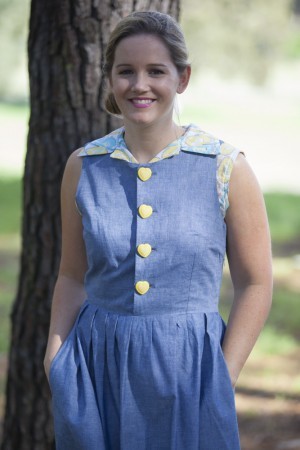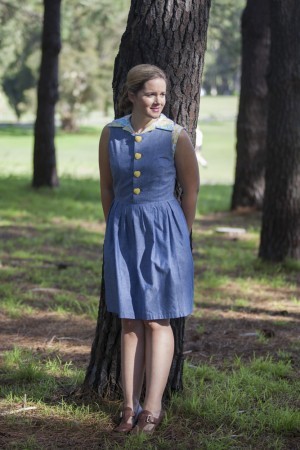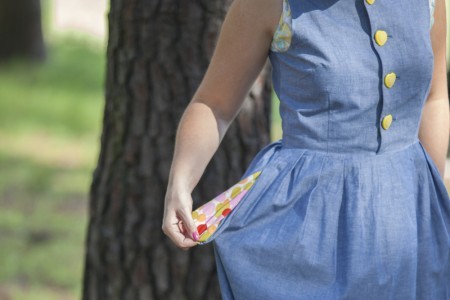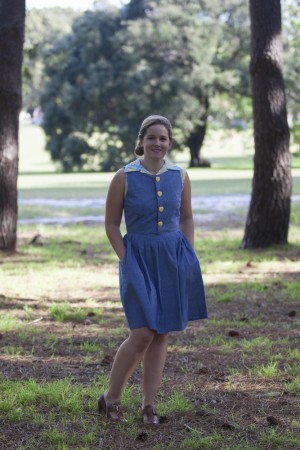 I am happy with the overall result but do wonder if it is a little too cutesy. Its not something I would wear to the office for an important meeting, but it has had an outing to my friend's hen do. I guess thats the risk you run when you choose big yellow hearts when button shopping!