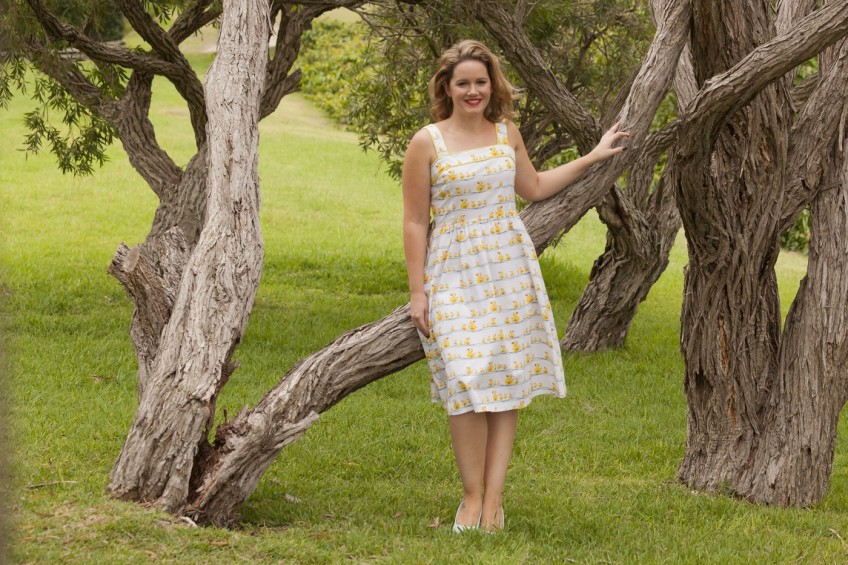 Yes you are correct, that is a dress with rubber duckies all over it. What every sensible 32 year old woman dresses in right? I know, probably not. This fabric was just too cute to not sew something with. And I promise it is for summer beach days only. I won't trot this one out at work one day.
I spotted the fabric in a Spotlight store I checked out during a girls weekend away in Newcastle towards the end of last year. It was one of those 30% off all fabric sales so this one just got over the line. I wanted to sew a dress up with the fabric that I could add some yellow piping to also, because well, yellow piping is cool. I stumbled across New Look 6457 that hit exactly what I wanted – gathered skirt, wide straps, straight across bodice to suit the print and opportunity to add piping. New Look is a bit of a go-to for basic pattern styles for me and they rarely ever fail when it comes to basic fit.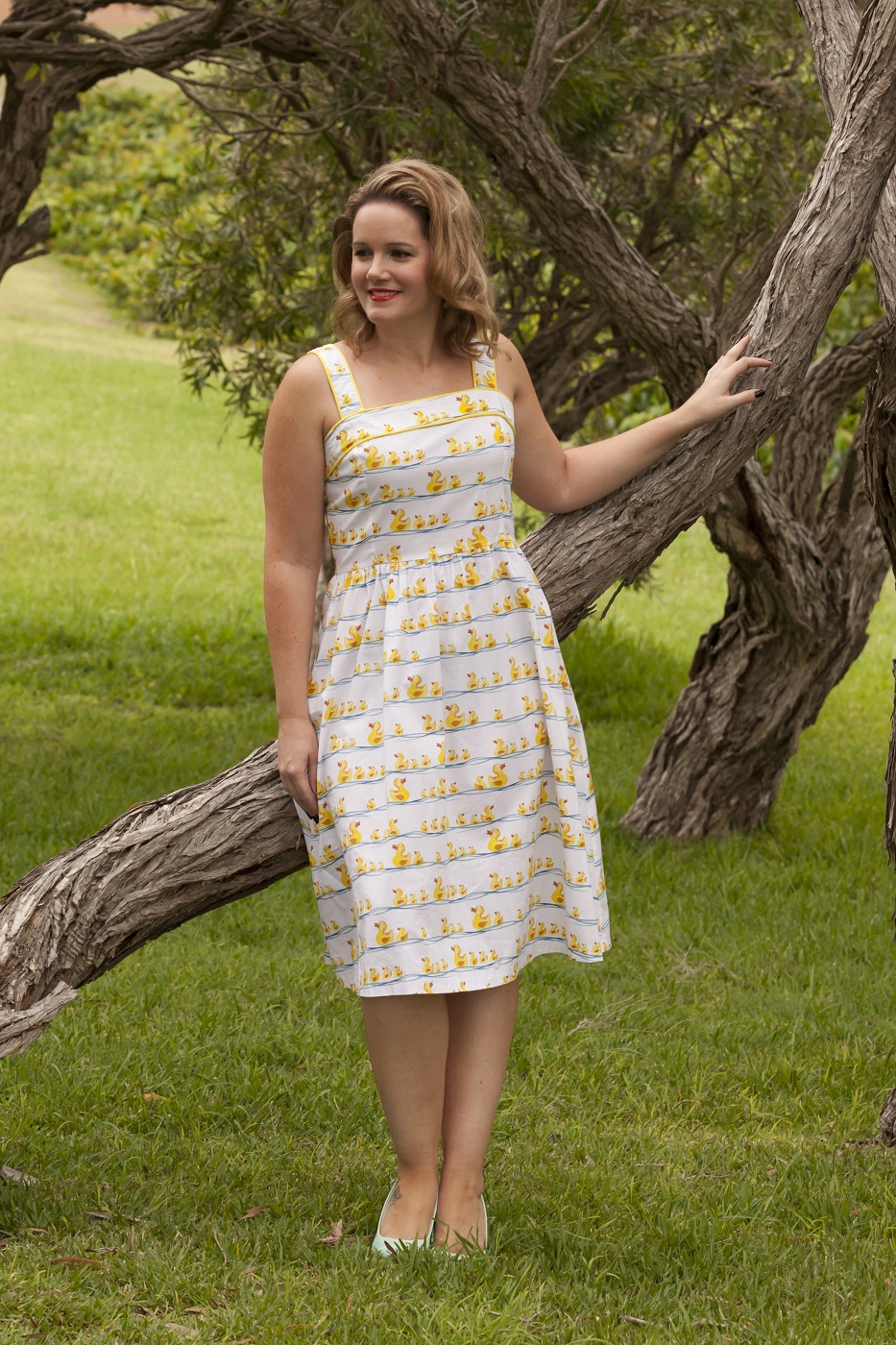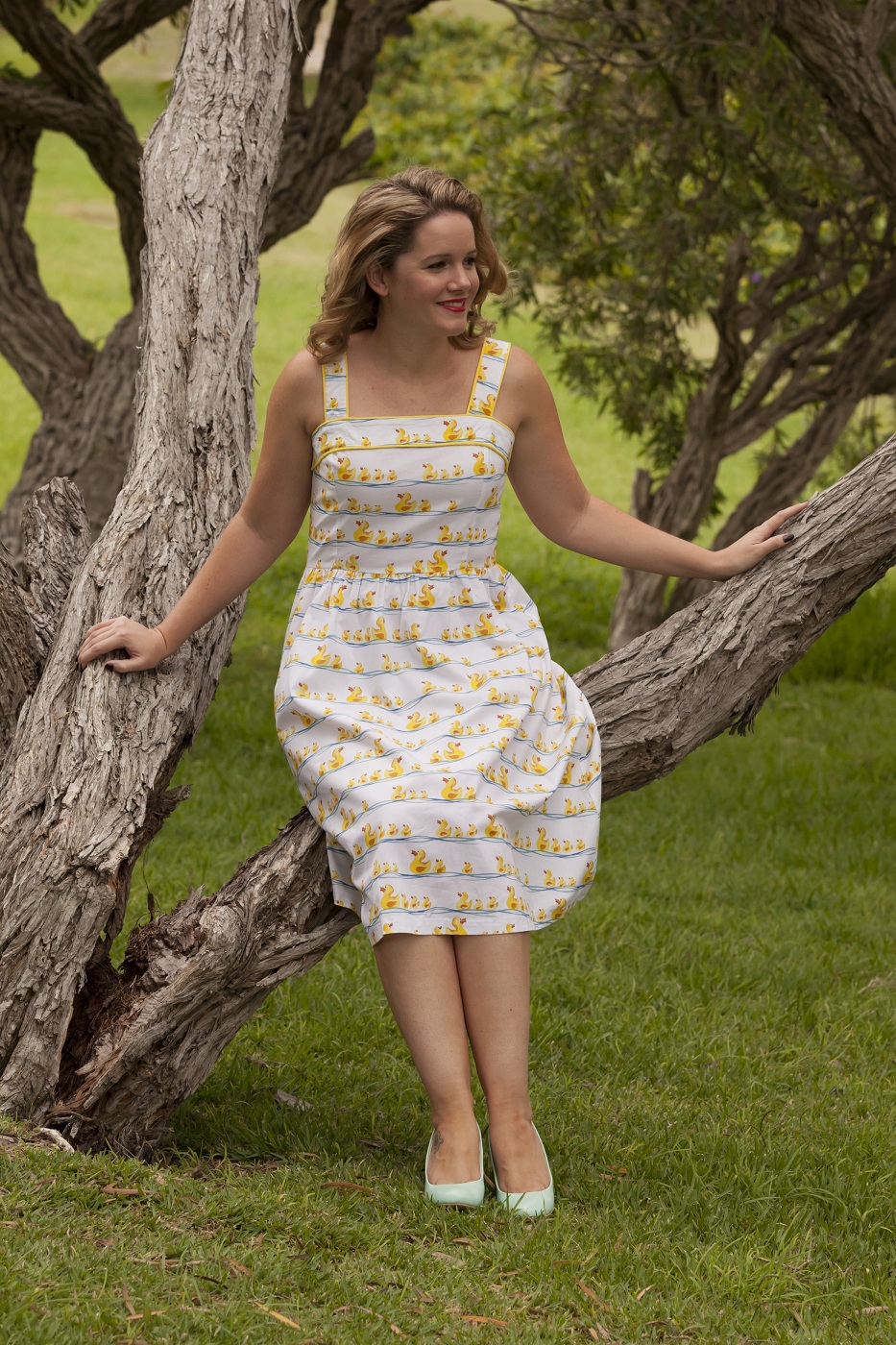 I cut out the dress in size 12 and paid careful attention to ensuring the print would match up across all the pattern pieces. The straps were a bit of a head scratcher because like most strap pattern pieces it is one long strap per shoulder not two pieces that become one, so unfortunately the duckies go in the wrong direction on the back of the dress. I could have rectified it by cutting the pattern pieces so it's different pattern pieces for the front and back but alas, I got lazy. I added about 1.5 inches to the hem of the skirt so it stopped at just below the knee.
I am not a fan of do it yourself piping. I can make it but I just find it fiddly and I'd rather buy it already made. I risked it and bought piping off Ebay as I was struggling to find pre made piping in bright yellow to match the duckies. I find pre-made piping hard to come by in the stores in Australia. Is it just me? I bought it off a supplier in India and could only buy a whole reels worth, so if anyone is in need of bright yellow piping – I got you covered! I elected to put the piping along the bodice upper band and the straps. I thought about putting it on the waistline but figured that might be a bit of a bugger to manage sewing a gathered skirt on top of piping. The pattern also suggests it on the hem of the dress which could have looked OK but my fabric was stiff enough without adding to it further.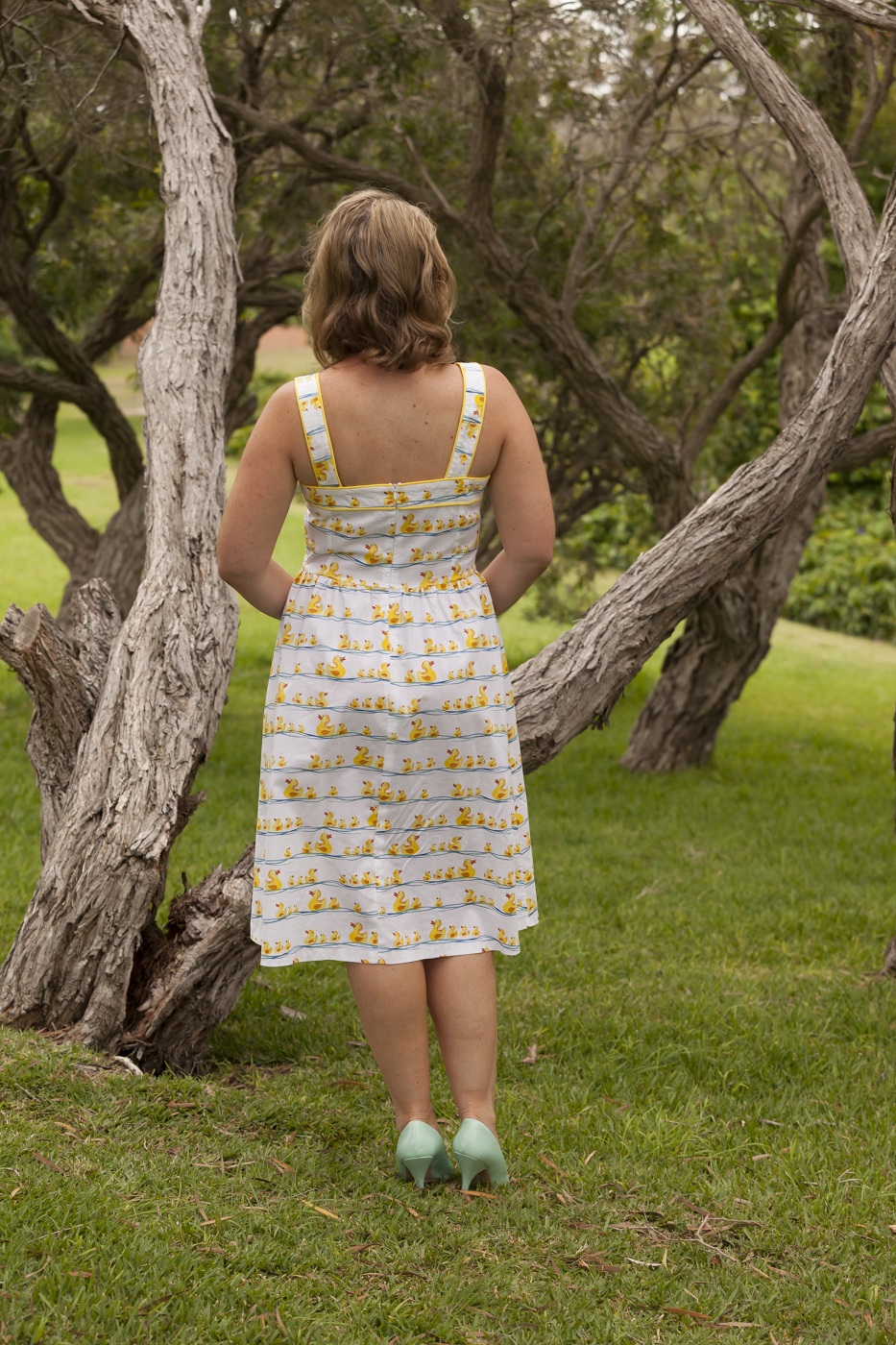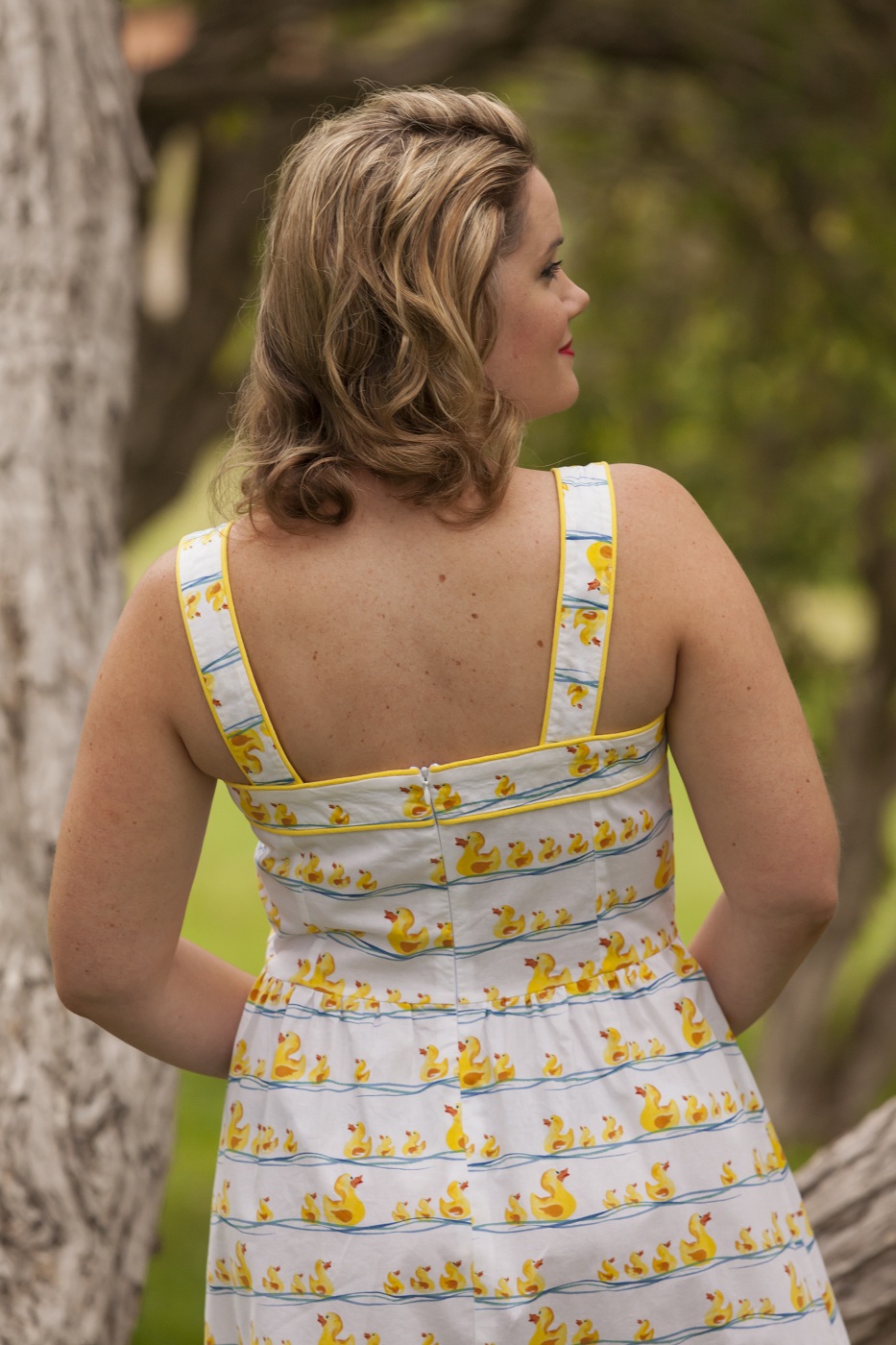 The construction of the dress was pretty straight forward and straight out of the packet. I used an invisible zipper down the back to lessen the print interruption and machine hemmed the skirt which I think blends in quite nicely.
The straps were probably the most irritating piece to fit. I wanted the straps to fit right where my bra straps go so I don't always have to wear a strapless bra and I had to sew and unpick them about three times until both sides looked even in length, placing and covered my bra. I got there in the end!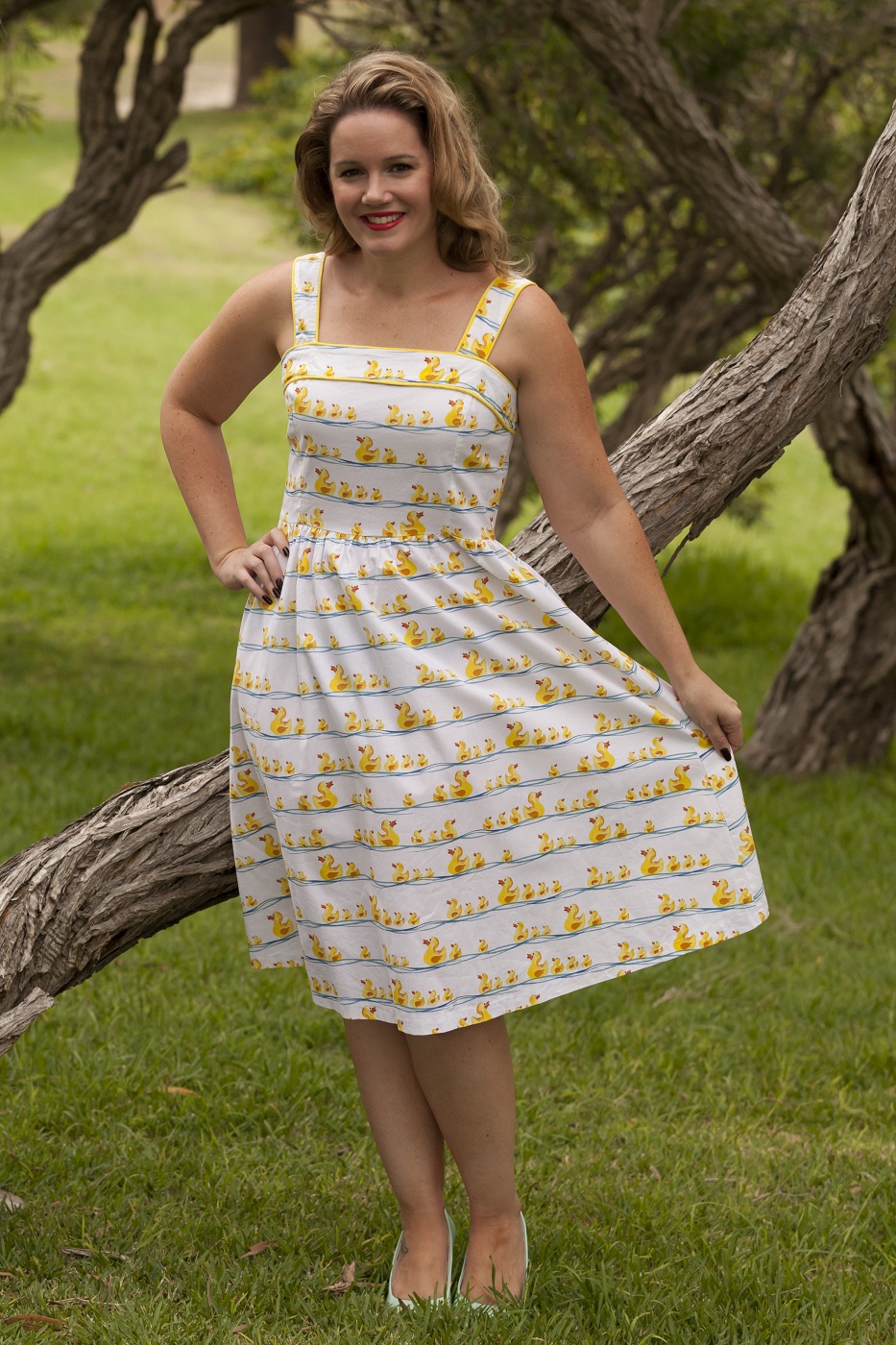 This is without fail a happy dress and super comfortable as well....but I think one only needs one rubber duckie themed outfit in their wardrobe.