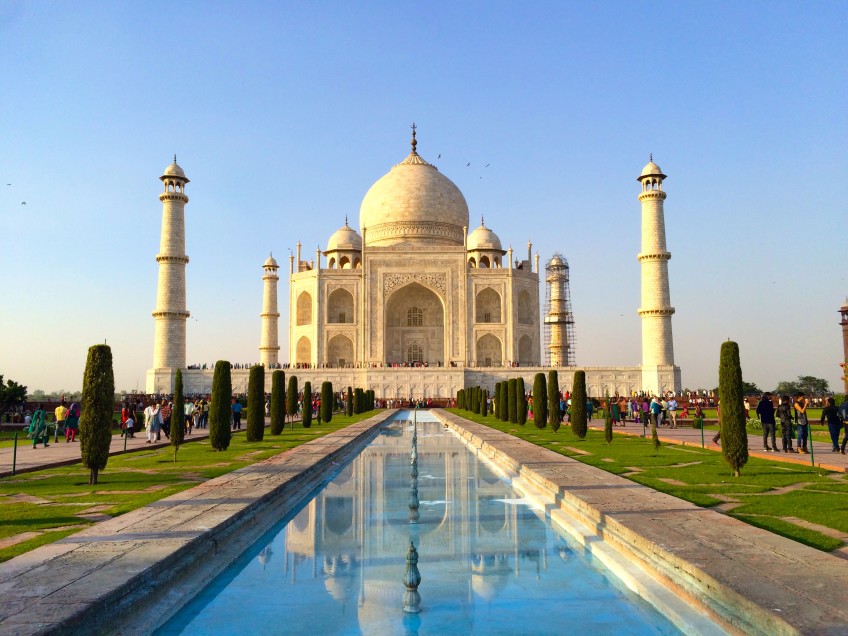 Today marks a month since I got back from holidays - where does the time go! I spent most of October travelling around India and experiencing what is known as the golden triangle (Delhi - Agra - Jaipur) with a couple of extra stops including Pushkar and Mumbai, before a stop over in Sri Lanka on the way home. I had an amazing time on the trip and can't recommend India and Sri Lanka more. And no, I didn't get sick. Nor did I get eaten alive by mozzies.
Since the inception of this blog I have written a couple of times about fabric shopping in other countries. When I go on my annual overseas holiday I like to research the fabric shopping potential before I get there. I think I would be hard pressed to find a country in which I couldn't by fabric anywhere. I mean let's be honest, most people wear clothes. I've blogged about Italy and I've blogged about Vietnam. Funnily enough, my blog about fabric shopping in Vietnam gets the most hits of any blog post! Check it out here. So I figure I might as well continue my new tradition of blogging about my fabric shopping in countries all over the globe by writing up about my experiences in India.
I went into my India trip thinking I would be overwhelmed with fabric choice and will be bringing a whole extra suitcase loaded with fabric home. I dont know if its because I couldn't help but think about my already bulging fabric stash at home or because the fabrics just weren't me - but I didn't really end up coming home with all that much. I think it might have been because I was conscious of my small suitcase and the lack of available post offices along the way to offload my purchases along the way. Anyway, here goes my fabric shopping experience...
Delhi
I had done a little online research before I went to suss out where to go but due to the time restraints I had, I only checked out Chandi Chowk. If you can believe it, the day I had planned to fabric shop was a public holiday! So yay for the shop keepers who had the day off but not yay for me who missed out on many of the shops. I went to Chandni Chowk and there was rows of fabric shops there so I would recommend going there to investigate...when the shops are open. Many fabric shops sell saree fabric which isn't highly suitable for other purposes. I was quite surprised to see how many women wore sarees day to day. I had this idea in my mind that they were for more special occassions. I will say, they look stunning - so bright and colourful. Our taxi driver did take us to one store which sold fabric and I managed to make my first fabric purchase. I bought a blue irredescent silk satin that I'll make a short dress in. I paid $15 a metre for it which is about average. You can pay less but you just need to be mindful of quality. If its super cheap, it just wont be quality. The store I went to was called Rajasthan Textile Development Corporation (275, West End Marg, Near Saket Metro Station, Said-Ul-Ajaib, M.B. Road, New Delhi-110030). Another store I stumbled upon in central New Delhi was Sanjay Textiles. It had a lovely array of viscose, rayons and cottons by the metre (6/78 W.E.A., Ajmal Khan Road, Karol Bagh, New Delhi)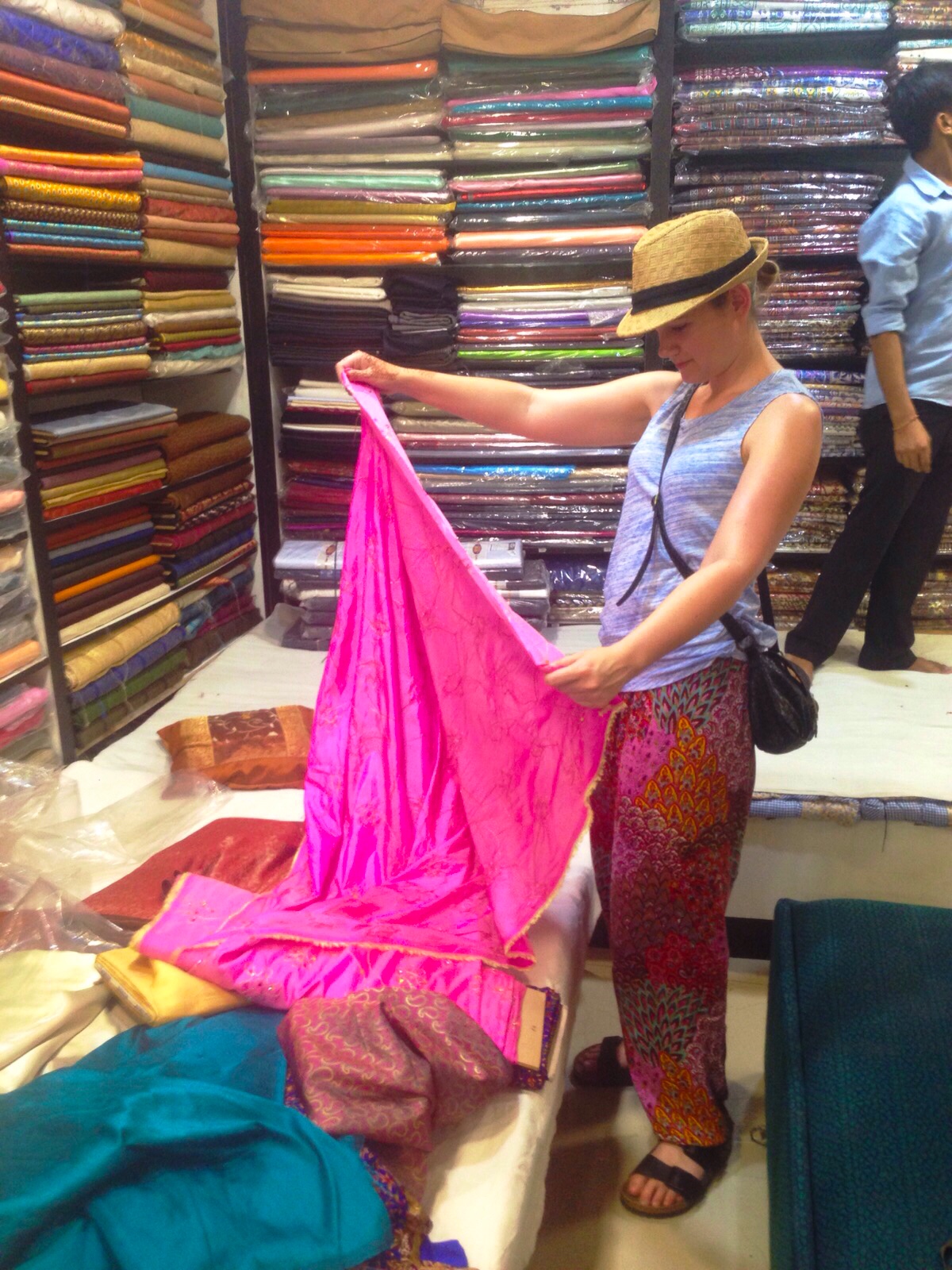 Me at Rajasthan Textile Development Corporation in New Delhi
Jojowar
Jojowar is pretty off the beaten track and I only stayed there for one night in an amazing heritage hotel called Rawala. If you find yourself in Jojowar, stay there! I mention this town because outside of the heritage hotel was the main street and it was store after store of fabric shops. I think it is a popular place to buy fabrics for sarees to make and then sell in bigger towns. The street is called Pali-Bhilwara Road. I ended up walking away with some crazy blue heavily sequinned fabric. I bought it with no intention of ever using it, but more of a keepsake. At about $5 a metre it wasn't a huge purchase. I also bought some glittery polyester organza i'll use to make up a vintage prom dress. I found myself trying to haggle some of the shop keepers despite the fact in Aussie dollars it was really not much money - you just lose sight of how little you are paying! Don't bother checking out this area for fabrics if you want real quality cotton or silk, it wont be there.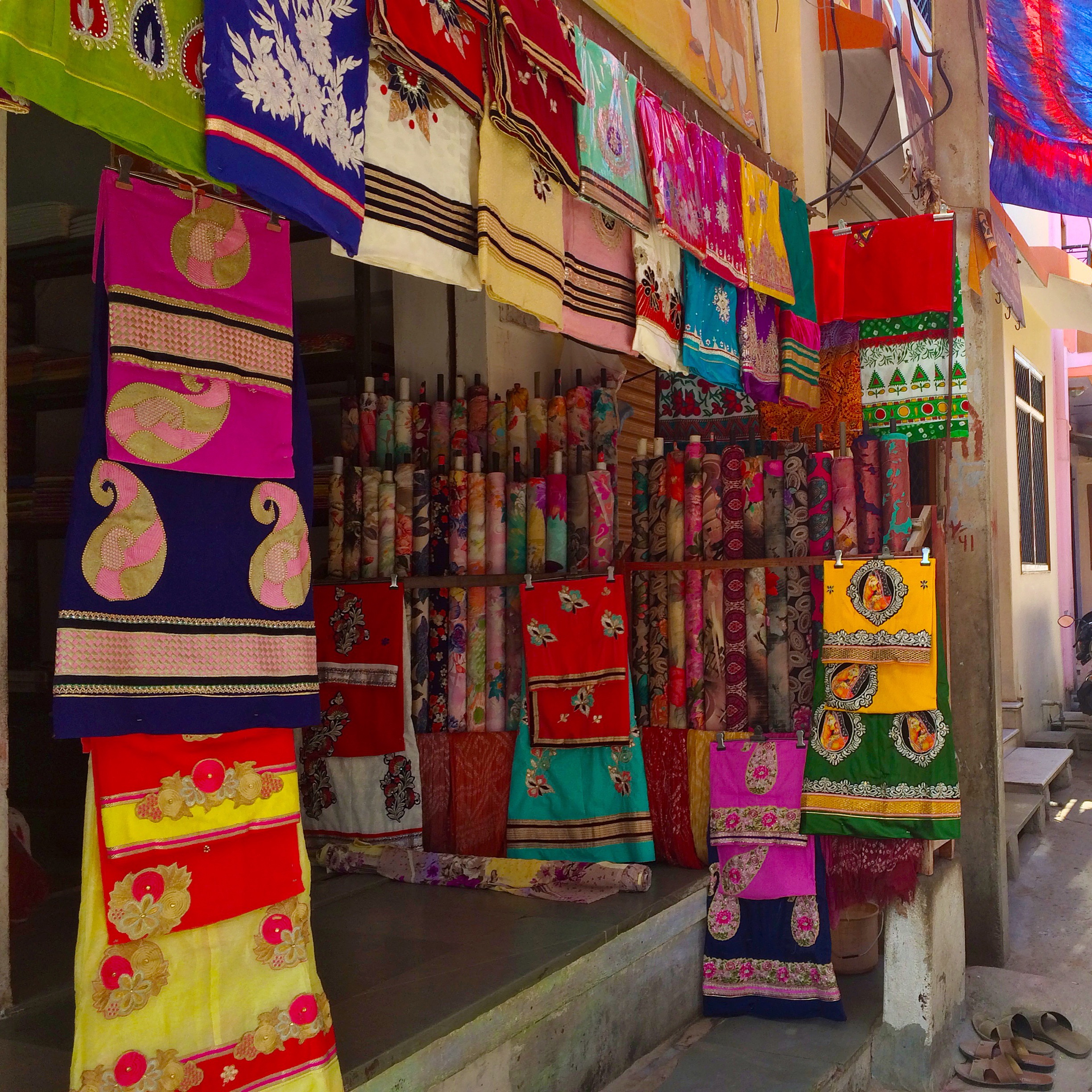 Jojowar
Udaipur
Jaipur was one of my favourite cities. I think it had something to do with the fact that its on a lake and the white buildings surrounding the lake are rather pretty at sunset. I stayed in this town for a few days and the hotel was nice and close to the main streets so plenty of time to look around. It was here I was recommended a tailors shop to get clothing made up. Because I can make my own clothes I wasn't interested in tailoring however I was interested to see the fabrics they had for sale. Most tailor shops will let you purchase just the fabric without getting something made up. The tailors I visited was called Lord & Tailor (12, Lal Ghat, Udaipur-313 001 (Raj.) It wasn't far from the waters edge. Here I bought some hot pink silk satin with gold embossing. I'm hoping its not too way out for a strapless short evening dress. It was at this shop they let me have a go of their pedal sewing machine. I think I almost broke it first go and was just thankful for my own Betty Bernina because the machines in this shop were terrible to use. So heavy and did not sew in a straight line - it was like the machine needed realignment!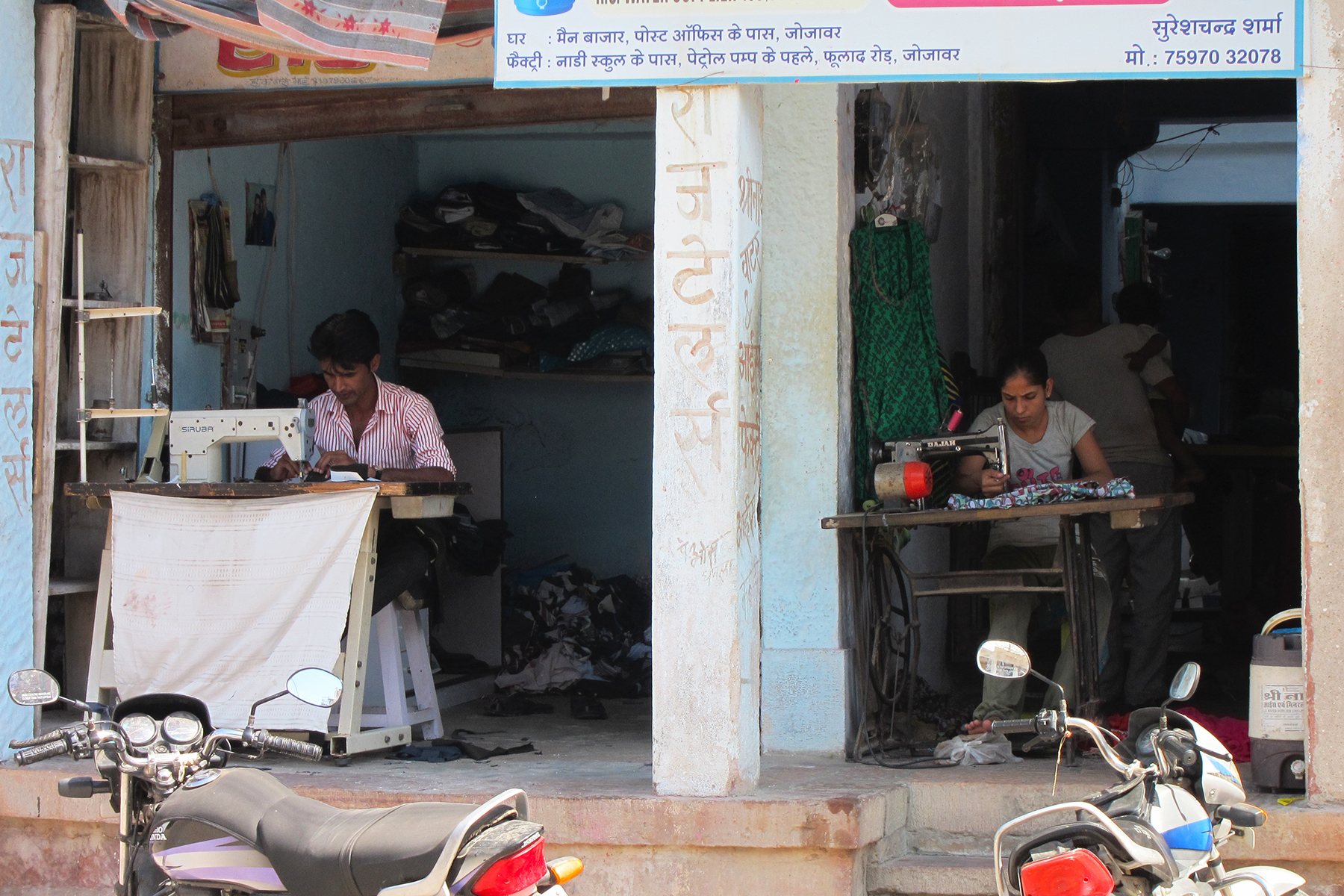 Mumbai
Lastly, but certainly not least is Mumbai. Mumbai is one BIG CITY. The slums bump up against big corporate buildings and the influence of the Brits is everywhere. I loved this city. In terms of fabric shopping, this was the jackpot for me. On the advice of locals I headed to Mangaldas Market which is situated within Crawford markets. Crawford markets is a big area of streets, so don't expect a market in terms of one walking into a big bulding and it being all in one place. Crawford markets is made up of a number of streets and each area specialised in a particular product. They had a jewellery section, a stationery section, a cookware section where you can get great deals on copper cooking bowls and lastly, there is the fabric section. Look out for Mangaldas markets as thats where all the fabric are. It's one big building made up of alleys of stall holders. There is a great selection of fabrics - cottons, silks, rayons etc and a mix of plain and print. I also found quite a few stallholders selling shirt and trouser fabrics too. I'd suggest firstly looking around everything and then going back to stalls, as a nmber of stall holders have the same products so you may be able to get fabrics cheaper from one than another. I did haggle a little and got the pries down but not too much. Mainly becase after 3 weeks of travel I was sick of haggling! So give it a go if you can be bothered because you'll be offeed a tourist price initially everytime.
Lastly when in Mumbai, make sure you do the High Tea at the Taj Mahal Palce hotel. It was incredible!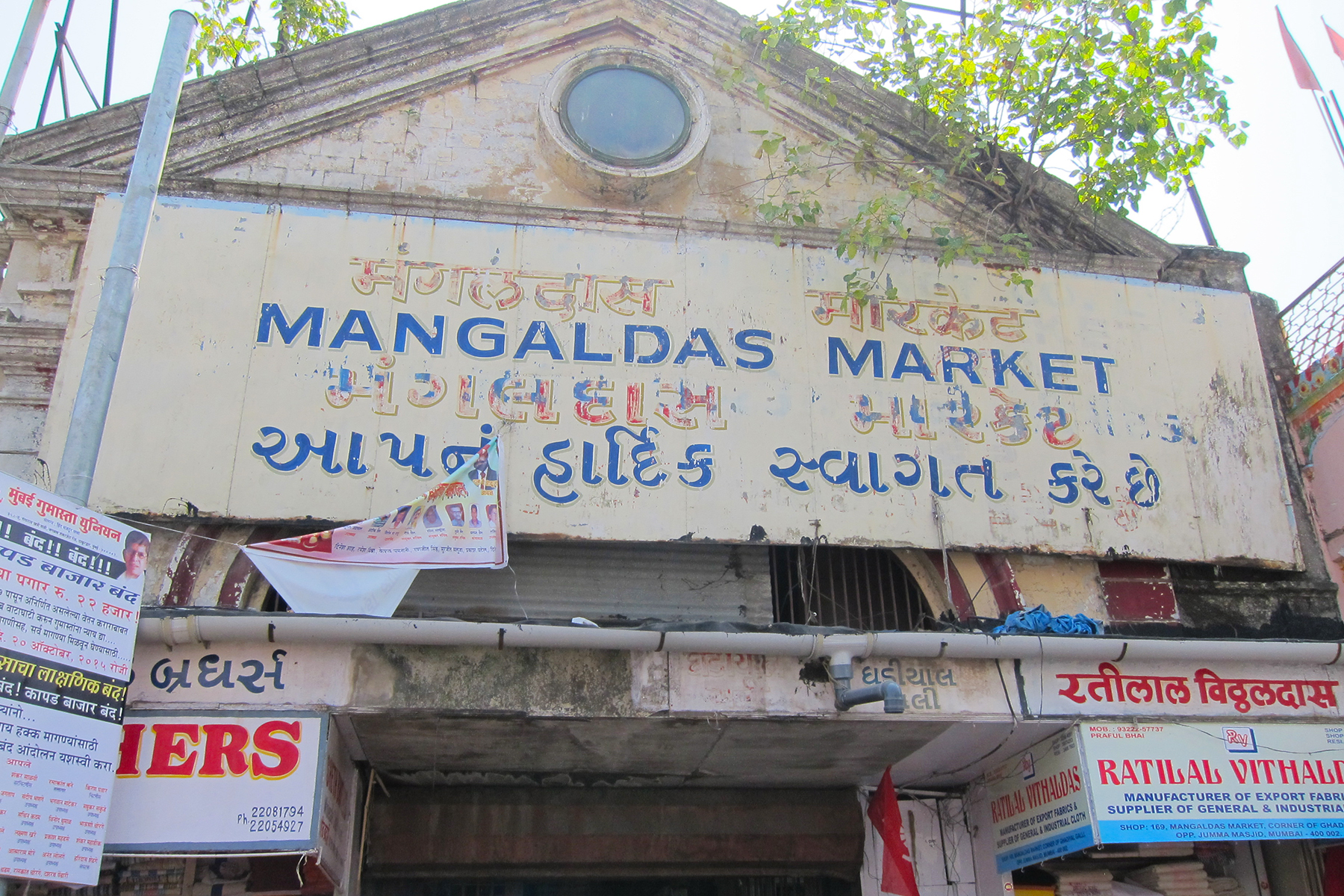 The big destination for fabric in Mumbai - Mangaldas Market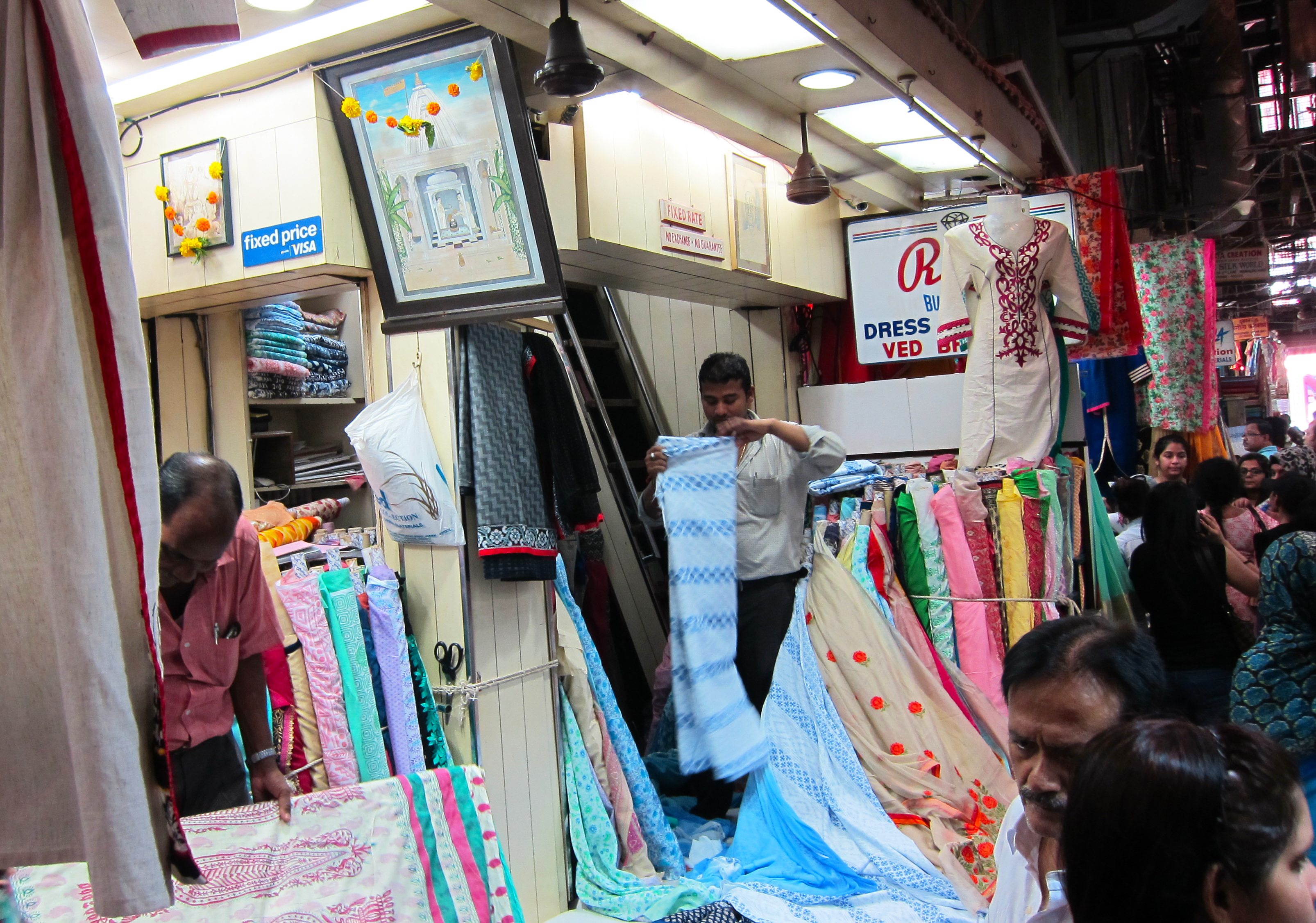 Inside Mangaldas Market.