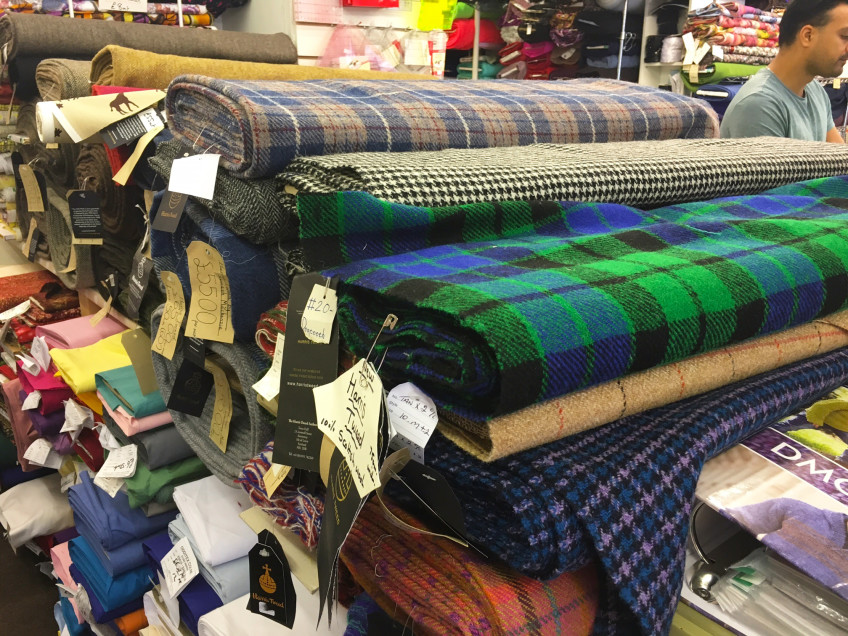 Happy new year y'all! I'm looking forward to starting a fresh year and saying good riddance to 2016. 2016 wasn't the greatest of years for me, and for the world for that matter. I didn't come up against any earth shatteringly horrible events, but just a whole lot of pickles on the crap sandwich that was 2016. The one upside of having a pretty ordinary year is the optimism you develop as you enter the next year. The hope to make things better, and attempt to not make the same mistakes. Although we are all human. Insert cheesey quote here.
One thing that remained a constant for me in 2016 and will continue into 2017, is my love of sewing. It's comforting that I have something to turn to whenever I need to swtich my mind off and enter the 'flow' zone. For those not familar with the term 'flow', it is a concept coined in positive psycohlogy. Wiki describes it really well: In positive psychology, flow, also known as the zone, is the mental state of operation in which a person performing an activity is fully immersed in a feeling of energized focus, full involvement, and enjoyment in the process of the activity. In essence, flow is characterized by complete absorption in what one does. Sewing = my flow.
My only new years resolution where sewing is considered is to make lingerie. It's something I've thought about doing for a while now, and after seeing the Simplicity patterns designed by Maddie Flanigan I'm convinced to give it a shot. I'm also lucky enough to live close to the Booby Traps business where owner Dee runs classes in lingerie making. You can just get lost on her website admiring all the pretty laces and materials available to start your lingerie journey. To start my lingerie making I'm going to book into one of her classes in February and go from there.
Well back to theme of the blog post - fabric shopping in Scotland. Any time I travel I blog my fabric shopping experiences in the hope it helps future travellers out. I certainly find it helpful if I stumble across blogs about fabric shopping when researching an upcoming trip. I will say upfront, this is not an exhaustive list of potential shops to visit in Scotland. This is the list of shops I visited. I lived in Scotland for two years, so I got familar with the local places to fabric shop. Being a smaller country there isn't a vast choice of shop fronts to visit, but those that do exsist are fabulous.
Edinburgh
Oh Edinburgh. My favourite city in the whole world, after my home town. It was my home for two years and I will always be drawn back there to visit for the rest of my life. In fact, I've since been back to visit 3 times since I left in 2011. The two fabric shops I visit in Edinburgh are Remnant Kings & Edinburgh Fabrics. When I visited Remnant Kings I was really impressed with the variety they have. They stock quite a lot of furnishing fabrics, and their upstairs section is a mix of quilting and apparel fabrics. I visited in Summer so they had quite a lot of cotton fabrics and they are also the best place in Edinburgh to purchase Liberty print. I purchased some lovely Liberty silk twill fabric, and some of tana lawn. They also have a pretty good habby section and sell a small amount of independent sewing patterns - I picked up Grainline Studio & Closet Case Files sewing patterns whilst I was there.
I visited Ediburgh Fabrics for the first time on this visit. My bus had gone past it a stack of times and I managed to finally visit this time around. The shop is a bit of a jumble of fabrics and the do sell quite a bit of polyester prints and fabrics mroe suitable for fancy dress. The one thing they do sell and what I walked out with, was Harris Tweed. Harris Tweed begun production in about 1840 and to this day is handwoven by islanders in their homes in the Outer Hebrides of Scotland. The definition 'Harris Tweed' and its quality standards are protected by the Harris Tweed Act 1993. I think the history of this cloth is just fabulous! Be warned, it is expensive. I wanted to make something that I would have long term and would be a reminder of my visit so I spent more money on fabric than I ever had in my life in this shop. I walked out with close to $400 worth of Harris Tweed to make a Grainline Studio duffel coat. I'm almost too scared to ever cut into it. It will be my big project for Winter 2017. I also bought a small amount of Scottish themed quilting fabric. It's not at all naff, which is rare for country-themed quilting fabric.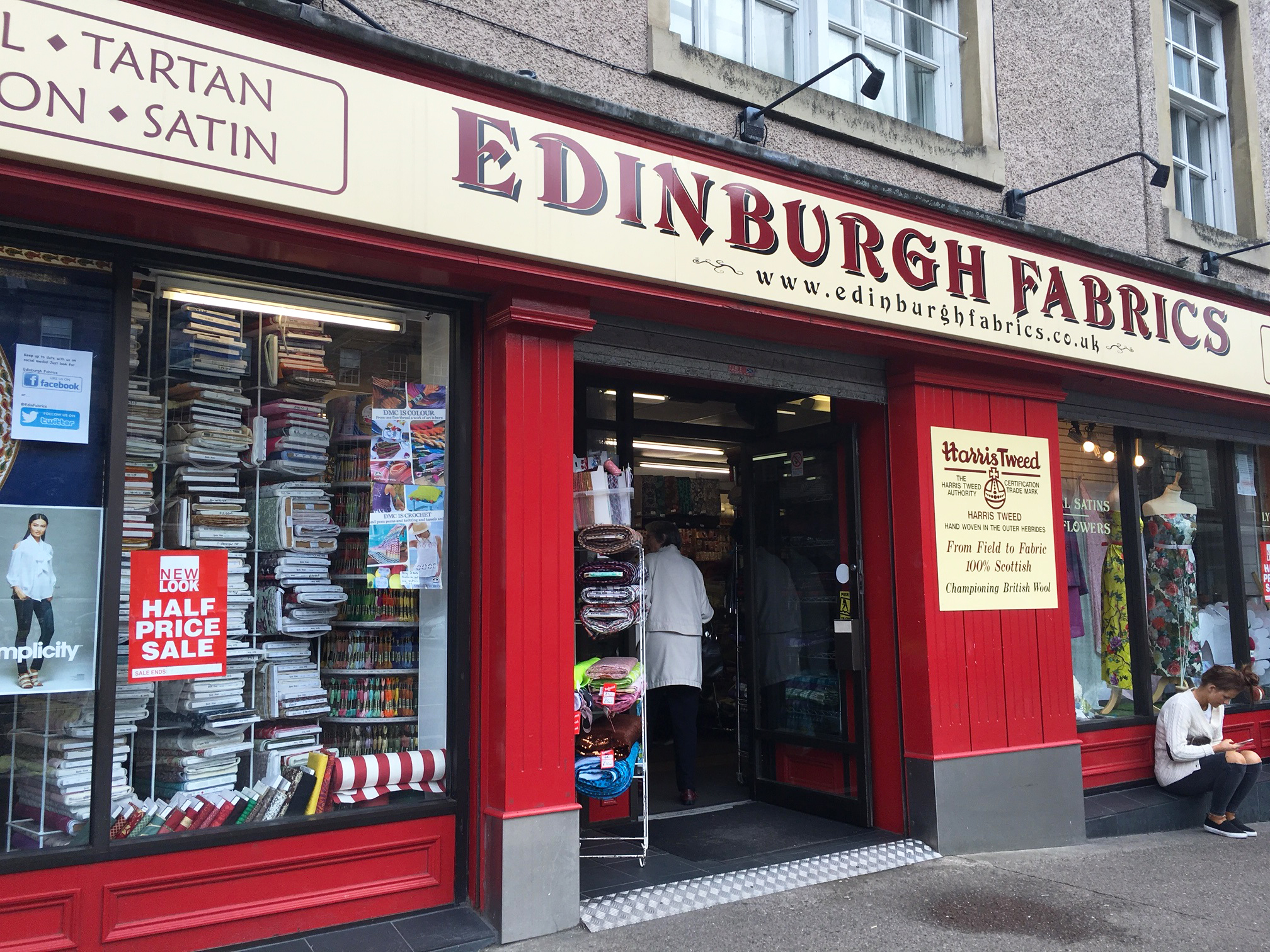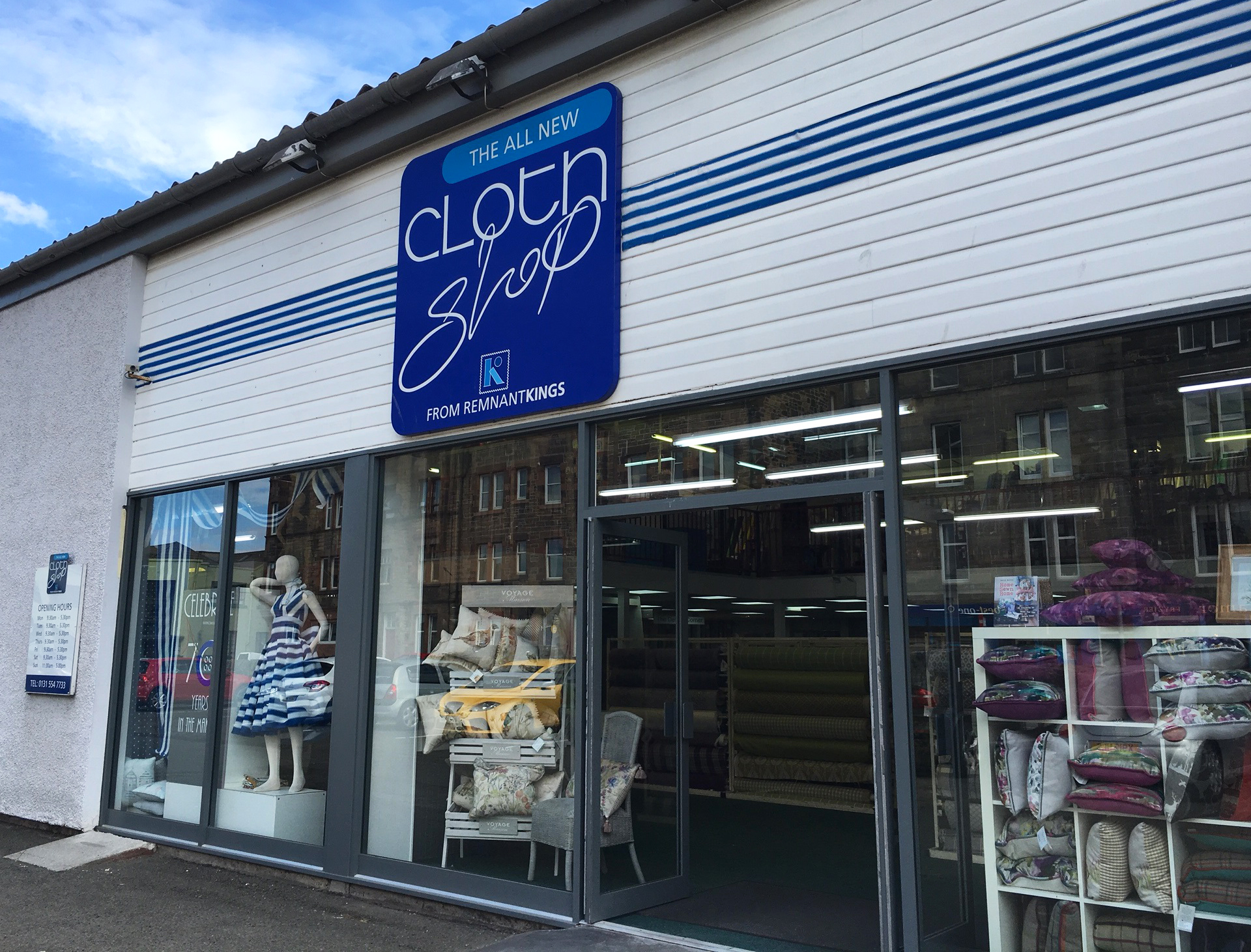 Remnant Kings
There is another fabric shop in Ediburgh which I didn't get to, so I can't say much about it. But if you want to go one step futher, check out Fabric Focus.
Glasgow
I can't remember the last time I visited Glasgow and didn't take a trip to Mandors Fabrics. I used to buy fabric at Mandors when I lived in Scotland, waiting to use it when I returned back to Australia. Mandors is another shop that is great for Liberty print and when I've visited it's often a little cheaper than what you'd pay at the Liberty store or in Australian stores. They also have a pretty extensive range of woollen fabrics and tartans. I spied a range of wool crepe and poly crepe also in lots of great colours.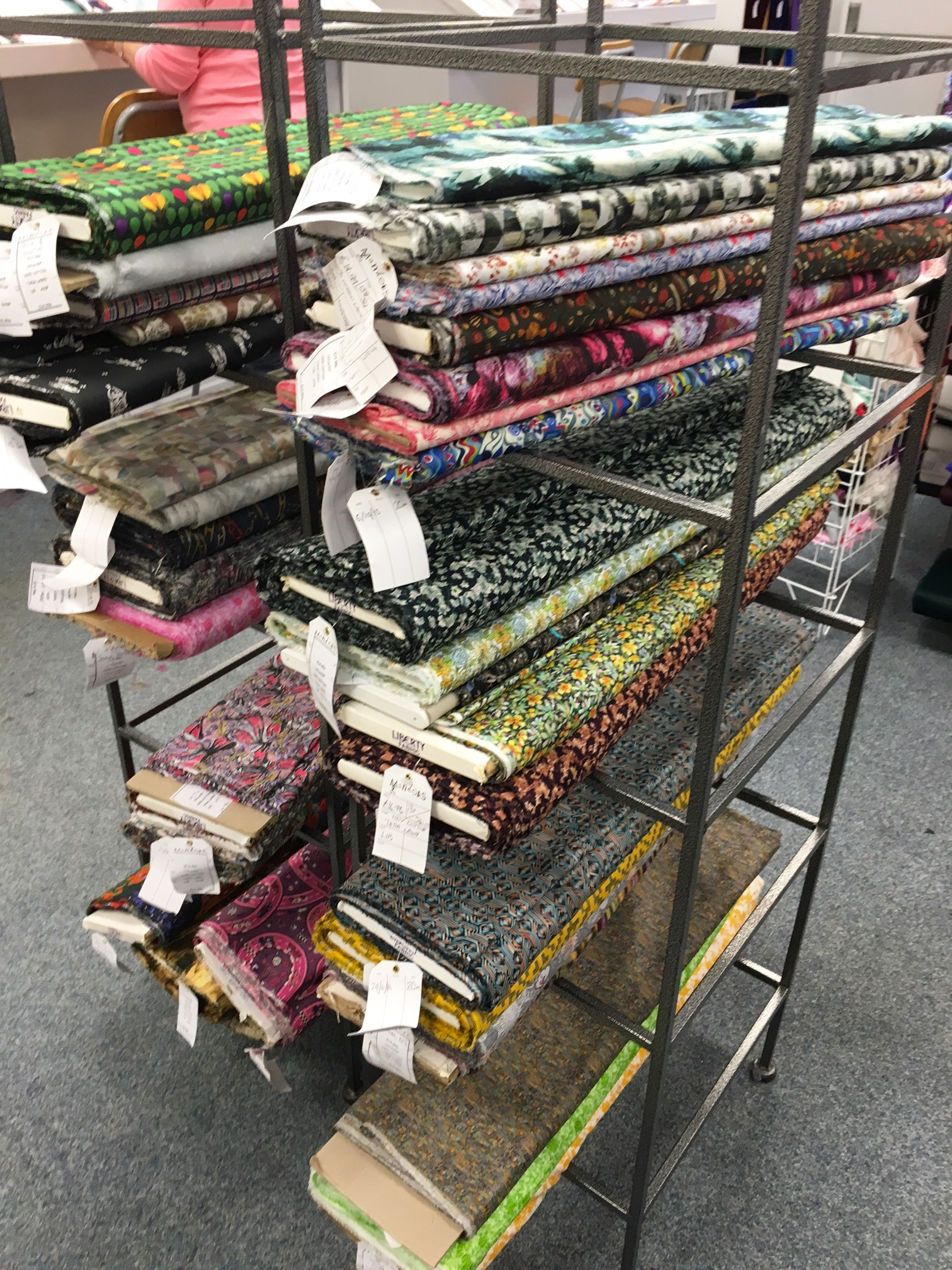 Liberty print at Mandors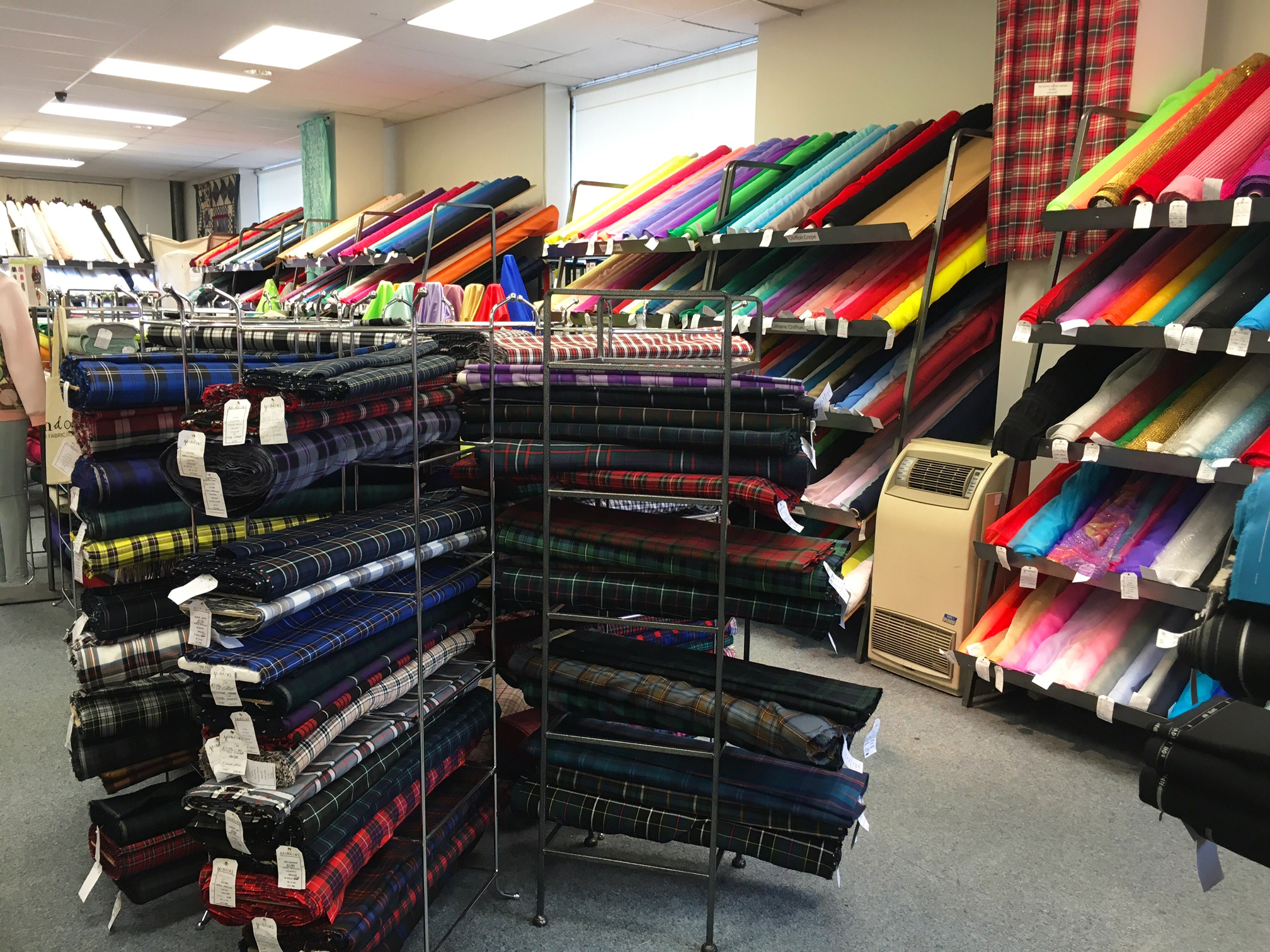 Mandors tartan selection
Remnant Kings also has a shop in Glasgow which I didn't visit, but no doubt is a cheeky look in.
So I visited a total of three fabric shops in Scotland. Not a big number, but each did offer a different variety of fabric options, so I didn't feel like I was seeing the same stuff at each shop. Happy shopping!