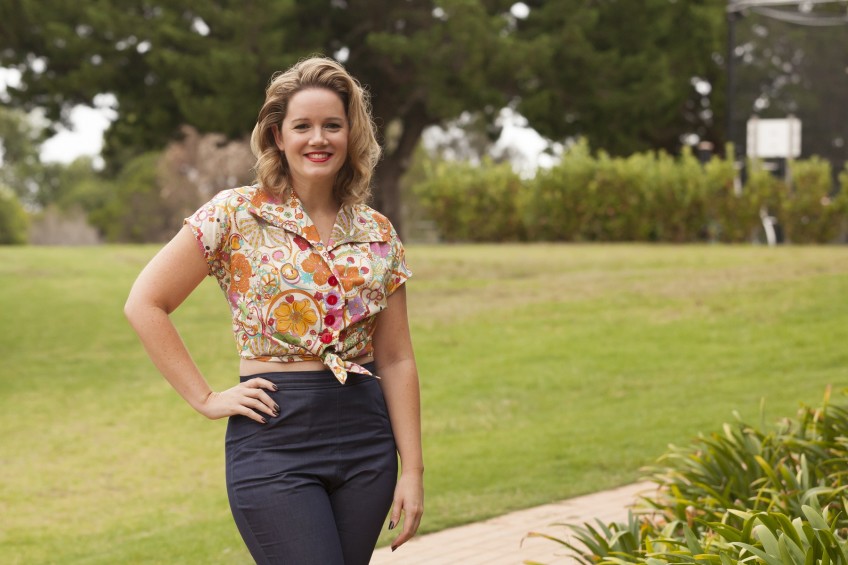 I'm writing this during a break at a work conference. I am trying to milk out every hour of the day at the moment as life has been getting in the way of my blogging activity. It's just a busy hump at work which I find then means I can't be bothered to do much more than continue my Netflix love affair in the evening (hello Bloodline, my new obsession). The prospect of getting in front of a computer after work is less than appealing. I've also no energy to actually sew, so I'm only finding time to do that on the weekends which is rather disappointing. the fabric stash isn't going down fast enough!
Last weekend I did have one of my biggest sewing moments, if not THE biggest. I bought a new sewing machine. Now most people may not find this a revelation but if you know me and my long love affair with my current machine, it was a big purchase. it wasn't a cheap purchase! Every year I attend the Craft & Quilt Fair in Sydney and pet the Bernina sewing machines at their stand and say each year, 'I will trade up and get a new one. One day'. Well this was the year. Thanks to the support of my legend Mum who recognises a sewing obsessed individual when she sees one, she encouraged me to make the purchase on a parental loan which I'll be paying back over the coming months. I opted for the Bernina 550 Quilters Edition which is in the higher end of the range for home sewers and quilters before you move into buying embroidery or really heavy duty quilting machines. The most expensive machine they were selling at the fair was $17,000, yikesabee!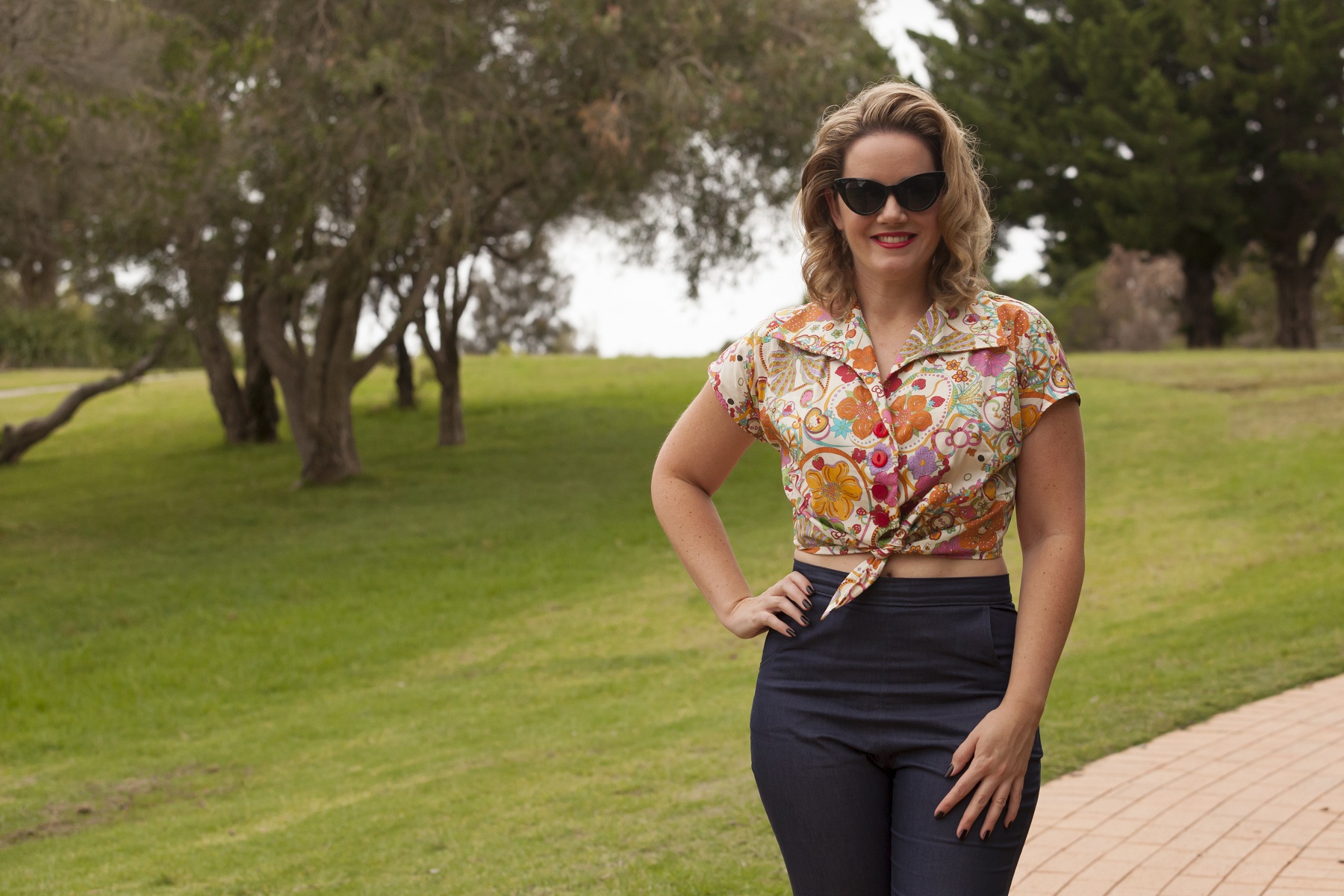 But when you know you'll be with the machine for the next 10, maybe 20 years, the money for quality is worth it. I am a die hard Bernina fan thanks to using Mum's 33 year old Bernina Nova my whole life. It never broke down and largely always behaved. So you might ask then, why get a new one? Well a lot of technology has happened in 33 years which is evident everywhere, including sewing machines. From the smallest thing, like the thread now goes on the machine horizontally and not vertically which led to many spools getting tangled previously, to the fact that you can press a button and booom, a new button hole is created. None of this 5 step button hole making my old machine does. I had a free lesson as part of buying the machine from the lovely Bernina Chatswood ladies. I was taught how to use the semi-automatic threader on the machine. Yep you heard right, semi-automatic threader! My machine also comes with a presser foot lifter, which has been hard to get my head around from a co-ordination perspective, but I'll get there. My friends now worry they may never see me again. And to be honest, they may well be correct.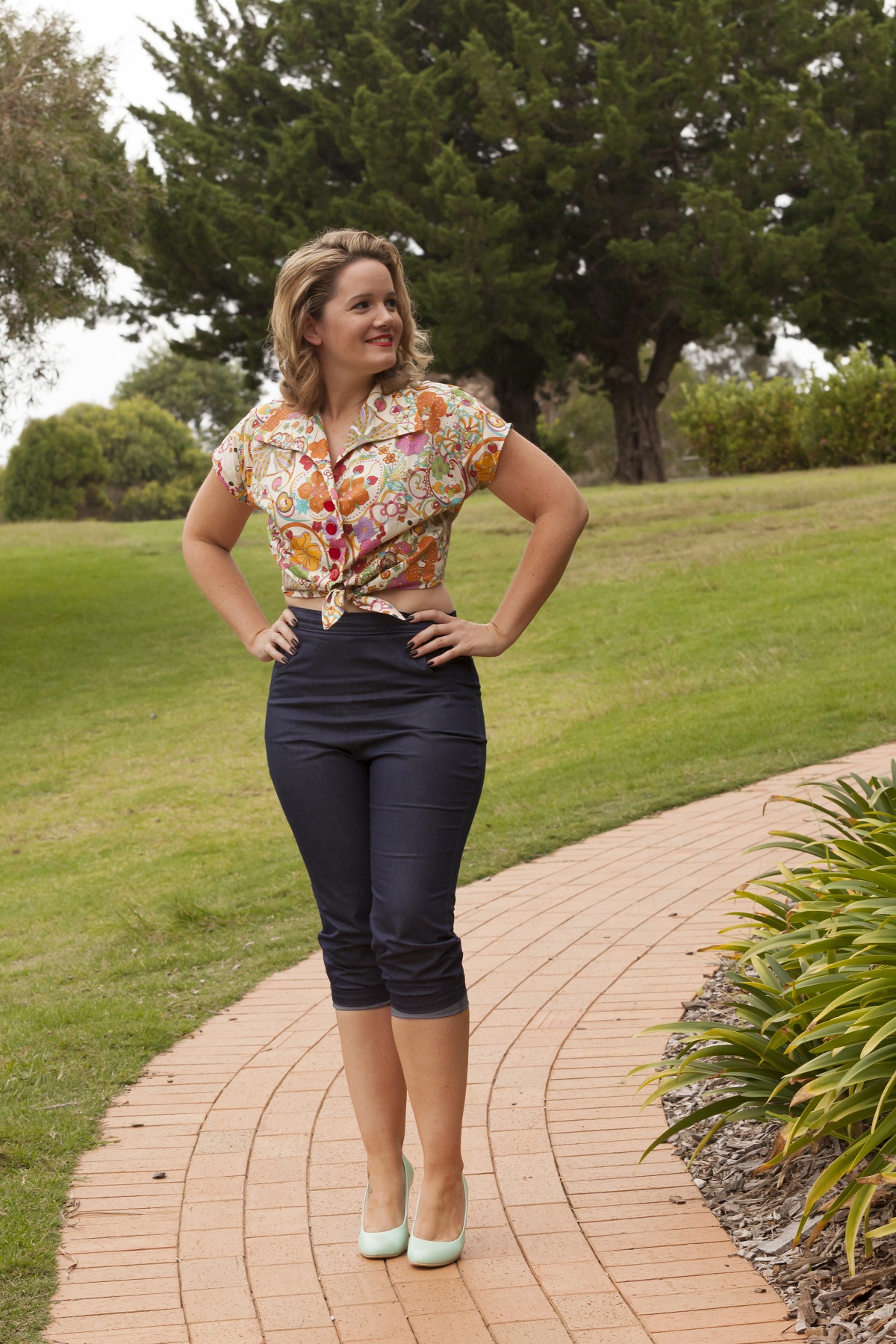 But back to some sewing created by my trusty Bernina Nova. I am quite a fan of Gertie's patterns for Butterick. I used my first one for my NYE outfit last year and it turned out beautifully so was quite excited to try another of her patterns. This time around, it was Butterick 5895. Now this looks like a simple pattern and really it is, but all I saw was pants and I had a litle bit of a freak out. But, after giving the pattern envelope a once over, I concluded that if I were to ever get over my pants phobia this would be a nice easy pattern to try. Even if the model on the envelope is completely lacking in the butt department, and well I dont suffer that problem.
Starting with the tie front blouse. I LOVE this blouse. Totes cute. I bought up a Liberty x Hello Kitty limited print about a year again online and knew tana lawn would work a treat for this. I cut out a size 10 for this blouse given it was described as loose fitting and the fit was near perfect. As it has a tie front, it is a bit forgiving size wise in the waist. There isn't a lot to say about this top in terms of advice for future sewers as it really is quite straight forward - result! The only thing I would say is that it is rather cropped. If you aren't comfortable with showing of your stomach, dont make this top. Or consider lengthening it and maybe adding one extra button if you do.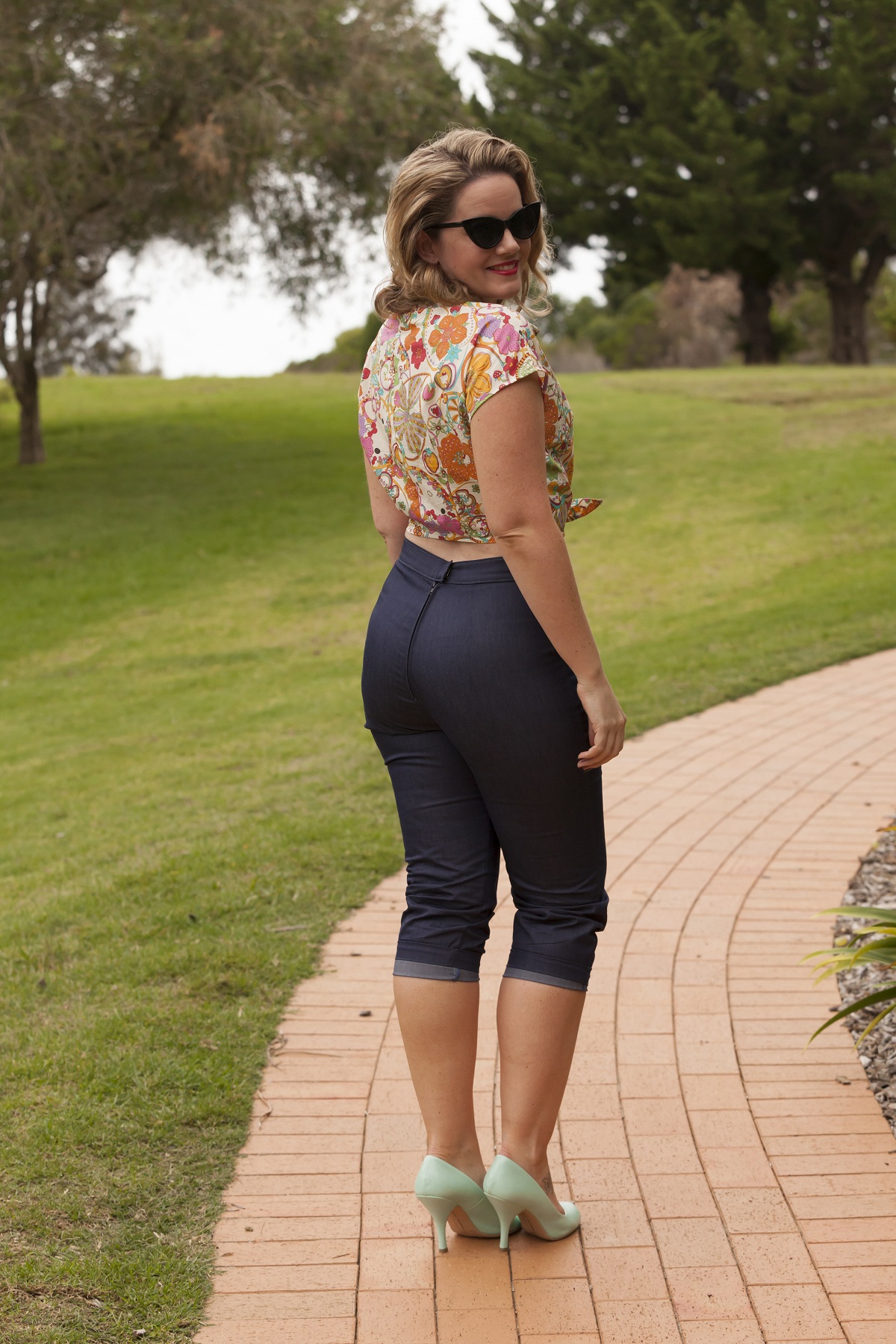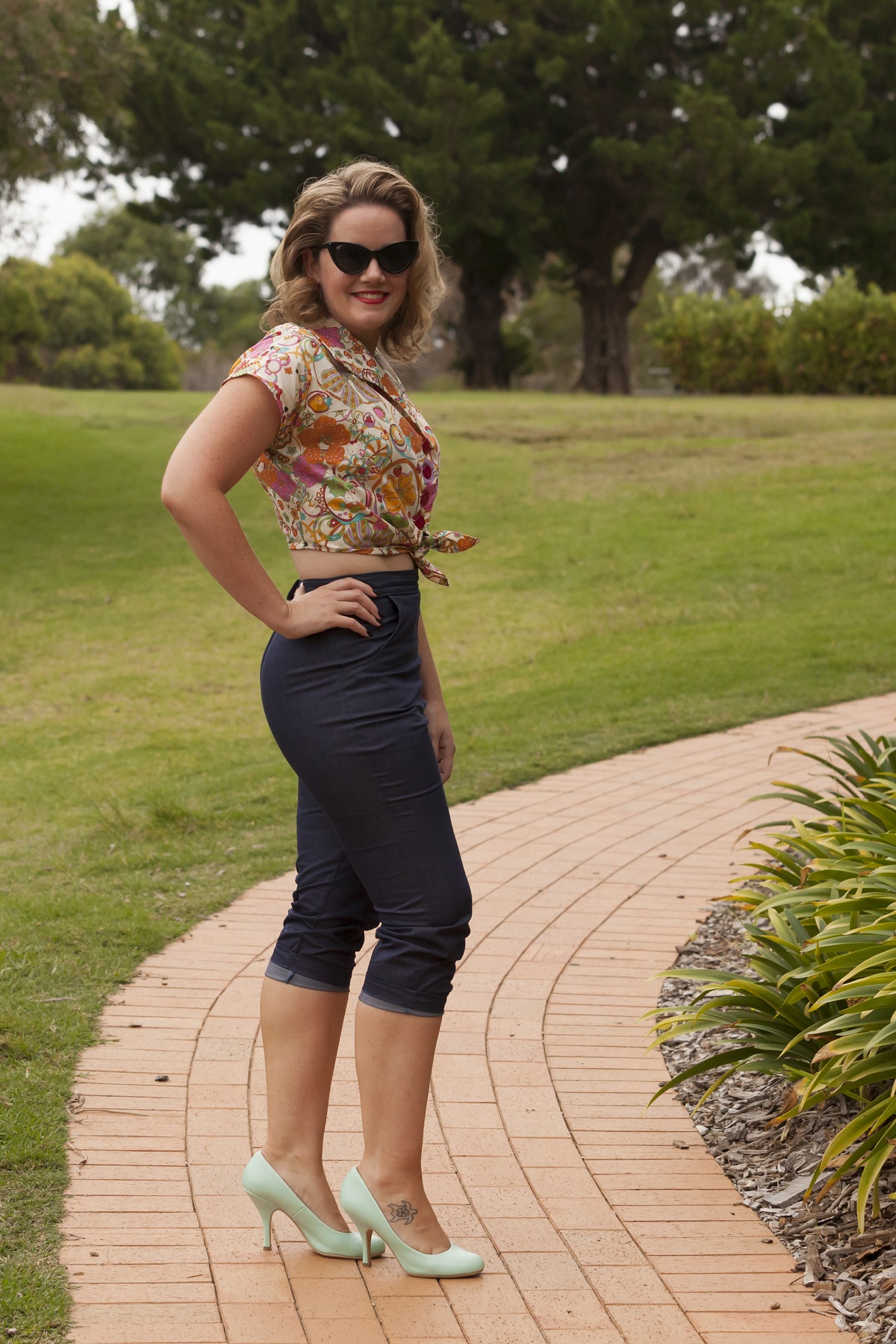 Right onto the jeans. The pattern describes them as semi-fitted tapered jeans, but I would say mine are just fitted. I bought denim fabric that had a little stretch in it from The Remnant Warehouse in Alexandria, Sydney. Probably not as much stretch as I would have liked in hindsight but still works. I cut out a size 12 but really ended up grading out to a size 14 for the whole leg pants. the construction of the pants is pretty straight forward and there's no fly but rather a ordinary zipper closure down the back. I think if I made them again I wouldn't mind seeing if you could switch it up and move the zipper to a side seam instead. These pants are pretty high waisted. In fact, probably a little bit too high waisted for me and next time I make them I might try and lower the waist a smidge. But if you are making them to go with the pattern top then I guess it works out OK. I'm not happy with the pull across the crotch that shows up in these photos. I don't think thats a fit problem so much as the fact they are a little too tight for me and the fabric doesn't have a lot of stretch like I mentioned earlier. I've lost about 3-4 kgs since I took these photos, so they may be perfect now!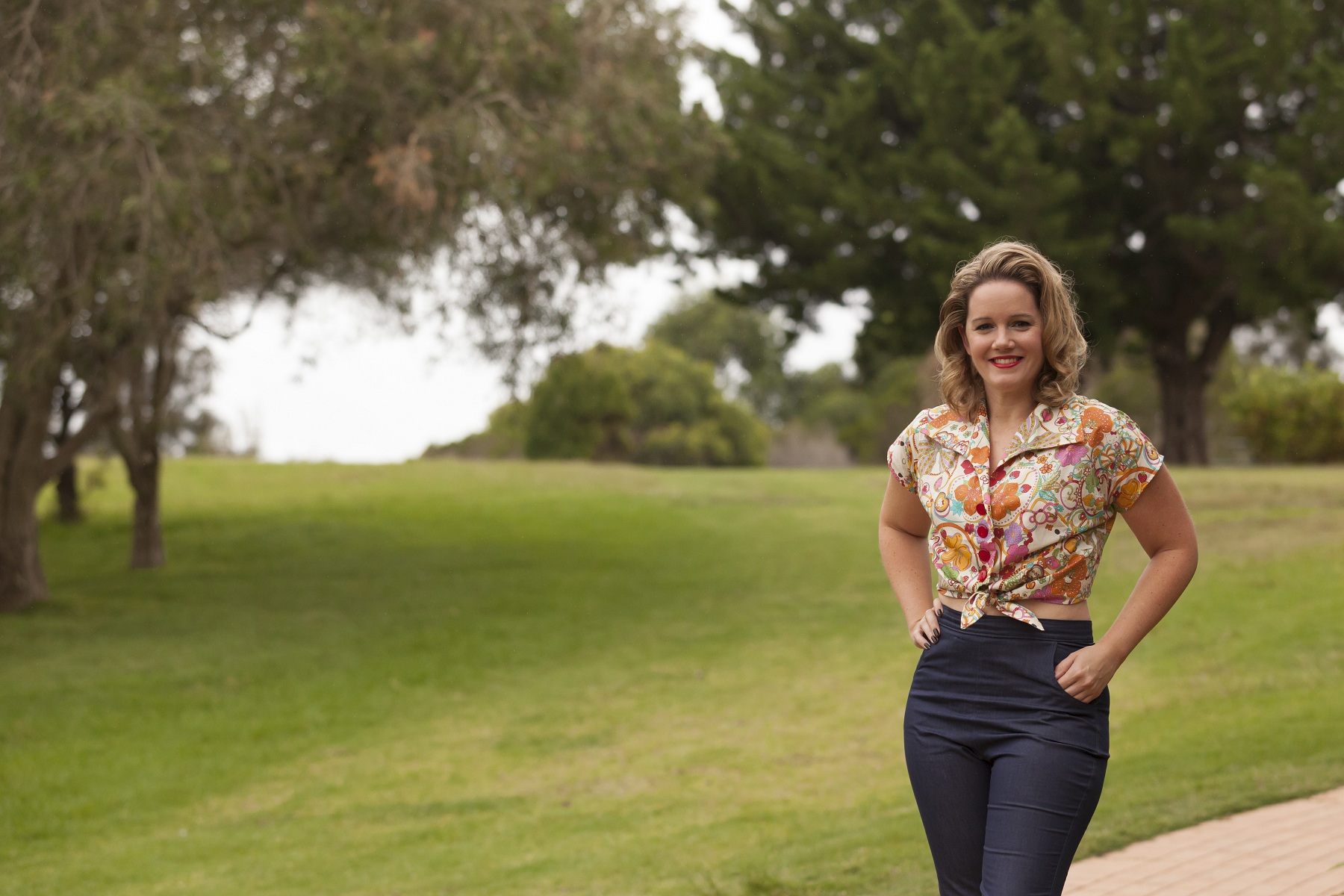 Well heres to a really cold weekend and the perfect opportunity to stay in with the heater and my sewing machine #outofcontrol