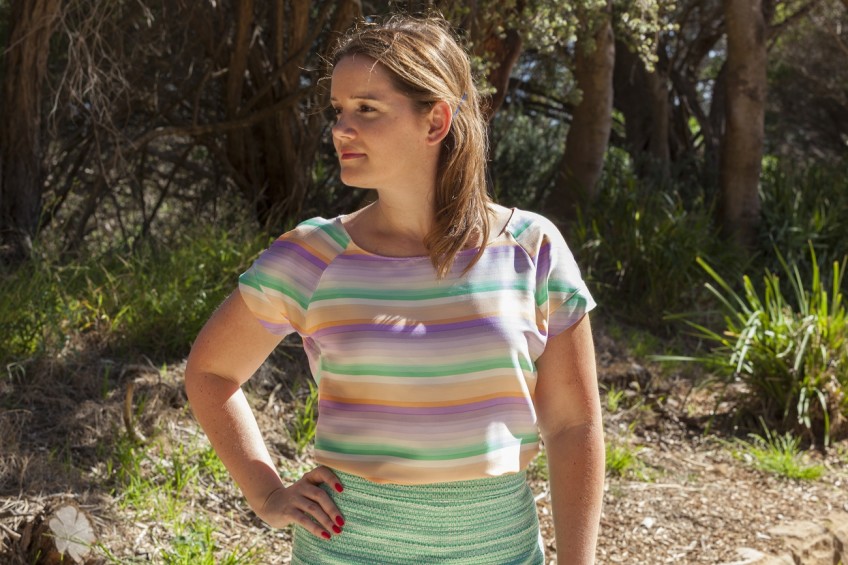 I'm writing this after having a rather mammoth weekend - tis the fun that is the silly season! I went a boat party on Sydney Harbour with a Pirates & Pin Ups theme. Naturally I chose the latter and the day was an absolute hoot! I will be sure to post about it soon but for now let's get back to the business of sewing.
Adding to the Spring/Summer work wardrobe recently led me to try out a couple of independent sewing patterns. First up was the blouse. After wearing through my last simple blouse I made up in Liberty silk which I loved, I wanted to make up something simialr again. I saw the Sewaholic Belcarra blouse pattern released earlier in the year and thought it would be a great option. The fit of the Sewaholic patterns suits me really well and I liked the relaxed fit. I hate tight tops for work, just from a comfort factor alone they drive me nuts. I already had a silk twill from The Fabric Store in the fabric stash that I thought would work well with the pattern. I was concerned about the matching of the stripes and given the angle of the raglan sleeves in this pattern you really can't completely match up the stripes but I dont think it's too noticeable.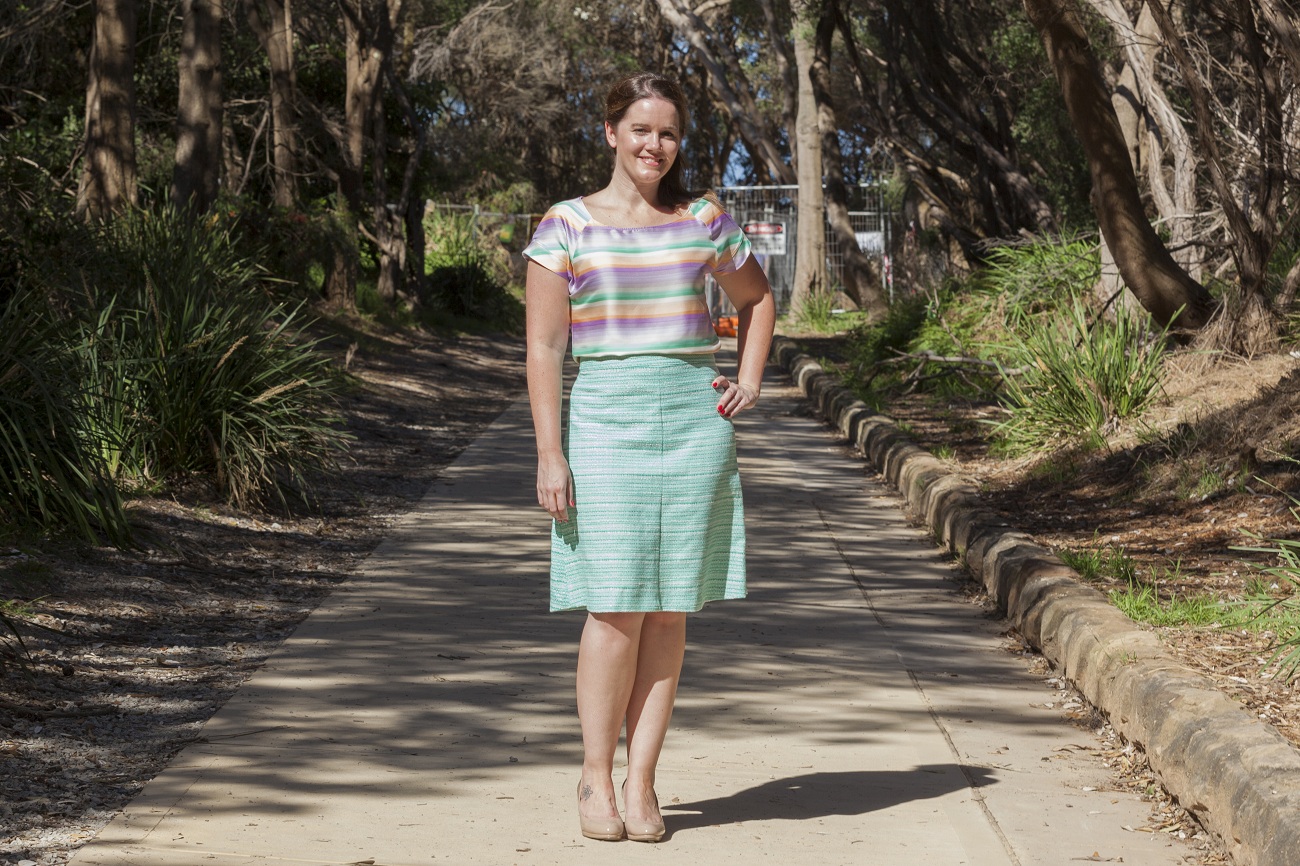 The cutting out of this fabric probably took me the same length of time it took to actually sew up the top. The pattern has great easy sewing instructions that you can't go wrong with. I followed the pattern measurements and cut out a size US 8 of the pattern just in case it was a bit tight in the arms. I didn't have to make any fit adjustments during production and it was straight from the envelope. I was a little extra careful when sewing on the sleeve bands as given they are on the bias they can stretch out so easily. Even with care I ended up shortening them a little due to stretch. I opted to use bias binding for the neckline using the same fabric but you could probably get away with using store bought bias binding also.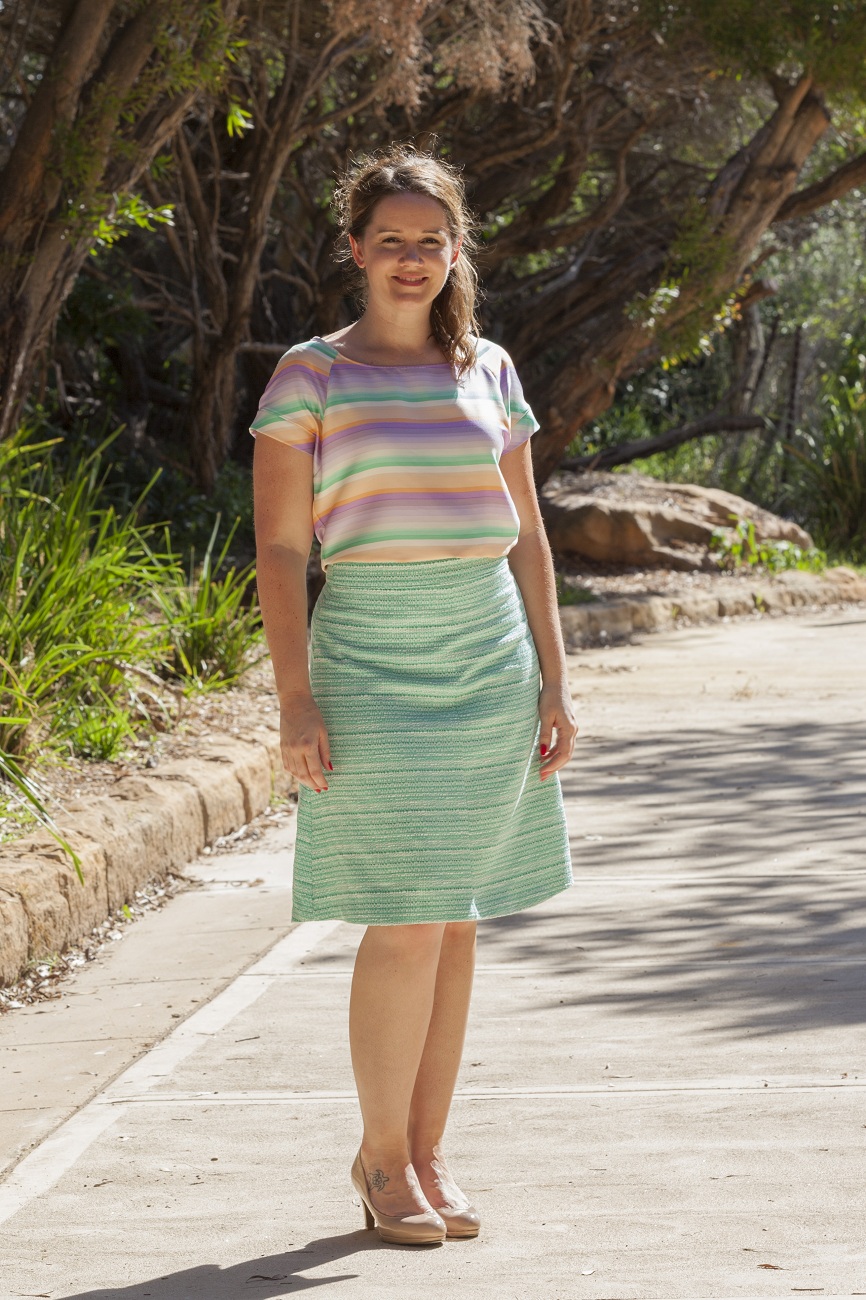 The only downfall I would say about this pattern is that it has quite a large neckline and the bra straps do show when wearing it. You could probably get around it by either altering the neckline or adding bra strap holders into the blouse. I did neither and instead tend to wear a strapless bra with the top which isn't ideal. When I make up my next one I will adjust the neckline slightly to make it less wide.
Feeling in a matchy matchy mood I went back into the fabric stash and pulled out a boucle like fabric I picked up in the markets in Vietnam. I really have no idea how you would describe this fabric but I think it is cotton and may have some silk in it...given Vietnam isn't short on silk supplies. I loved the match of the fabric colour with the blouse colours, it was just meant to be. I then spent quite a bit of time figuring out how to cut out my Colette Ginger skirt with the amount of fabric I had, which basically wasn't enough! I opted for the version with a straight waistband and couldn't get it the exact length I wanted due to lack of fabric but it was pretty close. I managed to just get the zipper on close to the edge of the back seam. I have to admit, I am a little scared of getting up suddently and it ripping apart! The pattern was super easy to follow and I will be using it again for a winter version. It is quite high waisted which takes some getting used to if you wear skirts more on your hips.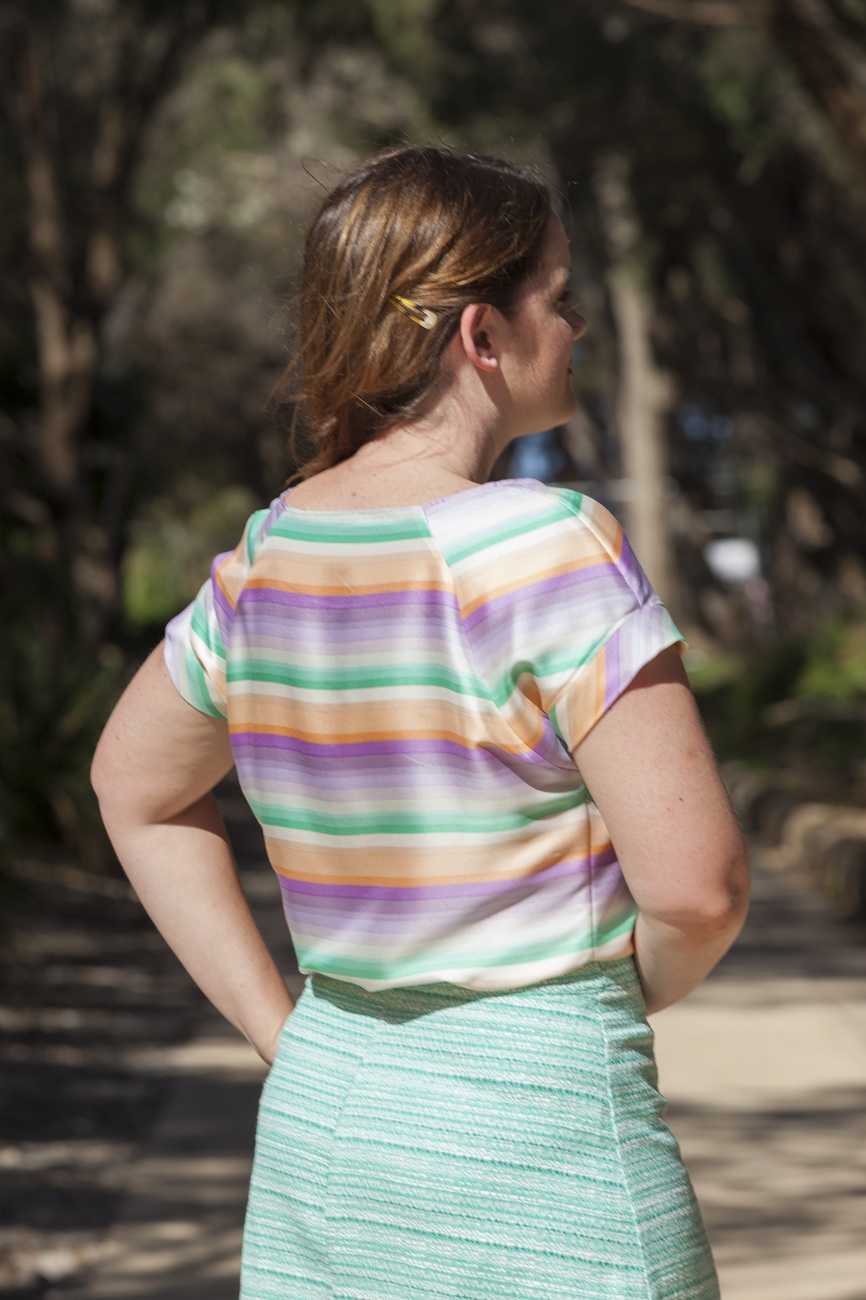 I was really happy with how this outfit turned out and it will be a staple in the work wardrobe. I am going through a bit of a pastel stage at the moment - in my clothing and in my home so this probably wont be the last you will see of me in these shades of fabrics.