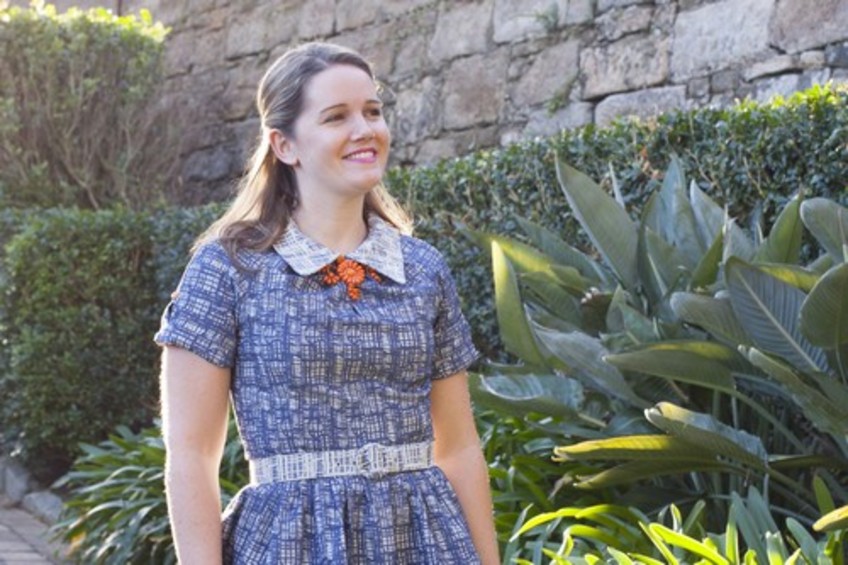 A while back I wrote about the Gridlock sewing competition being run by Australian fabric store Tessuti. Well the results are in and I didn't win. It's not all bad though as I am glad to have given it a go and been part of a sewing community working towards the same goal. I will say, I'm not the least bit surprised I didn't win given how much work and effort went in to some of the entries. The experience made me realise that people will work hard at the sewing machine for $1000 and that there are a lot of sewers out there in Oz...and we are of all ages. In fact, a number of those who entered are only teenagers. I love seeing sewing continuing down the generations. I guess we'll always need clothes, so sewing will always have a place in the world!

I picked up the fabric at the Chatswood Tessuti store and thankfully it was discounted and cost me $40 all up. I say this, because quite frankly, if it wasn't for this competition I would never have bought this fabric. The print did not appeal to me and don't get me started on what it was like to sew with. I'm sure others loved it and I certainly didn't pick the best dress to make with it, so me and the fabric did not become friends during this project.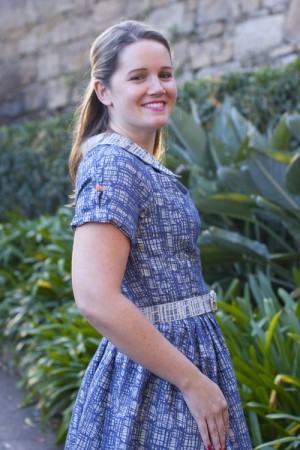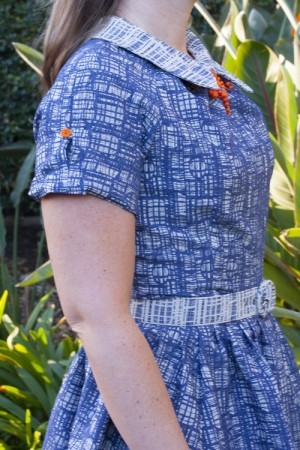 I opted to sew up Simplicity 1755 - a pattern by Leanne Marshall. I still remember Leanne from her days as a contestant in Project Runway. I loved her work and was very excited to see she brought out patterns. I do love a good shirt dress so this one hit the mark. The fabric could also be used one either side so I figured I would do some contrasting much like the image on the sewing pattern.

I learnt quickly that this probably wasn't the best material for this dress. It started with the pleated skirt. This material does not crease, despite copious ironing. Darn IT! So no sharp pleats on the skirt then. It was by this time I had cut out the pattern and dress pieces so I really had no other choice but to crack on with it. I also stumbled across the same problem with the pleats underneath the collar. They didn't sit flush on my body and pushed the collar up a bit.

I cut out a size 12 and did have to make a couple of adjustments. For example, I had to take it in around the bust and waist as the fabric would not have looked good baggy. The fabric actually bit a bit of stretch in it (more fun) so it needed to be fitted. Because of the bulkiness of the material, I also opted to not include the tie waist. I just did a fitted waist band instead. I didn't need anymore poofing around the butt area! What i did really like about the pattern was the raglan types sleeves. They felt comfortable and I think they looked good.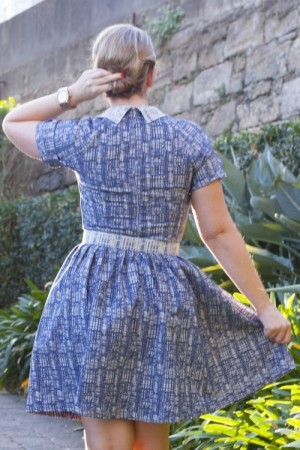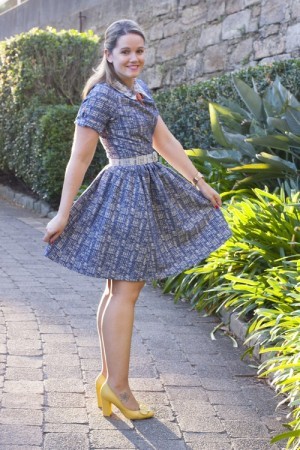 I took this sewing competition as an opportunity to give belt making a try. I had wanted to learn how to make my own fabric belts for aaages, especially as they look great on vintage dresses. I did not choose the best fabrics to try this - doh! Despite fabric issues, I loved making the belt. I had bought the belt kit from Sunni who has a blog and online store called A Fashionable Stitch. The kits are great with everything you need (except the eyelet tool) and clear instructions. My only problem was finding the hard surface to hammer the eyelets on to the belt without waking up the neighbours. I will be making plenty more fabric belts in the future and I think my next one will have to be in Liberty of London fabric.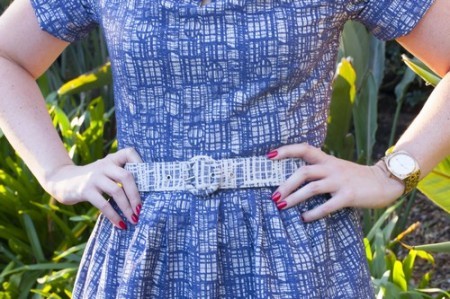 I conclude in saying that I did not entirely enjoy making this as I guess the fabric wasn't my style and its use in the pattern I chose wasn't ideal. I always notch up these experiences as practise and I will give the pattern another go. I'm thinking it would look great in a cotton sateen. Till next time!