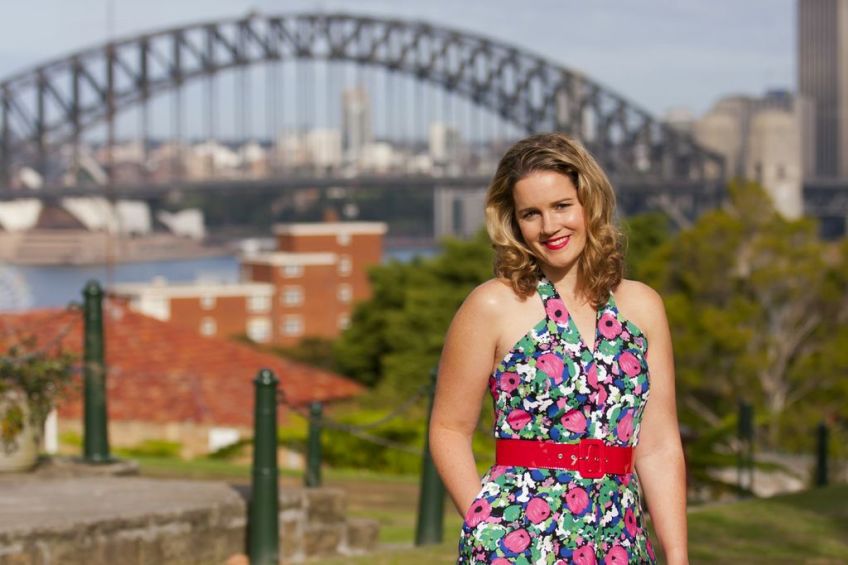 Oh how I do love a halter neck. I think it's often a flattering choice for many body shapes and reminds me of flirty 1950's dresses of the past. Not to mention that it also reminds me of summer.  I have  a bit of a strapless dress phobia so the halter neck is always my choice for the next best thing. Sadly we are now in the depth of winter in Sydney and the idea of wearing such a dress is a distant dream. The upside of wet weekends in Winter is plenty of opportunity to catch up on TV shows (finally watching The Wire!) and sewing in preparation for next summer.

I've sewn a few Butterick Retro patterns before and have had a couple of shockers along the way so I always sew these patterns with trepidation. I also find the sizing differs quite a bit between the styles so it's a bit of a gamble deciding whether to cut out a size 10 or size 12. However, the happy results of this dress creation have given me a bit more confidence in their patterns for the future.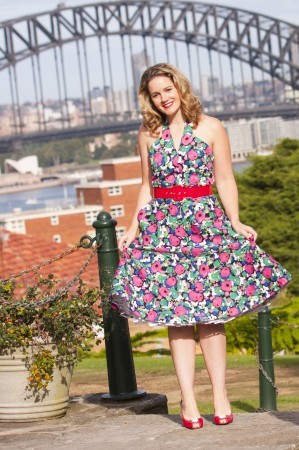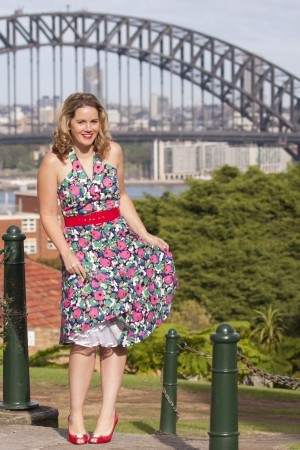 I chose to sew Butterick Retro 5214 which I'd had in my pattern stash for a few years. It looks like it's out of stock on the Butterick website, and OOP but I'm sure you can get it on eBay. I loved the halter neck style on this and the flared skirt as opposed to a full skirt or gathered skirt. I opted to cut out a size 10 given I have a small bust and then cut for a size 12 around the waist just in case! I used a cotton fabric I bought at Mood Fabrics in NYC a few years back which I can't exactly explain. Best way to describe it is a thick loosely woven cotton waffle type fabric. Hmmm bit confusing! I just loved the pink and green in it and knew that it would be a dream to sew and it was.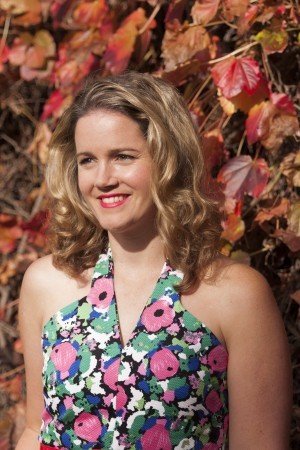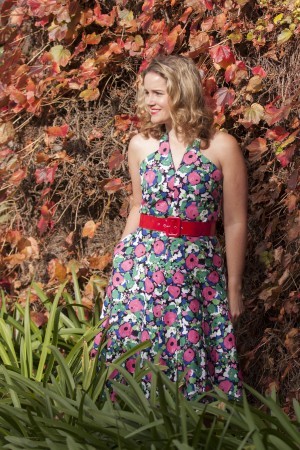 The instructions for creating this dress were very easy and straight forward. As luck would have it, it required very little fitting. I think making this in a stretch cotton would be a great option too as the stretch would help with giving it a perfect fit. I actually ended up taking it in little bit more at the bust side seams but the extra I allowed at the waist came in handy as I needed it. I used the same fabric for the lining which in hindsight may not have been the best idea as it created quite a bit of thickness when sewing in the invisible zip down the side. Got there in the end with it! The buttonhole closure on the halter neck ended up being much too long for me so I ended up shortening the straps and I chose to hand sew in snap fasteners instead of the button hole. I thought a button hole would be a bit tricky on that fabric (it frayed easily) and snap fasteners have better hold. I ended up sewing two snap fasteners on.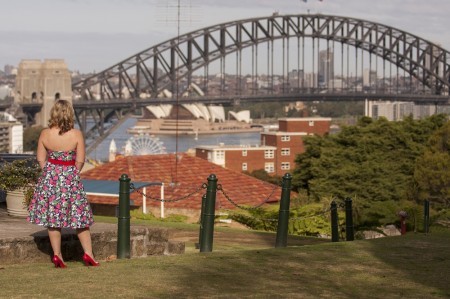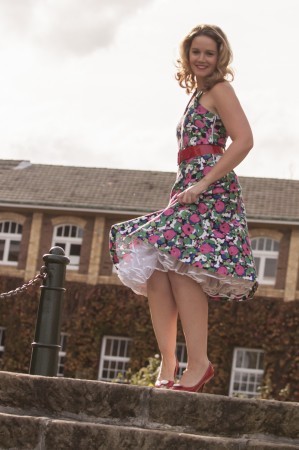 I am really happy with the outcome of this dress and I have had quite a few wears out of this, including a trip to The Winery for my 30th for a Girl's Picnic. I tend to wear it with my red patent belt and shoes. I do think red and pink compliment each other quite nicely! In the photos on this blog post I'm wearing it with a Bettie Page crinoline. The crinolines from Bettie Page are great and I would recommend. They don't scratch and are a good length.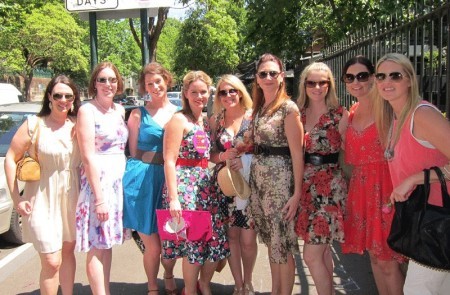 The girls and I celebrating my birthday at The Winery!


Like the view of the Sydney Harbour Bridge? I was fortunate enough to be able to sneak into the grounds of Sydney Church of England Grammar School with my photographer friend Sherry to take these photos. The grounds of the school are just beautiful.