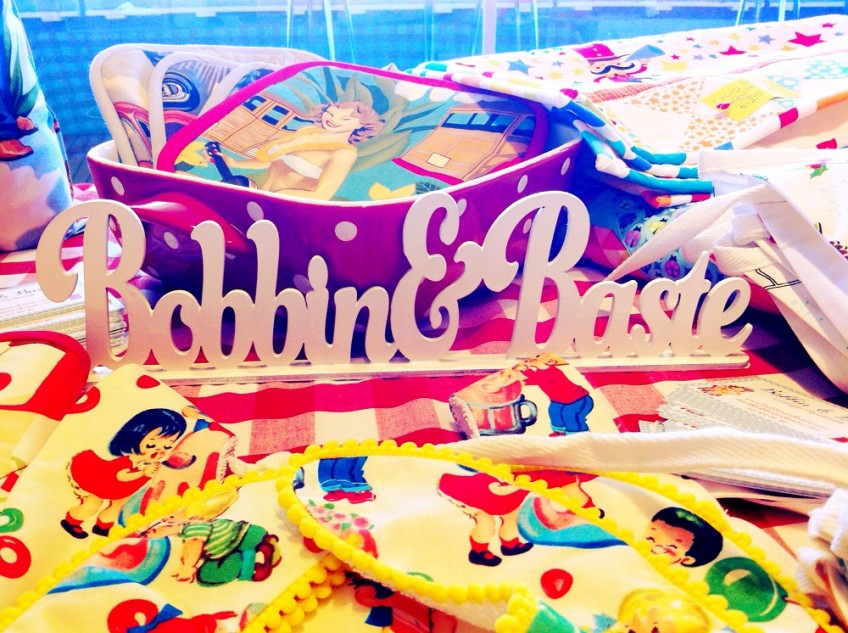 It's been a busy few weeks in the world of Bobbin & Baste. From Melbourne Cup until nearing the end of November my sewing machine has had quite the workout. This time of year brings the markets to work so I had a market at my work selling my handmade goodies and another one this week at a friend's workplace. In between the time I have been busy getting things sewn up, I celebrated my 31st birthday with a couple of lovely lunches with friends and family and a night out to see stand up comedian Michael McIntyre, who is so funny I almost peed.

I work at a large-ish organisation with an office of a few thousand so being able to run a Christmas stall here means quite a bit of potential for getting my name out there and making a bit of pocket money. However, I do have the habit injecting any money I make back into new supplies and fabric, but hey! I currently focus on selling homewares like quilts, cushions, bunting, baby bibs and pot holders and will hopefully jump on the clothing bandwagon once I get the time, money and experience to sit down and write my business plan. I think that will be my NY resolution.

I had been meaning to for a while now extol the virtues of using horsehair braid, as I had recently given it a go in this dress so I thought I might give you a quick lowdown on how it works and how to use it. Horsehair braid isn't exactly as the name suggests, which quite frankly I am happy about. No doubt at some stage in history horsehair braid was actually made out of horsehair, but the horsehair braid you can purchase nowadays for sewing is typically made of nylon. Horsehair braid is used to stiffen hems on skirts and dresses and help give some shape, as well as a facing to the hem. Given its purpose, its fabulous for circle skirts, flared skirts, mermaid skirts....well you get the drift. I opted to give it a go on a vintage dress that had a flared skirt.

You can buy it in varying widths, and the wider you buy it the more 'body' the hem will have. I opted for a relatively narrow horsehair braid. Partly because I wanted to go small for my first try at using it, and also because thats the only width I could get at my local Spotlight store. Horsehair braid can be bought online on a lot of websites, but I think you'd be hard pressed to find much of a range in Australia sewing/habbydashery shop fronts. I had a look online at various ways of adding the horsehair braid and this is what I ended up doing -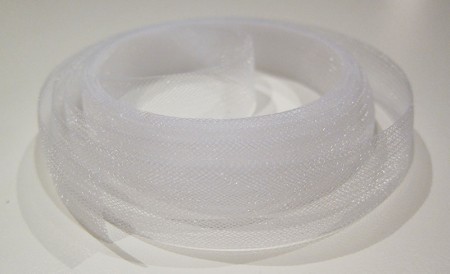 Horsehair braid. Typically comes in white or black.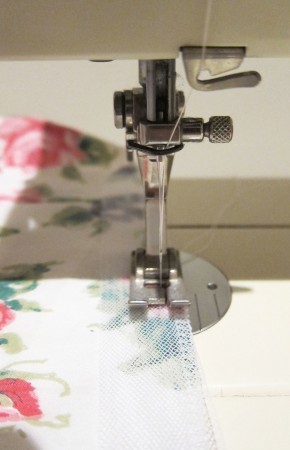 I started by overlocking/serging the hem on my dress. I was using a vintage cotton that frayed rathered easily so I wanted to make sure I had a clean finish to work with. I then laid the horsehair braid along the hem on the outside of the dress, as above. Once it lined up with the hem I placed my presser foot on the edge so that the right edge of the presser foot ran along the edge of the hem. I didn't bother pinning the horsehair braid onto the hem beforehand. It's too hard to do this given the netting style of the braid.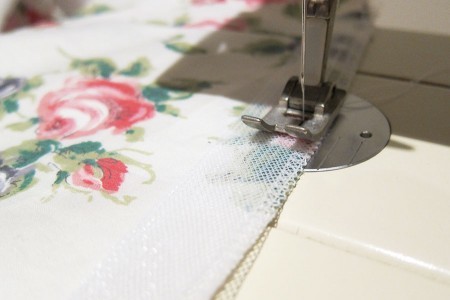 When you sew the horsehair braid onto the hem make sure you dont stretch it too much. You just need to gently keep it in place with your hands so its running along the edge. At the end where both sides meet (the start of the horsehair braid and where it meets at the end) I hand stiched the edges together and then machine sewed it down so its a complete circle of the horsehair braid on the hem with no gaps.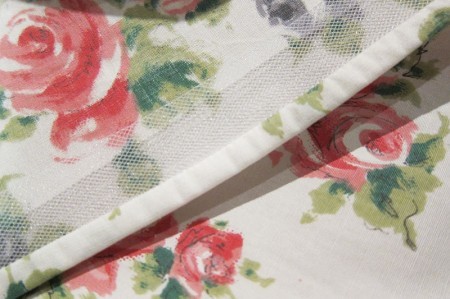 Once you have sewn the horsehair braid onto the dress, turn it to the inside of the dress like above. It creates a nice neat little edge which I then used an iron to flatten down a bit and create a sharper hem.
I then slipstiched the top edging of the horsehair braid onto the dress. Easy peasy!

I'm now coverted in the use of horsehair braid for vintage dresses so I encourage my fellow vintage clothing lovers to give it a go, it really adds an extra kick to the skirt flare above and beyond wearing a crinoline.