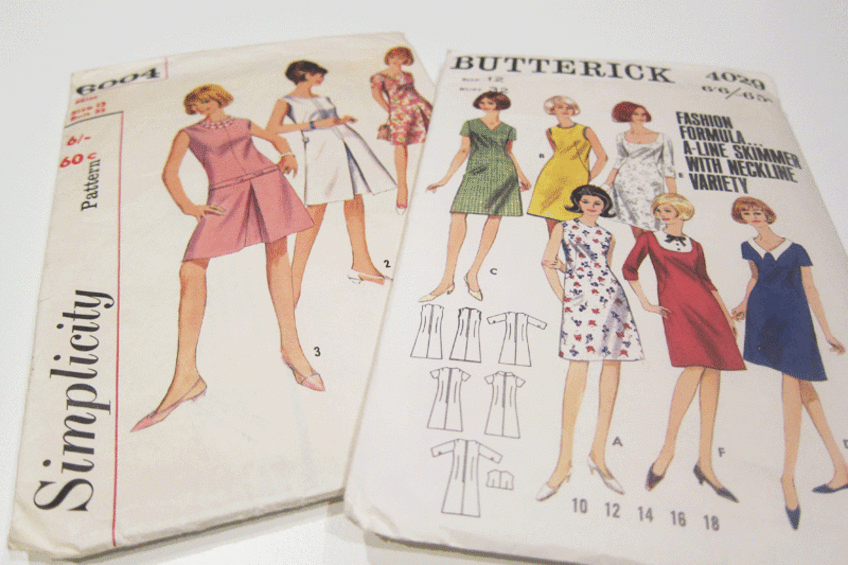 Today was like a second Christmas. Thanks to my lovely dear friend Sacha I was gifted bags of vintage sewing patterns and fabric mostly dating back to the seventies. Sacha had mentioned to her aunt that I was a sewer and as luck would have it; her aunty was retiring from her sewing and looking to clear out the fabric and pattern stash at her house. Vintage patterns are a bit of an obsession of mine. I love to trawl through EBay in search of vintage patterns in good quality and for only a few bucks each. I've certainly noticed over the past few years as all things vintage is back in vogue so patterns are now harder to come by and more expensive. Most of the patterns I've bought I've not even used, I just love collecting them and looking at the beautifully illustrated images on the pattern covers. There's something lovely about seeing the fashion drawings on the covers rather than the styled photographs of today.

The only drawback with buying vintage patterns is the sizing and there are two reasons. Firstly, you may see some patterns you love online but they won't always be available in the size you want, it's not like purchasing from a store. Secondly, the sizing 40-50 years ago is different to what it is today. What I notice the most is that waists were tiny and the bust sizing bigger (this probably had more to do with the fact they had bullet bras underneath the dress!). I read recently that the vintage reproduction patterns the big four sewing pattern companies release these days are often re-sized for today's figures. They don't pull the patterns from the archives and straight onto the selves without some tweaking. Thankfully the patterns I have been gifted are in sizes I can work with easily – bonus!

I look forward to having a closer look at the stash and choosing what to make first. Here's a few of my favourites in the mix below. I loved the pattern that was mailed out from the Sun Herald Pattern service. Why don't they do this now!