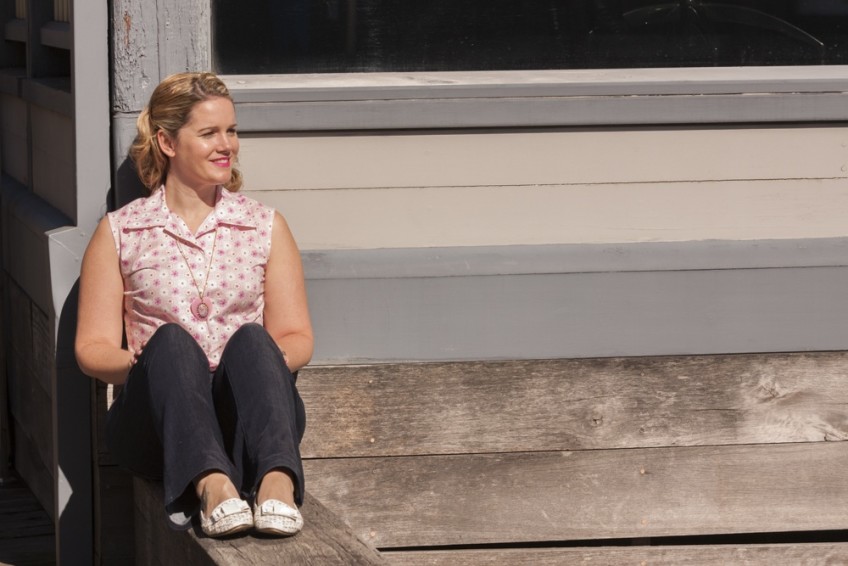 A sunny Winters day was the perfect backdrop for the latest photos for my blog. One of the perks of working in financial services is the Bank Holiday you get once a year. Why do we get it? I don't know. Do I care? No I do not, it's a day off work! It's the perfect day to take photos as there are less crowds as most people have to still work.  My lovely photographer Sherry and myself headed into town on an early Monday morning seeking beautiful locations around The Rocks and Wharfs. Sydney has out done itself this Winter. I think we Sydneysiders are all waiting for when the good luck runs out it it'll rain again for days on end.

I think this might be the first blog post where I am talking about a shirt and not a dress. One of the main reasons I can be persuaded to make a shirt is when I can make it out of Liberty fabric. For those of you that don't know about Liberty of London fabric I may have just done you a massive favour! Liberty of London fabric is a-maz-ing. The department store, Liberty of London opened in 1875 selling ornaments, fabric, and art. Liberty quickly became known for its floral and graphic prints made in tana lawn. I had never heard of tana lawn until I used Liberty fabrics. It's a cotton which is super lightweight, silky and just feels beautiful to wear. My first experiences of Liberty print was when my grandmother would buy it when in London and bring it home to my Mum to make clothes out of. This was before the internet so the only real means of getting fabric from overseas was when you were there. The fabric would stay in the cupboard for years as Mum feared she wouldn't be able to make something that gives justice to the fabric. It was also very expensive to buy during the days when the Aussie dollar didn't get too far in the UK. The fabric is still on the pricier side today but you pay for quality and the fact it is still produced in Britain. It is worth the extra cost. Every holiday I take to the UK always includes a visit to a fabric store that stocks Liberty fabrics to make clothing and luscious quilts.




A Liberty fabric advertisement


For my first foray into a Liberty shirt creation I opted to use Simplicity 2215, a Cynthia Rowley pattern that I had used before, blogged here. I was really happy with the outcome of my first go at this sleeveless shirt pattern so I thought it was worth a go again. In terms of fit I go between a size 10 and 12 in shirts so I used the already cut out size 10 shirt pattern and then graded out at the side seams. Thankfully being sleeveless, I didn't have to do any adjusting beyond that. The shirt was pretty easy to sew up with only few pieces. To finish off the armholes it calls for bias strips of fabric and the shirt is interfaced along the collar and button front.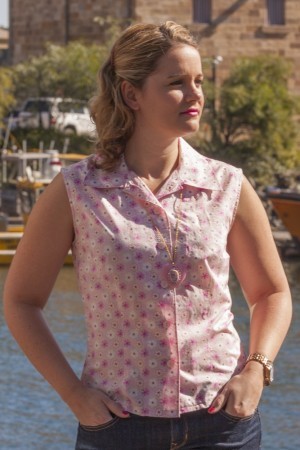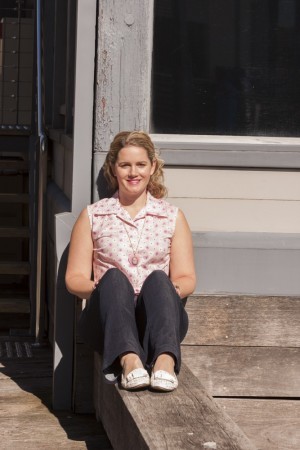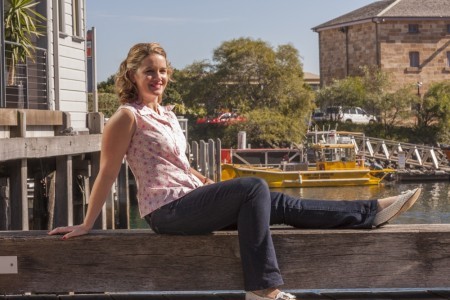 I do find the interfacing on this shirt doesn't lay as flat as I would have liked. I have made this twice now and found it did the same thing each time. It seems to look OK when worn but a challenge to iron the interfacing flat against the shirt after a wash. Anyone had to do adjusts to interfacing? I'm not sure where I would start! The one downfall of my old (but aged well) sewing machine is that it doesn't make a great button hole. I often find it frays a bit and its quite a manual process with 5 different steps. Given my little sewing machine's button hole abilities I struggle with being 100% happy with the buttonholes but thankfully Liberty tana lawn doesn't fray too much as a fabric. I bought some baby pink plastic buttons from Spotlight to go with the shirt.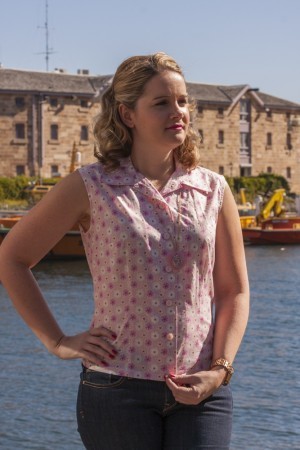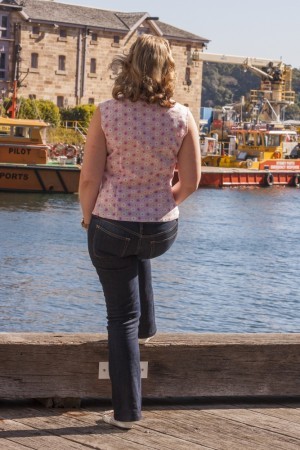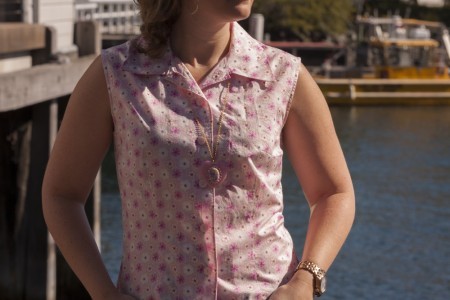 I've worn this shirt several times so far as it's a great option and I love mixing it with contrasting floral fabrics. One cannot wear too much floral can they!?