It's not often I make clothing for friends, but when I do I love the challenge. I have made so many dozens of clothing items for myself that I know how to fit for me really well. Thats not to say I dont make the odd fitting mistake with my own clothing, which I typically clock up to my impatience! So when my lovely friend Sherry asked for a dress to be made to wear to her brother's wedding I happily obliged.

We started going through patterns and I became quickly aware that its a challenge for me to let someone else decide what they want me to make. I'm so used to making the decision and sewing what suits me, it was quite a change! We decided on a Cynthia Rowley for Simplicity pattern 1872. I loved the floaty layers of fabric and even though I wouldn't be using the same fabric, the peachy fabric they used on the pattern cover did appeal to me. It looked like a great dress option for a Summer wedding. Sherry liked the idea of coordinating coloured fabric for the layers on the dress and something bright, so we end up going with some beautiful silk satin in royal blue and bright blue. Before I got to work on Sherry's dress I thought I would make up one for myself, mainly to trial the pattern and instructions and because well I liked it too.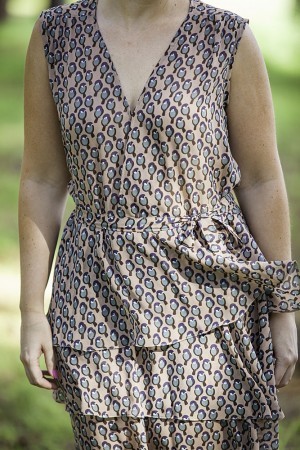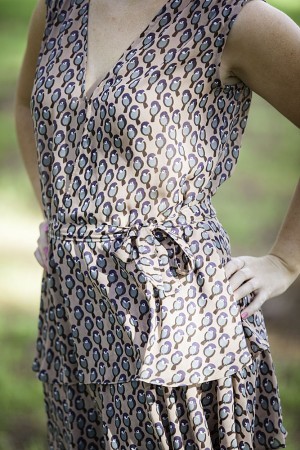 I chose a polyester that I bought at my local Spotlight. I always hesitate using polyesters but I did really like the print so I forged ahead. The pattern itself was pretty easy to sew up. It has no darts, no zipper and no sleeves. All things you that can take up a bit of time to make sure you get right. There was a bit of gathering on the shoulders to conted with, but really all in all it wasn't too challenging. My only gripe was having to finish off the edges of the layers. I did a rolled hem on the layers and not having the sewing machine foot to do this it was fiddly and took a lot of time. I did sew up the belt but to be honest I think a sturdier belt suits this pattern better, maybe a leather one. I added in belt carriers -  first ones I ever did! I didn't follow a way of doing them and just plaited thread and then hand sewed them into the sides of the waistline. It is something I will need to investigate further in my sewing books and learn how to do properly. The waist on this dress is quite low (bit similar to a 1920's drop waist dress) which you may want to adjust depending on how you want to wear it. I contemplated adding more length to it like I do with most dresses but I think the layering would just look a bit off if I did that.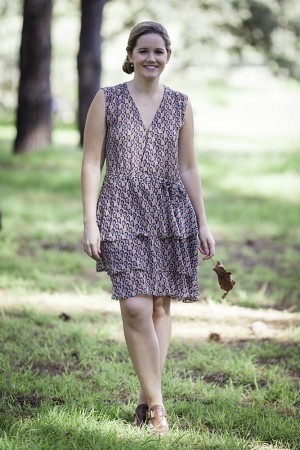 The main thing I can say about this dress is that it is BIG. I've never sewn up a dress before where there was so much room around the waist. I appreciate that it is a zip free dress so you couldn't make something fitted as you wouldn't get it on but this is a dress that certainly meets the 'billowing' criteria. I cut out a size 10 for myself and Sherry but I could have easily cut out a size 8. There may have been an element of me not being used to having something so loosely fitted around the waist, as my waist is something I typically highlight. I DO like the outcome, and I have worn this dress a few times - but just be prepared!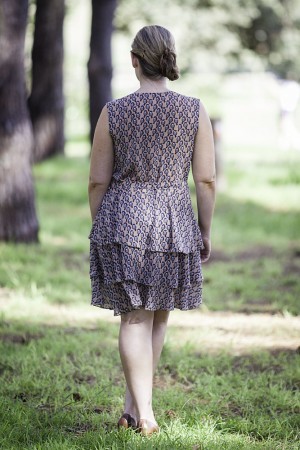 After sewing up a dress for me I started on Sherry's. I really like how Sherry's turned out and think the blues really suit her. Having sewn up two of these dresses, the pattern will return to my storage chest and may not see the light of day for a while. Til next time!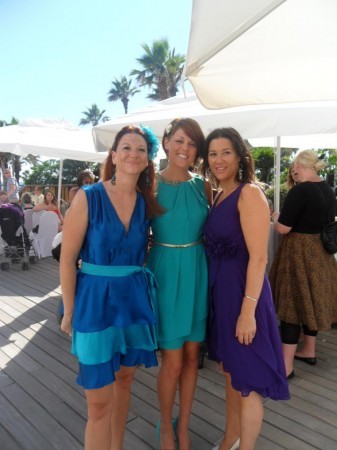 Sherry looking gorgeous!