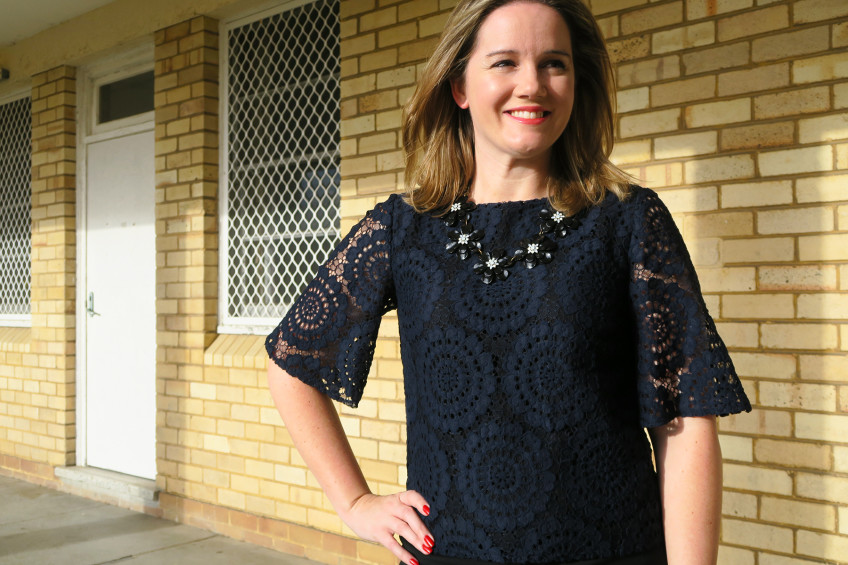 Oh, hay! Long time no type. Things have been busy for me. Between moving house and starting a new job, my sewing has taken a back seat. And certainly not by choice, I really miss it! Hopefully once things get more settled in both departments I can get back to the business of sewing. I have to admit, even with less sewing my fabric shopping hasn't decreased too much. Opps! Both new job and move with the boy are going well, so I count my lucky stars.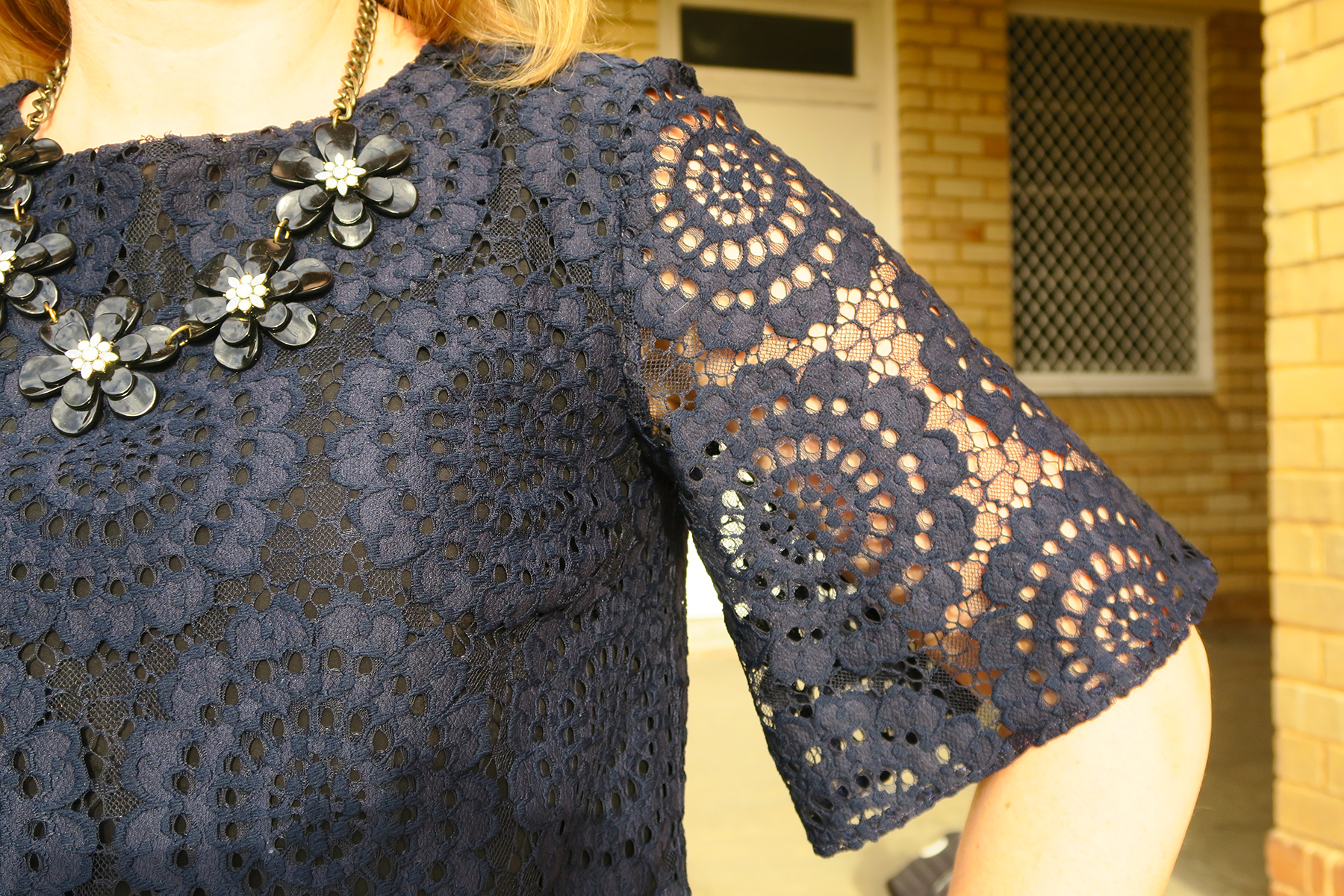 This top goes back about 6 months, and has become a bit of a work horse in my wardrobe ever since. Gotta love those simple tops that just do the trick. This is the second time I've used this pattern, which is unusual for me. I normally only make something once. But the pattern has a few nice options and is a good fit for me, so why not re-use again and again! Butterick 6175 is a semi-fitted pull over top with a few differnent options for edging, sleeves and collar. My first attempt with the pattern I used the collared version and that was over 2 years ago now.
For this version I kept with my size 12 and decided to make it up in a non-stretch navy lace I purchased from The Remnant Warehouse. It seems to be my go to place for ALL the lace. Because of the sheer nature of using lace, I needed to line this top instead of just following the instructions and facing the neckline. So I bought up some black bemsilk lining and created two versions of the bodice then with wrong sides facing I sewed them together around the neckline. I also used thin black elastic for the button loop at the back, which I sewed between the main and the lining fabric. I then turned the bodice liing inside out and sewed the sleeve armholes together so they don't slip about when inserting the sleeves. I hemmed the lining about one inch shorter than the main fabric.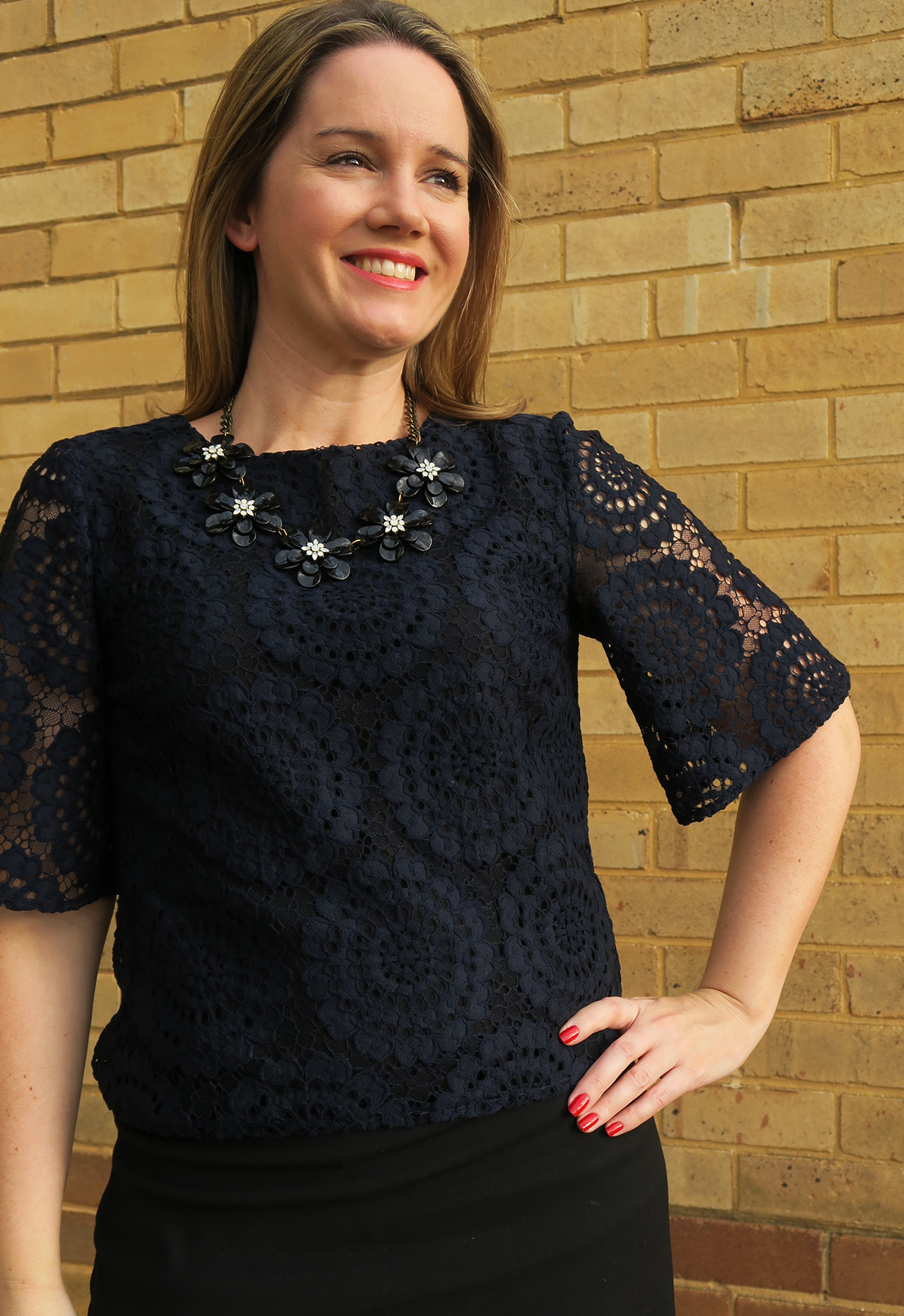 I finished off all the hems, including the sleeves, with the overlocker. Thanks to the thicker lace, it hides it well and doesn't require a neater finish. I'm really happy with how this top turned out and even better – it only cost about $25 to make – result! It's also smart enough for work and comfortable, which are two things that don't normally go hand in hand. Till next time folks…