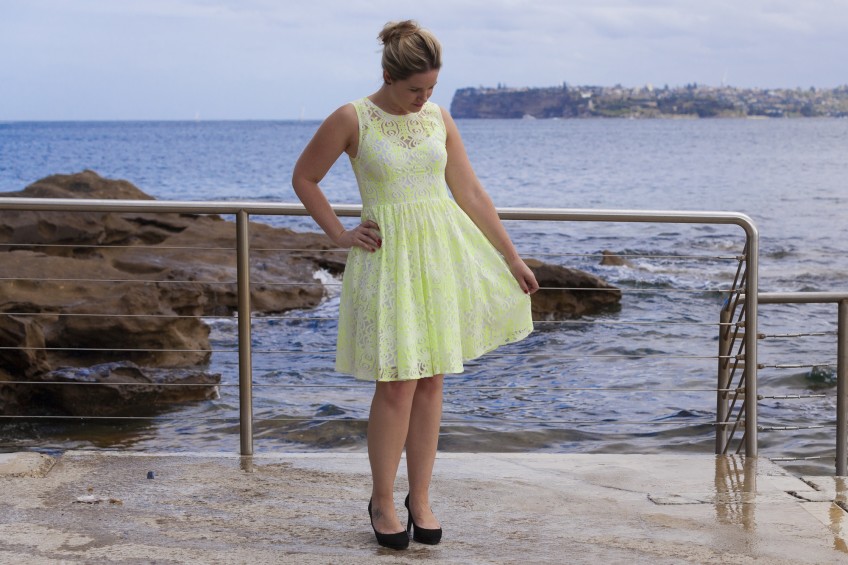 It's only 5 days until the fat man comes down the chimney and I'm excited! I love this time of year. Warm weather, work is winding down and everyone just seems to be in a better mood. If only it could be Christmas all year round. I will be working until Christmas Eve so I'm hoping this week goes quickly and I'll be sunning myself on the beach in no time. I will again be in charge of making a totally boss pavlova for the Christmas dinner. It's certainly my specialty and I'm happy to oblige.
I've realised whilst writing this blog post that I've not written about a McCalls sewing pattern in yonks. It's not because of any reason in particular, but out of the big 4 pattern companies, McCalls patterns are probably what I use least. I'd say Simplicity ends up being the most popular in my stash, followed by Vogue and then Butterick. Whilst I do love an indie sewing pattern, they probably only make up about 20% of my stash. My stash by the way, is OUT OF CONTROL. I really need to stop buying patterns!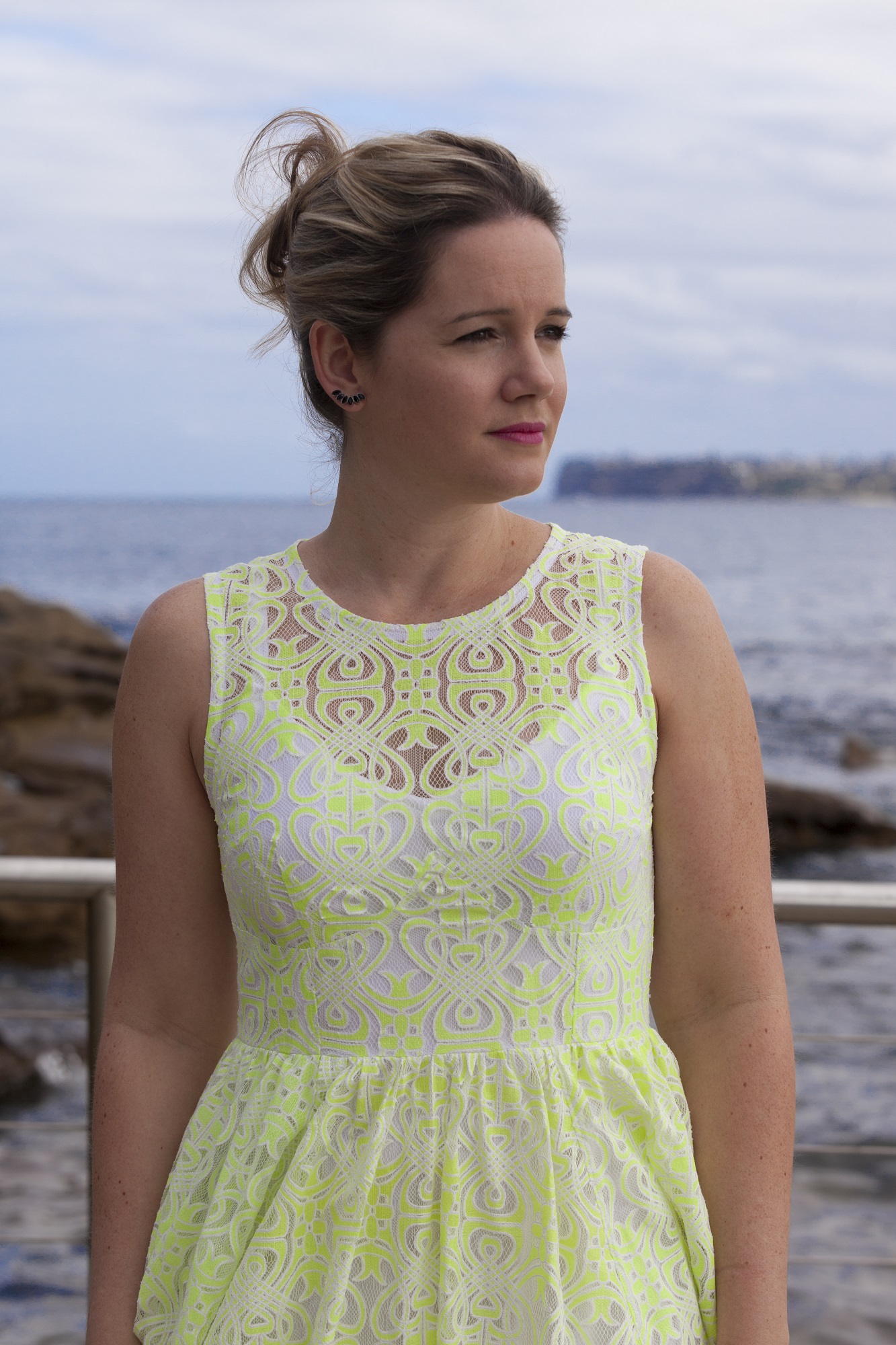 Back to the McCalls pattern I used for this dress. The pattern is McCalls 7088. It is labelled a 'Plenty by Tracy Reese' pattern. Thank you Tracy, you did good. It's a bit hard to see the style of the pattern in the fabric I chose, so to give you a better idea of it the pattern website decscribes it as, 'dress has bias neck and armhole facings, fitted bodice, front seam detail, gathered, raised waist skirt, and invisible back zipper. Bodice lining (camisole) has shoulder straps, and skirt lining, pleats'.
I used a neon yellow/lime polyester lace fabric that had a tiny bit of stretch in it that I picked up from The Remnant Warehouse in Sydney. I was a bit on the fence with it because of the neon factor but I went with it. I also planned on taking the dress with me to India to wear and if you can't wear colour this bright in India, where can you!? For the bodice and skirt lining I picked up some super stretchy white polyester 'stuff' from Spotlight. It was pretty cheap and nasty but it was soft, white and really stretchy which is what I was going for. For the dress I cut it out in a size 12.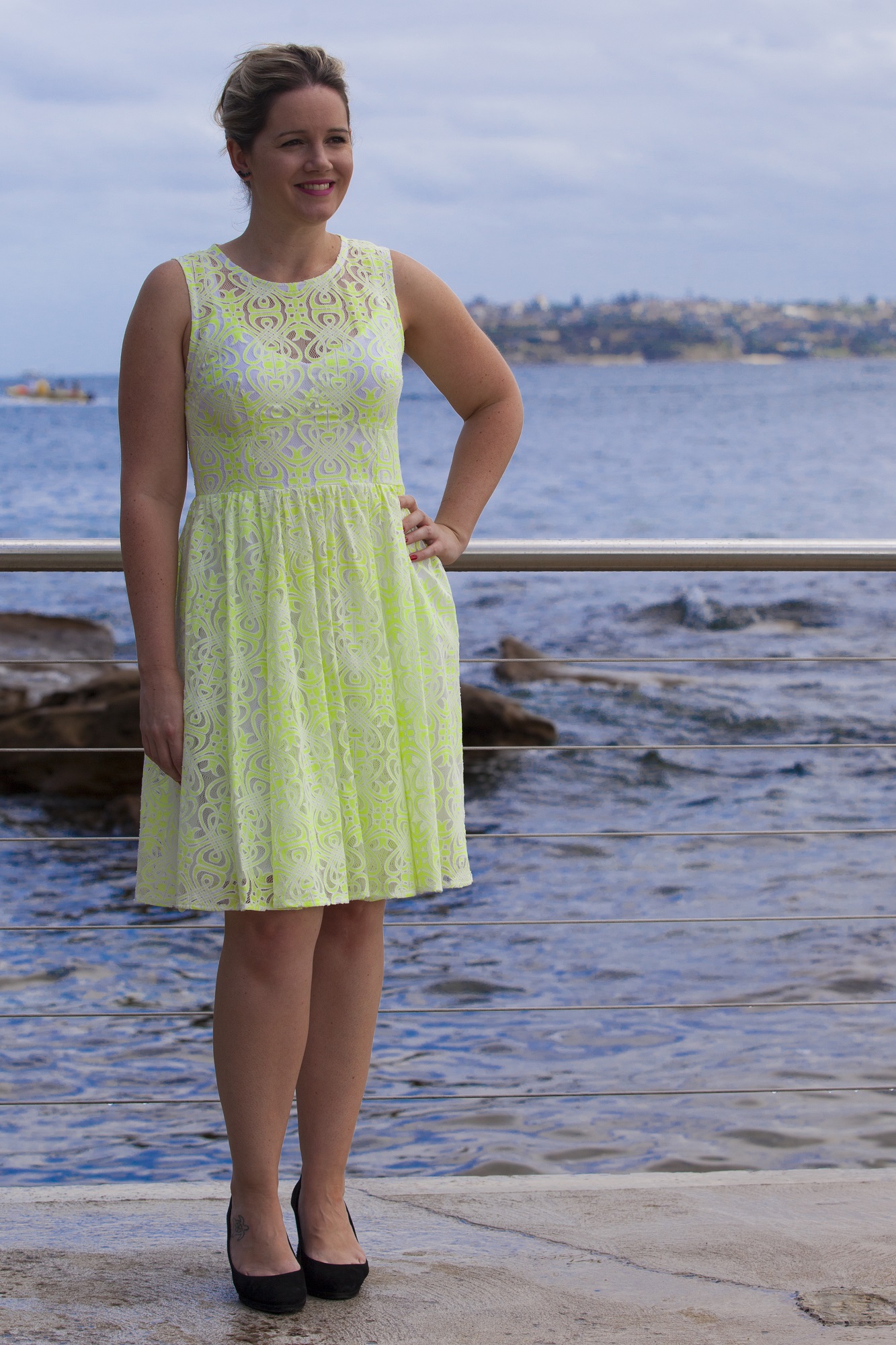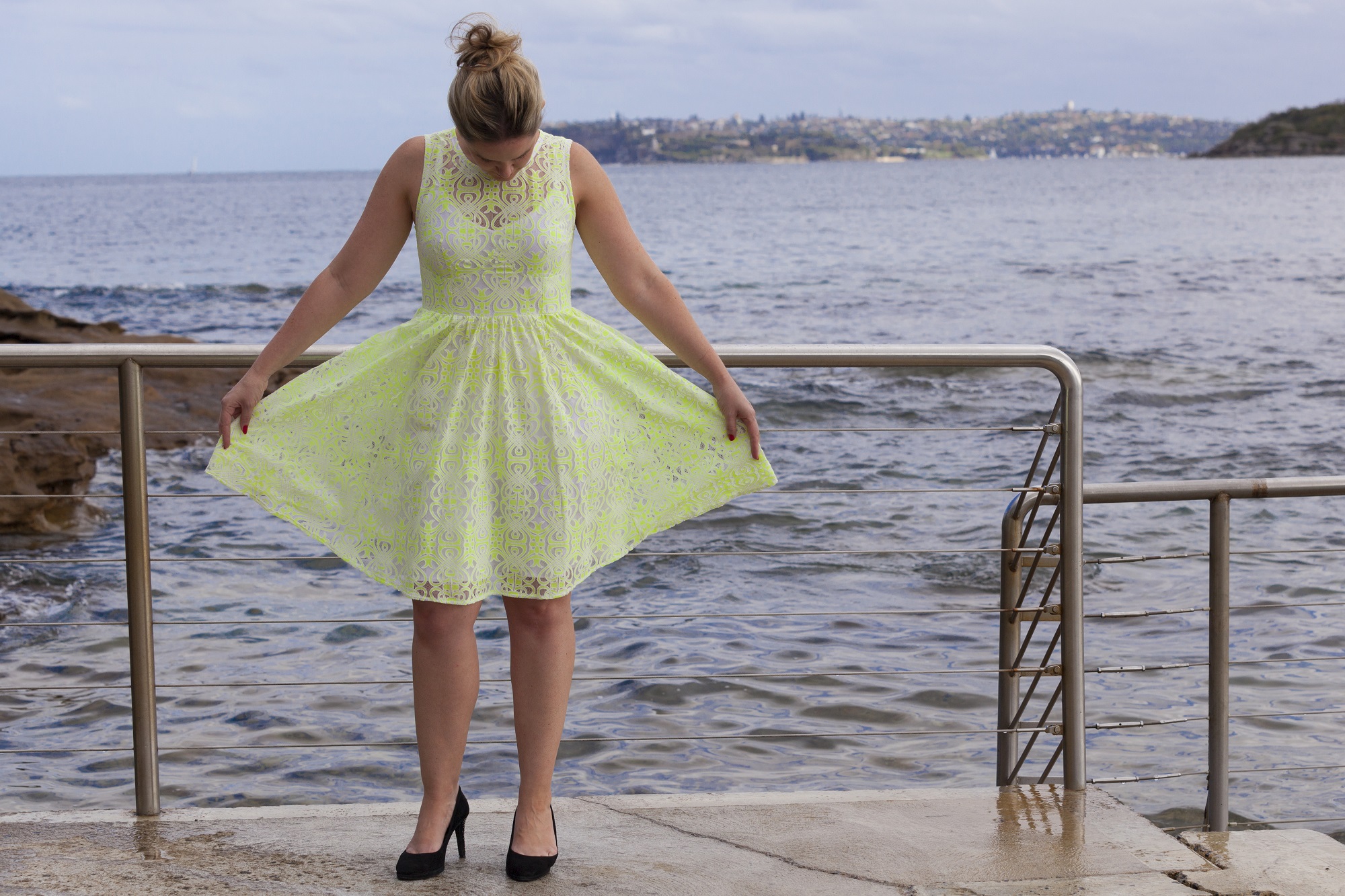 I worried about how well this dress would sew together because of the 'hole-iness' of the material but it turned out to be not so bad. The fabric was a bit shifty when I did the darts but thanks to the pattern in the fabric it hides it a little. For the fit of the dress it was actually pretty bang on. I had to take it in a little at the sides near the bust but otherwise it fitted really well. As an FYI, I'm a B cup, so if you're bigger or smaller there may be some adjustments around the bust. When I did the lining I had to take in the lining a lot. Particularly the side seams and the straps. This was mainly due to how much stretch was in the fabric and that I wanted it really fitted and not sloppy underneath the lace. The armholes and neckline were finished with white pre puchased bias binding. For the invisible zipper down the back I added some light weight iron-on interfacing about 2cm wide down the back seams prior to adding the zipper to add some stability.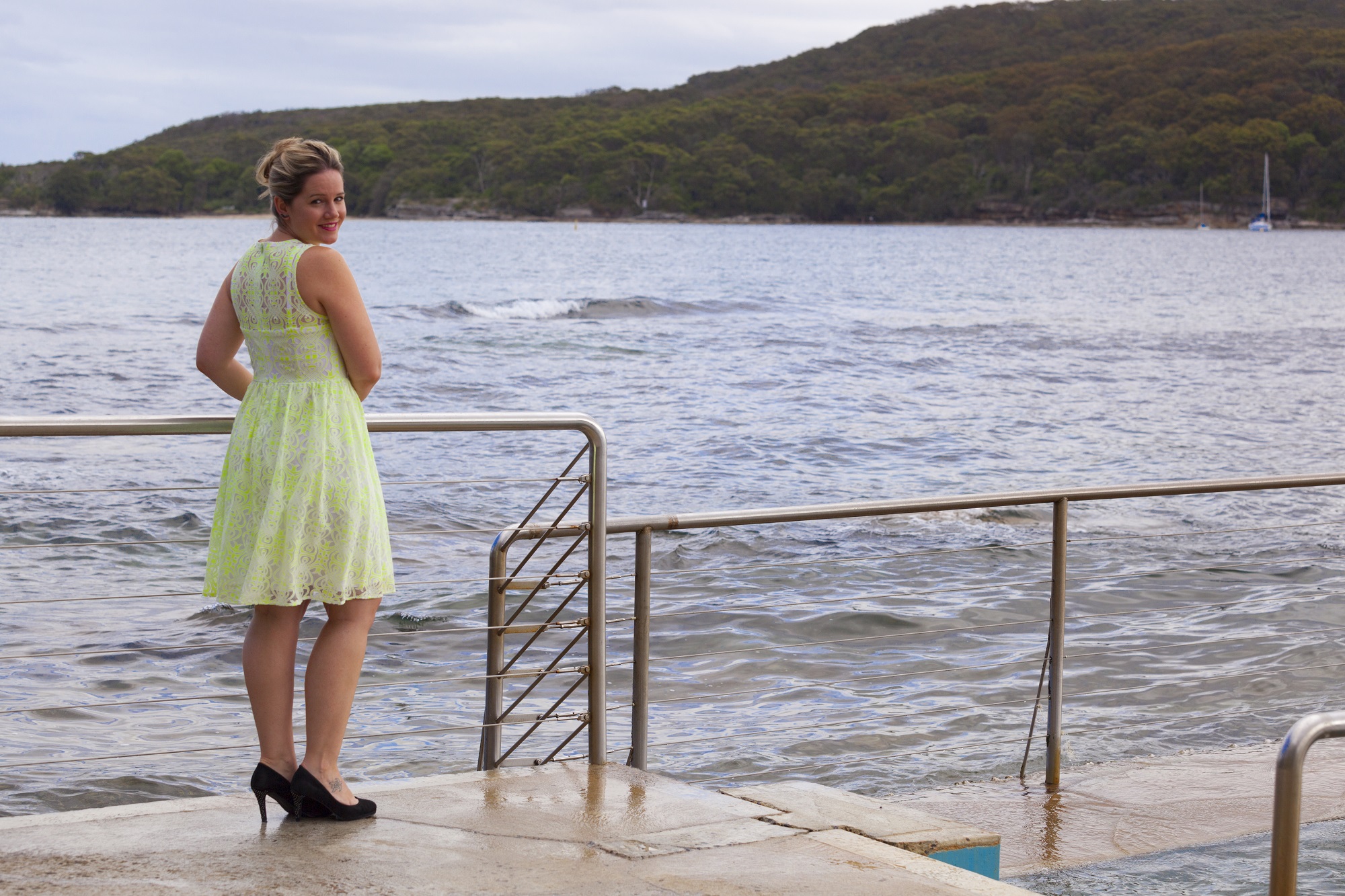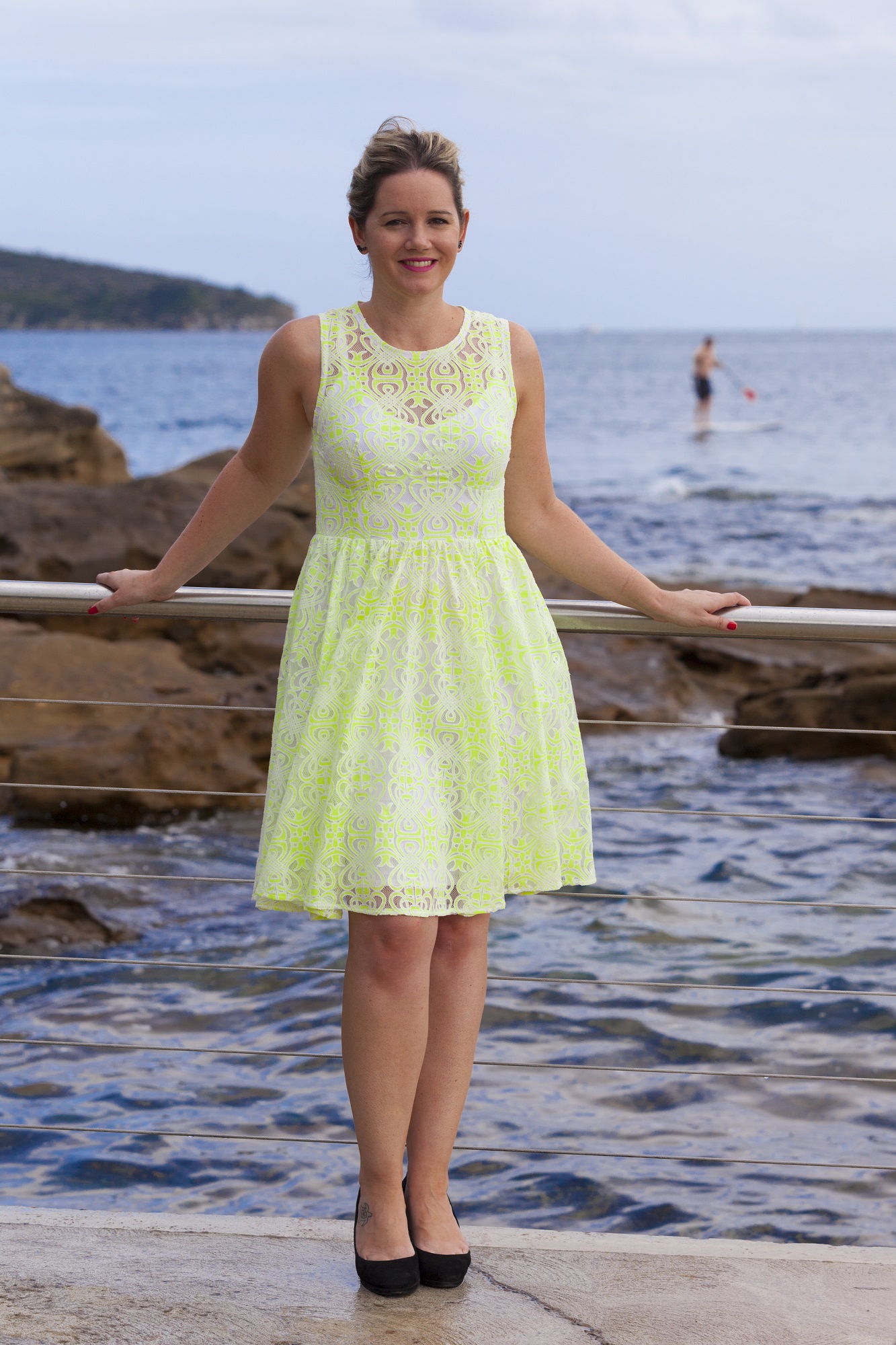 To finish off the dress I overlocked and machine hemmed the skirt with a 1cm hem. It's worth emphasizing that this dress is designed with a slightly raised waistline. I hadn't actually realised it until I had almost finished it. I don't mind the raised waistline but I just wanted to point it out in case it's not a look for you!
Till next time...