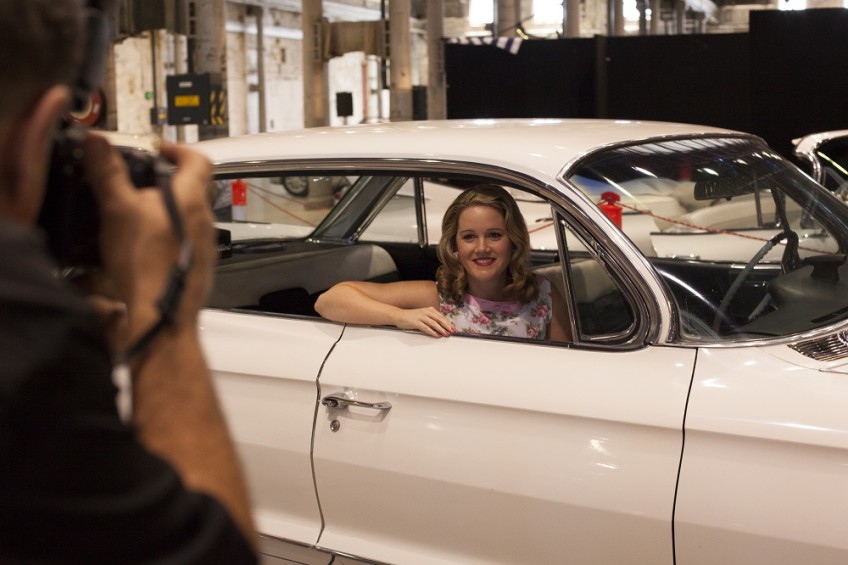 Another vintage fair, the last big one of the year was on in late September at the Eveleigh train yards in Sydney. It's the first time this vintage Fair has been held at this venue and I think it's fabulous. The site was originally where train carriages were built from scratch and maintained, including Royal Carriages for visiting Royalty.  It is a perfect venue for a vintage fair. It reminded me of my great uncle who worked the train yards during those years and probably would have spent some time there. It was a beautiful Spring day when this fair was held which made it a shame that it's all indoors but it was certainly a better choice than the racecourse they used last year.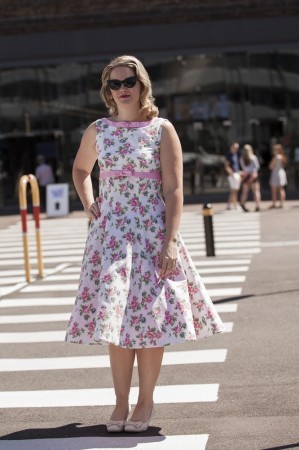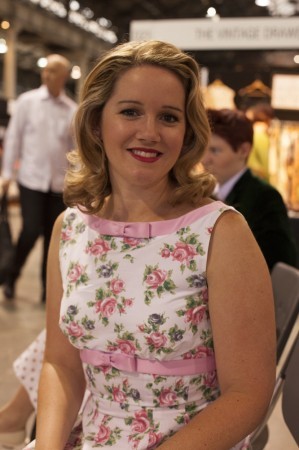 Every vintage fair that I attend gives me the opportunity to delve into my vintage sewing patterns to sew up something to wear. It's these fairs where you don't have to hold back and you can go all out vintage attire which you can do every day if you like I guess if you don't mind standing out from the crowd. I tend to focus on the dress and jewellery when readying myself for  these fairs, but one of these days I might also devote some time to finding matching hats, gloves and shoes for the fairs too. A while back my Mum's friend had gifted me some vintage fabric that her mother had in her cupboard. From looking at the fabric I suspect it was from the fifties – the print, the width, the feel, all had 1950's written all over it. Lucky for me there was about 4 metres of it so plenty to make a full skirted dress of some description. It was a super pretty fabric, I don't think you could have gotten more girly if you tried. After a quick look through my existing vintage reproduction patterns from the 50's, I chose Butterick 5603.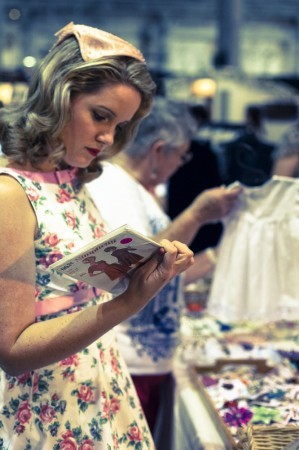 I thought this pattern would be a nice change as it has the empire waist line just under the bust and then the skirt bottom flares out from there. I cut out a size 12 to ensure it wouldn't be too tight around the waist as vintage patterns can be that way. I had pre washed the fabric to get out the musty smell it had from years kept in a cupboard. Washing it ended up making it feel quite crunchy, so it felt like I cut almost cutting out paper when I cut out the pattern pieces. Thankfully once I got the iron onto the fabric it softened it. I opted to use contrasting matching pink satin for the neck and under bust trim so it stands out a little more. It was a process finding a pink that I liked that didn't have that tacky polyester satin feel about it. I ended up finding a fabric I liked in Lincraft. This is a nice pattern to sew up for a newbie to vintage sewing patterns. The skirt bottom is very straight forward, and I only had to take it in a little towards the top of it. I ended up taking it in the at the side seams under my arms but otherwise it was a pretty good fit. I lined it with a pink bemsilk lining which was a bit of a pain to stitch down near the gathers under the bust but I got there in the end. I thought I'd give a lapped zipper a go on the side seam and I have to say it was harder than I thought it would be. The side seam on the dress is pretty curved so I found it hard working on a seam like that rather than a flat seam but I also think I also just need a little more practise in the lapped zipper department. I get a little confused around how it works at the bottom. I've checked out a couple of tutorials and noticed people seem to sew their lapped zippers in a few different ways so I need to just experiment. I did use some Wonder Tape which is like double-sided adhesive tape to lay down the  side seams before sewing them which I think helped to control it a bit more.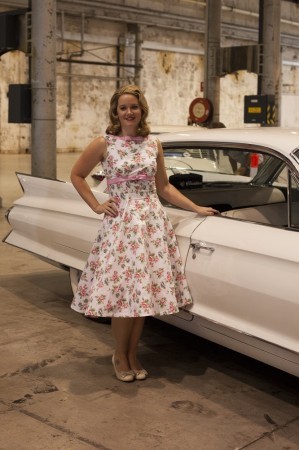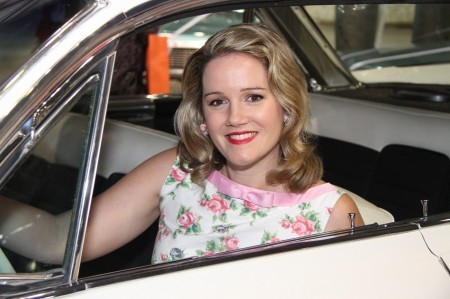 I gave horsehair braiding a go for the first time on this dress skirt hem too and I love how it turned out. I read Gertie's book  for advice on how to sew on the horsehair braid and it was a doddle. Except for the fact I ran out of it and had to rush back to the store again to buy more – d'oh! I'll blog about my horsehair braiding soon so I can try and persuade you to give it a go. It made the skirt flare out more but didn't look too much.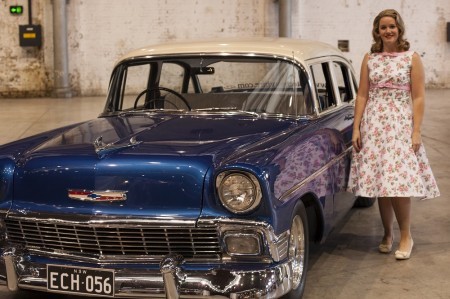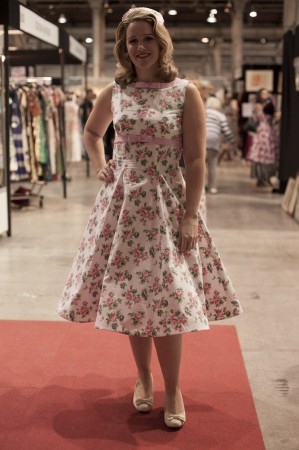 I think the highlight of my day out to this vintage fair was the opportunity to sit in a vintage Cadillac. I was checking out the cars when one of the owners asked if he could take photos of me in it. I happily obliged given I wanted to have a look inside the car and I would get some great pictures out of it. He ended up emailing me the photos and I think they turned out great. He compared me to Betty Draper which just about made my year. I look nothing like her but I must have managed to channel her style successfully!