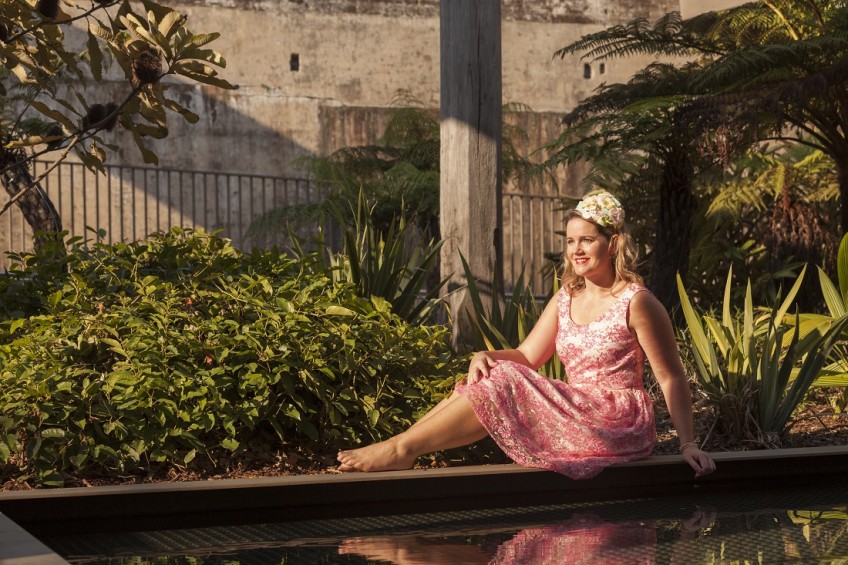 I think I should call this the 'dress of seven needles' as seven machine needles were harmed in the making of this dress. I knew at the time when I was handing over the cash to purchase a sequinned and beaded fabric that it would be a nightmare to sew and I this occasion, unfortunately I was right. I picked up the fabric during a trip to Melbourne with Mum last year at a store called Clear It. It is like a factory outlet for Alannah Hill clothing and on level 1 they sell fabric by the metre of old Alannah Hill prints. So you can imagine – lots of silk, lace, sequin and beaded fabric….and at a steal! Given the fussiness of the fabric I knew whatever I made from the fabric would need to be simple and without too mean seams, much like the lace I worked with in my earlier post.

I was working towards making something for the spring racing carnival so I wanted something pretty and floral. I bought the fascinator before finishing off the dress which I'm pretty sure is not what you are supposed to do but I saw it on the Alannah Hill website and had to have it.  It was too cute and oh so vintage. I did a bit of a pattern mash up for the dress, using the back bodice of Butterick Retro pattern 5748, the bodice front of Simplicity 1873 (which seems to be a bit of a go to pattern for me!) and then just a gathered skirt, using Vogue 8723 sans pockets. You could really do a gathered skirt without a commercial pattern which I should just do but I guess using the pattern takes out the work of measuring and drawing up a pattern piece, so it's purely a time saver.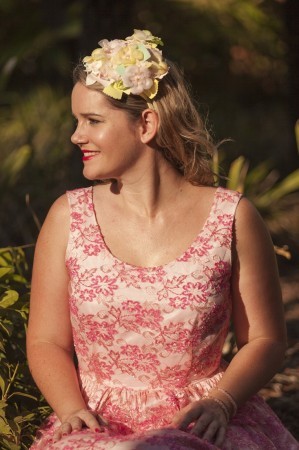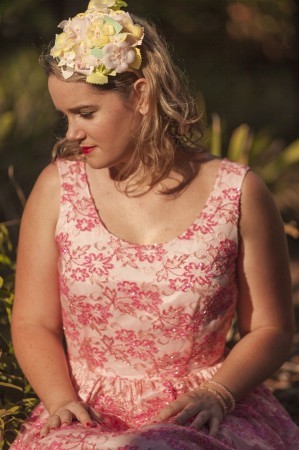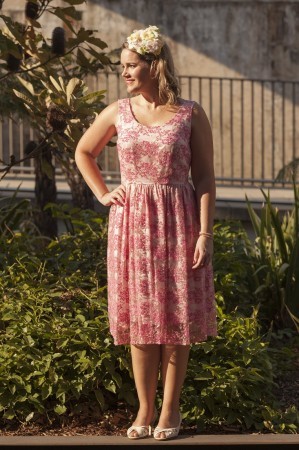 Pulling together the dress itself was pretty easy apart from the struggles with the fabric. I did some internet research on how to work with sequinned and beaded fabric and some sites suggested using a hammer to smash where the beads and sequins run on a seam before sewing the seam together but my fear with that, apart from mess, was too much of the beading unravelling. Thankfully the fabric did have sequin and bead free areas of pattern so I was saved a few times without having to worry about breaking more needles. I used a bemsilk lining in a light pink and lined the lace material as well as having a lining to the dress. So lots of pattern pieces to cut out! I don't think I could have gotten away with not lining the bodice pieces before putting in the lining as it would have looked too messy showing all the seams and darts which are now nicely hidden between two layers of lining. It gives the dress a bit more stability too.

I made the lining of the skirt about two inches shorter than the dress to show off a bit more of the lace and put in an invisible zipper down the side. Funnily enough the zipper insertion wasn't as bad as the rest of the construction, when I feared it could have been the worst bit! It was finished off with hand stitching the skirt hem. I'm happy with the outcome, especially given the pain of the fabric and I do still have some of the fabric left to make something else, but for now I can't face seeing it for a while.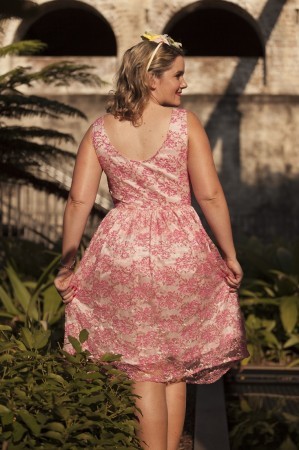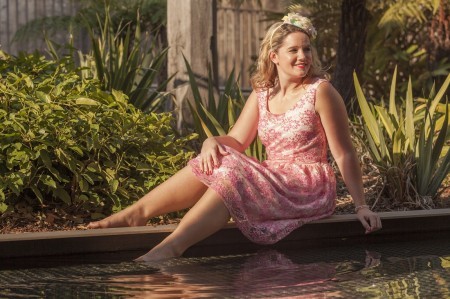 It ended up being a perfect day at the races and I can proudly say that I had a pretty lucky betting streak. I bet very small amounts but I do still get a thrill to know I have put money on a winner especially when I'm not particularly scientific in my approach to who I bet on. Oooh thats a pretyt colour on the horse! I managed to get tickets to get into the members and have now discovered that the grass is greener on the other side – literally. I don't think I will ever be able to go back to general admission again.