I was never a fan of Rainbow Bright as a child, but I know of her and I have to respect her love of colour.  She would never get in lost in crowd! This dress was a bit of a homage to my love of colour. Perhaps it had something to do with the fact that it is nearing summer, the bright blue sky is coming out, and colour just adds to the sunshine.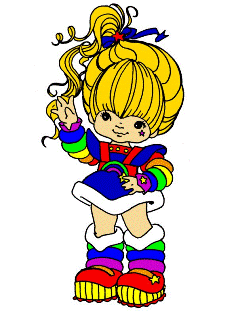 I picked up the fabric from my local Lincraft, a basic cotton print with rainbow painted stripes along one selvedge and then green stripes continuing on the rest of the fabric. I like finding fabric that has a bit of a border print as it can add real interest to a dress, rather than just an overall print.

I had a suitable pattern in my stash, Simplicity 2588 that I could use. I've become a big fan of Simplicity patterns, particularly their dress patterns. I find that in almost all occasions I can cut out a size 10 and know I'm going to get the right fit without having to make too many alterations.  I liked the neckline on the sleeveless version and thought it would work well with the stripe in the fabric.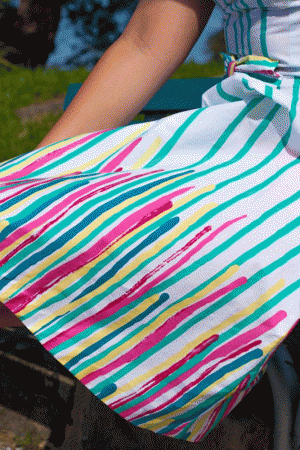 As I had predicted, the pattern didn't let me down and I did not have to make any adjustments apart from adding a little length so it falls under my knee. I was careful to ensure the stripes matched up, especially on the back neckline from the top of the zip and I just got lucky that the stripes along the zip where it meets the skirts aligned up too. The gods were on my side!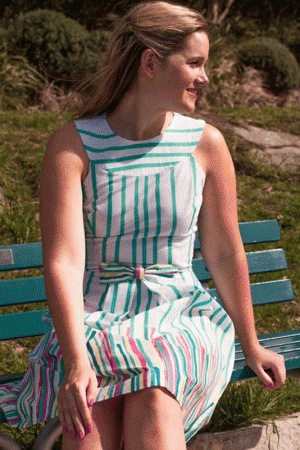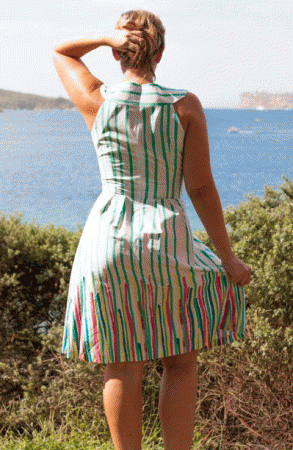 Last but not least, I added the suggested bow from the coloured part of the fabric which is only a small detail but one I really love. I wear this dress out with a candy coloured cardigan I have that matches the pink in the dress perfectly. I'm really happy with how this turned out, and love that it didn't cost much more than $25. Rainbow bright would be so proud.