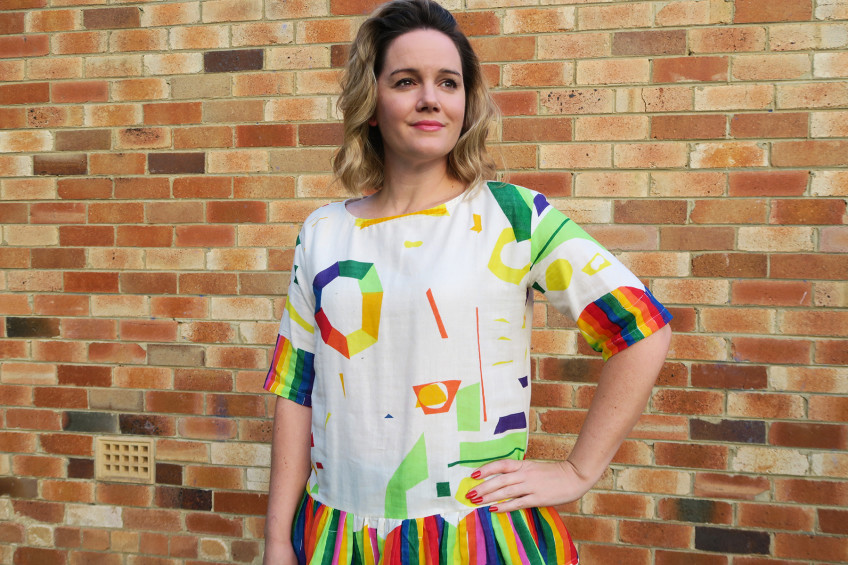 It's Friday! My week has flown by, and now it's a long weekend. I don't think I've ever been so excited about a long weekend with hardly no plans. Actually, thats a lie. A long weekend in winter with no need to do much except stay in, binge watch TV, catch up on life admin, and do lots of sewing is something I always look forward to when it happens. That'll be the introvert in me. When I feel run down and life has been a little hectic, I love being able to hibernate, be creative and just zone out.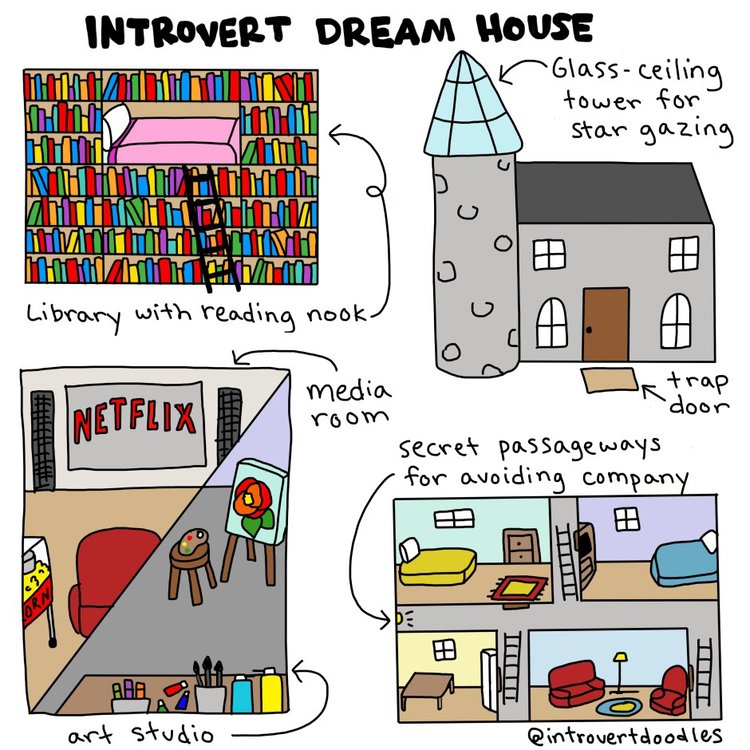 I will be spending most of the weekend in the 'art studio'. Or what I should call my 'sewing cave'.
This top represents the second time I have made something from the fabrics I purchased in Japan last year. It's a slow and steady race to get through my stash. I ended up buying ALOT when I was over there. My first top is blogged here. I bought a whole lot of quirky cottons to make a big quilt as a reminder of my trip there. Hopefully I'll get to that before the end of the year! I also bought three lots of Nani Iro cotton gauze fabric - this being one of them. I love the Nani Iro prints, but I some of them I think could work better as wall art than fabric. I also struggle with the double layered fabric. If these fabrics came in rayon I would be all over it like white on rice. Anywhoo, none of this stopped me in buying three lots of it.
Given the high impact nature of the print and the need to keep it simple I opted to make a top - a dress would have been too much for me in this print - and I wanted to make use of the border print stye of the fabric. I went back to a trusty old pattern favourite (I've now made 3 of them!) - Simplicity 1377, which is now out of print. I cut out the size 12 and made no changes to the fit.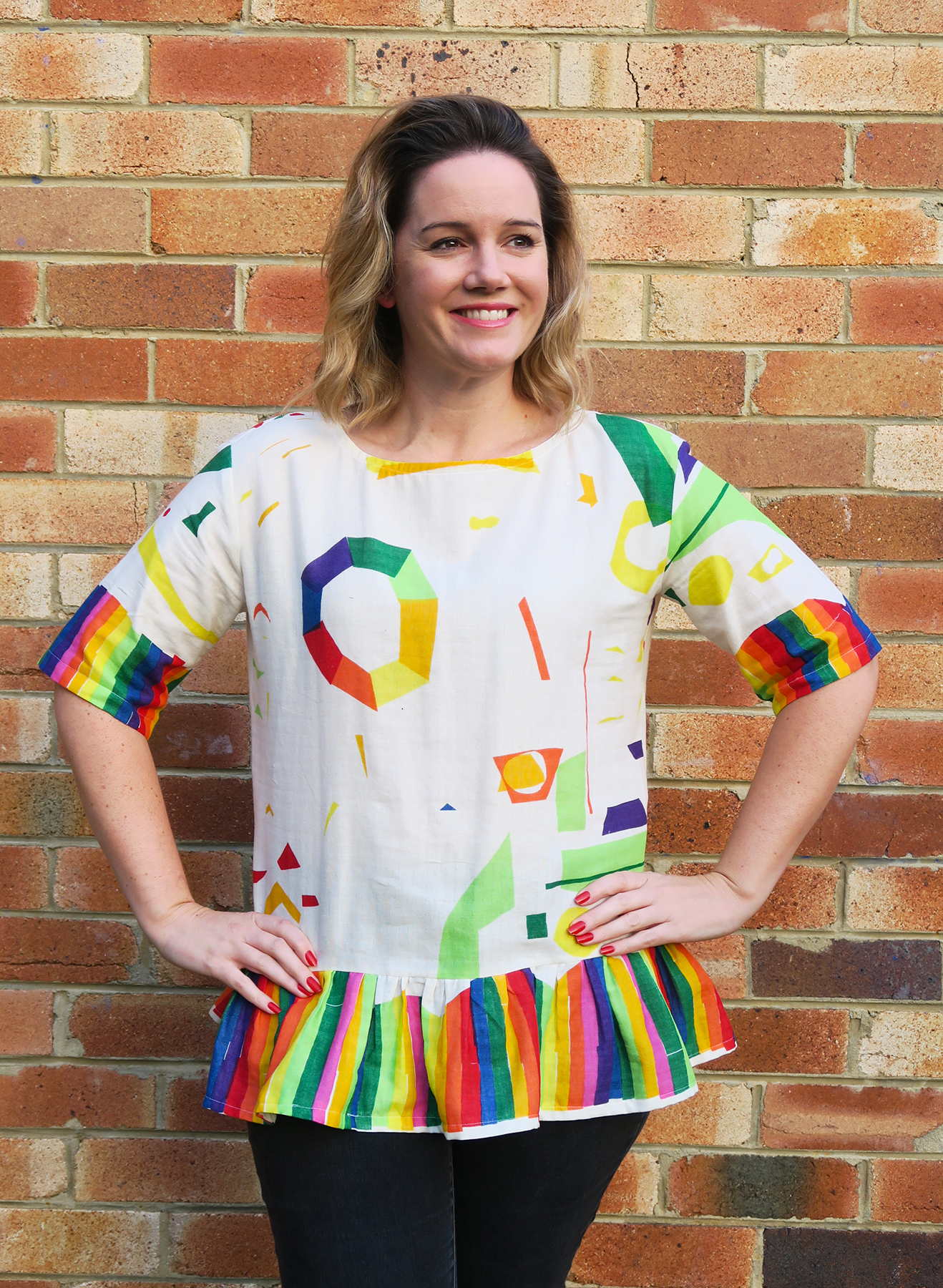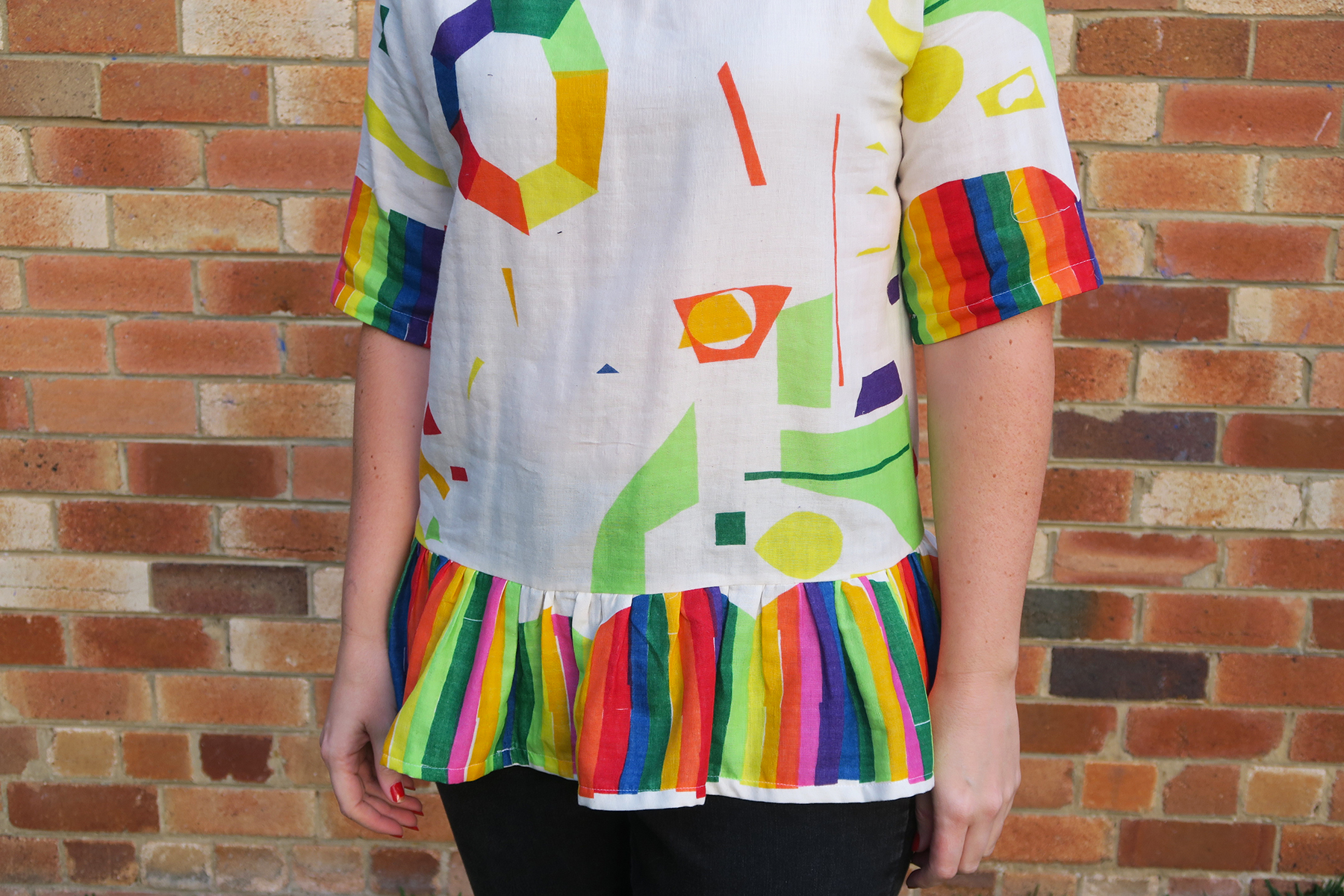 The only change I made to the top was to add a gathered frilled along the bottom. I cut strips of the rainbow print that run down one selvedge of the fabric and sewed them together to make a super long strip. I then used a long stitch length (3.9) and stiched two rows close to the edge of one side of the strip. I then pulled the two rows of threads and gathered the fabric as I went. I finished the neckline with pre-made cotton bias biding instead of cutting strips of the fabric as per the pattern. Pre-made bias binding makes it all so easy! Overall I'm happy with how it turned out but you do get a little blinded by the colour explosion that is this top. You really gotta be in the right mood to wear it!