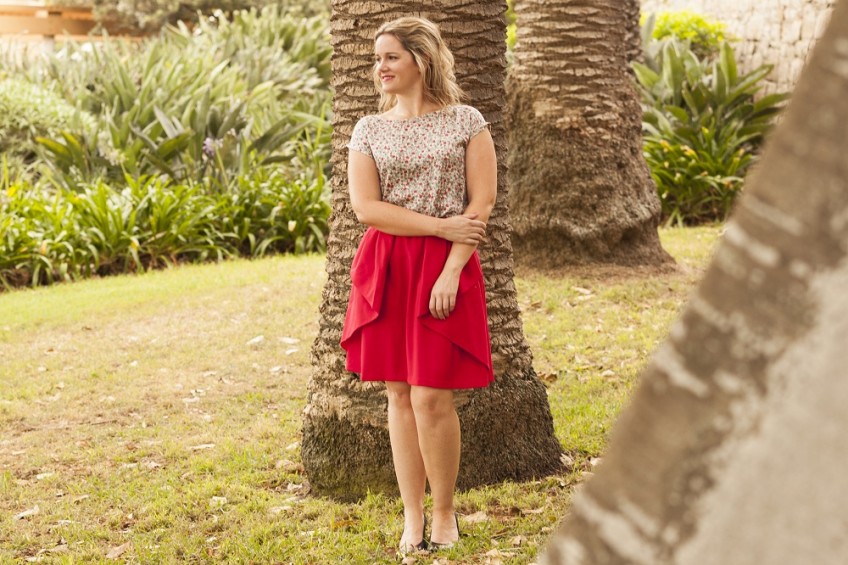 This week has flown by! Got to love a four day week thanks to the Monday public holiday for Australia Day. Australia Day itself on Sunday was spent with good friends at Watsons Bay Hotel in Sydney. We got there via the ferry and enjoyed all the festivities happening in the Harbour during the trip which was a bit of a bonus. Work has been busy since the new year, enjoyable but busy. By the time I get home I can't be bothered getting my sewing on, so I take the opportunity to catch up on binge TV watching all the endless great TV shows out there. How does one catch up though!? Orange is the New Black is the current one and it's fabulous. Can't say it's worth viewing for the costume design though, it's no Mad Men. I also started up a supper club with my girlfriends this week, as we try and work our way through all the new fabulous restaurants in Sydney. I may have to take out the waist in a couple of my vintage dresses soon enough. :)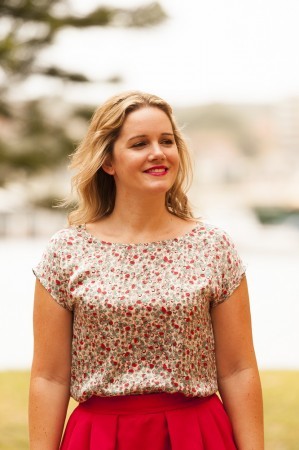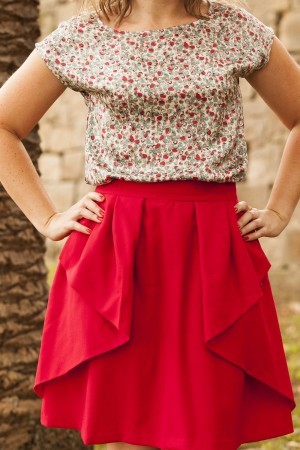 In my endless pursuit to pull together the perfect work wardrobe I gave another Leanne Marshall for Simplicity sewing pattern a go a few months ago – pattern number 1690. I watched Leanne when she was on Project Runway and loved her work. What she did with fabric – all pleats and lovely flow-iness won me over. This pattern had a dress, top and skirt but I opted to do the top and skirt. I had a Liberty of London silk satin in my stash that I had bought 3 years ago. Boy does time fly when you date fabric purchases! I also was reluctant to cut into it as it's another stunning Liberty fabric. The fabric had cherry reds in it so I thought a plain red skirt would be the way to go. I'm a bit sick of always wearing black skirts with patterned tops. A trip to Melbourne last year led me to a store that sells ex Alannah Hill fabrics, so I picked up a red wool crepe for a steal there for the skirt.


The top was beyond simple to make. It is literally two pieces of fabric sewed together at the side seams and shoulders and the off the shoulder sleeves are finished with bias binding or bias fabric strips. I wasn't too sure on fit and given it has no shape and no proper sleeves to speak of I opted to go for a size 10 rather than 12. As it turns out I think that was the way to go. I fall between sizes so I sized down but if you are a definite size stick with that size. I think I sewed this up in about two hours and given the style of it, there was no fitting issues.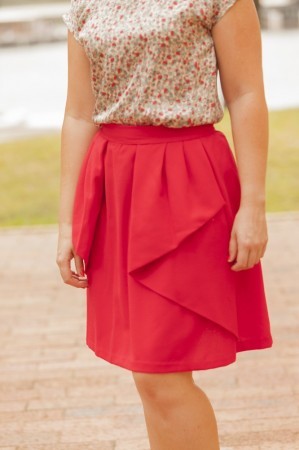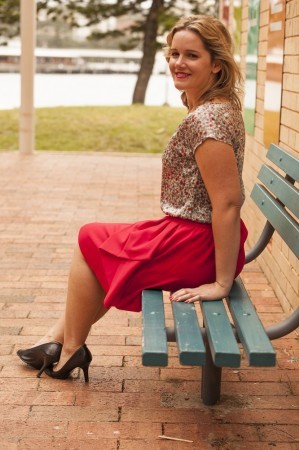 On the other hand, the skirt was a bit more work….and lots of layers of fabric! My word of advice with this skirt is that you can only make it with lightweight fabrics as some areas of the skirt you are sewing through 5-6 layers of fabric, a lot! The wool crepe I used was a bit too thick and made it a bit too 'boofy'. I also lengthened the skirt by about an inch as I was a bit worried it would be too short for work. The instructions were pretty easy to follow and the key to making it a success is spending time on getting even gathering in the skirt. Because of the thickness of the fabric, especially around the waistband an invisible zipper wouldn't agree with the skirt so I opted for a traditional zipper. I do so many invisible zippers these days I am pretty rubbish with the traditional ones now.


This is a cute outfit to pull together and I might give the skirt another go in a sparkly type fabric for the evening. The dress version is on the sewing list too....eventually! It's not a skirt style I have ever seen anywhere else, so it makes for a nice change. No doubt I will be getting back onto more dresses soon enough.