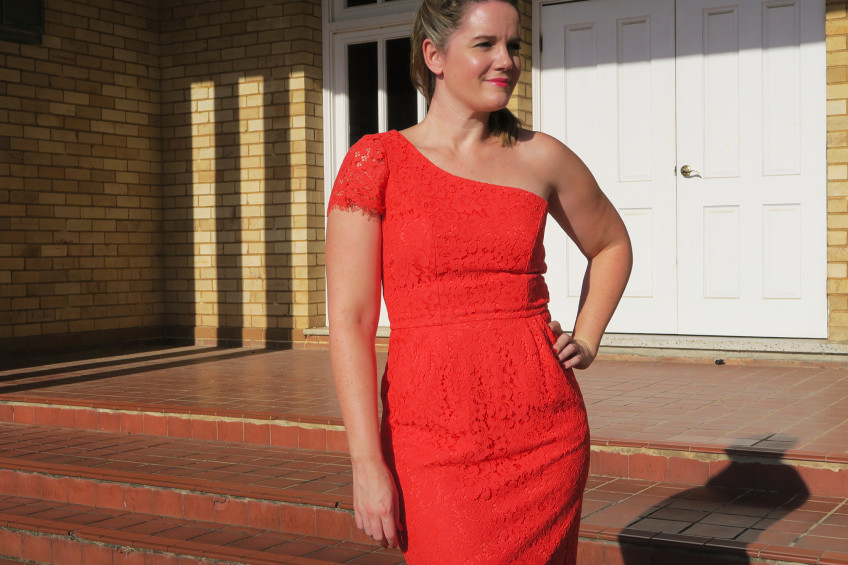 Well it's back to sweeping the mines this week. Summer holidays is now over. Sadly, it felt like it flew by! On the upside it was very relaxing and the weather behaved itself so I got to swim a lot. I didn't get as much sewing done as I would have liked, but I rarely ever do. I almost caught up with blogging all my recent makes. I still have a few more to go, so will have to get the camera ready for more snaps this weekend.
Following on my from last blog post about a dress for a wedding. Well, guess what? Another dress for another wedding coming your way. My little brother got married three weeks ago, so I figured it would be a good opportunity to make myself something to wear. And this time I made something not only for myself, but for my Mum also. Mum was struggling to find something she liked that wasn't an exorbitant price. I had a head's up about what some of the female guests were going to wear colour wise, to make sure I didn't wear something too matchy matchy. I had recenrly bought a panel of red lace from The Remnant Warehouse a few months back and a polyester satin I could use as lining - which matched EXACTLY - so I decided to use them for this occasion. Why not continue my lace love fest?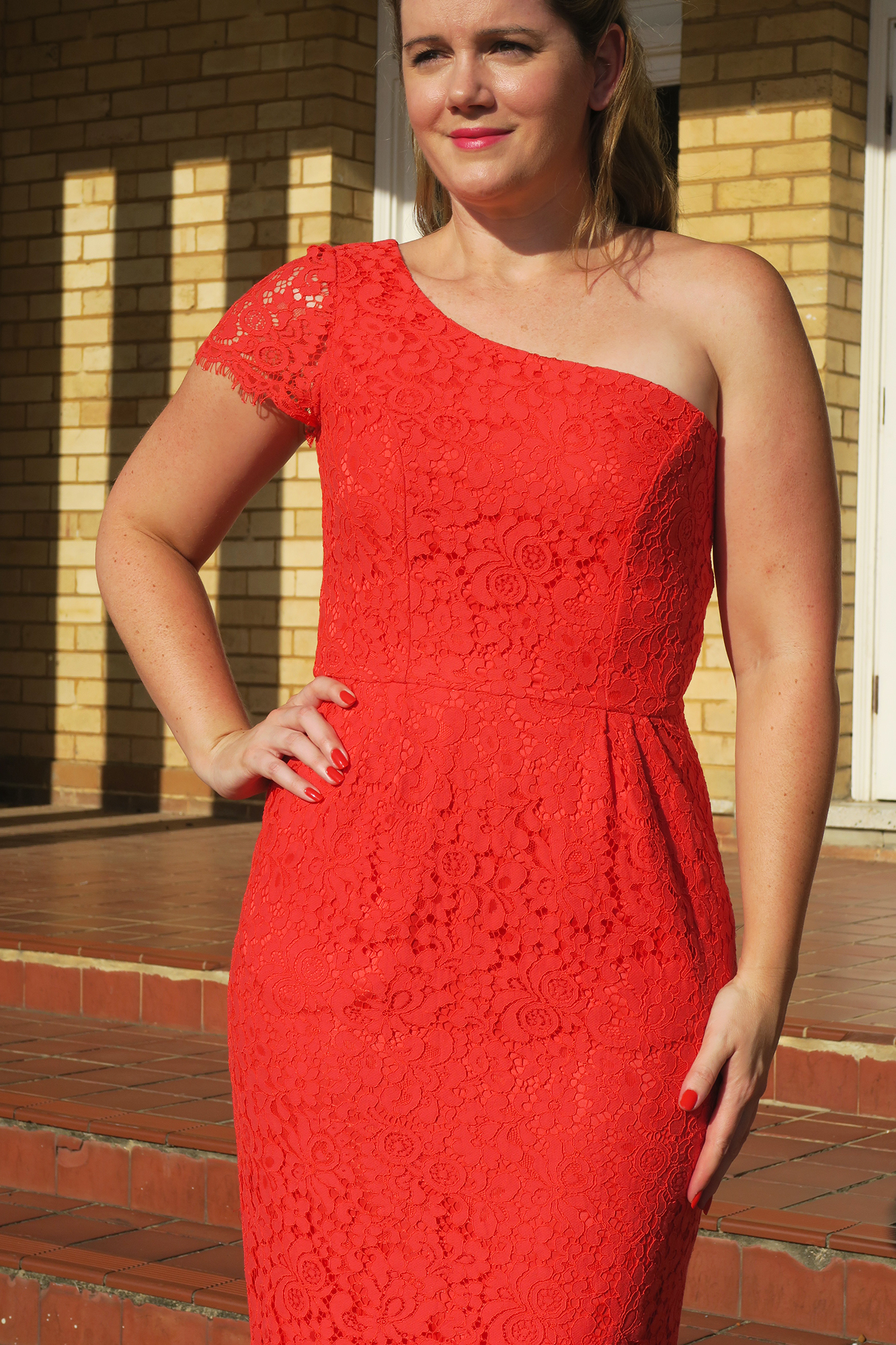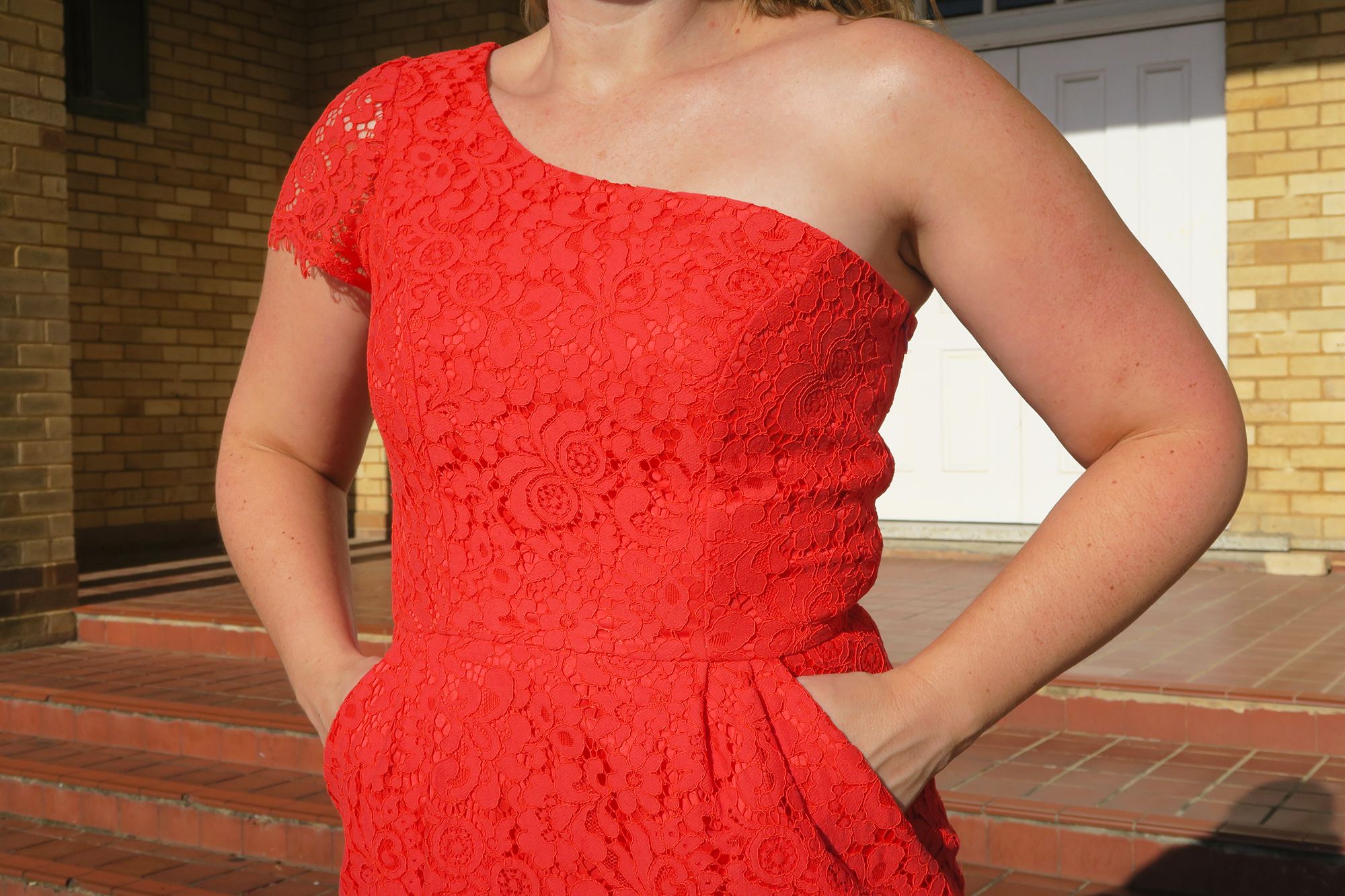 I took this opportunity to finally use one of my patterns that has long since been out of print. I felt like donning the one shouldered look, so I dug out McCalls 6320 and went forth and sewed. The pattern has a few options - I went for the cap sleeve and did not add the neckline detail on option A shown below in blue. I cut out a size 12 for the bodice and graded out to a size 14 for the skirt bottom. Because I was using lace, I had to cut out the main fabric pieces twice - once in the lace and once in the co-ordinating satin to line the lace pieces, and then I cut out all the lining pattern pieces in the same co-ordinating satin.
I also had to measure exactly where I wanted the hem to finish on me before cutting as I was using the scalloped hem of the lace for the skirt hem, so no alterations could be made once it was cut out.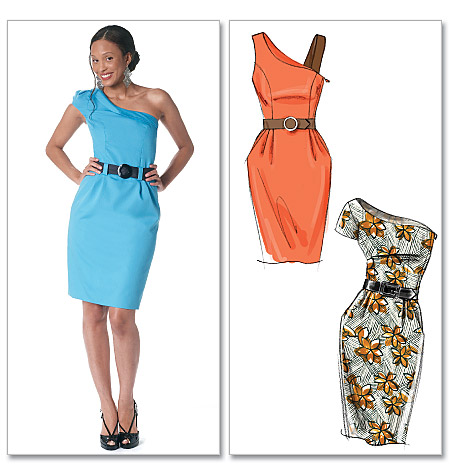 Pattern envelope imagery of McCalls 6320
Before sewing the dress together, I sewed each lace piece onto its co-ordinating lining piece 1cm around all edges using a walking foot. I recommend the walking foot because lace does have a habit of shifting, especially against satin, and you really need these pieces to line up before you start sewing them together. Keep to 1cm from the edge so it doesn't show when you sew the pieces together. The pattern does suggest lining the skirt, which was pretty mandatory given my choice of fabric, but I treated the lining and main fabric as one when sewing the seams and putting in the zipper. Given that, I had to hem the skirt lining front and back pieces seperately before attaching to the lace fabric. I made the lining about 2 inches shorter and ensured the lining pieces lined up at the side and back seams of the skirt when sewing the main fabric pieces together as the lining was attached to the seams and not sitting independently of them, so it was more noticeable.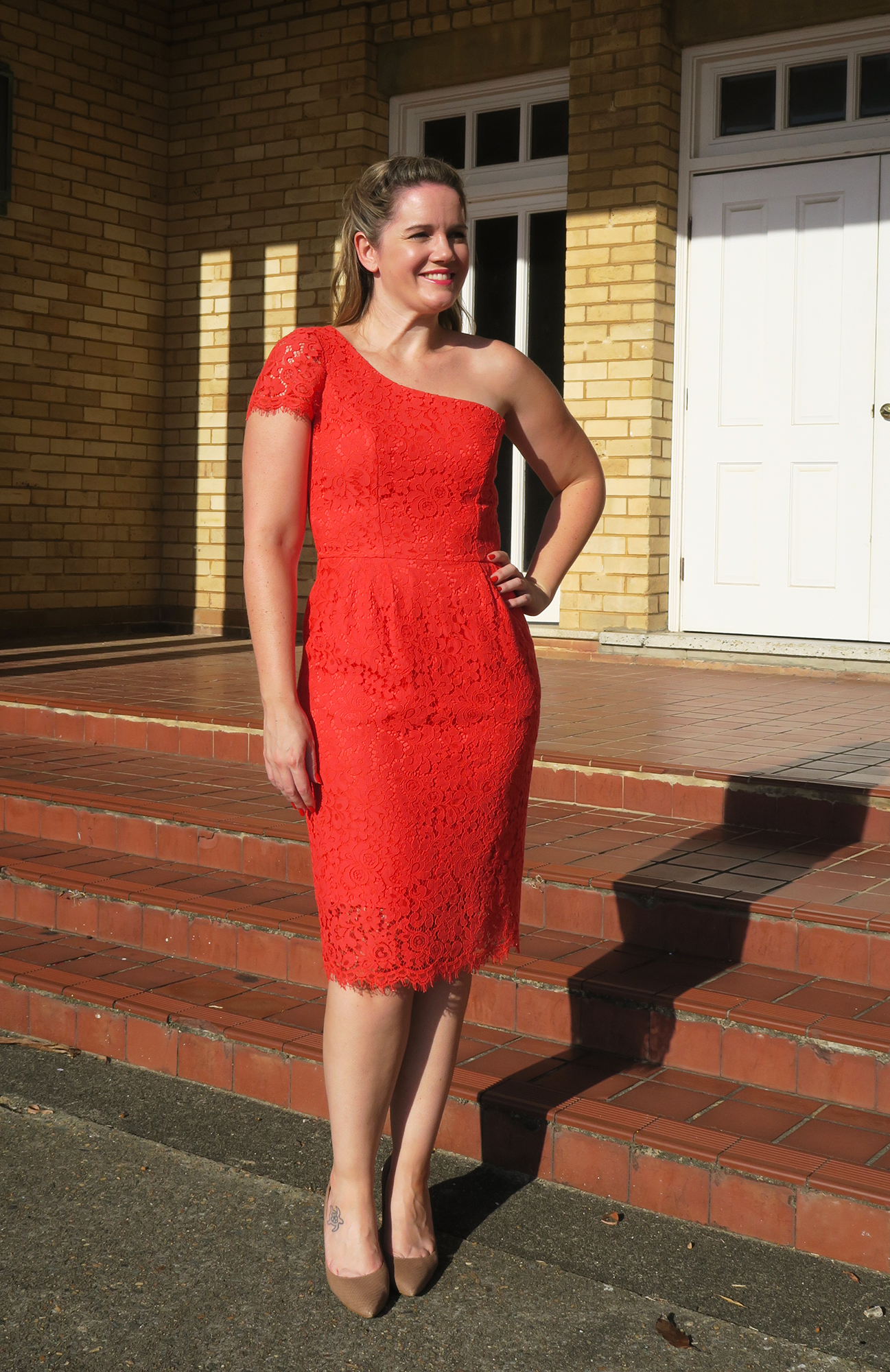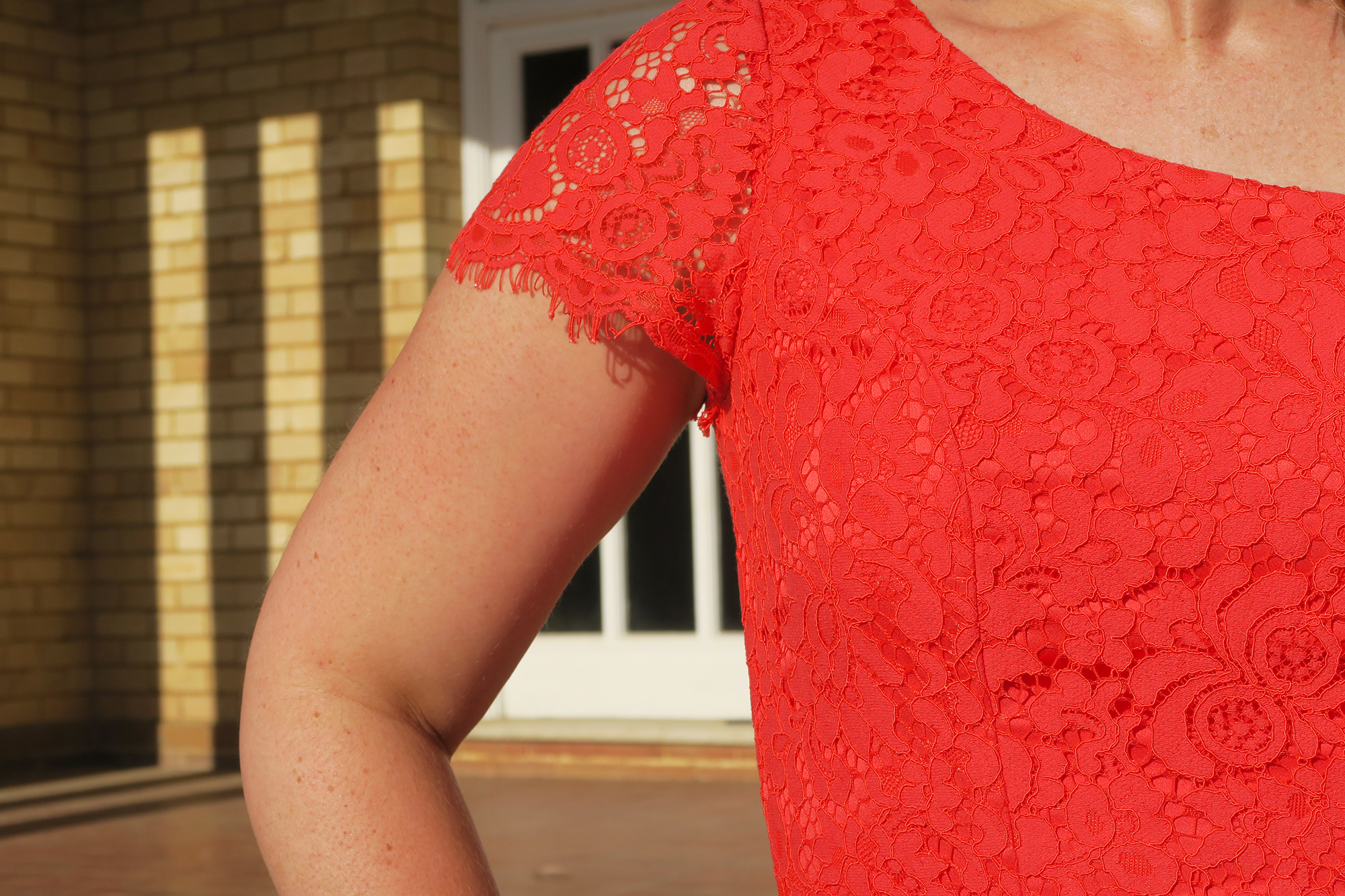 The fit on this pattern was pretty good, but due to fear of it slipping down on the strapless side I did take it in a little on the top of the princess seams and side seams so it was more fitted. The dress could have probably benefited from some light boning on the bodice front lining seams to ensure it stayed put. Personal preference, but I think it would help with keeping slippery lining fabric up.
I loved the little pleats and pockets on the skirt. It gives it a little more something something than if I had just done a plain pencil skirt. Front pleats on skirts are the best (when done properly!) because they give you a litle more wiggle room without losing the fitted sillouette of the dress.
I left the cap sleeve unlined and took the lazy option by finishing the hems by overlocking. I guess with more time I could have done french seams, but more time is never something I want to take. Maybe one day I'll attempt slow sewing! I was a little nervous once I made this dress that the invisible zipper wasn't going to hold up given the tight fit and three layers of fabric on the bodice and the pockets. Thankfully, so far so good!!