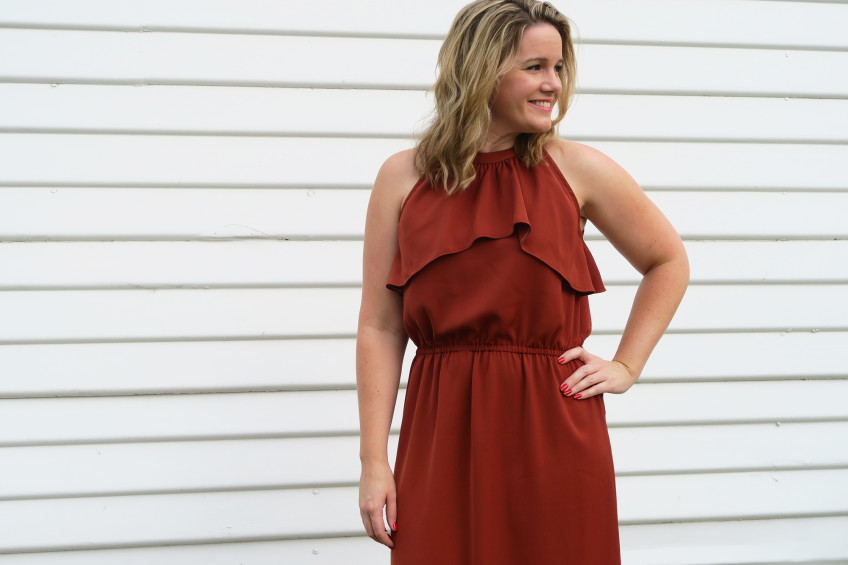 Happy April Fools everyone! I can't believe we are already in April. I'm quite happy if the next 3 months go quickly because since the last time I blogged I've booked flights for NYC and Canada in July. I can't wait!! I have been to NYC before. In fact, exactly 10 years ago to the day I'll be there again. Kinda crazy how tit turned out. I'll be there to see 4th July fireworks again and of course, I'll make another trip to Mood fabrics. Hopefully this time I'll also check out some other fabric shops. I've wanted to get to Canada for yonks so pretty stoked to make my way there also. I would have loved to go to Alaska also but it was all going to be too much to do in 23 days. I'll have to save it for another time.
But back to the here and now, and this dress. I made this a couple of weeks back on a weekend when the weather was 38 degrees in Sydney. We are having another Indian summer this year. It's well into Autumn but the weather is still saying Summer. So whilst I'm thinking Winter sewing, it's proving hard to actually wear anything warm. This dress proved perfect for said weather and the outdoor BBQ I went to.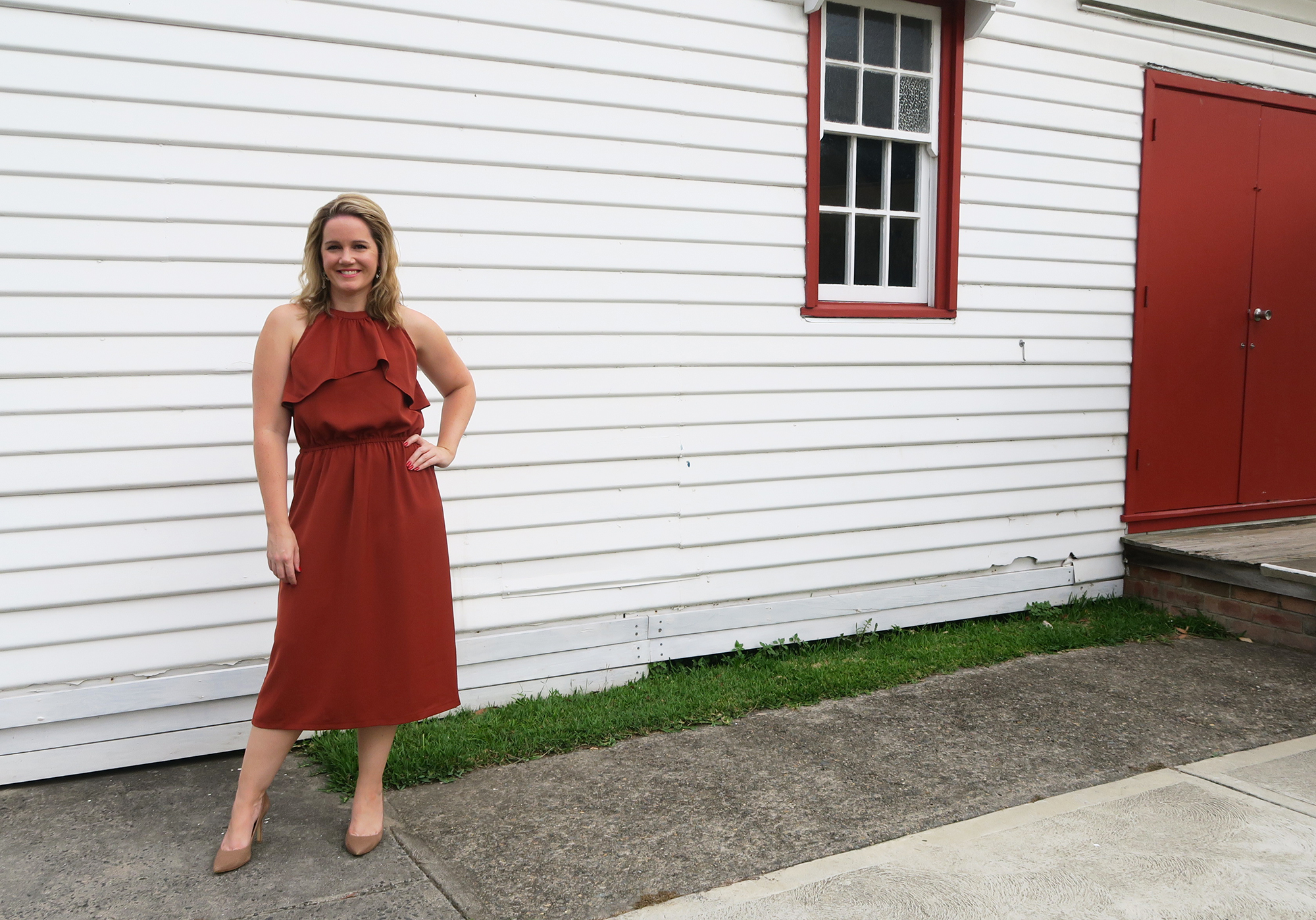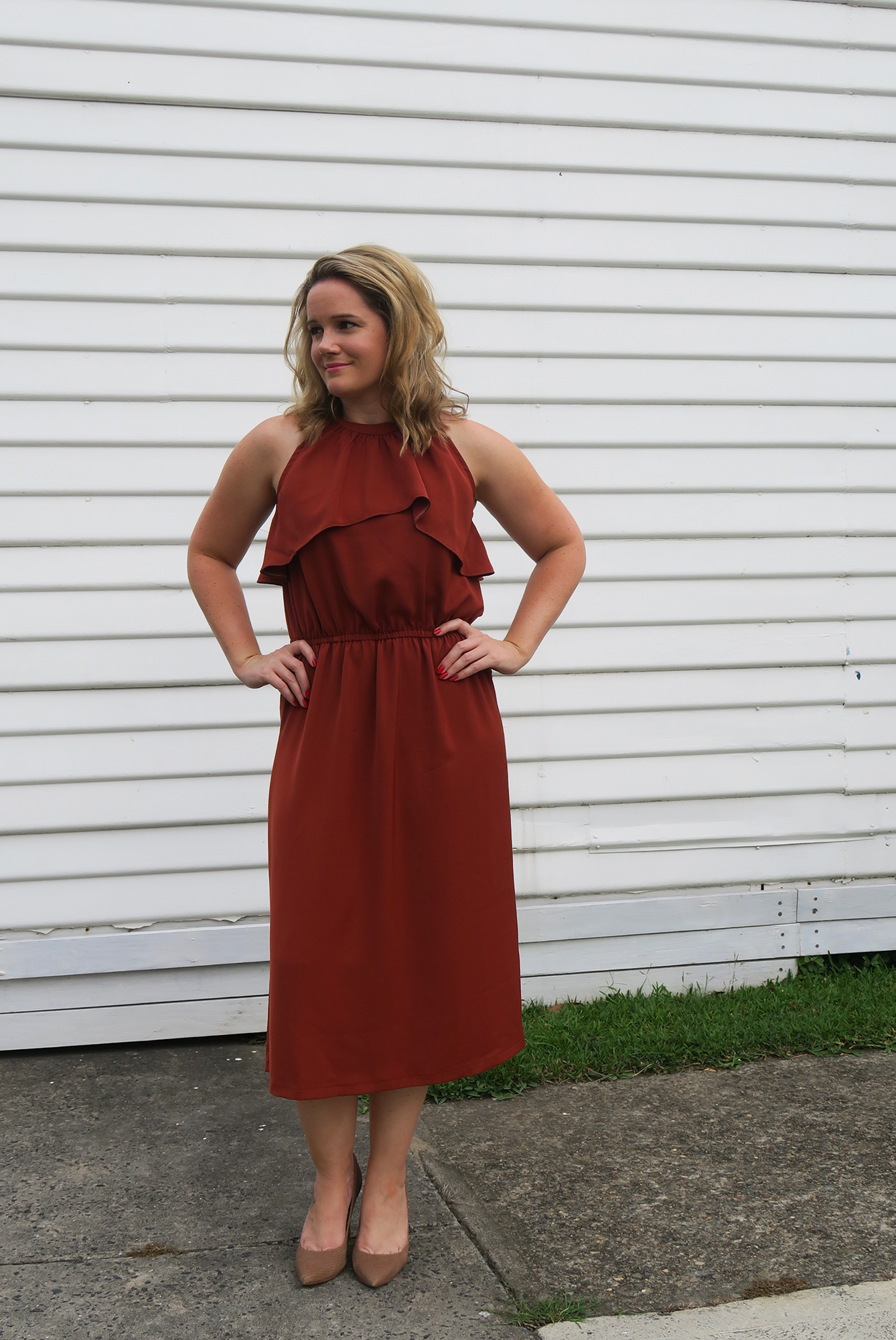 The pattern is New Look 6489 which has both a romper (I prefer calling it a jumpsuit) style, plus this dress option. I went for option D. It was one of those great patterns that meant I didn't have to buy much habby. I think I just needed to get the thread, as I had bias binding for the arm holes, thin elastic to create a button loop on the back neck, and the elastic for the waist. Oh, and a spare button! I should have bought overlocking thread that matched better than what I used but that would have been more of an expense I was wiling to pay for thread I won't be using anytime soon again. I'm starting to really hate waste when I sew - I'm always throwing out about 0.5-1m of fabric after I cut out a pattern because I don't follow the pattern rules for cutting and squeeze more out of my fabric. But it's never really enough to do anything with. I also hate buying whole spools of thread for small amounts. So I attempt to make do sometimes.
I cut this out in a size 12 for the bodice and a size 14 for the skirt which proved pretty bang on. Because of the elastic waist style of the dress the fit is pretty forgiving. The gathering at the neckline also provides a bit of leeway with fit. I used a fabric I purchased from Pitt Trading during one of their flash sales. It's a polyester that has a bit of weight in it so it drapes beautifully and it has a litte stretch in it, which I always love. It's not normally a colour I would go for, but at $4 a metre, I took a chance! I've since ended up buying more in a khaki colour.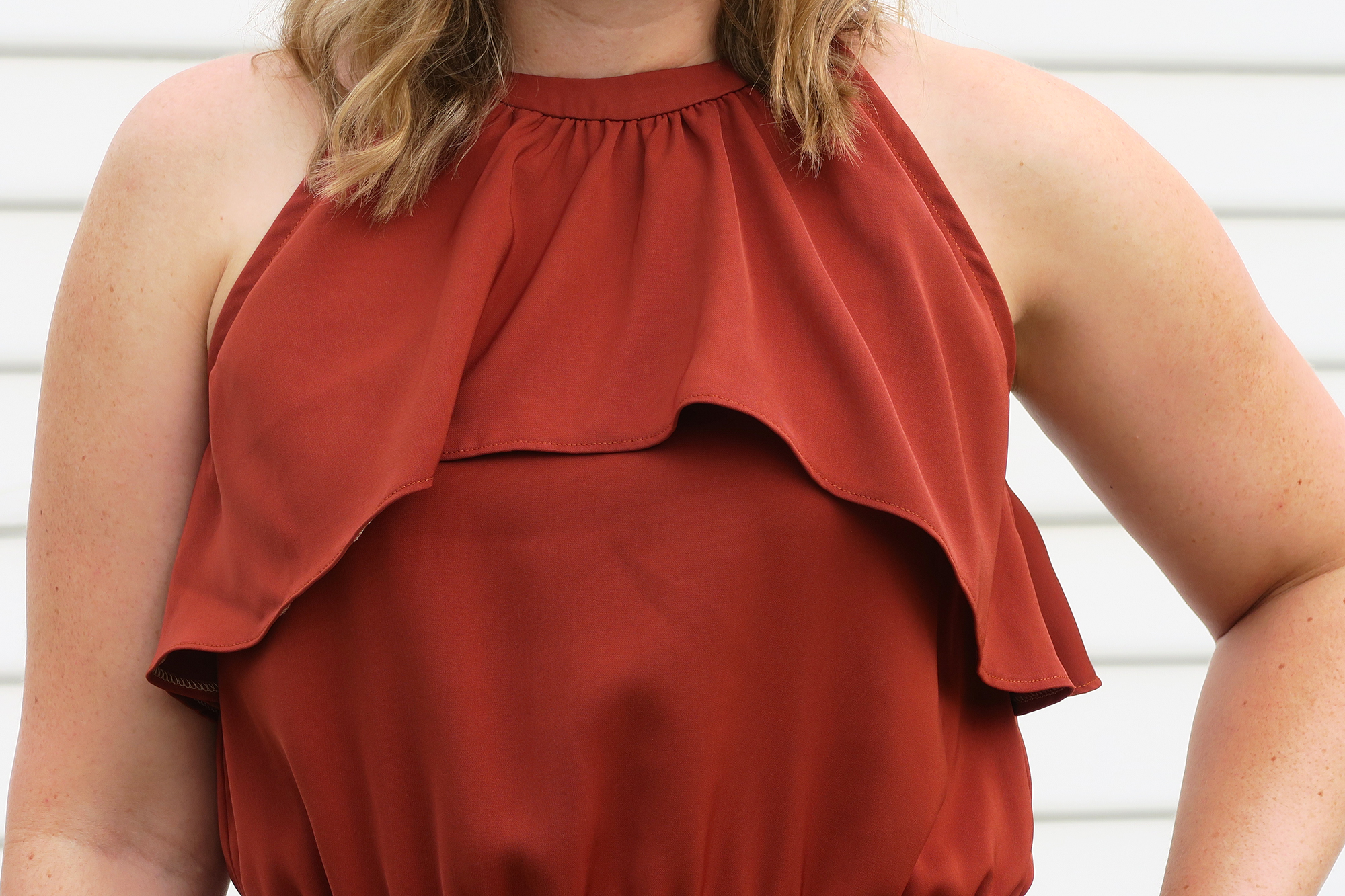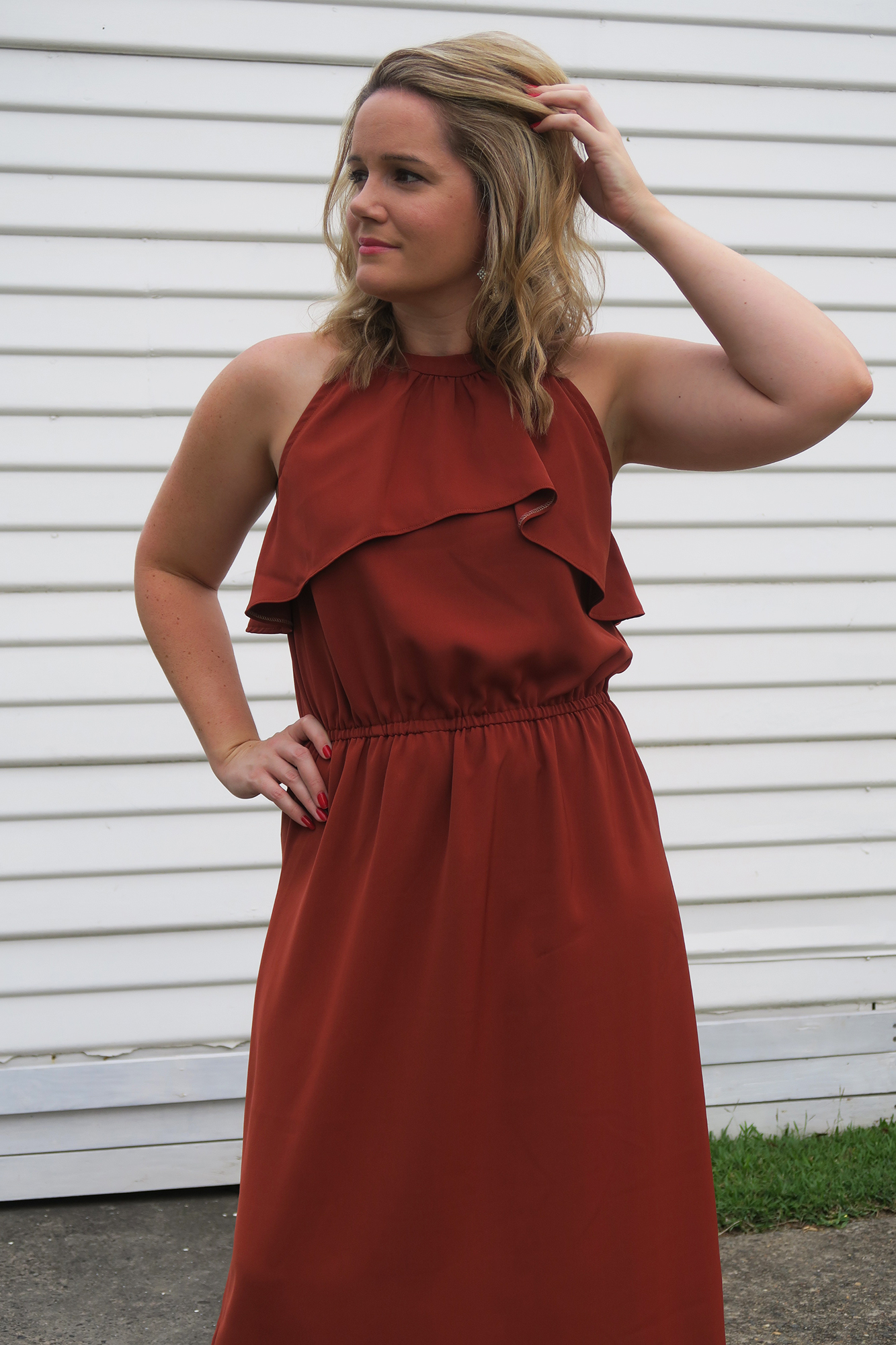 The fabric proved a little difficult to work with when it got to the gathering of the neckline and the handstitching the lining of the neckline down. Mainly because it was a little thick to work with. The pattern does suggest lighter fabrics, so take that in mind when choosing your fabric. The neckline area really needs a light fabric like georgette. I didn't really make any changes to this dress except for shortening it quite a bit. The image on the pattern envelope made it hard to gauge how long it was supposed to be, but it's basically ankle length. I was after mid calf length so I took off about 5-6 inches.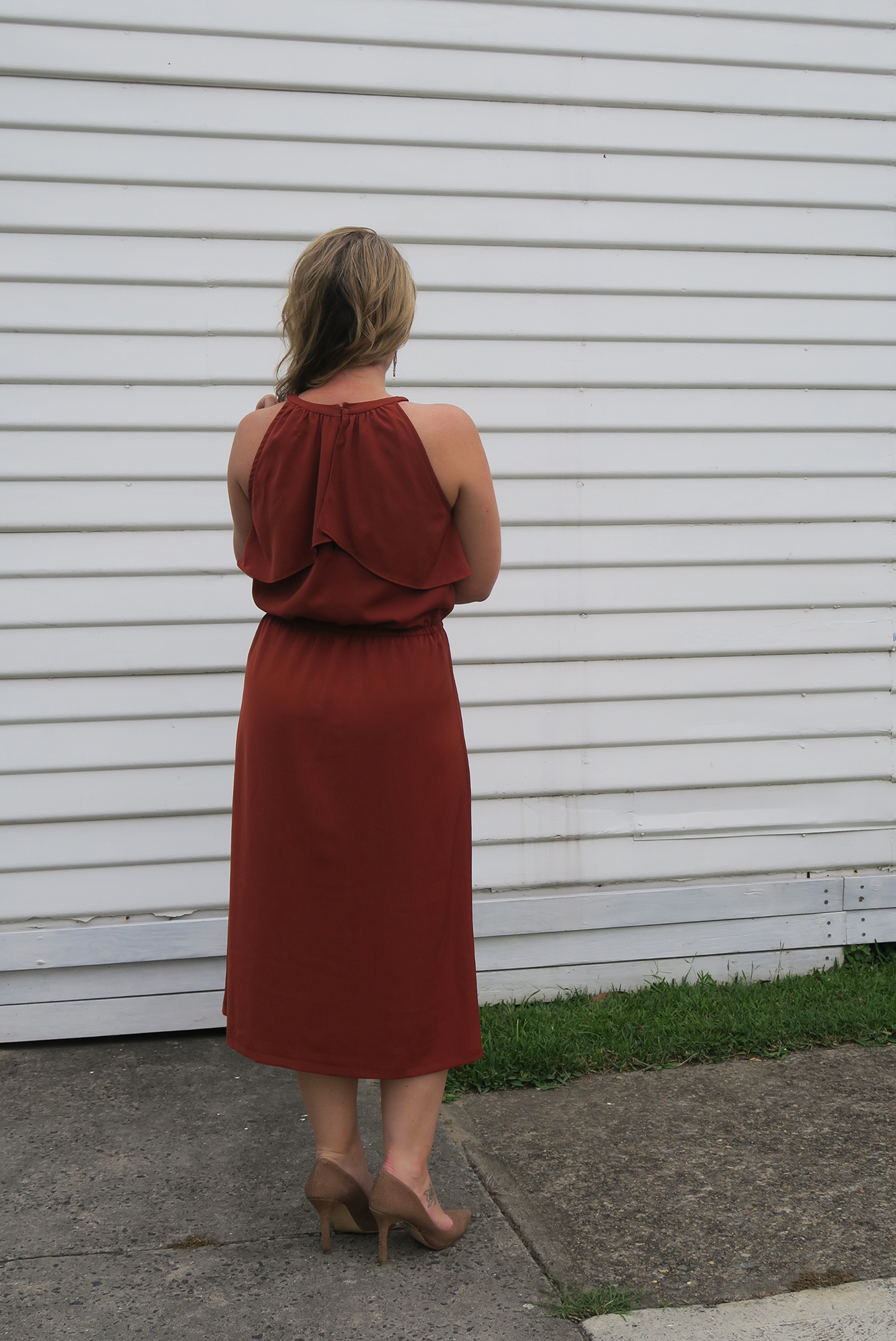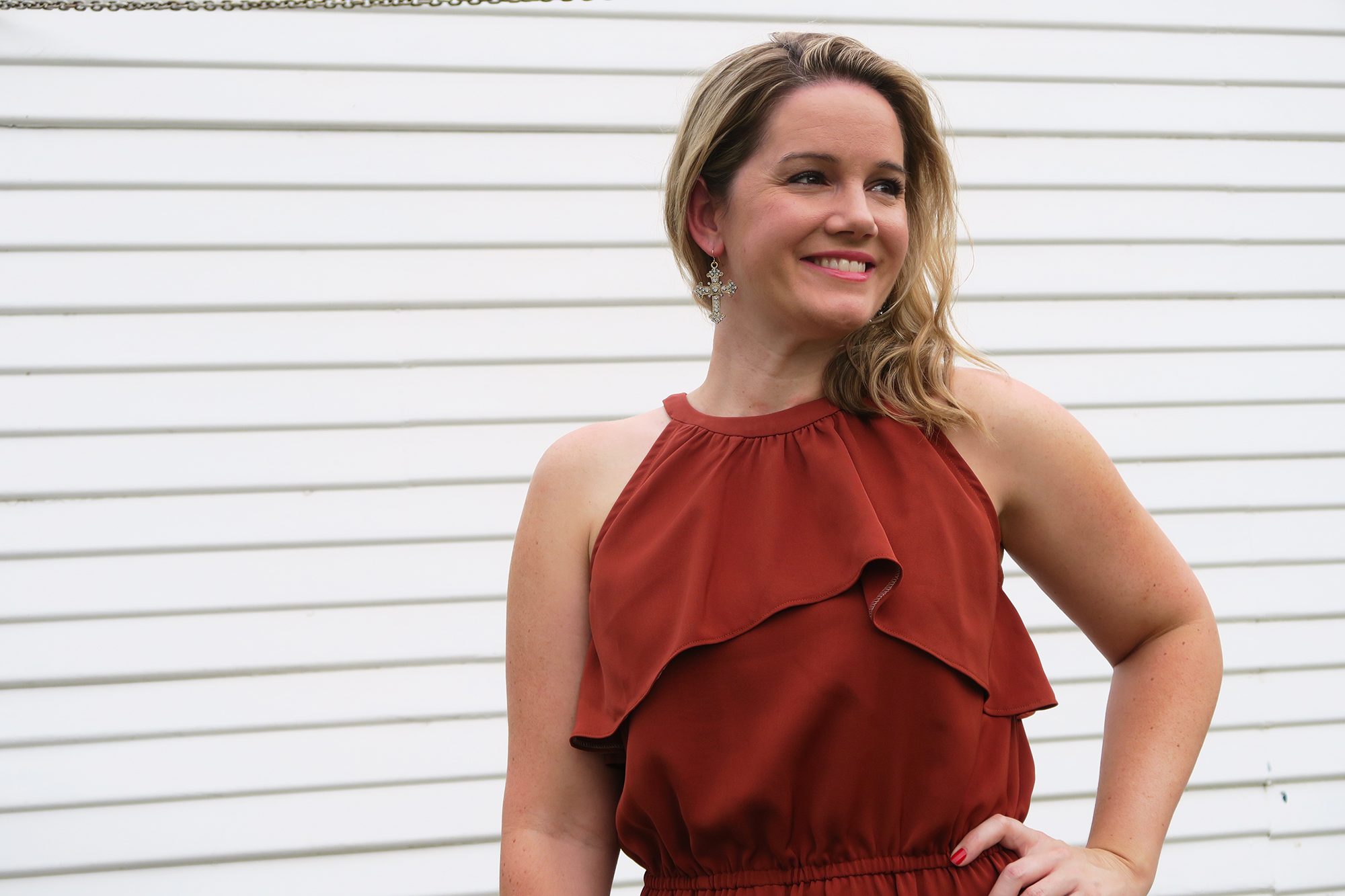 All in all this is a pretty easy dress to put together, but it did take a bit of time due to the gathering and hand stitching around the neckline. Which isn't a problem if you're not like me. But if you are like me and sewing something to wear the next day - allow more time than you think!