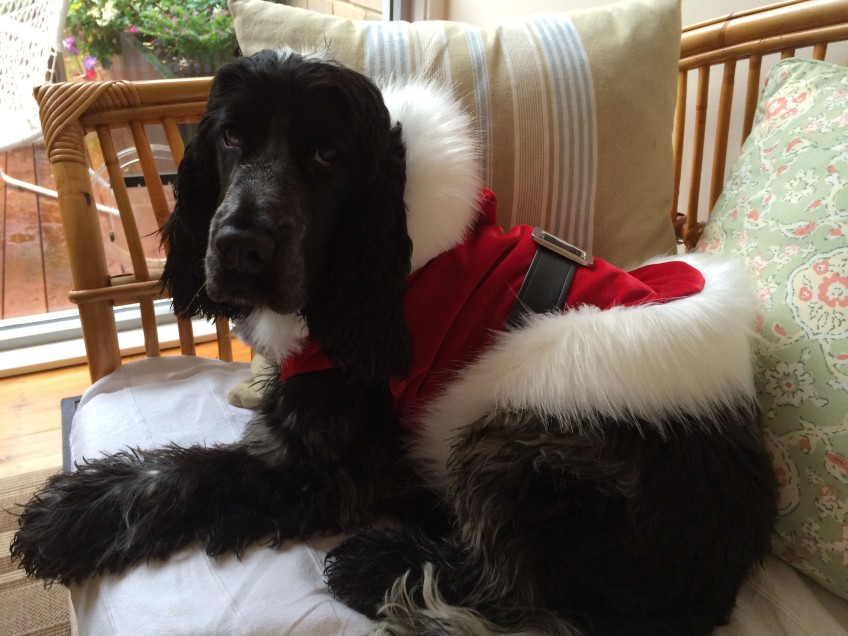 Well that's 2013 done and boy did it fly by! One of my biggest achievements of the year would have been kicking this blog into gear. I had been thinking about writing a sewing blog for so long and finally did it at the start of the year after writing a number of blog posts the year prior and having them sit on my desktop doing nothing. In 2013 I added about 20 odd dresses to my already burgeoning wardrobe and made a number of outfits for friends and clients. I also sold items on my online store to people across the globe from the USA, UK and back here in Australia. All along the way I learnt new skills and got to know all the lovely sewing folk in the online world. I look forward to what 2014 brings for my sewing. I want to make some decisions on where I want to take my sewing and do I want to do it professionally in some shape or form. While I continue to ponder that question throughout the year I also think it's about time I get some sewing lessons from a professional under my belt to sharpen up my skills and better learn how to fit bodies other than my own.

I think my biggest new year's resolution for 2014 should be to stop buying fabric. That is definitely my weakness. I have enough to last me for quite some time! Something tells me that resolution won't last past January.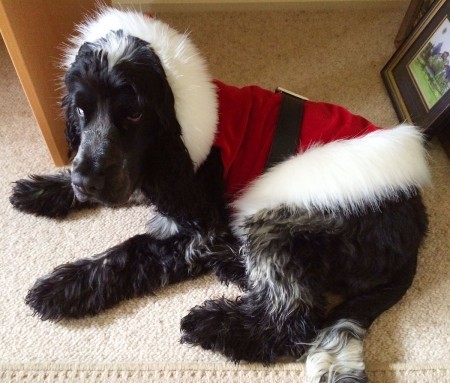 My last sewing job of the year in 2013 was for the family dog, a Cocker Spaniel called Jock. Jock is just over a year old and a bundle of joy for the family. He does have his frustrating moments but he is devoted to say the least. My Mum only has to leave the room for about 2 minutes before he hunts her down looking for her. Given this was Jock's first Christmas with us I thought it might be nice to dress him up. My cat Maisie wouldn't have a bar of any Christmas outfits so Jock was my target.

I used Kwik Sew 3750 which I've actually just checked online is out of print but no doubt you can get it on Ebay or Etsy…if not there are a number of similar patterns out there. I wanted to make sure it was really good quality and not the kind of Santa outfit that you can pick up at a bargain store, so I bought a good quality stretch red velvet and thick white fur from Spotlight and I used a black vinyl for the belt. I didn't bother with the pom-pom on the hood due to the time factor and that I wasn't all that sure how to make it! The coat is lined and I opted to use a stretch red cotton as I wanted to make sure the coat had enough give so Jock wouldn't be too uncomfortable in it. I've also never sized up a four legged friend for a sewing job either so I was concerned that I hadn't made it big enough! I used a craft glue to stick down the belt to the coat as the vinyl and velvet was too thick to sew through. I couldn't find a silver belt buckle anywhere but discovered one in my stash to use…result!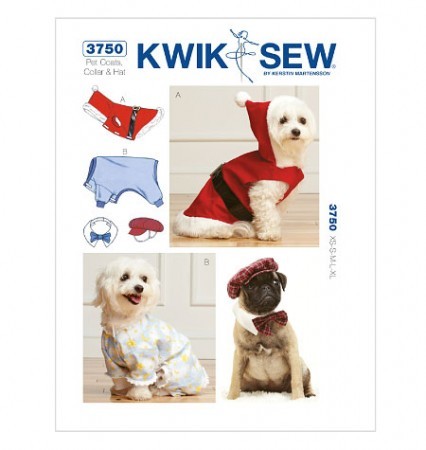 The coat is closed using Velcro down the front. The pattern suggested using three patches of Velcro but I thought it would be neater and easier to get on and off if the Velcro runs down the whole front which as it turns out is easier when getting Jock into it.

I loved seeing Jock in his Santa outfit and he was such a good boy he didn't try and take it off all Christmas day. Frankly I think he actually liked the attention. It was fun making something a bit different to the norm and now I am already thinking of other dog outfits to make. Yes, I'm going to be one of those people. Eeek!