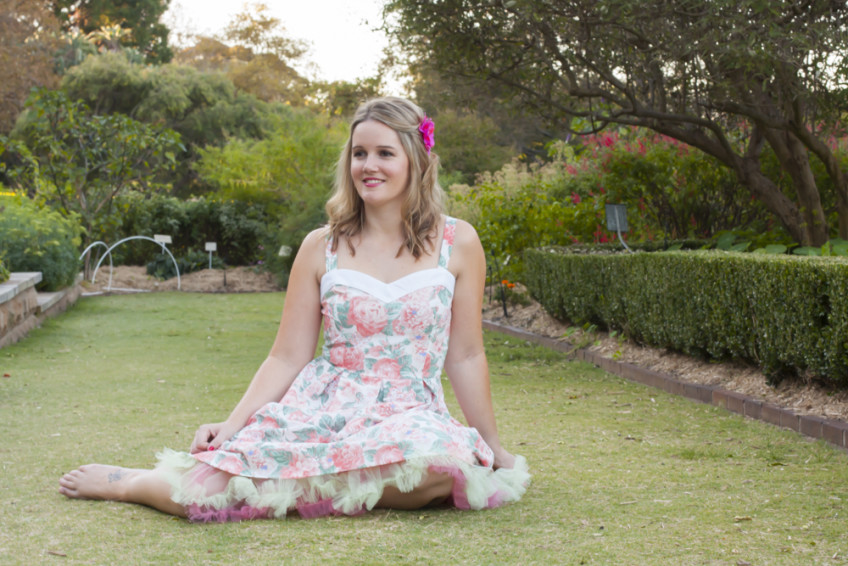 A year and a half ago I sewed up a dress to wear to my dear friend Sacha's wedding. I was really happy with the outcome of the dress and am only now getting around to writing about it. Sacha was getting married in November, Spring in Australia so it called for something pretty and summery. During the time I lived in Scotland I used to frequent Mandors fabric store in Glasgow. I didn't have a sewing machine or any means to actually sew whilst I was over there but I just had to have a wander in the store and buy up anything I particularly loved to bring back to Australia and sew.

This meant that at time of leaving Scotland I ended up shipping back almost two boxes of fabrics and crafty items I had accumulated during my two years over there. That was an expensive lesson in why you shouldn't spend two years adding to your fabric stash! I digress...

For an outdoor wedding in November, I decided that 'pretty floral' was the name of the game. I was largely inspired by a vintage necklace that I purchased a few years earlier at a vintage fair, which quite frankly does not get an outing nearly enough.


I stumbled across a lovely New Look pattern (6048), which despite being a new design ticked the vintage criteria for what I was after - a sweetheart neckline and a full skirt.

I decided to add a little va va voom and added a couple of layers of tulle in pastel colours that I picked up from the floral fabric. I used a bemsilk lining material for the top of the petticoat which was about half the length of the skirt and then added the two layers of tulle to the bottom in alternate colours that coordinated with the dress. I made sure I did some measuring up beforehand so I knew how wide the tulle layers needed to be to ensure they did not peak out under the dress. This meant the petticoat was only visible when the skirt shifted. I also added a small gathered tulle hem onto the bottom of the layers. I hadn't tried this before but I do like the end result. Although, given the skirt isn't full circle and only pleated, when I wore it it did feel like the tulle layers would get hitched up a bit. I think I put TOO much va va voom into it and will know next time. I also added about two inches to the skirt bottom so it finished just under the knee.


I did worry that the sweetheart neckline would be challenging to get symmetrical and just right but working with the cotton made it pretty easy to finish off nicely. A more slippery fabric and I would recommend being very careful. I opted to use a white quilting cotton for the edging of the bodice top and did have to shorten the shoulder straps as I do tend to like wearing it higher up.


I love the finished result of this dress, but I have to admit its so dainty that I haven't worn it all that much. I'm not sure I would feel comfortable wearing this one into work. I see it at a High Tea or perhaps the next Vintage Fair I go to.

....finally, a great afternoon and evening was had at the wedding and Sacha & Andrew made a beautiful couple.