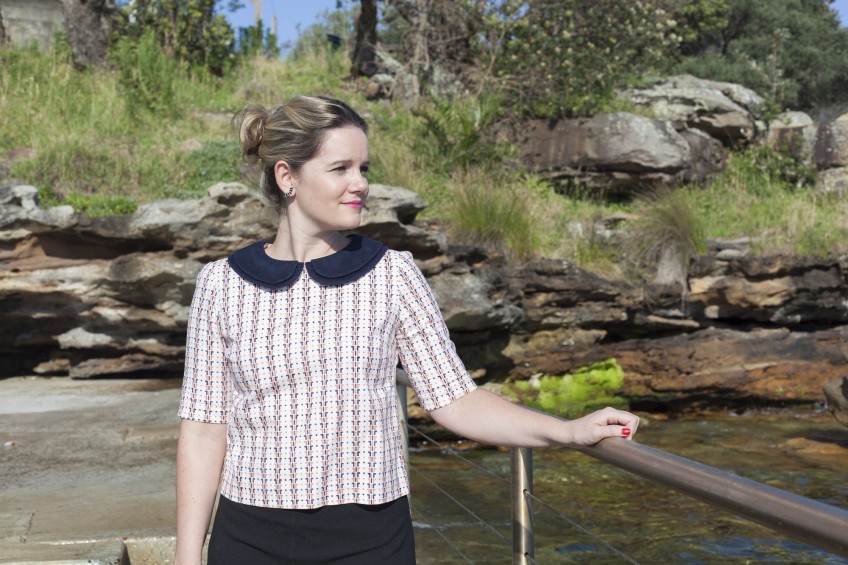 Happy new year! Well I'm wriitng this on my lunch break back at work. The last 10 days of holidays went waaaay too quickly. Having said that, I did manage to tick a lot of tasks off ye old To Do list. I sewed up more cushions & baby bibs than I care to remember in preparation for running a market stall in February, I finished off another couple of long standing sewing jobs, edited my India photos (why do I take so many photos!) and caught up with my Netflix list. After a pretty boozy and full on December in the lead up to Christmas I really needed a break and I achieved just that. For all those Netflix viewers out there, if you haven't gotten onto it yet, the documentary series 'Making a Murderer' is brilliant.
So new year and new sewing goals. As I previously have talked about, one of my goals is to blog more and here's hoping I stick to that. I also want to nail swimwear construction. I dabbled years ago and never went back to it & this year I'd like to have made a swimming costume before summer instead of thinking about it right in the middle of summer. I also think I might give jeans making a stab. I've seen so many great versions of the Closet Case Files Ginger jeans I've been tempted for a long time.
One sewing task which will be ongoing throughout the year and beyond, is sewing clothes for work. I would say that I have four mini wardrobes within my one absolutely bursting wardrobe at home. One wardrobe is my work clothes, one is my going out clothes, one is my casual clothes, and lastly one that can only be described as 'not to be seen in public' wardrobe which are my sloth clothes I wear around the house. Read: all stretch knit, horrificly bright but ever so comfortable.
This top fits into the work wardrobe. I sewed this up using Butterick 6175 a few months ago and it's been a handy go-to ever since. I think it took me a total of about three hours to make. I cut it out in a size 12 in a stretch cotton twill material I picked up at The Fabric Store in Surry Hills about 6 months ago. It was great fabric to sew with and hardly needs an iron. For the peter pan collar which is is actually made up of two seperate collars, one being smaller than the other, I used a navy blue cotton twill. In hindsight the fabric was a little two thick for a double collar. Especailly given it's made up of four layers of fabric and two layers of interfacing so it required quite a bit of ironing to get it to lie flat. I even resorted to tacking it down onto the top underneath the collar in the back also. So my advice is to use a lighter material for the double collar.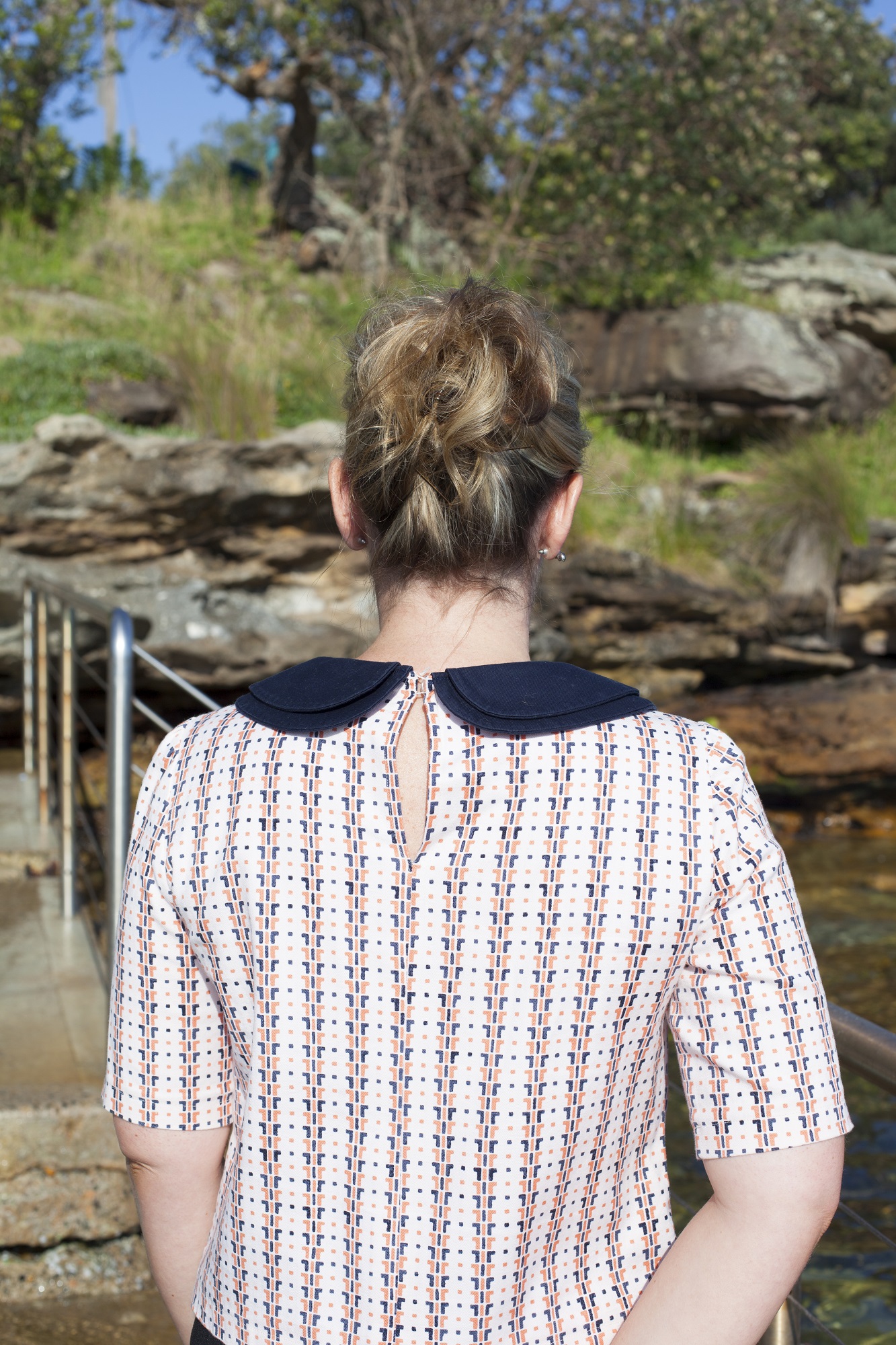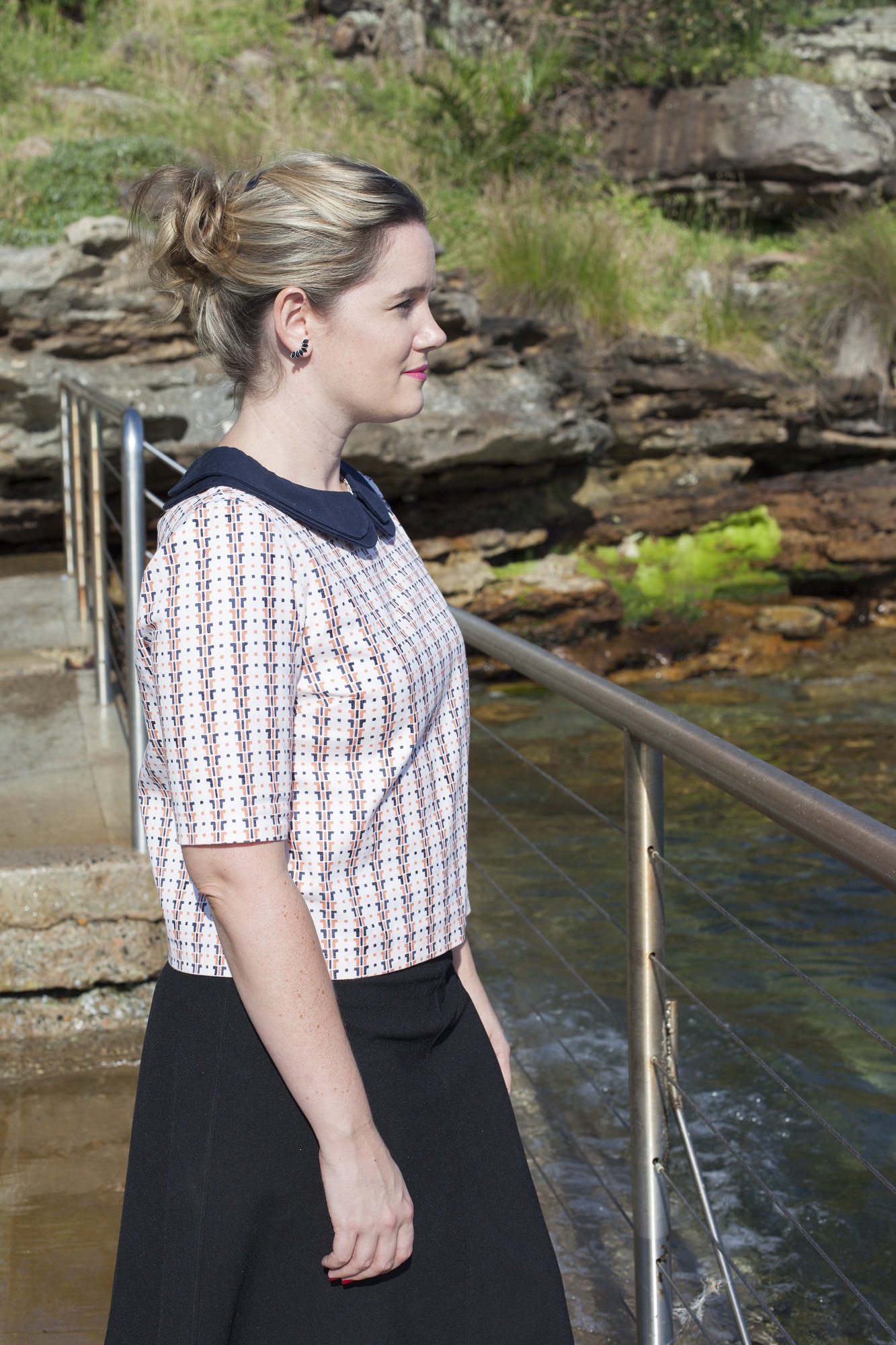 I had a bit of difficulty in setting in the sleeves. There semed to be quite a bit of ease on the head of the sleeve. The end result is that a bit of gathering shows on the top of the sleeve. Not a deal breaker, but something you might find too if you make this one up. The back is finished off with a button and thread carrier closure on the top.
Overall I'm happy with this top. It's pretty trans-seasonal and does what it needs to do. It's a boxy shape so I wouldn't call it anymore than than casual. Thankfully I can get away with clothes like this at my work!