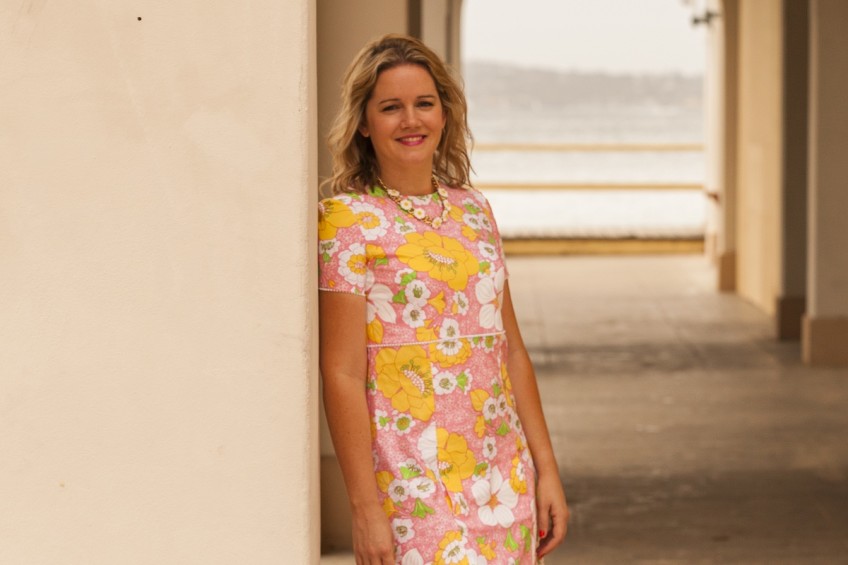 Back to work this week and to say I'm not on struggle street would be a lie. I need to get back into the rhythm of going to bed early and getting up early when I want to do the exact opposite. I am trying to get my sewing time down to weekends only so I get some exercise in during the week, but I am yet to see that play out. D'oh!

I finished sewing up this dress just before Christmas with the idea of wearing it on Christmas but alas Christmas Day was miserable cold weather and this dress didn't fit the bill. The dress had its first outing in Bondi to watch some waterpolo with my lady friends the other week instead. Watching international men's waterpolo was certainly easy on the eye.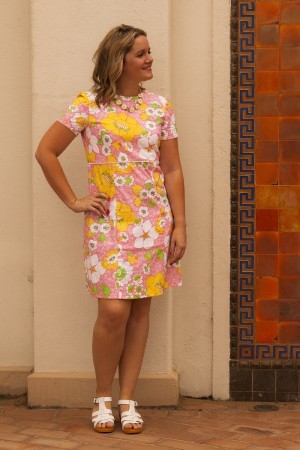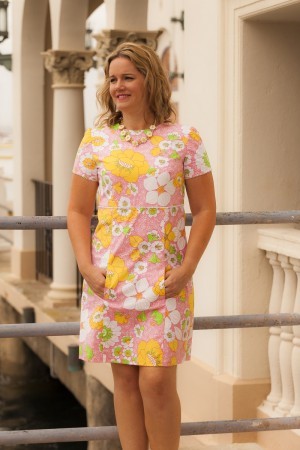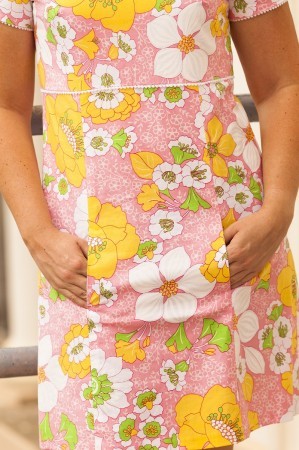 The dress was made up using Burda 7115 which is a vintage pattern re-released by Burda. I'm a bit of a sceptic about Burda patterns given their less than detailed pattern instructions and interesting fit but I couldn't resist the pattern. Burda describe the pattern as 'Ladylike tea-gown, quite cute with section seams and in-seam pockets'. The pattern includes a matching jacket but I opted out of that. I had bought a cotton fabric on Etsy that I stumbled across and couldn't help but buy. It had a real 60's vibe to it and is spot on for summer. When it arrived it also turned out to have a bit of stretch in it so I thought it would work well with this pattern.

I cut it out in a size 12. I graded the pattern a bit when I cut it out around the hips in case it wouldn't accommodate the curves and that proved a wise move other than that it was straight out of the envelope. The inseam pockets on the dress are pretty well pointless as they are pretty tiny and where they are placed you wouldn't ever actually put your hands or anything else in them! Also, with using such a heavy print they do get lost in the dress so I would probably only bother putting in the pockets for a point of interest if you are making it out of a plain fabric. I bought some mini pompom trim at a craft fair last year that I added to the under bust seam and sleeves for a bit of a 60's look. For the lining I used a cotton voile. Its one of my favourite ways of lining cotton summer dresses as it's comfortable and breathes better than bemsilk lining.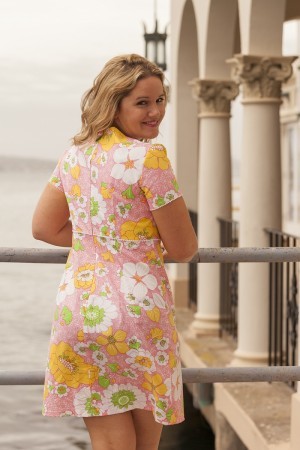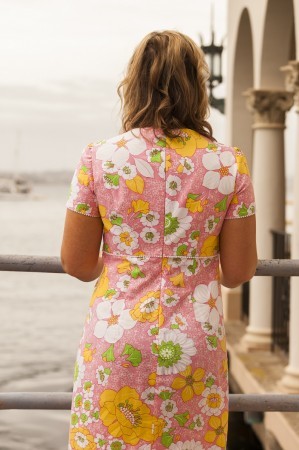 When I did my first fitting after putting the main bodice pieces together and before the lining and sleeves went on, and I found the fit a bit odd. The whole bodice just seemed to sit too low on me. The darts, and the under bust seam all needed to be lifted up. I've never actually found this a problem before and figured best option was simply to lift it up. Laziness also prevented me from thinking of any other ideas! So I had to recut a new neckline as it was too high after the alteration and the armholes had to be adjusted also. It certainly did look a lot better once I did that but I do think it then made the fit of the sleeve not entirely perfect. Thankfully being a stretch fabric it was a little forgiving.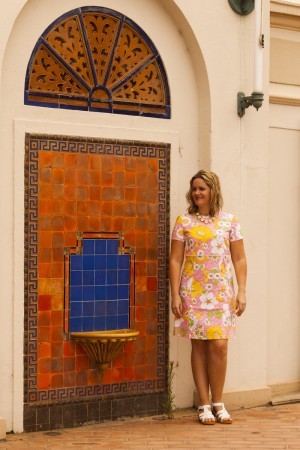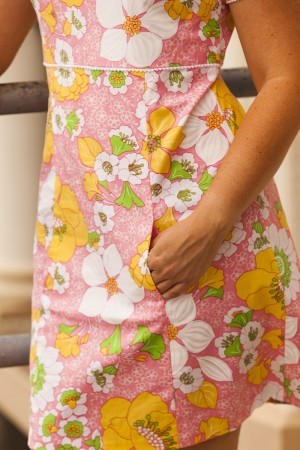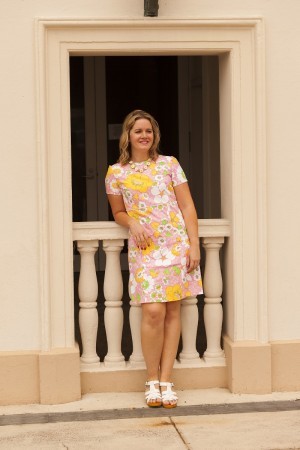 I finished it off with an invisible zipper and slip stitched the hem and then bish bash bosh, it was done!