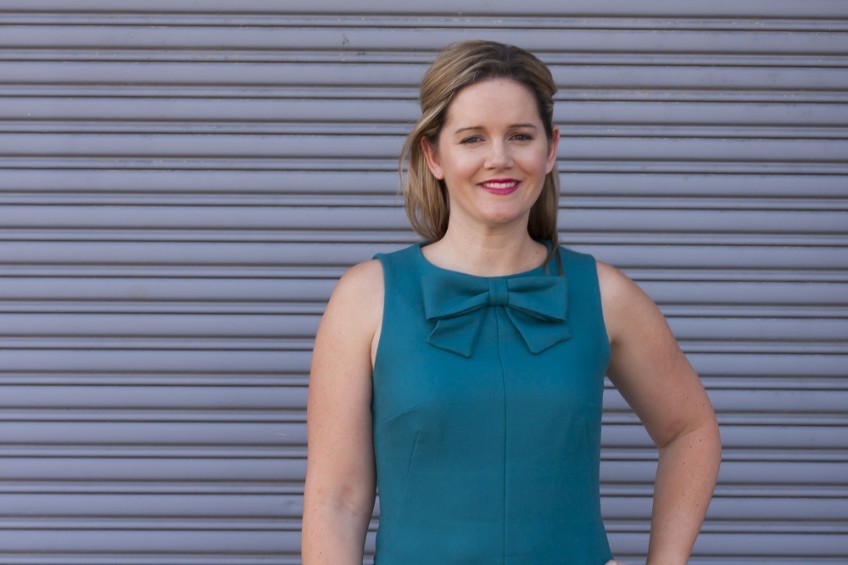 Between watching the last season of Mad Men on television this year and spying Simplicity 1609 I have become a little hooked on 1960's fashion. I've always been a hard core fan of the 1950's dress and haven't really considered 1960's until I started my love affair with wool fabric which I think lends itself perfectly to 1960's shift dresses. Not long after I bought the aforementioned sewing pattern I bought up some beautiful wool fabric when I was in Italy in May. The quality of the fabric was amazing and I knew it would look great in this pattern.

But back on Mad Men for a moment, I just have to share some pictures of outfits Janie Bryant put together for Season 6. It's a mixed bag but I would love to rock these outfits at work!  Did someone say career limiting move?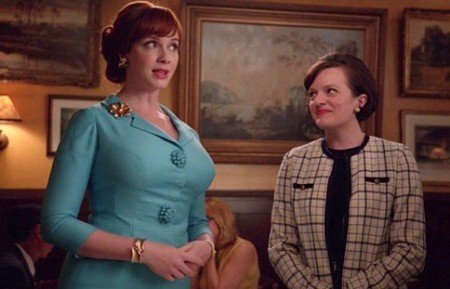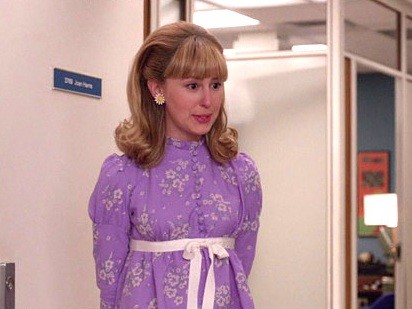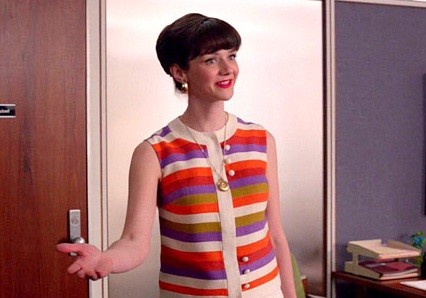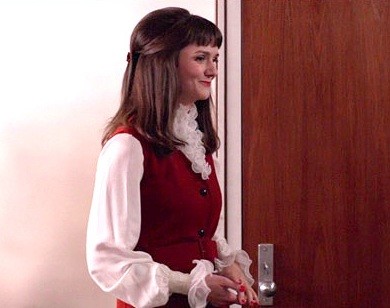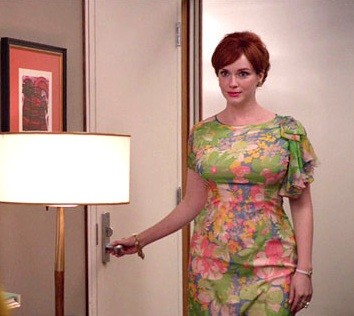 The recommended materials for the pattern didn't mention wool but I took the risk given the dress didn't require any sort of folds, pleating or anything else that a thicker fabric might interfere with. I did worry about the zip but given I opted to use a more authentic zip style in keeping with the style instead of an invisible zipper,  it turned out fine.

The dress came together pretty quickly but I warn you that it is narrow in the hips. I had read this in previous online reviews and drafted the pattern so that it was slightly more generous in the hip-butt area without taking away from the sillouette. Even with that extra amount I factored in I still had to go down to less than a 1cm seam in that area after doing my first fitting of the dress. The darts are my favourite part of this dress. I had never sewn french darts before but now I am hooked. They gave a beautiful fit and prevented any 'pointy bits' that typical darts can do, especially in woollen fabric!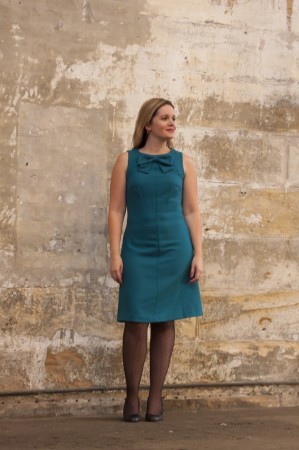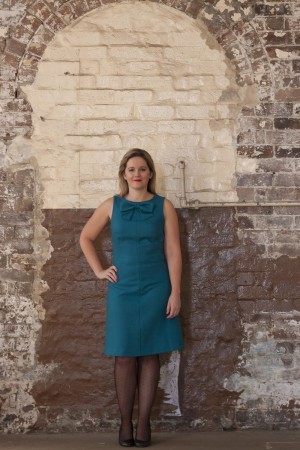 I added about 1.5 inches to the length to see where it fell as I was concerned it would be way too short for something to wear to work and I'm just not a fan of short dresses on my figure. Given it is a 60's shift I made sure it fell just above the knee as anything longer would just not have looked right. It actually reminded me of Jean Shrimpton's dress she wore to Melbourne Cup in 1965 shown below. Her dress fell above the knee and the shock of it made headlines - 'the dress that stopped a nation!'!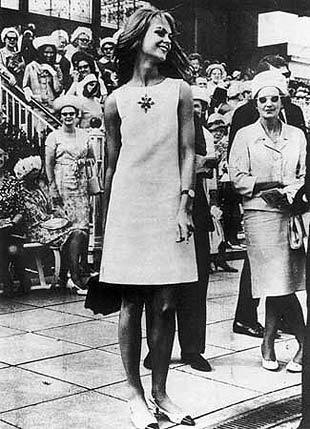 The only change I made to the construction of this was the neckline interfacing. The pattern suggests you sew in the interfacing to the back seam before the insertion of the zipper. I thought it might be nae impossible to sew a zip with so many layers of woollen fabric so I sewed the zip in first and then hand sewed the ends of the interfacing over the zip on the inside. Much like you tend to with skirts anyways. The bow is a lovely finish to this dress and I suggest you spend a bit of time in the mirror moving it about to get it just how you want it before hand sewing it on. I really enjoyed sewing up this dress - the fabric was ridiculously lovely to sew with and the dress came together in just a day. I am keen to try the other collar variations the pattern offers to make a bright summery casual shift dress too. Bring on the next 60's sewing pattern!