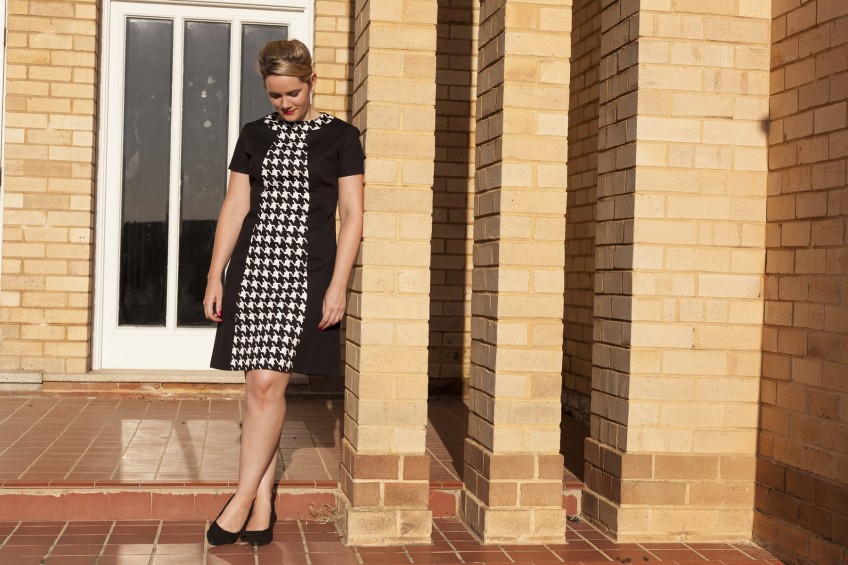 When you're on a roll with something you might as well keep going. Another blog post, another 60's outfit. When it comes to Autumn/Winter dressing I often turn to 60's style shifts in jewel and bold colours to get me through the working week. My favourite one I ever made was this one in peacock wool bought from Italy.
This time I turned to Simplicity 1197. I've been loving the fact that Simplicity release reprints of their vintage patterns in every new release now for the last couple of years. I found in the past they used to release them sporadically and now it is pretty much a given there will be one or two 'new' vintage patterns available when they release a new catalogue. Please keep it coming Simplicity! I loved the aqua and white version shown on the pattern envelope but white never does me any favours so instead I opted for black and white...but with a lot more black than white! I was tempted to make the coat that went with it and I've seen some great ones made up, but that will be for a later date.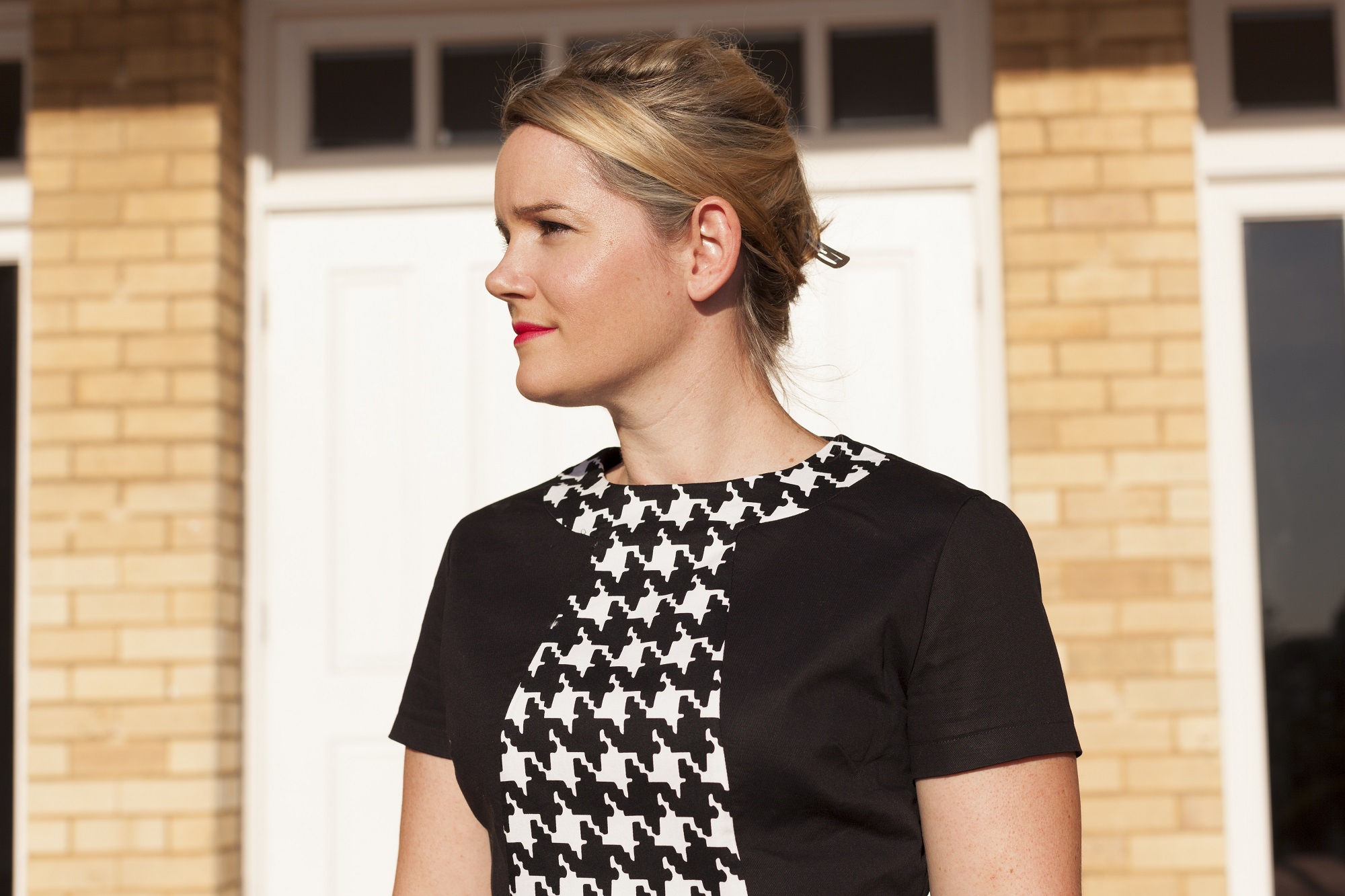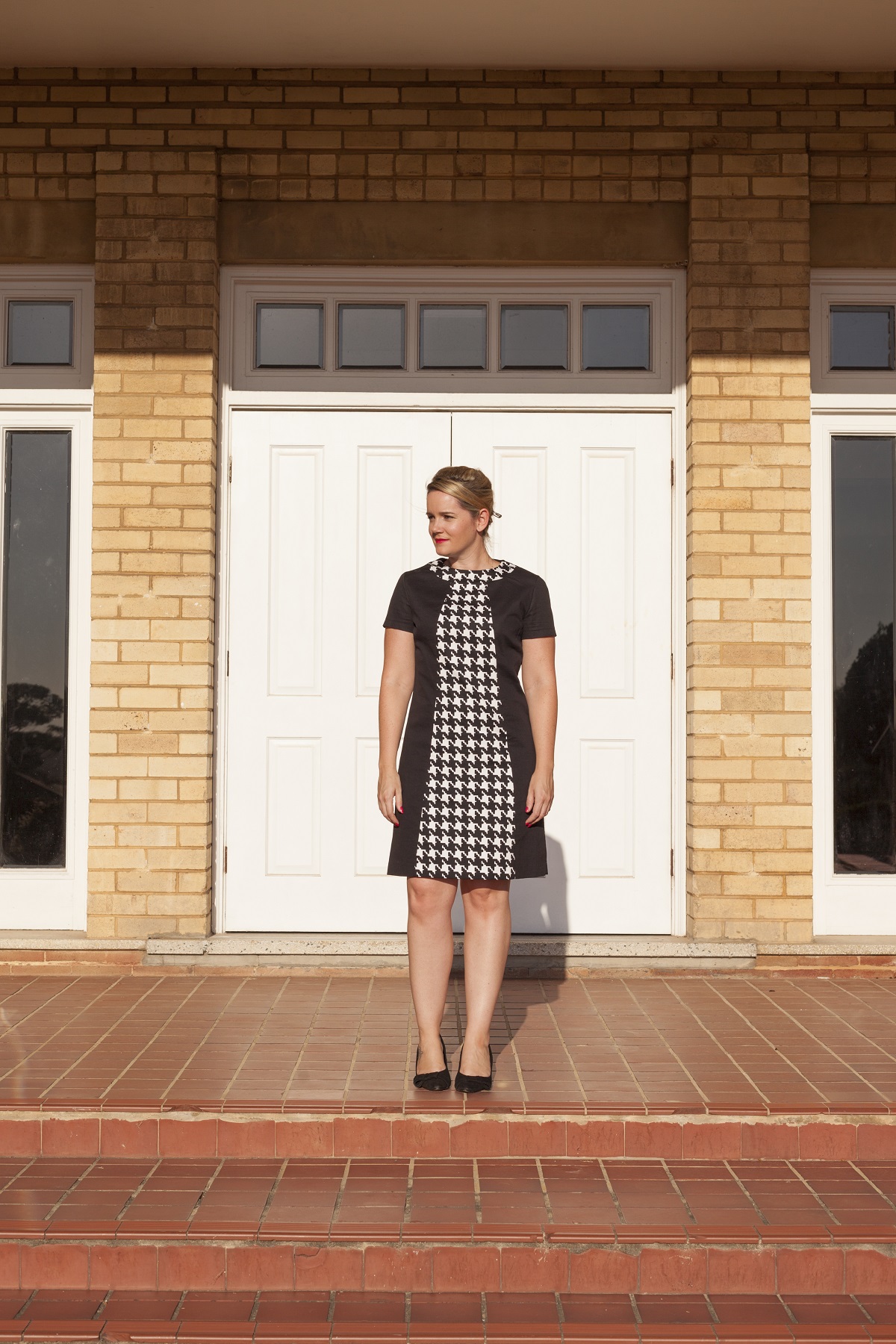 For the dress I bought stretch cotton fabric in both the houndstooth print and the solid black from my local Spotlight. I made sure I pre-washed the fabrics as I find anything with cotton in it shrinks and unfortunately I learn't that lesson the hard way. Thank you cheap Vietnamese fabric purchase.
I cut out the shift dress in a size 12 and can say off the bat I should have cut it out for a size 10. This pattern has quite a bit of ease in the bust area.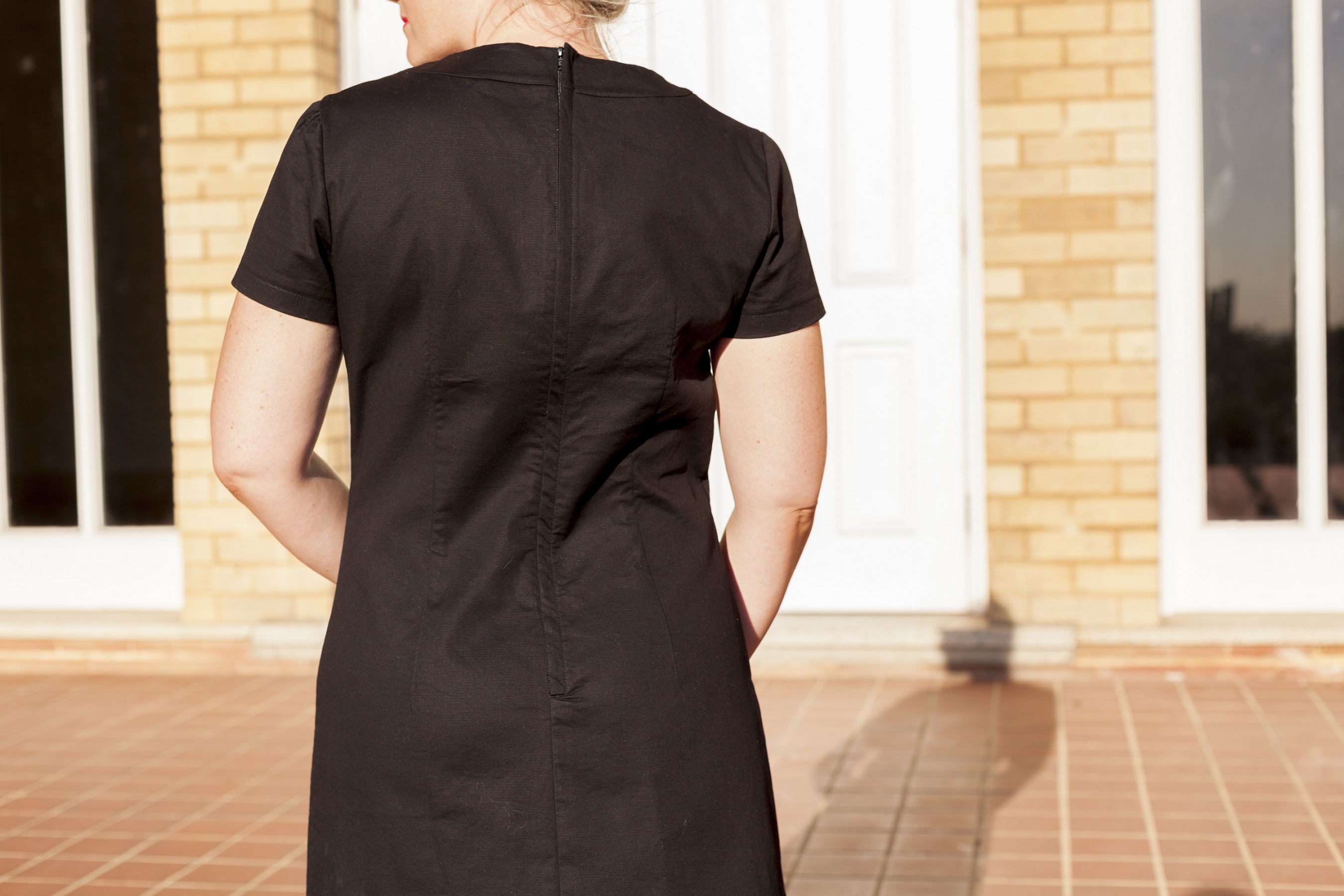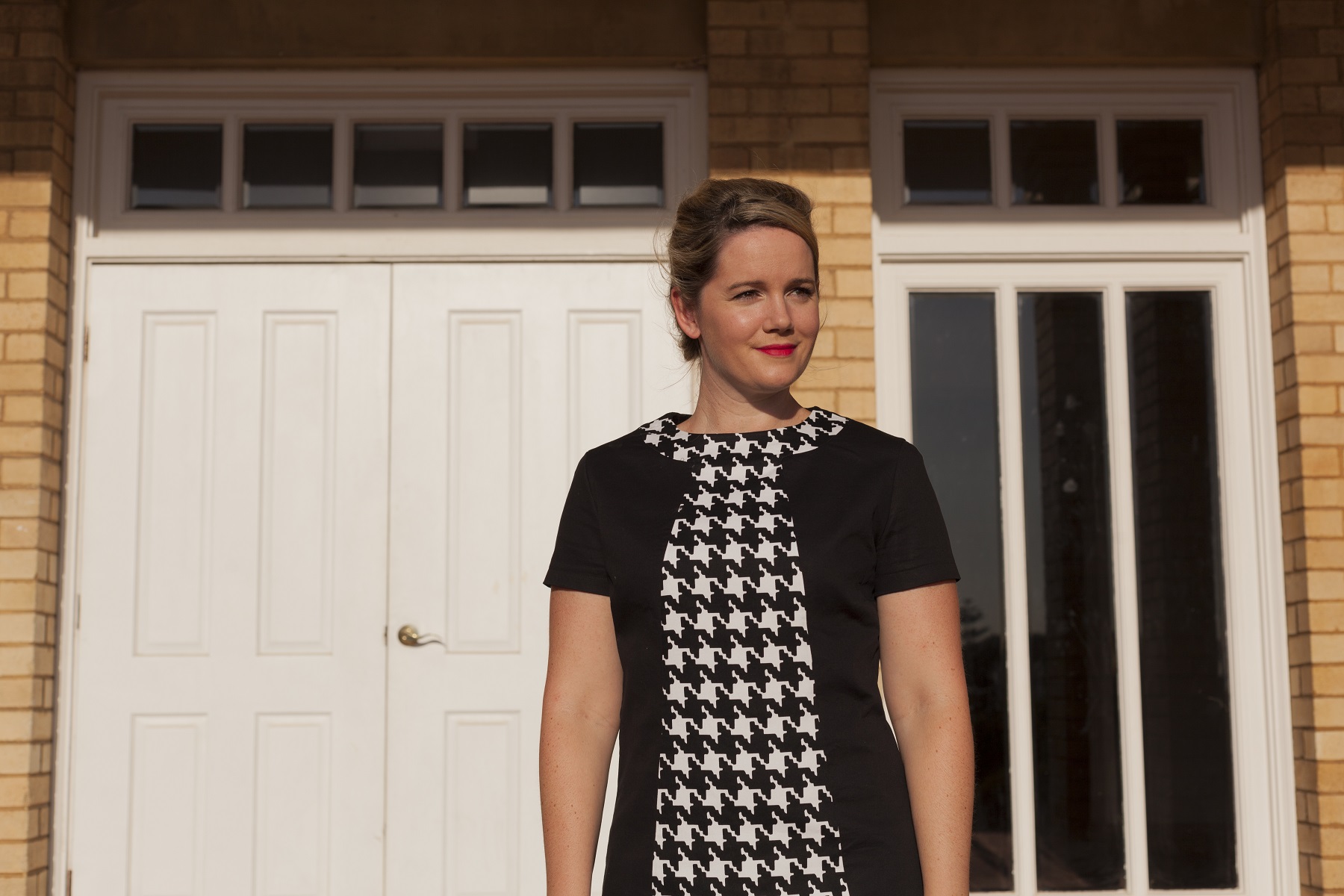 The trickiest part to the construction of this dress was sewing the points near the front neckline where the two fabrics meet. I always struggle with getting a really perfect point when sewing two pieces together to create a right angle. I normally find the first attempt is just terrible and then I get my groove a bit better for the second one. The exact thing happened here but I did my best to rectify how bad the first go was. The dres isn't lined so it's pretty straight forward to make. As mentiond, the only changes I made was to take it in quite a bit down the side seams and I added about an inch to the length. I did a lapped zipper down the back to keep with the vintagr look. I would do more of them if I found them as easy as invisible zipper. I always find them just a little bit fiddly.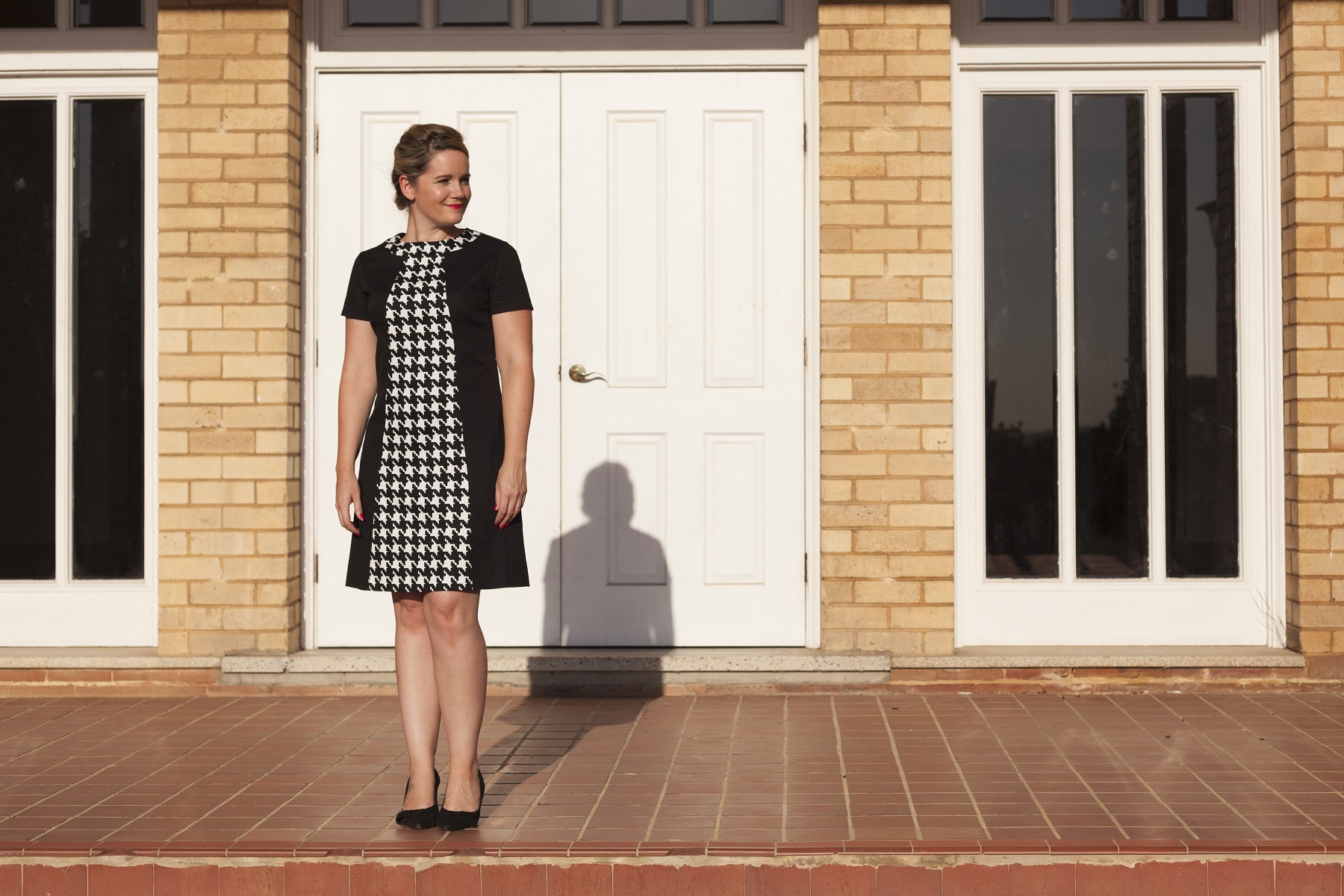 I found it hard to insert the sleeves completly flush so there are some small pucks in the sleeve backs. I just found the sleeve head seemed to have so much ease and in hindsight it was probably a little bt impacted by the amount I took the side seams in also. Thankfully the black fabric does hide the puckering a bit!
Well thats me finished another work dress. But the need for work dresses will never end. I have three dresses planned for this Winter work wardrobe - a royal blue vintage-style wiggle dress from one of Gertie's books, A linen floral sheath dress from Gertie's original book, and lastly a black floral brocade dress which I'm starting to think looks suspiciously like what my grandma's curtains may have been made of. I'll have to finish sewing it and see if it works!