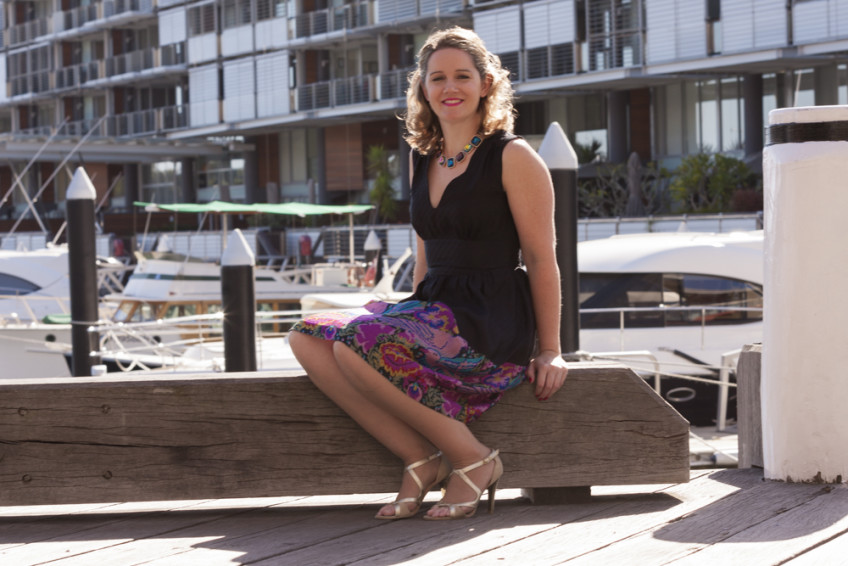 A busy week in the world of sewing for me this past week. I made the decision to spend two weeks hibernating in my flat to work on UFO's (unfinished objects) and quilts to sell on my online store. I always go into a weekend with a To Do List and always end up never ticking everything off it. Ah well, the only person setting these deadlines is me, so if I miss them, well nothing happens! I did have a pretty good go of it last weekend and I managed to catch up on some of my favourite TV shows whilst sewing also. I will be bereft when I finish watching all the episodes Hart of Dixie Season 2. I have come to love (read, obsess) over that show. I managed to finish off a couple of baby quilts for my store and got to work on a vintage dress for next weekend's vintage fair. I will be sure to share pictures from the Fair afterwards.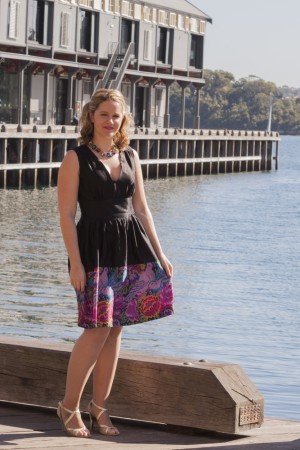 Today I am blogging about a dress I made for the Autumn Spring Racing carnival. I've written about dresses I have made for various horse racing events before so I must sound like a huge fan of racing. It's true, I do enjoy a bit of a gamble, champers and a fun day out, but I really just like an excuse to be able to sew something special and dress it up with a hat. Those occasions are far and few in-between. For this race meet I had in my head I wanted to wear a black felt hat. I love felt hats for Autumn Racing Carnival. I typically go to Myer for my racing hats and try hard to get something fab that doesn't cost the earth. Racing hats are expensive! I managed to found exactly what I was looking for, so next step was to determine what I was going to wear with it. I had a black silk in my stash which had a stunning border print on it that I thought would go perfectly. The border print looks a little like a tapestry up close. When working with a border print you have to pick the right style of dress to make the most of the print. This border print wasn't very wide so the best way to work with it would be to have it along a skirt bottom edge. There was no way I was going to wear anything but a dress to the races so I opted for another Cynthia Rowley for Simplicity pattern 1801. I had only bought just over 2metres of the fabric so I chose to make the dress in the short sleeveless version. I liked the wide waistband on the dress and the pleating along the top of the back of the waistband. I thought it was also a good choice for not being too showy which you don't want for the races.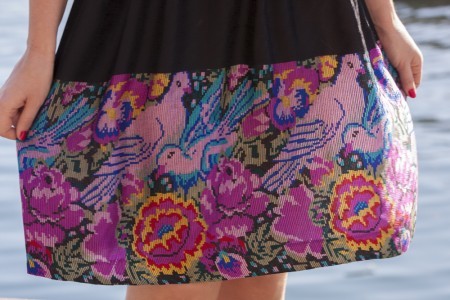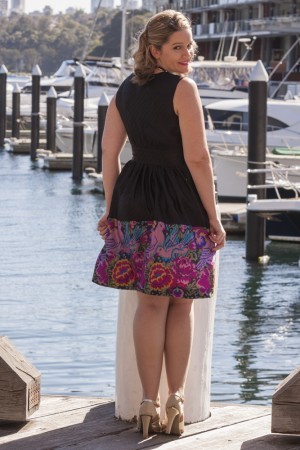 My biggest challenge with this dress was the fabric itself. It was a slippery sucker of a fabric. It was loosely woven so it frayed rather easily and had a lot of give so armholes and the neckline were a challenge. When working with a border print I did have to determine the length of the dress before I sewed it up as you don't want to have to hem it and lop off the print once you've made it up if its too long. I did it in a rather lazy way by putting the pattern piece up against my body and seeing where it sat and then determined how much I would need to add or subtract. I do look at the pattern envelope on these occasions too and see where it sits on the model and then factor in that I don't have model legs and that it will fall a bit longer on me. I opted for it to fall just above the knee – awfully daring for me given I always go under the knee. Legs aren't something I tend to highlight.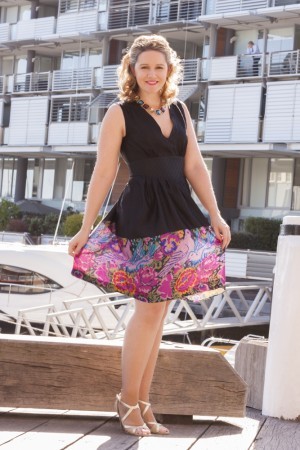 The dress itself was really easy to put together and the pattern instructions easy to follow. I did struggle with getting the v neck just right. It isn't the first time I have struggled with sewing the neckline interfacing onto the dress and then when I turn it out the v never looks exactly flush. It was made worse with this fabric not being tightly woven and a silk so it stretched. If I made this dress again I would use stay tape. Having since read a number of sewing blogs, I can see that stay tape does come up quite often as a means to stop fabric stretching and its great on curved and neck seams. I have bought some to try and hopefully that will stop it happening again when the need arises. Gertie talks more about it on her blog.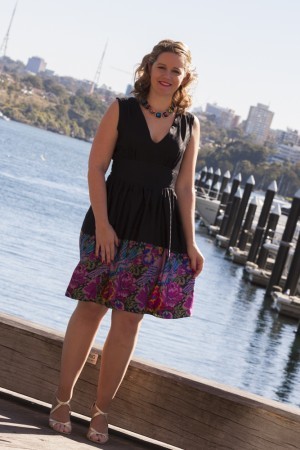 If you decide to make up this dress I suggest you use a fabric with drape. The pattern does suggest laundered cottons but I think they will be too bulky where all the pleating is around the waist. I think a lightweight crepe, silk or rayon would work better.

Till next time!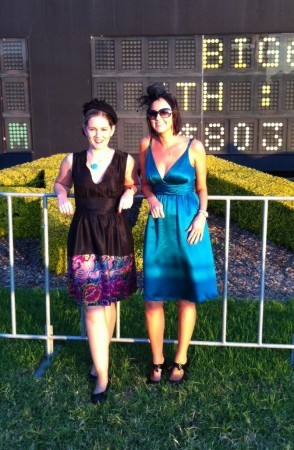 Race day!