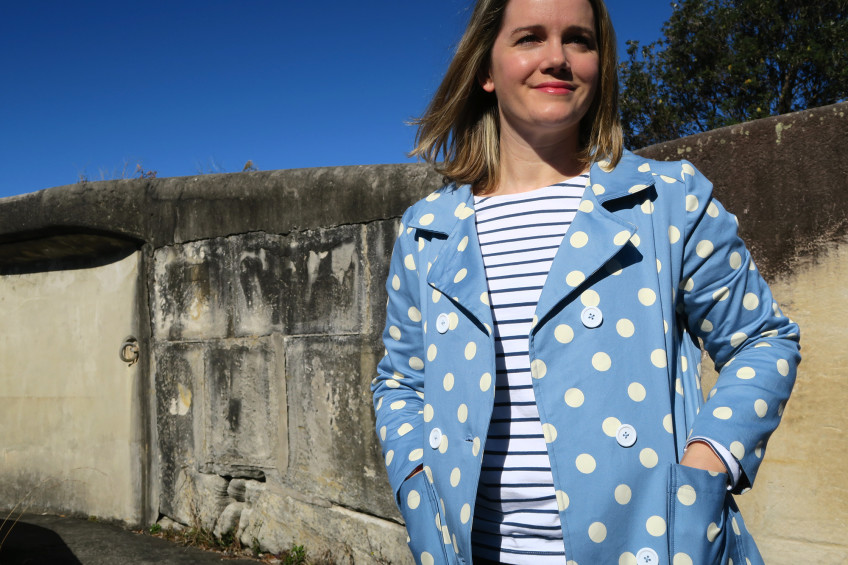 I recently learnt of the term 'maxi-tasking' and it reasonated with me. A lot. The unfortunate reality is that no one can successfully multi-task without one of those tasks not being completed at 100%. But one can successfully maxi-task. To give you an idea of what maxi-tasking is, it's simply trying to achieve as much as you can in the most efficient way possible. A great example of this is when you run out of milk. How many of you run out of milk and decide to go to the shops and before you are out the door your thoughts go to, 'Well whilst I'm at the shops, I may as well put the dry cleaning in. Oh, and I better check what else I need for breakfast. And not to forget, I should pick up a paper.' That is maxi-tasking. And I'm told women are a lot better at this than men. Obvs.
So I sit here typing this blog post whilst half listening to my uni lecturer, and writing down my to do list for tomorrow. Thankfully this uni class only requires 50% listening skills, so I may as well do something else at the same time. Maxi-tasking for the win! I think this is going to be a loooong semester at uni. Here's to the end of October rolling around, and then uni holidays until next Feb. If only I was a full time student and work didn't have to be done during the uni break. Seriously, when I was an undergraduate student I must have had so much free time. I miss those days.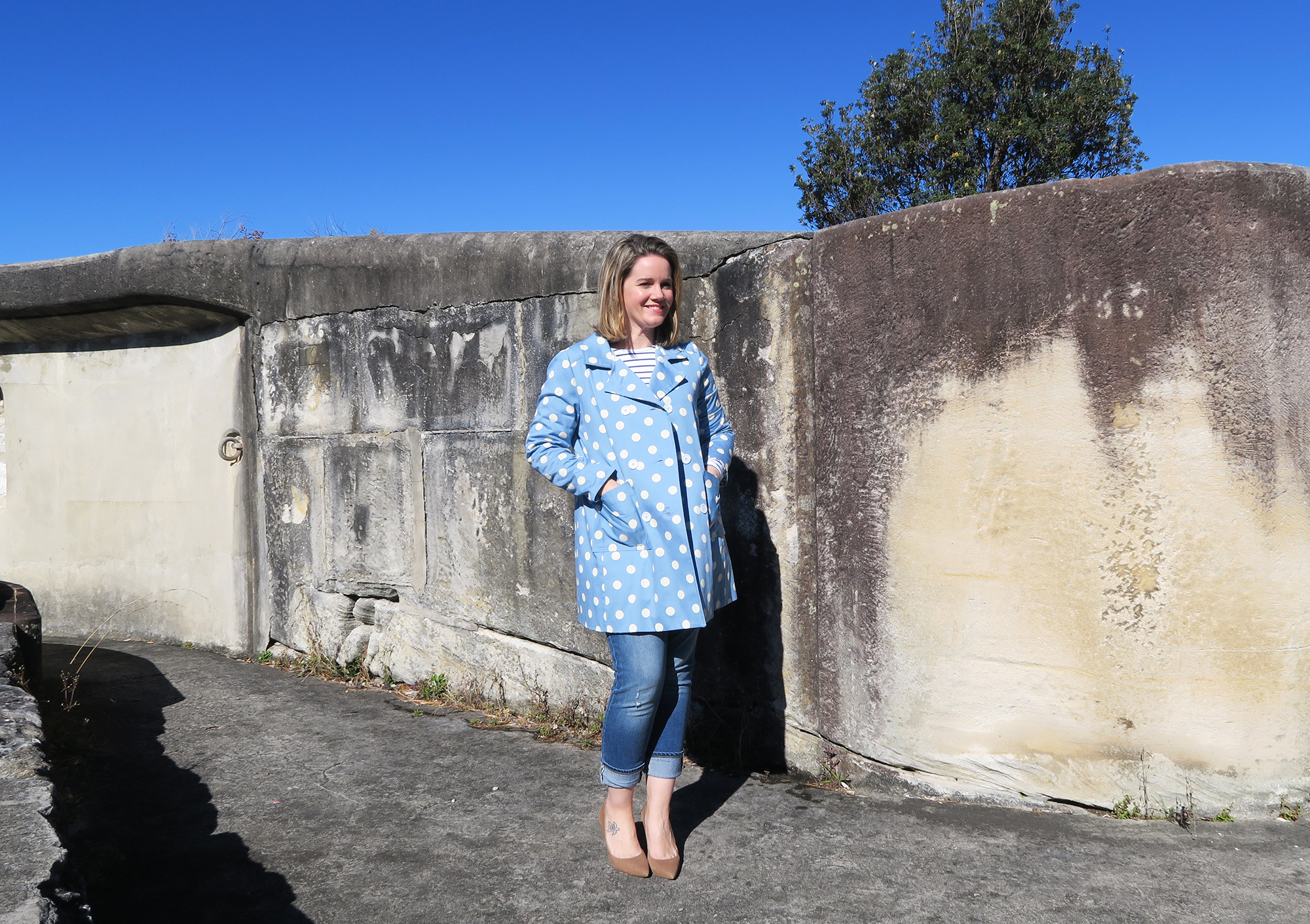 For this blog post, I'm writing about something I don't sew very often - coats. I actually can't remember when I last made a coat. I remember I made a couple when I was in high school and then for some reason I decided they are too hard (read: fiddly) to make so I haven't really bothered with coats since. Unsurprisingly, my coat wardrobe is sadly lacking and I alternate between two ready to wear coats I bought when I lived in the UK 7 years ago. Time for a new one I think! This coat in question is the Ellsworth Coat by Christine Haynes. Whilst it is called a coat I made mine in a medium weight cotton twill so it really functions more as a long jacket rather than a coat. When I think of coats I think thick, wooly and designed to keep you super warm. My version won't.
I picked up this fabric from Japan hen I was there in April. I'm starting to wish I bought more of the cotton twill when I was over there because it's super soft yet still has the right weight to it. I find a lot of the cotton twills you can get locally in Australia are too stiff and don't feel great to use as apparel fabric. I loved the spotty fabric Christine used for the images on her website so I basically bought up something really similar to make my own version. The coat is lined, and I dug into my exsisting lining fabric stash and decided to use my ice cream print fabric. I've wanted to use this for aaages. I bought it at Clear It on Brunswick St in Melbourne a couple of years back. The store stocks Alannah Hill remnant fabrics and I go nuts buying it up when I visit Melbourne.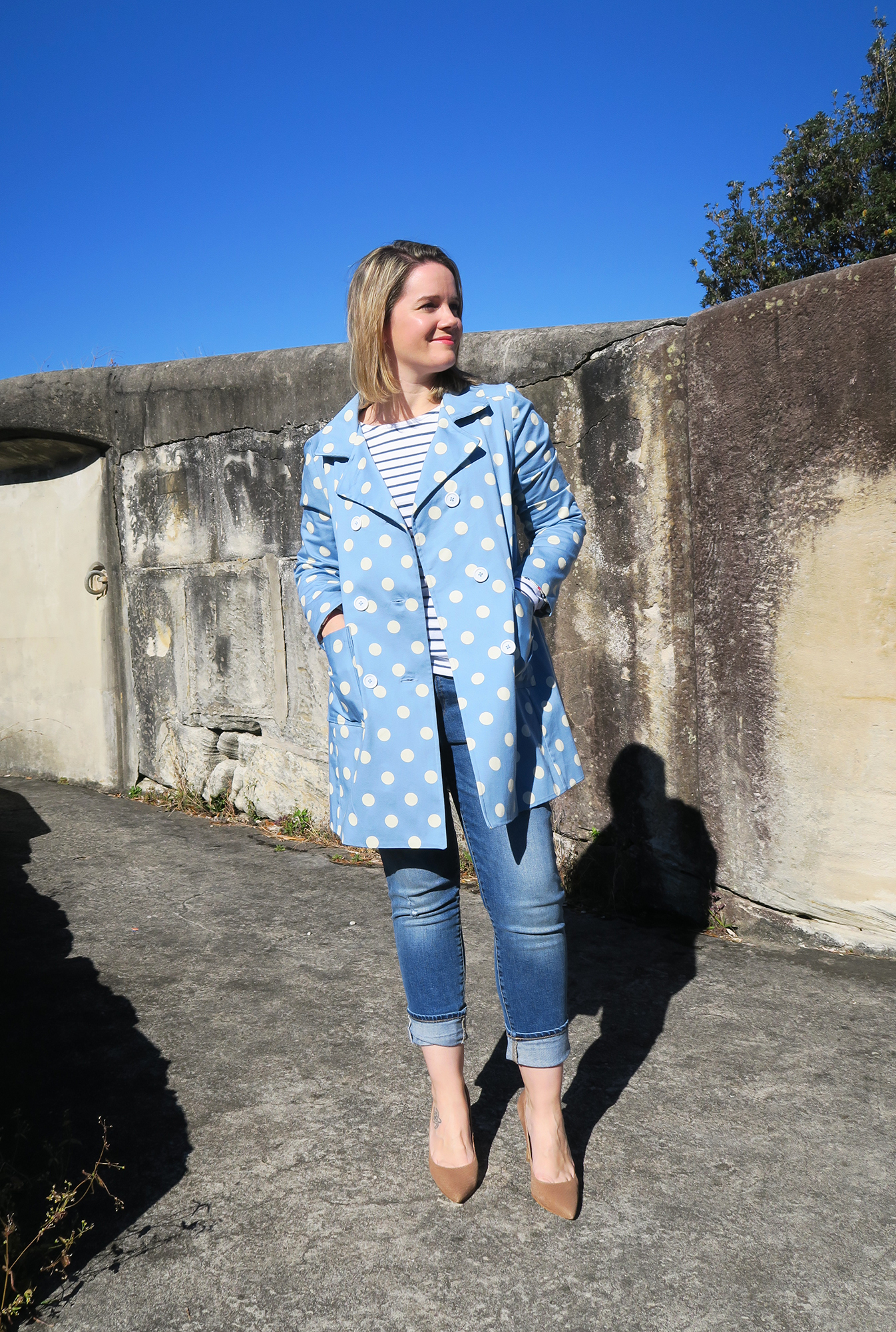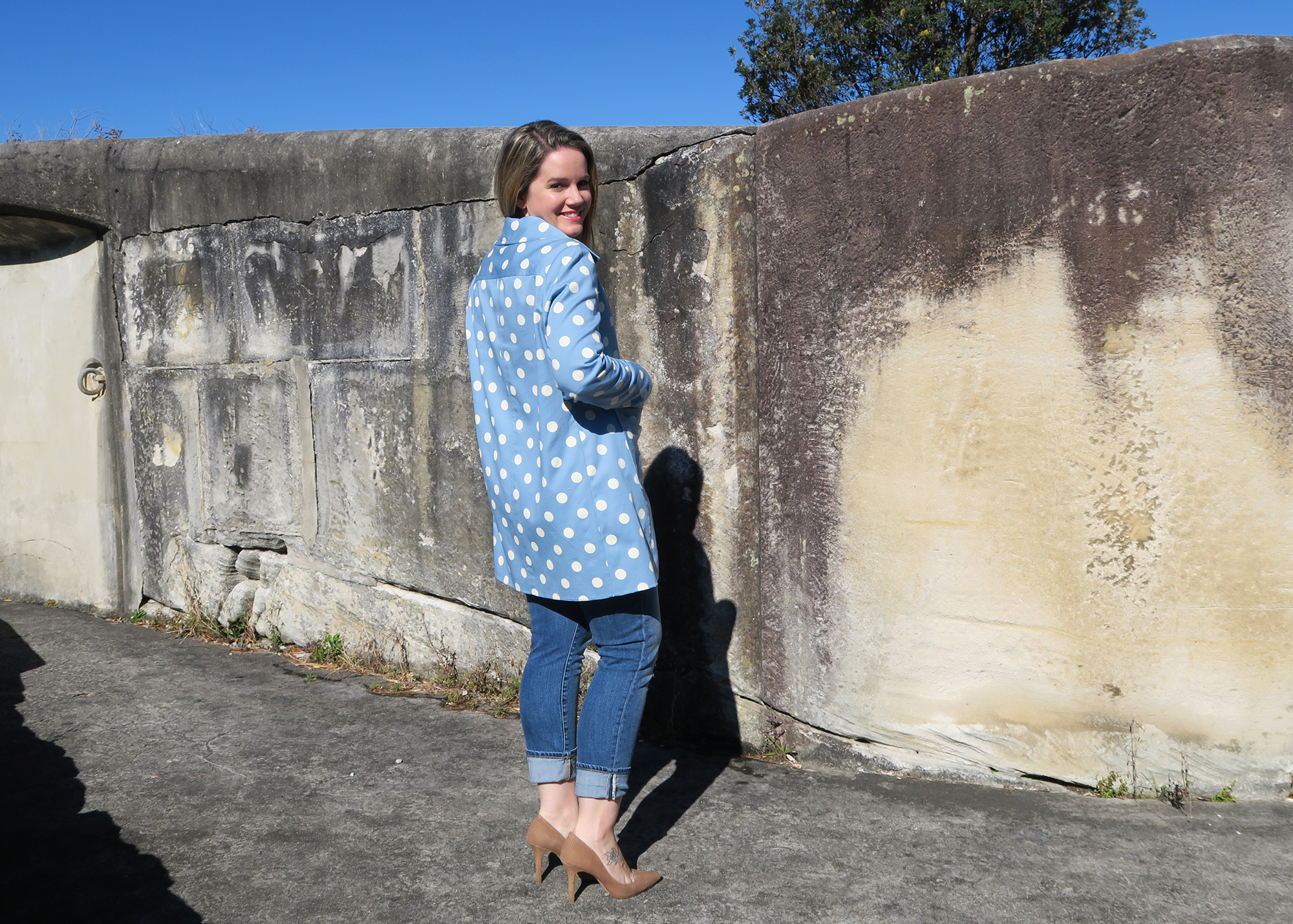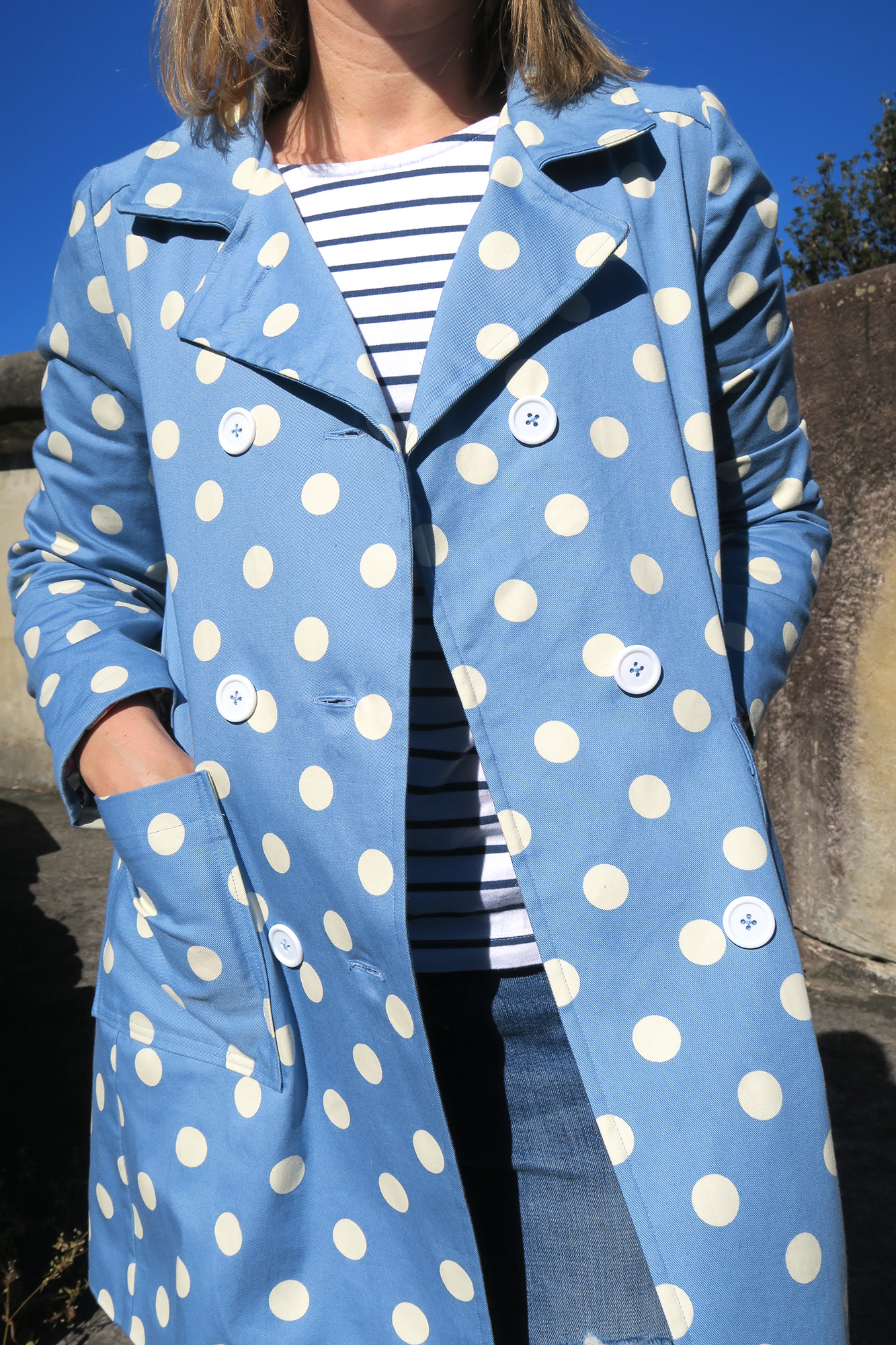 I cut the coat out in a size 8. I was really unsure of the sizing because the pattern does say it has plenty of ease to allow for you to layer it over other clothes. But I was still scared of cutting it out too small. My size is probably more in the size 6 category, but hey ho. I also worried about the arms being too tight also given they were in the Emery dress I've made up - another pattern by Christine. If I made this coat again I would go with a size 6, at least in the bodice, because I feel this is a little too big. For my coat I didn't actually make any adjustments to the fit, I decided to risk it and make it in the straight size 8. I did try it on along the way, but the fit wasn't off so much for me to really make any changes. I also find it hard to test out the fit of a jacket that is double breasted, compared to say a dress. All learnings I guess.
The pattern instructions for this dress were really clear, much like Christine's other patterns. So if you are unsure of jackets like me, give this one a go. I came a little stuck around bagging the lining. I managed sewing the lining into the jacket all well and good until it got to finish the lining joining the fabric at the bottom corner of the jacket front. I think I ended up doing more hand sttiching than I was supposed to but I just couldn't get it right.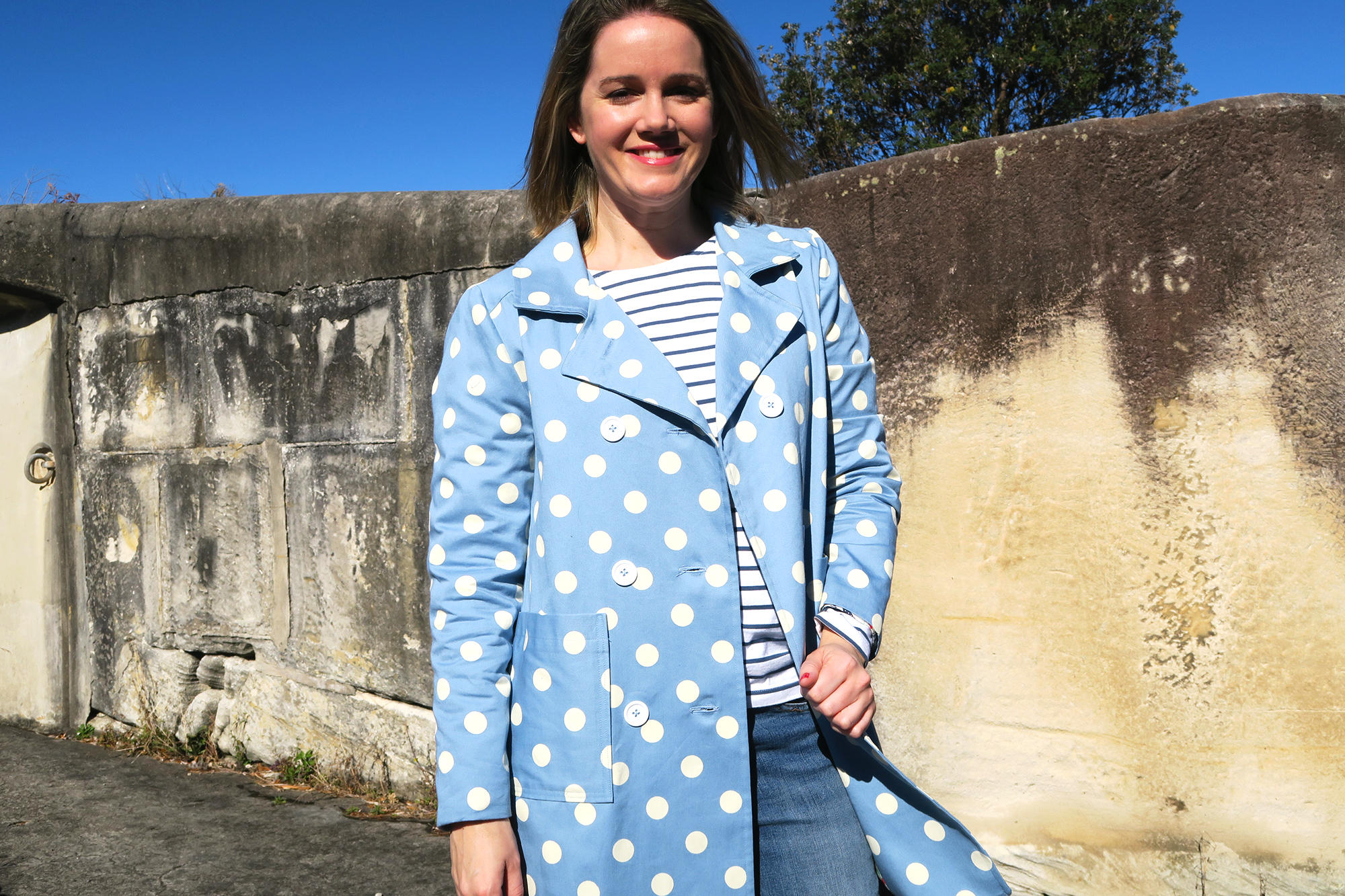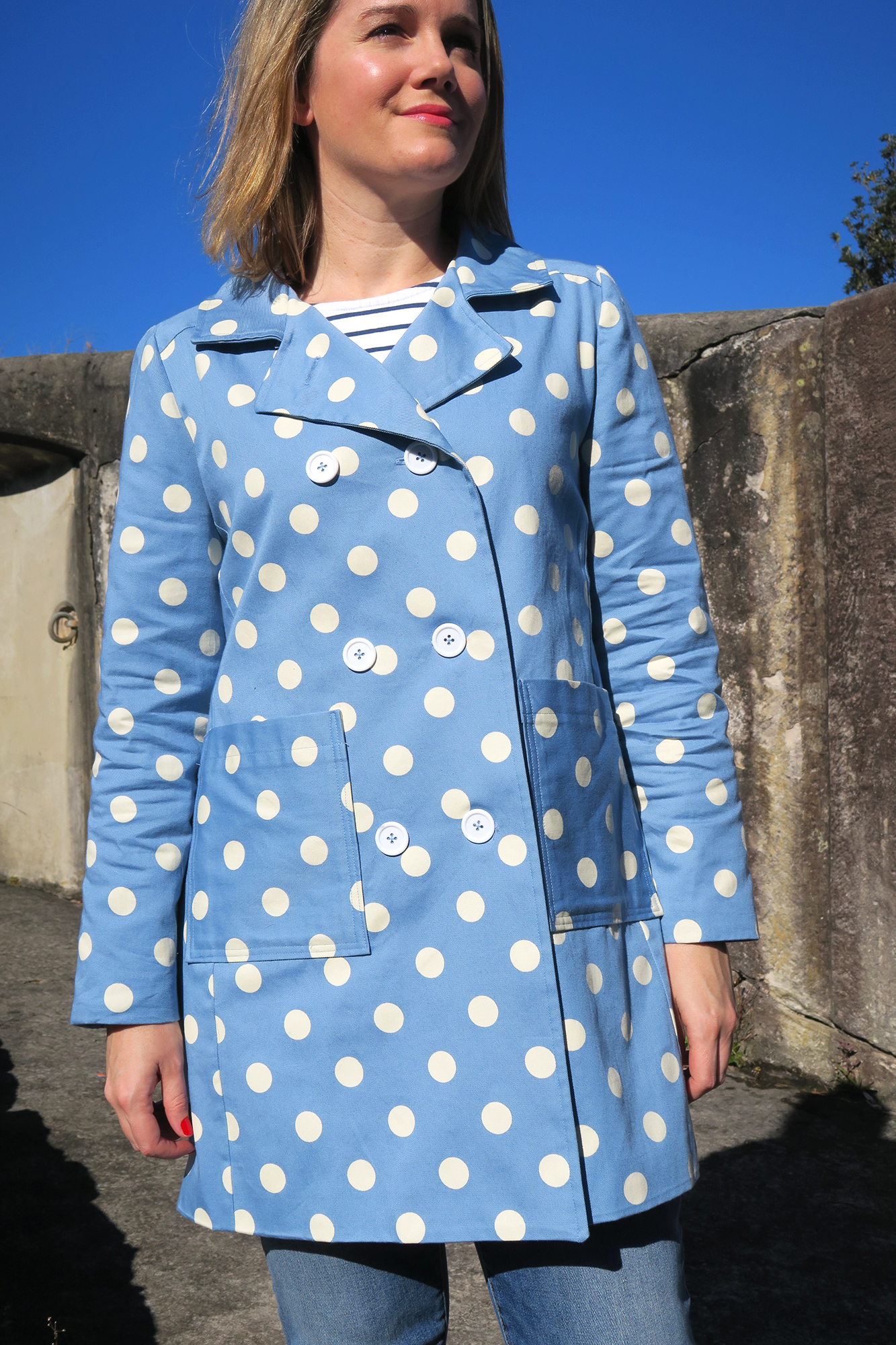 Sewing this coat reminded me that I shouldn't be so scared of sewing coats. I always say to people when they ask me about how to get better at sewing, it's practice practice practice. I think this time around I'm well and truly walking the talk, the more I practice these types of makes, the more comfortable I feel about making more. I might now get around to finishing off my Watson jacket from Papercut patterns that I cut out about *gulp* 4 years ago.