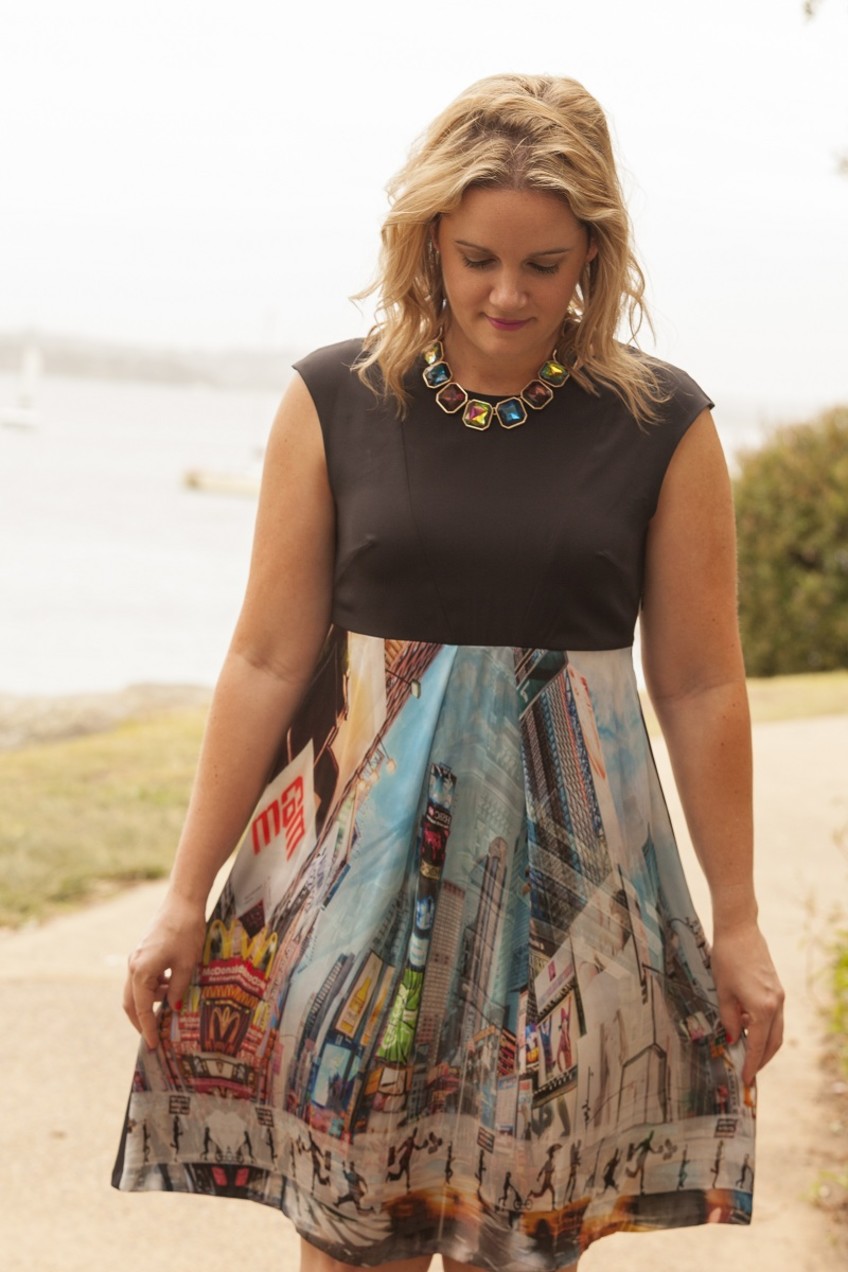 I'm going through a bit of a digital print fabric phase at the moment. It all started when I started seeing the gorgeous work of designer Mary Katrantzou. Mary is a British designer of Greek heritage famed for her clothing made from stunning fabrics showing realistic images of all sorts. Some of my favourite ranges of Mary's include the prints with typewriters and stationery and there's the postage stamps print, just brilliant! Her influence started making it to fabric stores the last couple of years and you can now buy lovely (mainly polyester - eek!) digital print fabrics, typically purchased as a panel.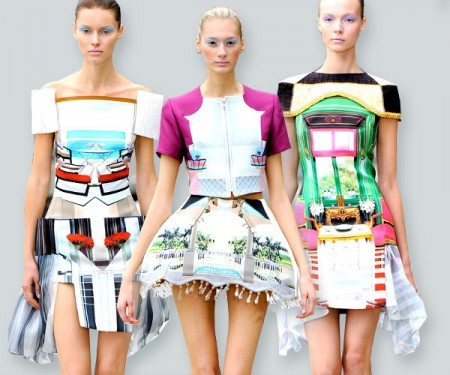 During a trip to Scotland for a friend's wedding back in May 2013 I made my usual visit to Mandors fabrics in Glasgow. I used to live in Scotland and visited this place regularly. I scored a beautiful digital print fabric depicting Times Squares and I rushed on it to buy. It was a slippery polyester so I knew when the time came to actually sew with it, it would be a bitch of a fabric. I went back and forth on what kind of dress I would make with it given the panel was about 80 cm in height and about 60cm in width (the picture repeated twice across the width of the fabric). I also couldn't decide if I wanted it as a work dress or a going out dress. Given my work wardrobe is what I spend most of my time in and it can always do with a boost, I opted to make up something for work. With the height of the panel I thought about using it on either the top or the bottom of a dress coordinating with plain black. I dug through my pattern stash and decided to sew up a dress I had made before that turned out great. I didn't want to risk cutting up this material on a new pattern! So it was time for another incarnation of Vogue 8755 which I have just seen is now out of print. Bit of a bugger but its quite a simple pattern so I'm sure there's similar out there. For the co-ordinating print I found a black polyester similar to a crepe. My focus was on getting a fabric that had the same density/hang as the panel.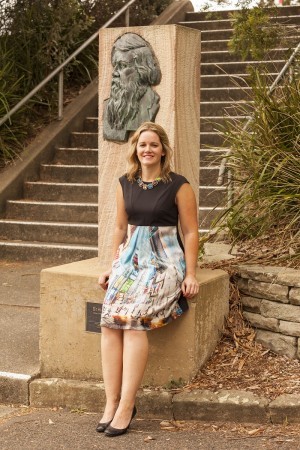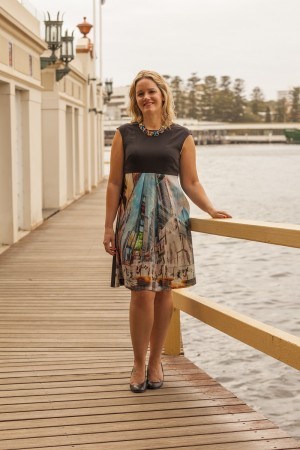 I cut out the pattern in a size 12 and having sewn it before I knew I didn't need to make any real alterations on fit. I opted to not make it very fitted because the fabric was quite fluid and it was for work, so I didn't want it to be very tight. It almost falls a bit like a shift dress. I wasn't sure if I'd have enough material to have the digital print fabric on both the front and back of the dress and alas I just didn't have enough for both so I made the bottom of the back in black also. The zipper in the dress pattern runs down the back of the dress but given the lightweight silkiness of the fabric I preferred a side zipper. I thought it would hide better on the side and sometimes I find a zipper on a high back a bit itchy on my neck.

Given my change to the zipper I had to lower the scoop of the back a bit so I would be able to get the dress over my head. I just redrew the curved upper back a bit lower down on the main fabric and the lining also. I lined the bodice in the same black fabric as the dress given it was so lightweight, you could get away with double thickness. I started the zipper about 8cm down on the side seam from the armhole after the seam allowance. I added about 1 inch to the length too as I wanted it to finish just above the knee and no shorter. Finally, I hand stitched the bottom hem as a machine hem would have interfered with the print too much.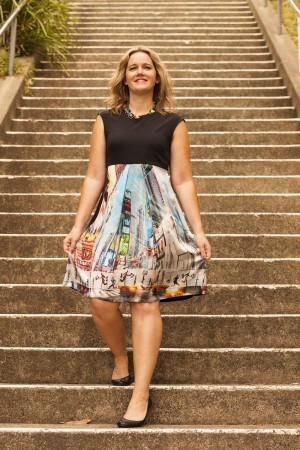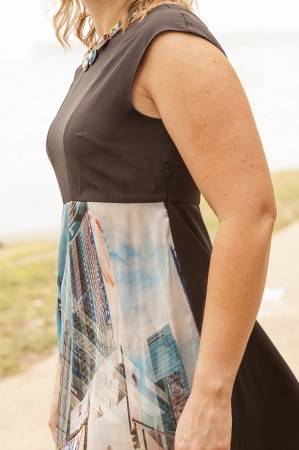 Sewing up this dress was one of those sewing moments when you surprise yourself. I went into this project fearing this fabric and not being 100% sure this was the right style of dress for it. Sewing with these polyester fabrics was hard but some how the stars aligned and the dress turned out great. I've worn this dress a number of times and love how comfortable it is and that it is one of a kind. My digital print fabric love continues to go on and I currently have two such fabrics in my stash waiting for the cutting table. My only fear is now that I don't go overboard, as these aren't fabrics if you want to get lost in the crowd!