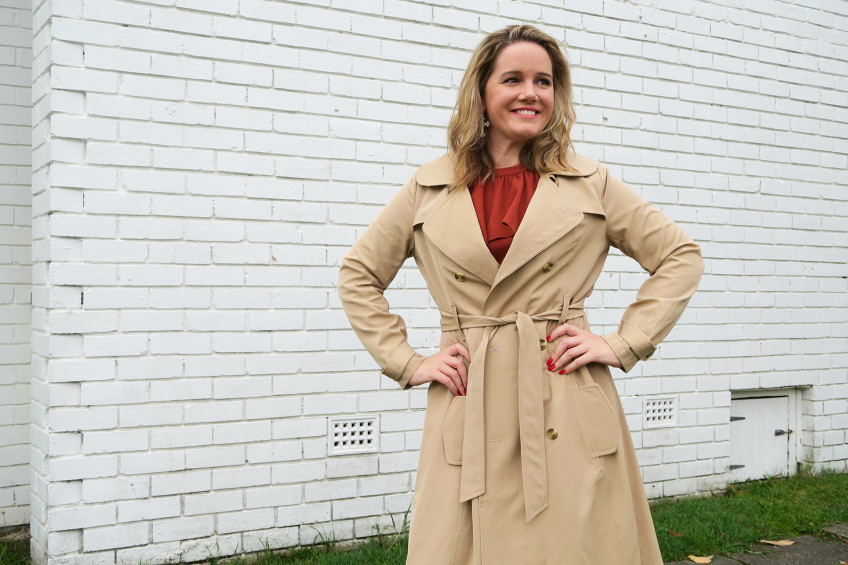 Hola! Long time no type. Life has just been happening and I've been slack with taking pictures for the blog. I've had a coupe of people get in touch requesting custom made quilts which tend to be a time suck. Don't get me wrong, it's time that I really enjoy. But there's no real way around it not taking a long time. My current customer order is a re-order for another quilt. I made one for her daughter 5 years ago that she has loved so much her mother now wants in on the act. It's so rewarding hearing how much people love their Bobbin & Baste quilts and how much use they get out of them. It does make for a break from clothes making, so when I do get back into it, my sewjo is good to go!
I'm finally getting around to blogging about this trench coat that I made it just before summer last year. I originally made it with the idea to take it away on a long weekend interstate. We were heading south to Melbourne where it was still quite chilly and I figured it would come in handy. As per usual it was a rush job, but I was on track to meet my timeline until it got to the buttons. Grrr. Do you think my local Spotlight had more than one packet of these buttons? If you answered no, then you'd be correct! Because you need like a zillion buttons for this coat, I ended up short. Spotlight's are also far and few in between so my Mum offered to schlep out to the next one 45 minutes away to help her favourite child out. (N.B. my brothers don't read my blog so I can say anything).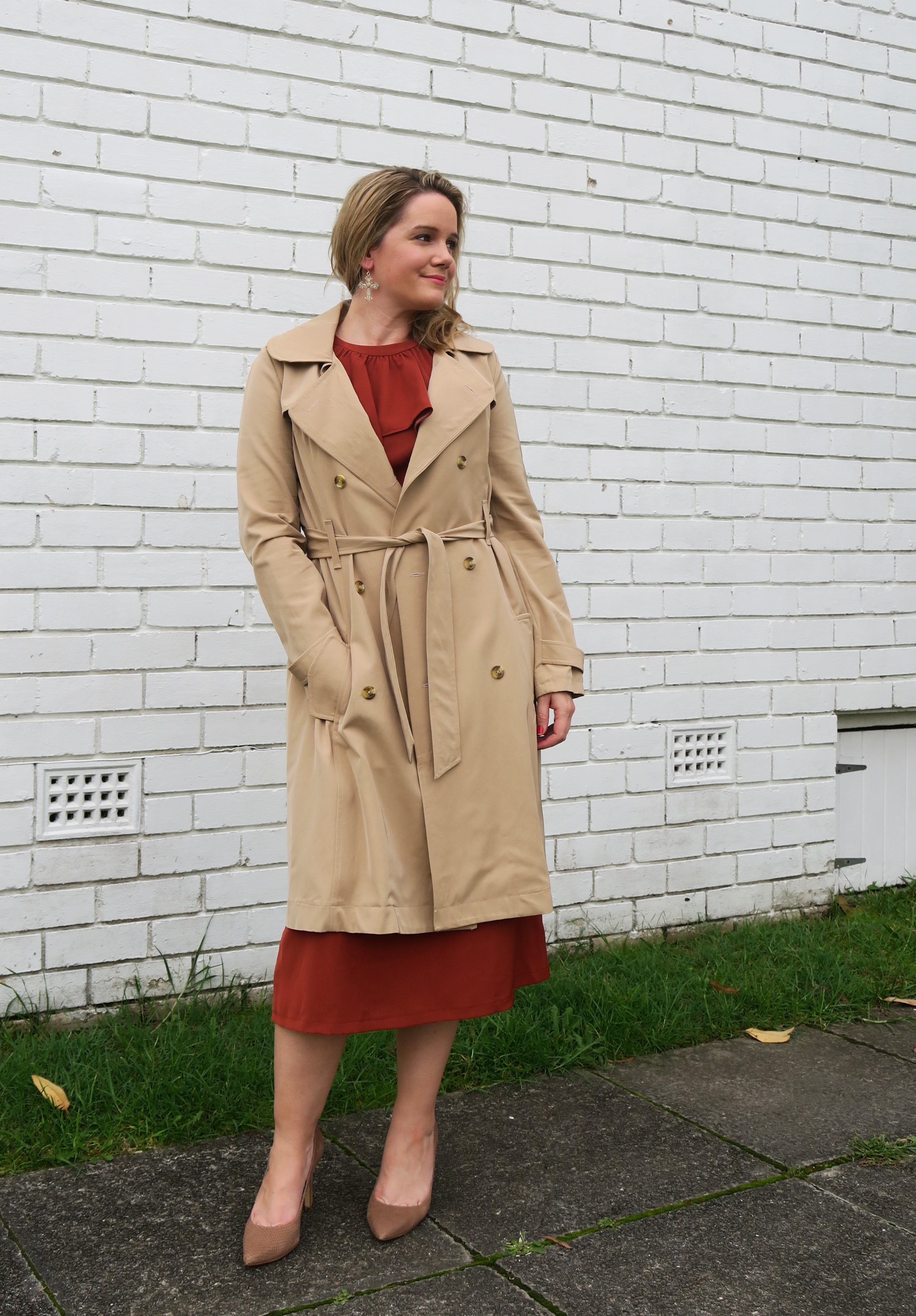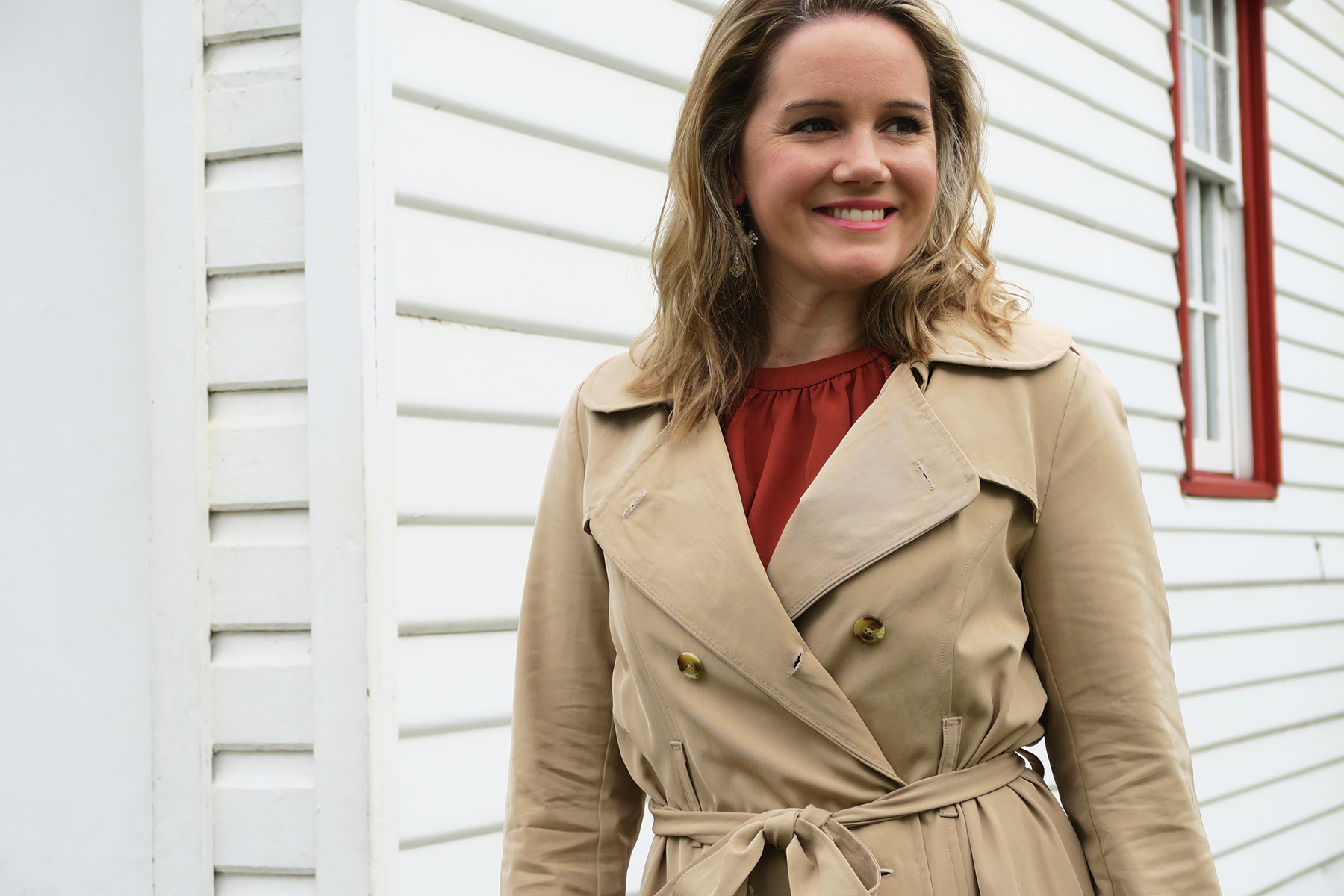 I had wanted to make a trench coat for aaaages and had the pattern good to go. I just couldn't find the material I wanted anywhere locally, and I didn't really know where to start with trying to find it online. During a mad dash at lunchtime to The Fabric Store during one of their sales, I found this gem amongst their bolts and grabbed it straight away. It's an ex Scanlon Theodore fabric, so I figured it would probably be decent quality. I have no flying idea what the fabric composition is. Maybe a nylon, which feels like it could be water reisstent, but I haven't tested ithat claim. I was more focused on the weight of the fabric - i.e. cotton twill kinda weight - and the colour. Exactly the beige colour I was after.
I used the Robson coat pattern by Sewaholic patterns for the trench because it had the real classic trench style I was after. I cut it out in a size 8. This pattern eats up your fabric and I only just had enough to get all my pattern pieces cut out. I actually ran out of fabric for the back flap so i just used a bit of lining fabric I had from my stash. I made the decision to not bother too much with fit party due to my limited time to make it, but also because the typical trench isn't meant to feel very fitted and the fit of Sewaholic patterns works well for me.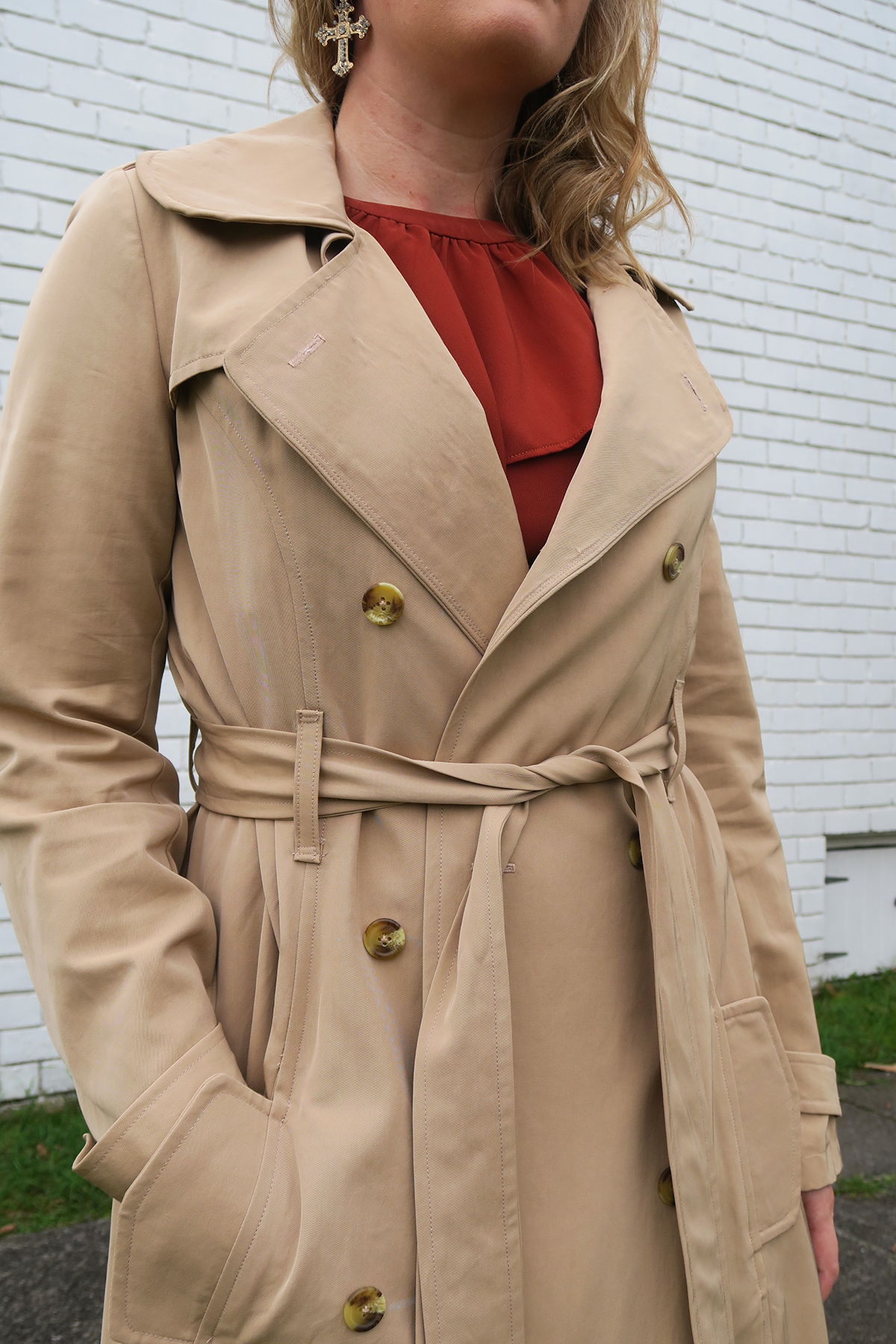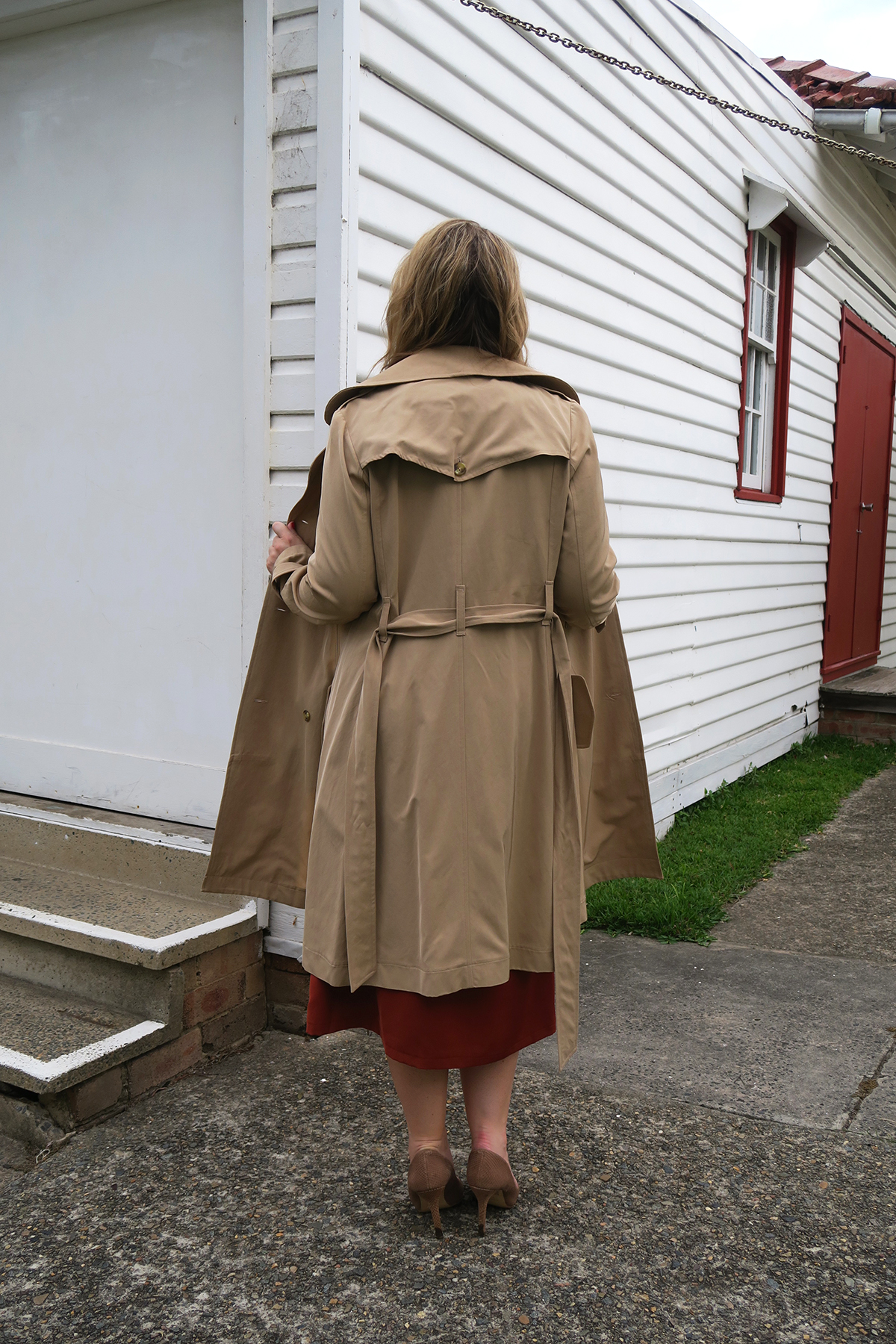 Like other Sewaholic patterns I've used the pattern instructions for this were really easy to follow. I did make one omission to the pattern instructions with my coat and that was the bias binding on the seams as a finish. I gave it a go and it became clear that it was going to take a long time to get really neat so I opted just to overlock the seams, especially given I had an exact match for the fabric colour in my thread stash. Which is rare for overlocking thread! The pattern came together pretty small, and there are only a couple of areas which I could have improved upon.
I used an iron-on interfacing on the front facing but it seems the glue is reluctant to stay affixed to the fabric so it looks like I have small air bubbles in the fabric where the interfacing hasn't attached. I think it's largely due to the type of fabric and thats where I think it may well be a water resistant fabric. It would have worked much better with without a glue on variety. I also wished I moved up the pockets a little. They feel and look like the sit too low on the side front seams. When I put my hands in my pockets they can almost hang straight. Pockets have never been something I've ever considered to adjust, but I will do it to this pattern next time I make it.
The only other area that bugs me is the back flap. It just doesn't sit right. I think as I wrangled to get all pattern pieces out of my fabric I might not have cut those pieces directly on the grain. The lining and outer fabrics on that section just don't sit flush. Thankfully it's on the back so I rarely have to see it! :)
All in all I'm pretty ok with it and it will certainly be worn now that its a little colder. Anyone in Australia think Winter is never coming!? I never thought I'd say this but I am looking forward to it getting colder. Other than a great excuse to stay in on the wekeend and sew, but I just sleep a lot better when it's chilly.