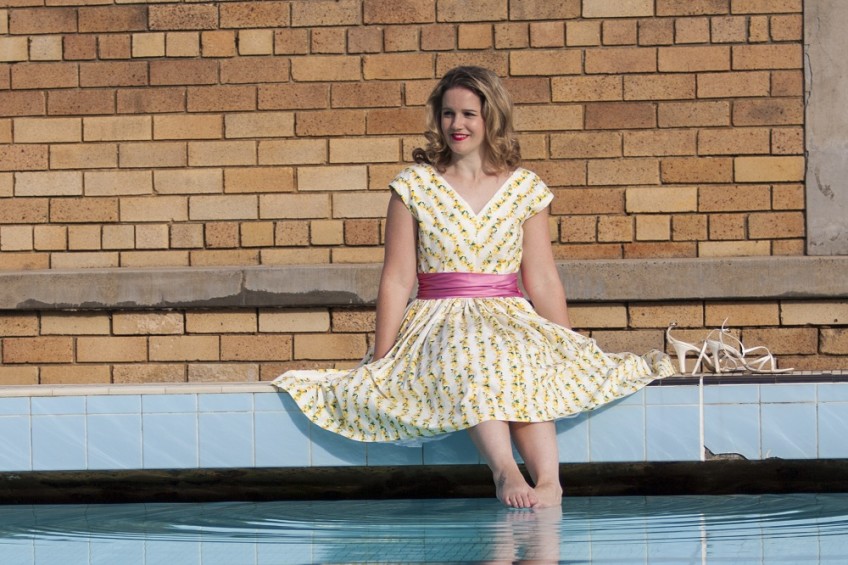 It is currently the depths of Winter here so something summery to blog about was in order to brighten up the day. Oh Vintage Vogue be still my heart. Vintage Vogue patterns are the best vintage reproduction patterns out there. Well, in my mind. The beautiful illustrations on the pattern covers themselves catch my eye every time a new season of patterns hits the stores.  Most are rated as 'average' more so than 'easy', and some even 'difficult' in rating, which I am yet to tackle!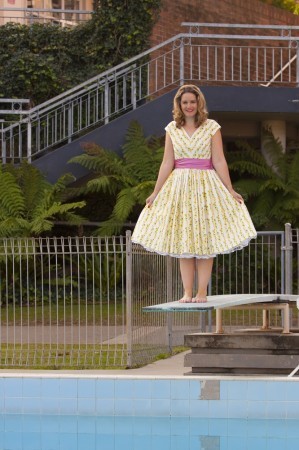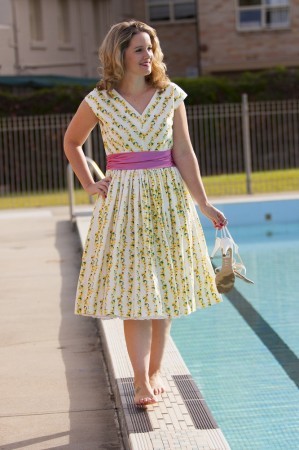 I had bought Vintage Vogue 8789 a while back as I loved the yellow and pink versions of the dress on the pattern cover and thought the two colours together in one dress would be even better. It was also rated easy and didn't have a lot of pieces and finicky detail so I thought it could probably be sewn up pretty quickly. I opted for version A that had a v neck bodice. I was in need of something to make for the Vintage Fair I was attending in a few weeks' time so this fit the bill. I did my almost weekly shop at my local fabric store and found the ultimate fabric for the dress.  I was so happy to find it!  It was a Vintage reproduction fabric with rows of lemons on it in a crisp cotton that would just go swimmingly for this dress. I also found a silk satin in a dusty pink for the cummerbund. Thankfully the fabric store had plenty of the fabric as this dress eats it up – 3.5 metres of fabric. I bought a little extra given I needed to work with the pattern printed on the fabric.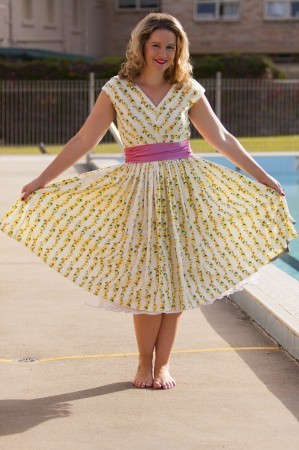 I was a little nervous about making a top on the bias as it can so quickly look out of shape but using a strong cotton helped with not going off course. The pattern instructions were really easy to follow and I think this would be a great vintage dress for someone sewing one up for the first time. I cut out a size 12 and made next to no alterations except for taking it in slightly at the waist and shortening it so it fell just under the knee. A lot of the vintage patterns end up as mid-calf length on me and for my height it tends to swamp me and doesn't do my figure any good! The only thing you may consider doing differently if you sew this is making a skirt bottom that isn't as gathered. Using a stronger cotton the gathering ended up quite thick around my waist which might not suit everyone.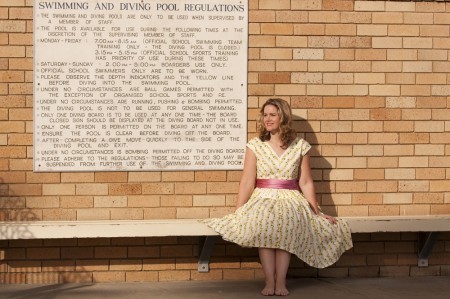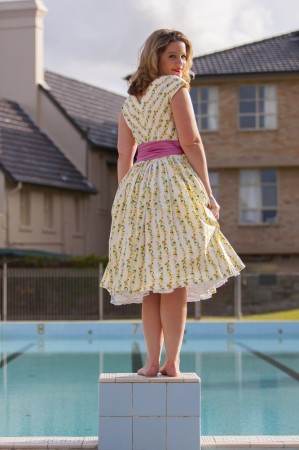 I can't say too much more about this pattern as it was simple to sew up, little alterations required and I am really happy with the outcome. Thank you vintage Vogue!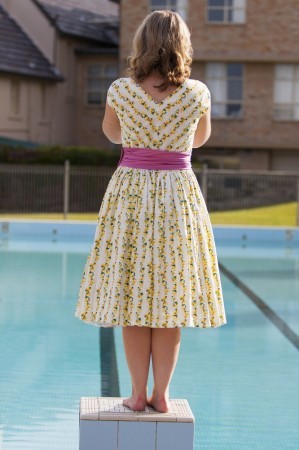 I ended up wearing this to the Vintage Fair and had a couple of offers to purchase it from me, but I just couldn't part with it. Am I the only one that has difficulty giving away with anything you sew yourself? My wardrobe is getting out of the control because I just can't bear to part with what I make, even when I don't always like the outcome. I will need an extra bedroom just for my sewn clothes.