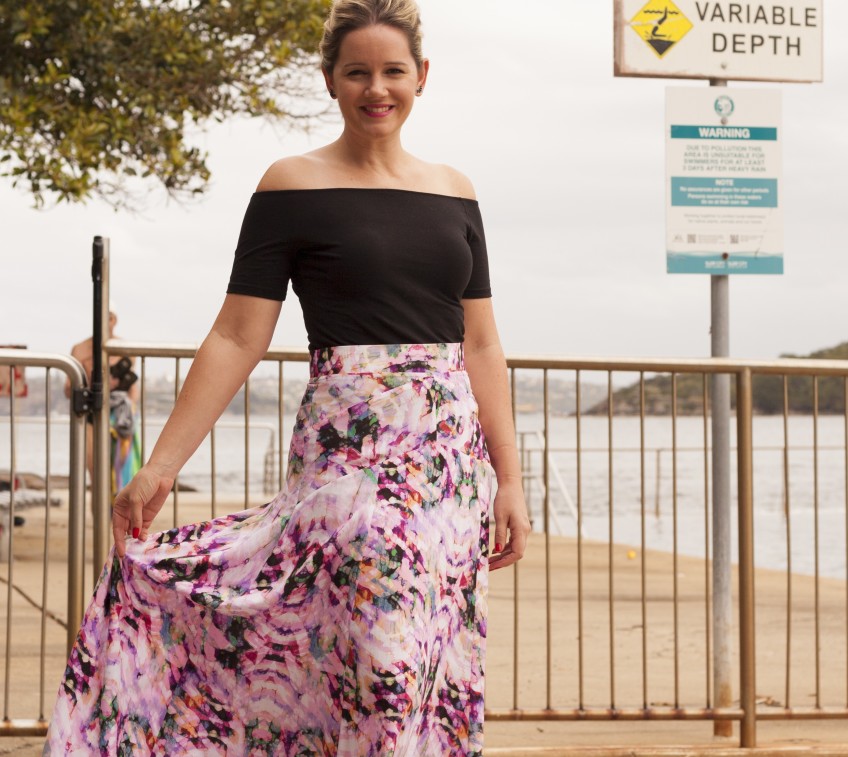 Last week was one exhausting week! Bear with me, I'm about to sound really precious. I'd been out every night for the past 8 nights until I had last Saturday night in, at which point I could have spent for 48 hours straight sleeping. Tis the silly season and this 1.5 weeks seems to be filled up with Xmas parties for work and play. I wouldn't probably mind it if I didn't have to work in between but alas, that's a non-negotiable. I know it's rather pathetic talking about socialising too much (first world problem no?) but it's just a bit exhausting for the introvert in me. Not to mention I'm actually craving a home cooked meal as eating out hits the waistline. And naturally, all these social events have sewing plans attached to them. Like yesterday's pub crawl in which I finished the dress at midnight the night prior.
I finally got my work Xmas party outfit finished last tuesday - 3 days before the event. This year's theme was Prom so I'd sewn up Simplicity 1194. I've wanted to sew this one up for a while but never thought I'd have an occasion…but along came prom! It took about 11 metres of tulle and about 4 metres of poly satin so it took quite a while to pull together and I got there in the end and I was pretty happy with how it turned out. there's a couple of pictures on my Instagram.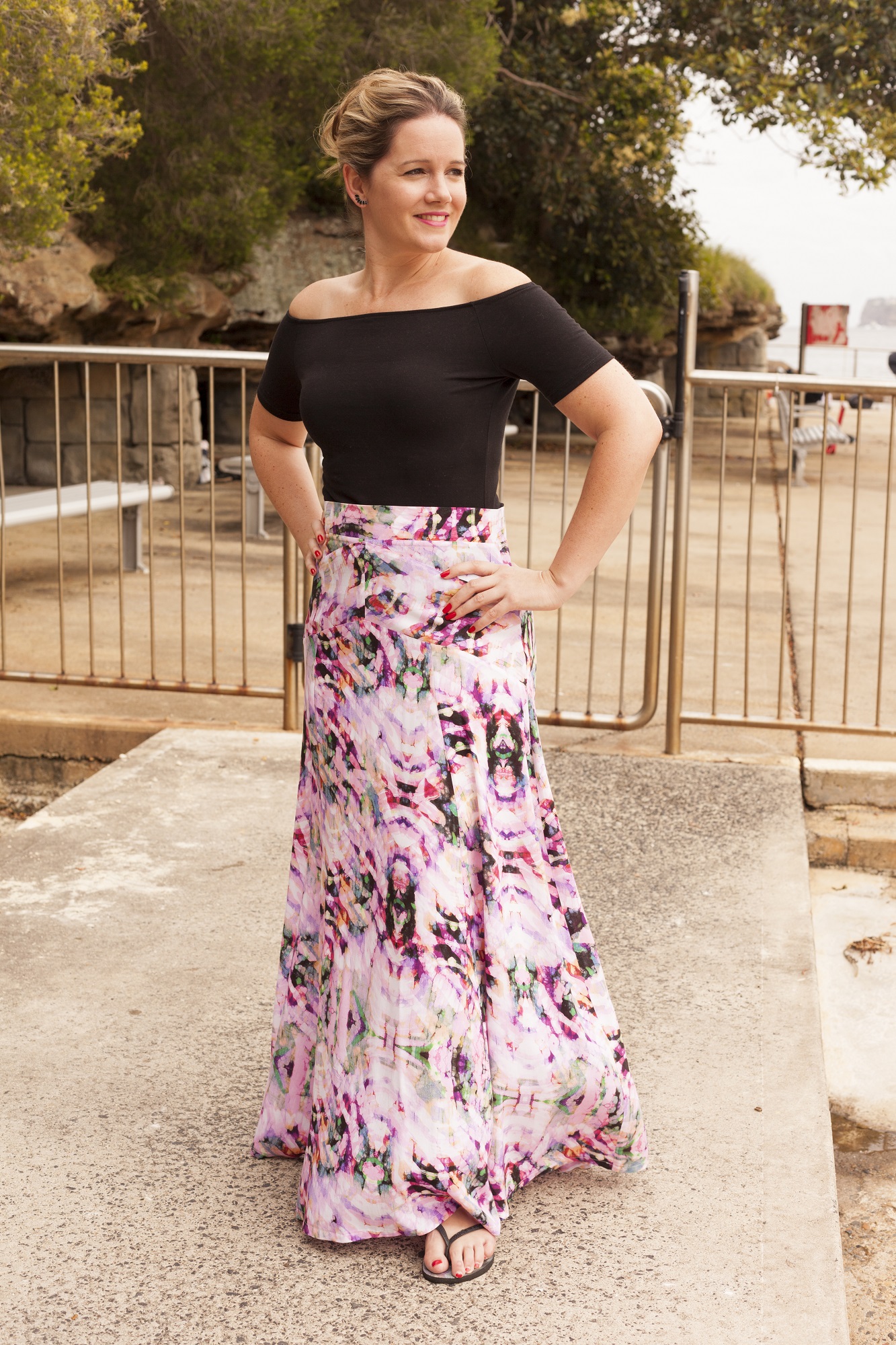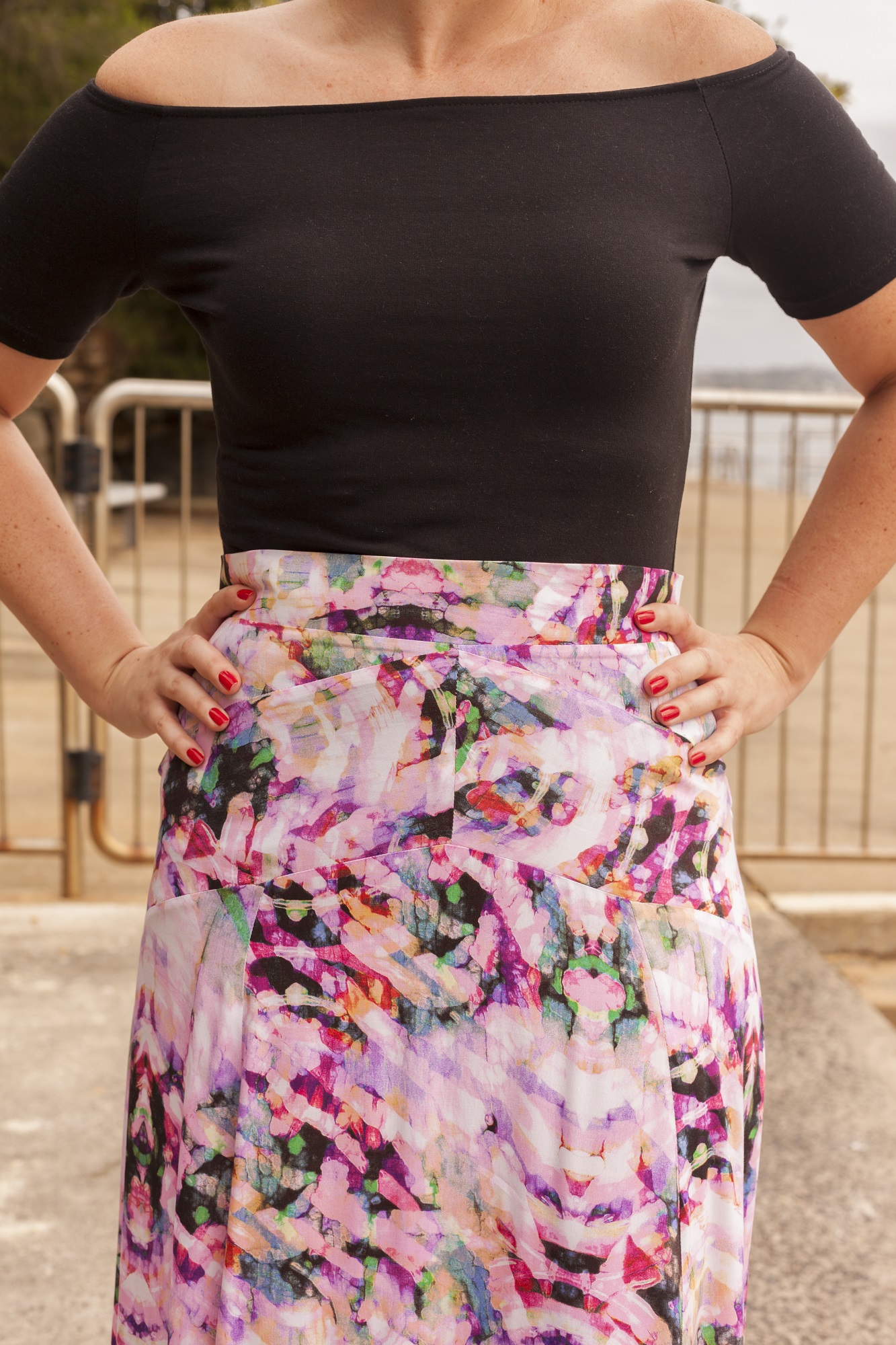 Last Sunday was the first opportunity I've had to wear this skirt I'm blogging about and I am in love with it. I made this a couple of months ago with the idea that I'd take it on my trip to India. But after making it and loving it I didn't want to risk bringing it on my holiday and it getitng damaged. I also thought that the rayon fabric will crease like no one's business in my suitcase and two star Indian hotels aren't likely to have irons. So it stayed put in the wardrobe until very recently.
The pattern is the Sewaholic Gabriola maxi skirt. I tell you, I cannot go wrong with Tasia's pattern. They totally work for me. The skirt is A-line and has angled panels around the waist, with a waistband and back zipper.
The material I used for this pattern is a rayon like I mentioned that I picked up from my trip to Vietnam last year. I'm cut I didn't buy more of it because it's ended up being one of my favourite fabric purchases from that trip. And at about $4 a metre it wasn't exactly a killer on the purse. This skirt pattern does really eat up the material. It's what gives it that dramatic flowy effect that makes me luurv to wear it.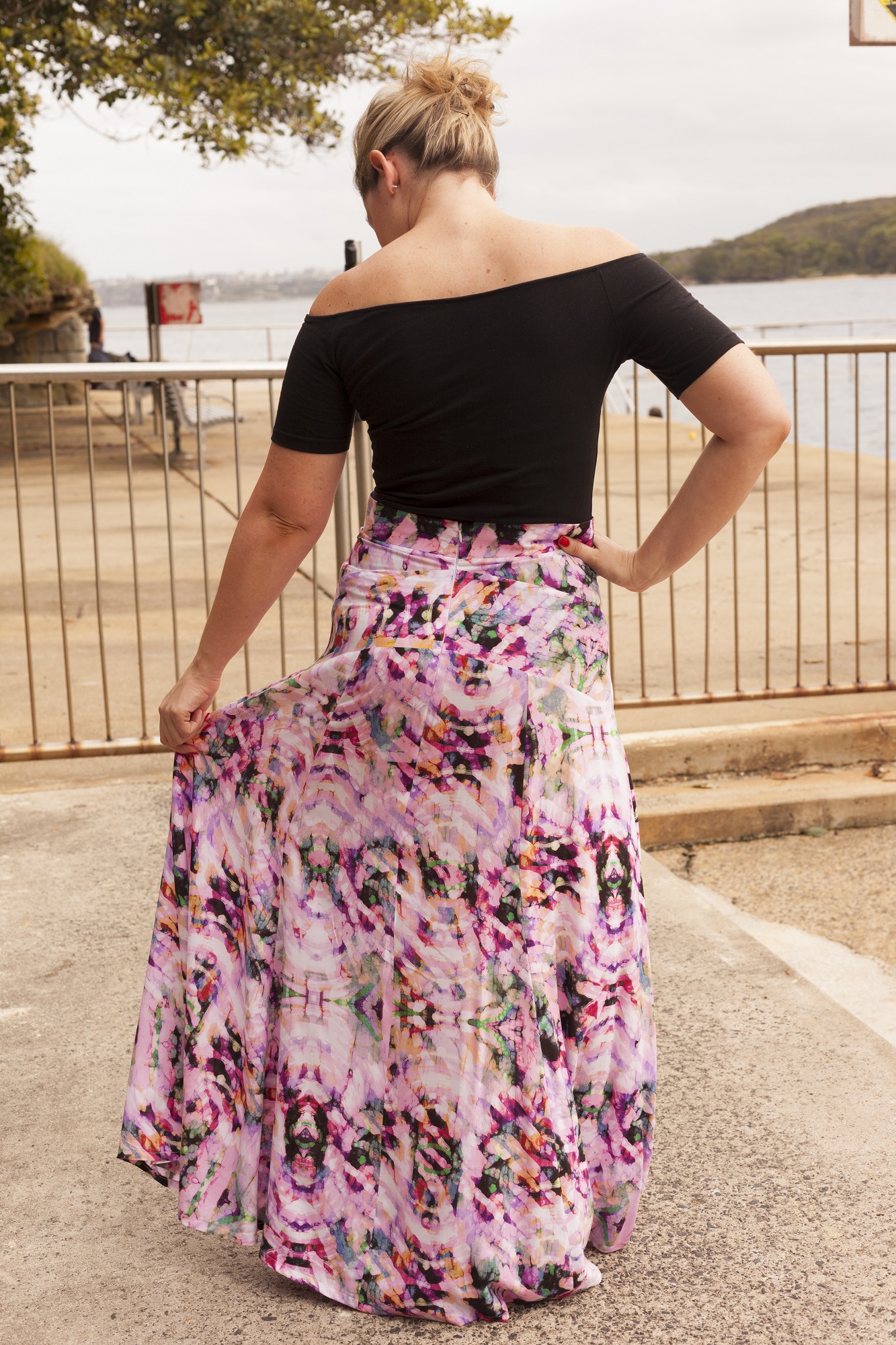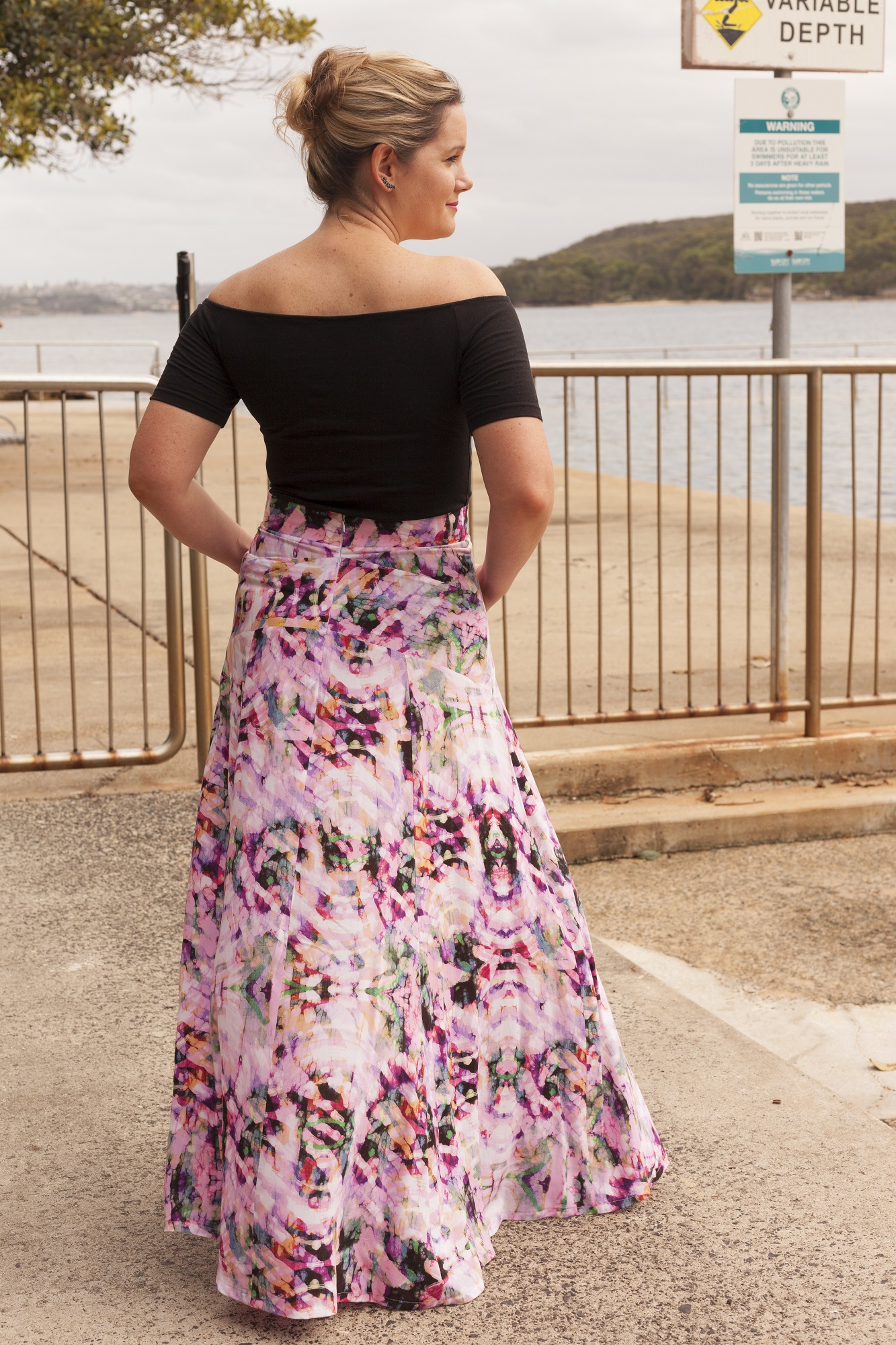 I was a little sceptical about making this skirt pattern because I was worried the angled panels would end up getting skew-iff and I'd have bubbling at the seams like I've had in the past with bias cut seams. They just don't seem to be my friend. But this skirt delivered, and it sits just lovely over the hips flaring out at the bottom so it's really rather flattering me thinks. I cut out a size 8 and the sizing was pretty well bang on for me. I had to take out the seam a bit on the hips on the side seams but it was minimal alterations.
I did the zipper insertion a little differently on this one. I bought a invisible zipper about 2 inches longer than specified and had it start from the top of the waistband instead of below with the fastener as instructed. Given the material was pretty light weight I knew I could still use an invisible zipper without it being too bulky to work and I think it sits more flush doing it this way also.
The biggest challenge with this skirt was the hemming. It is A LOT of hem. Not to mention that given it's A-line with panels the risk of an uneven hem is pretty high. I was really dreading trying it on and pinning the hem whilst wearing it. the joy of not having someone around to help! I was also trying to make sure that it was long enough for me to wear with mid height heels but not too long for me to wear with flats also. As the instructions recommended, I left the skirt hanging for 24 hours before I tackled the hem and I really noticed the difference letting it hang a bit instead of getting stuck in straight away. I ended up having to take about an inch off it and had to shave a little off the sides of the skirt to even it out but thankfully it wasn't nearly as scary as I feared. I elected to machine hem it as hand stitching it would mean I would probably still be doing it right now 3 months later.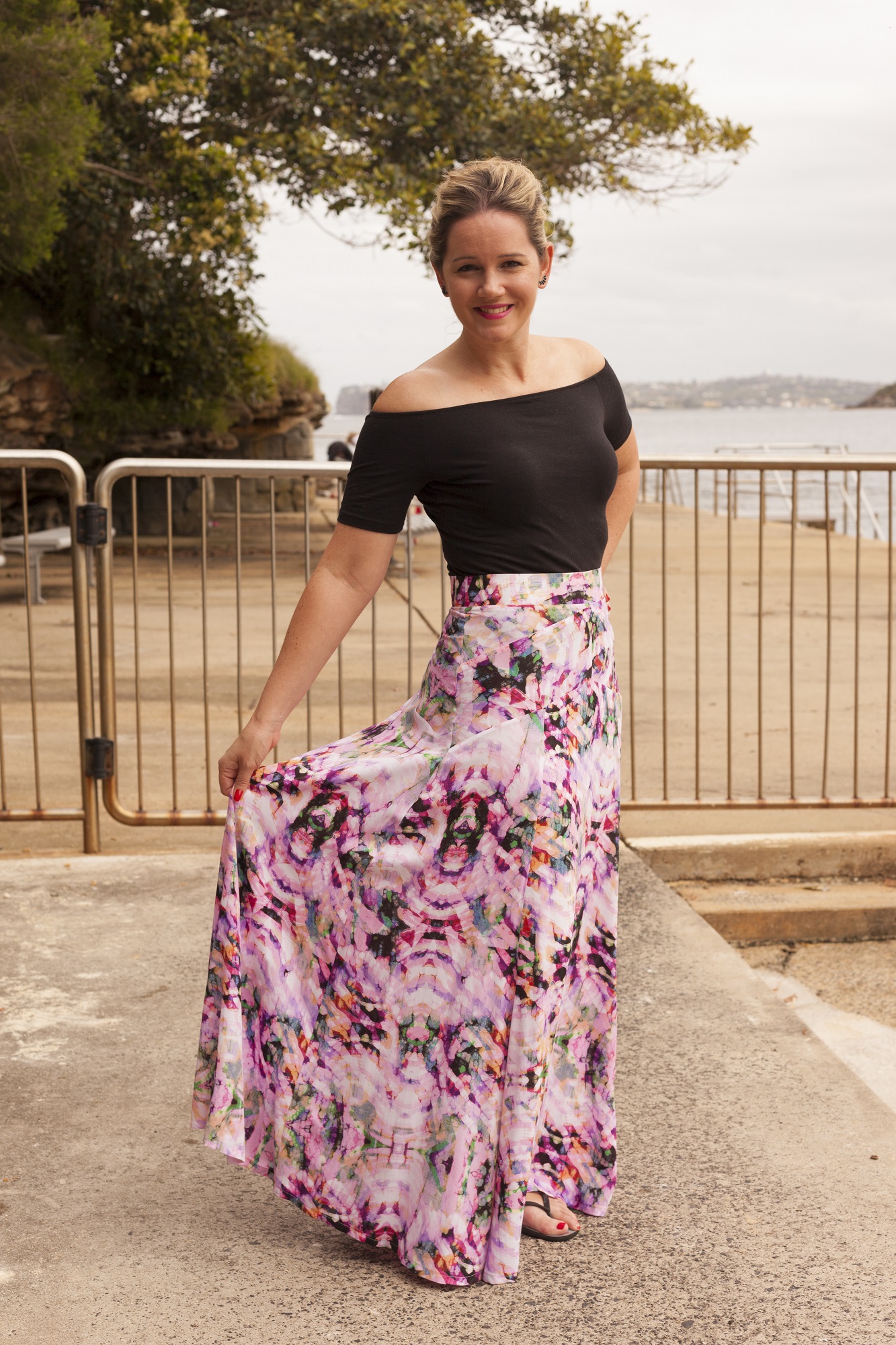 The only thing I would say about this skirt is that it is high waisted and you've gotta like wearing a style quite high like that. For many years I only ever wore things off my hips so to this day it can feel weird wearing something a bit higher on the torso but I think it works. I'd like to buy/sew a bodysuit to wear with it as I think the skirt works well with a fitted tucked in top.
This is one skirt pattern you should give a go!