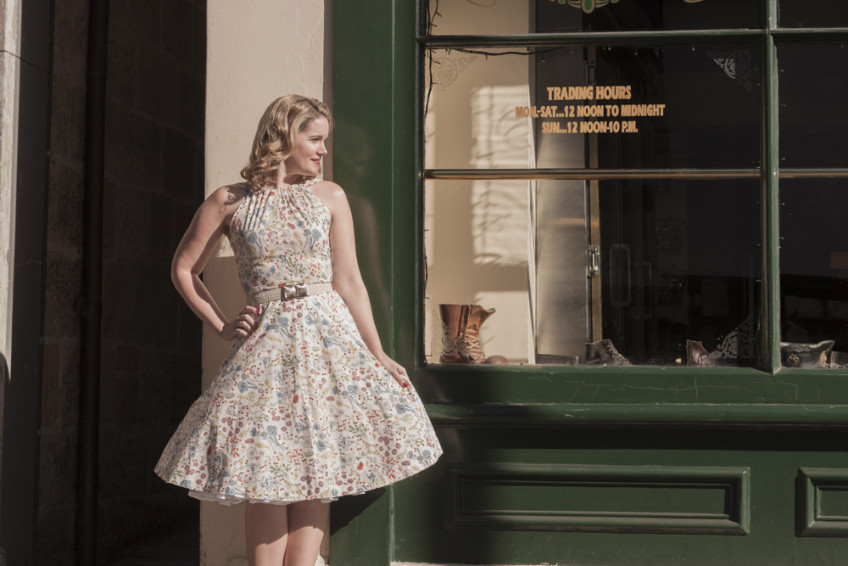 You know you've put on a bit of Winter weight when you put on one of your Summer dress's and it's looking a little tighter around the waist. Whoops! Anyone got a girdle I could borrow? It's probably the kick in the pants I need to start getting back into the exercise. It's now day two of spring and it's a reminder that it'll then be Summer and my gingham retro bikini will be getting an outing, so I need to be prepared!

The dress which has highlighted my small weight gain is this number below, Butterick Retro 4792. I've actually just noticed it's an out of print pattern which I am a little sad about as I think it's a great pattern. I did see that you can buy it on EBay and no doubt there would be a Etsy seller with it also. It's has a classic 1950's silhouette with a flared skirt, fitted self-faced bodice, beautiful low bodice back piece and halter neck with the fabric gathering at the neck. I made this up a year and a half ago now but wanted to mention it on my blog given how much I loved the pattern.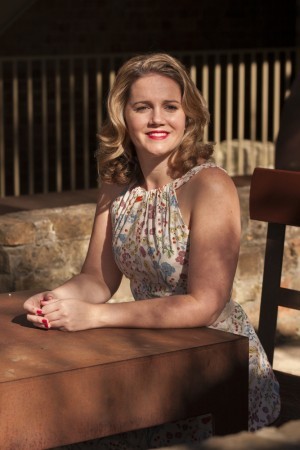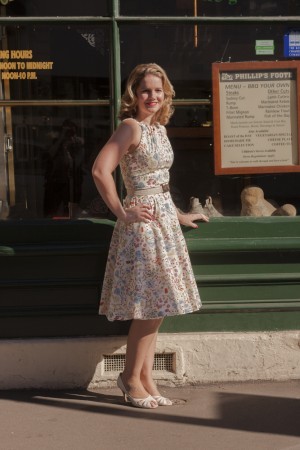 I chose a Japanese tana lawn to make the dress out of. It was really a bit of a knock off of Liberty tana lawn, but a true Liberty fan knows the difference. It helps when you buy a fabric 150cm wide for this pattern given the type of skirt you get more bang for your buck. It isn't a full circle skirt but a happy medium if you want a bit of swing to your skirt. Tana lawn was quite a good choice of fabric for this given it was nice and lightweight to wear, and great for hot days. I was weary of the halter neck in this pattern given the style at which its formed – the bodice back shoulder straps extend to the front and join with the fabric overlapping the front band. I thought it might look bulky or not sit just right, but it really did. I do recommend hand stitching down the halter neck just so it doesn't shift as you move and stays in centre. When I was making this dress I actually thought it would be a great evening dress with the right fabric so I aim to make this again and may even do a pattern mash up and try it with a pencil skirt bottom. I lined it with the same fabric as the bodice given it isn't a thick fabric. I also opted for an invisible zipper down the left hand side of the dress rather than a traditional zipper. I just think on this occasion it sits more flush than a traditional one might have. I'm also so used to invisible zippers it would be strange to do anything else! I did my usual grading and let it out a bit around the waist. I cut out a size 10 and graded it out to a 12 around the waist otherwise the fit was great. I also opted to shorten it a little as I normally do so that it sits just under my knees. I hemmed the skirt using a blind hem stitch.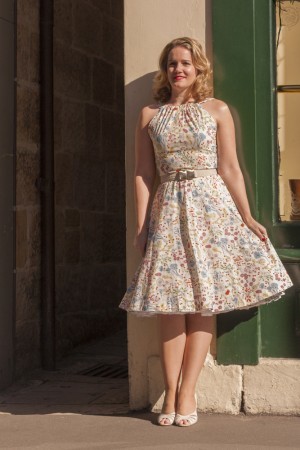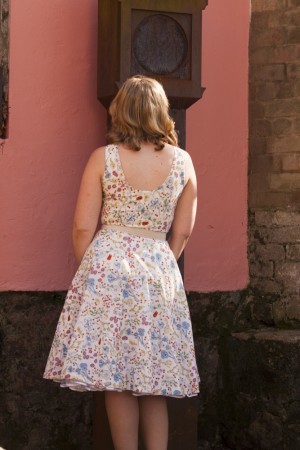 When I look at the photos of this dress I am reminded of the day Sherry took the photos of me in the dress. We did our first shoot where we opted for a pretty high traffic area – The Rocks on George St in Sydney. It is a bit of a tourist hub and it was quite funny how many people had a gawk to see what we were doing. Everyone was quite complimentary though, and mentioned my Mad Men style. So I can't complain!

If you can get your hands on this pattern and you like a bit of vintage style, go for it! I have it in my stash ready and waiting for another incarnation.