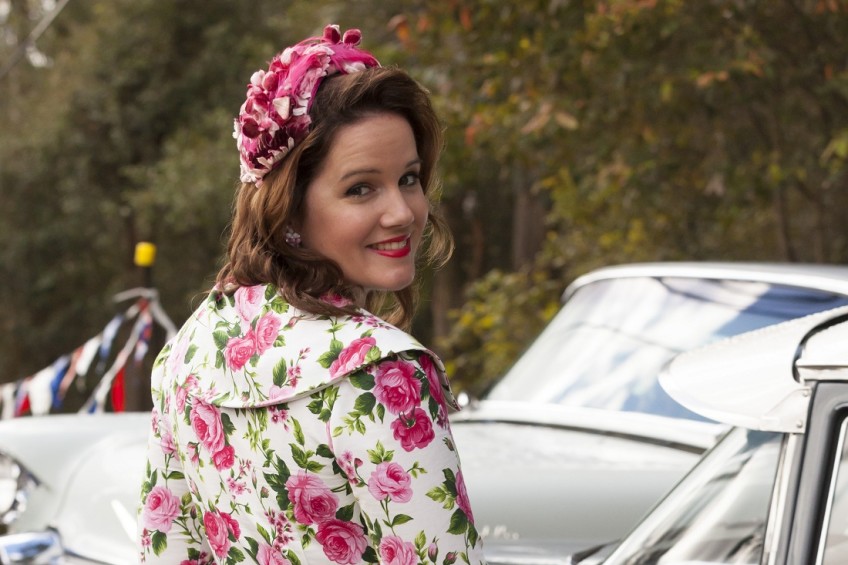 Last weekend I attended the annual 50's Fair at Rose Seidler House. I look forward to the fair every year as an opportunity to get dolled up in my best 50's get up and shop and mix with like minded indivduals. In Sydney this is one of the premiere vintage events, which I think comes down largely to the fabulous setting. The Fair is run on the grounds of Rose Seidler House which is a heritage listed house designed by Harry Seidler and finished in 1950. I luuuurve this house. Unfortunately it was a mixed day weather wise and it rained right on time for the best dressed competition - thank you weather gods. This is the second year I have attended the fair and worn something I have made. Any excuse to make an outfit for an event, amirite? I was making my dress for last year's fair right until the night before (see outfit here) so this year I made sure I was more organised and had my dress sewn up and ready to go two weeks out. I also decided after attending last year that I would enter best dressed so I needed to amp up the accessorising. I purchased a gorgeous hat from High Hat Couture on Etsy and vintage jewellery and bag from Etsy also. I even went so far as buying vintage gloves!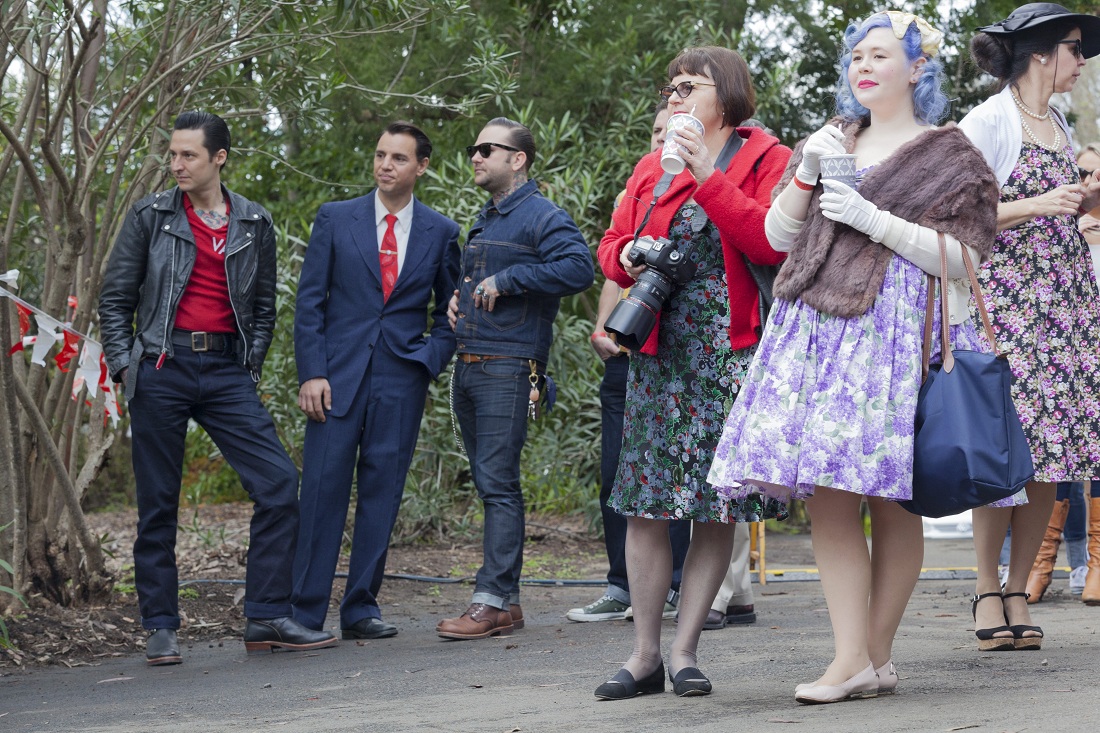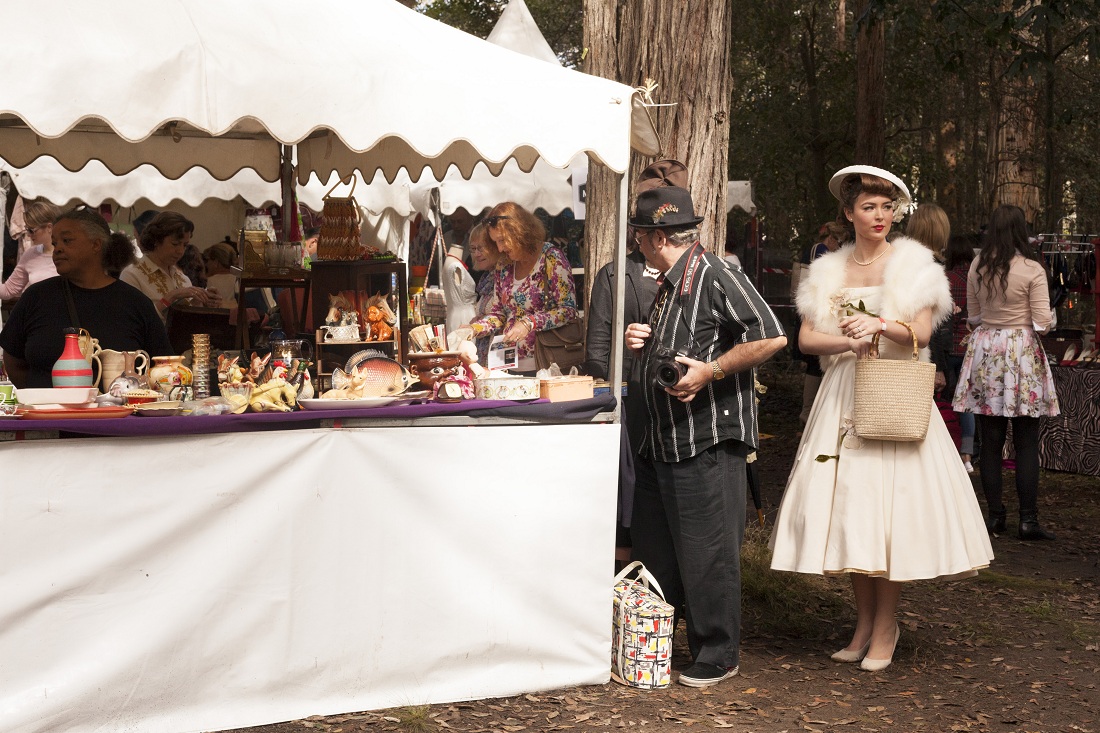 This year I chose to sew up Simplicity 1459. I was in love with this pattern as soon as I saw it and couldn't wait to swoop it up. I love the button front, the exaggerated collar and full skirt - just all of it really! I had the perfect rose print cotton in my stash wating for such a pattern for over a year. I picked up the fabric on the clearance tables at Spotlight for about $4 a metre, and bought about 4 metres as this kind of vintage dress just eats into your fabric.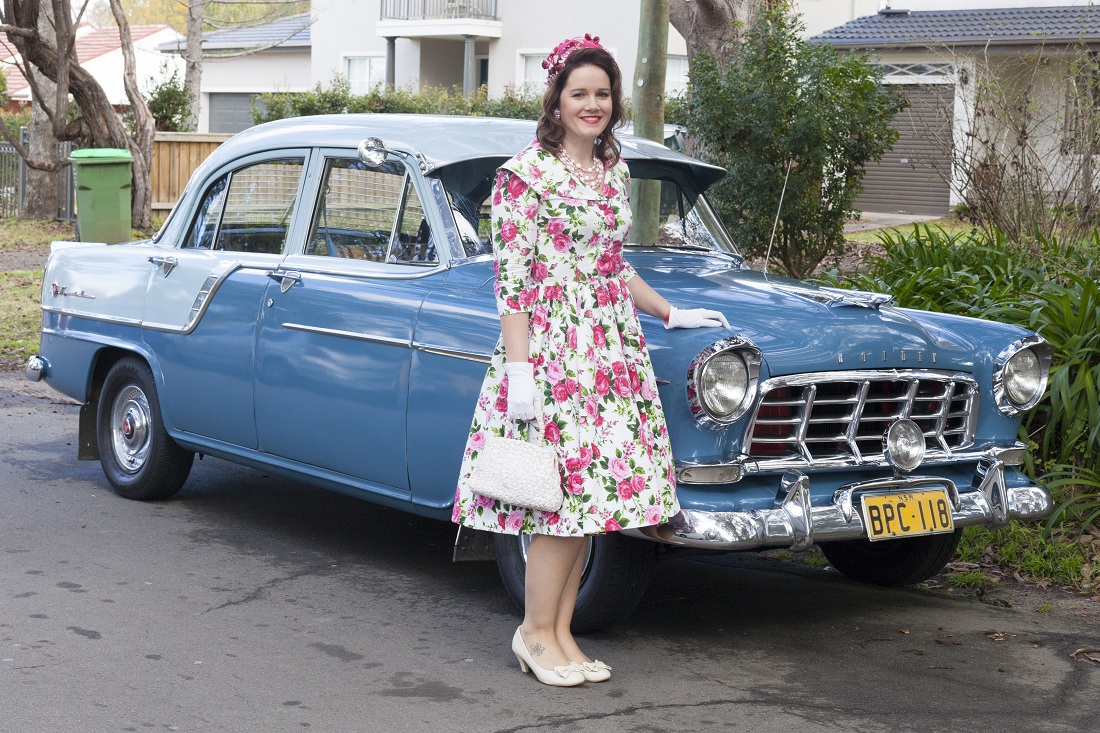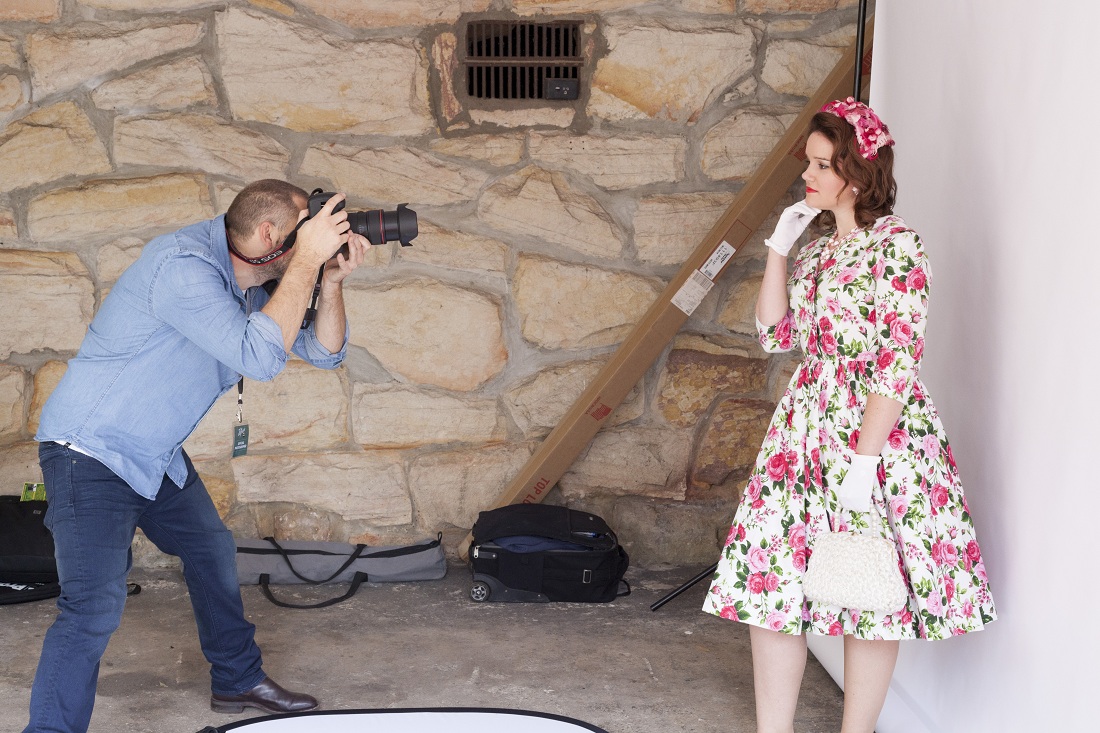 Whilst the dress does look a little scary, it wasn't too challenging to sew up - so don't be put off! I cut out the dress in a size 12 and it was pretty true to size, and with not a lot of ease as some Simplicity patterns tend to have. I have made up a similar vintage style dress before with short sleeves so I thought I would give the 3/4 sleeve option a go. I was also aware it is Winter, so it was a more practical option too! The only adjustments I made during cutting it out was adding 1.5 inches to the hem because I felt on the pattern envelope image it only ended just after the knees and I was going to be wearing a crinoline underneath it, so I wanted it to be slightly longer. I aldo cut out the sleeves in a size 14 as I find sleeves in lots of patterns too tight for my arms.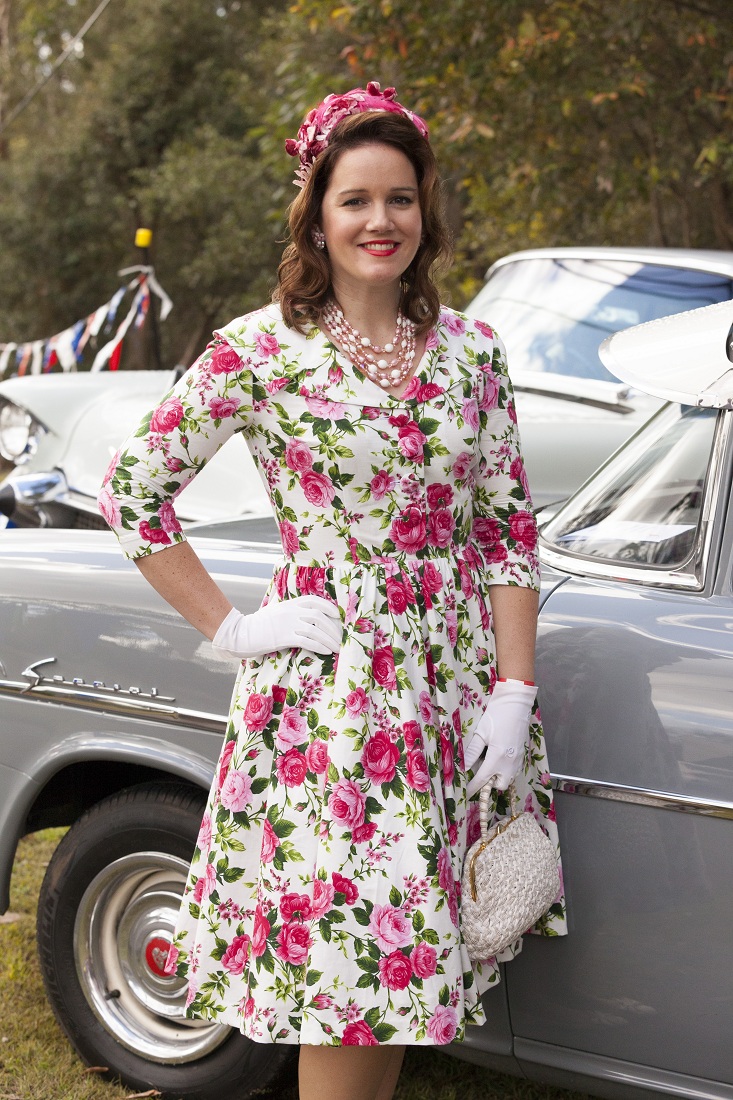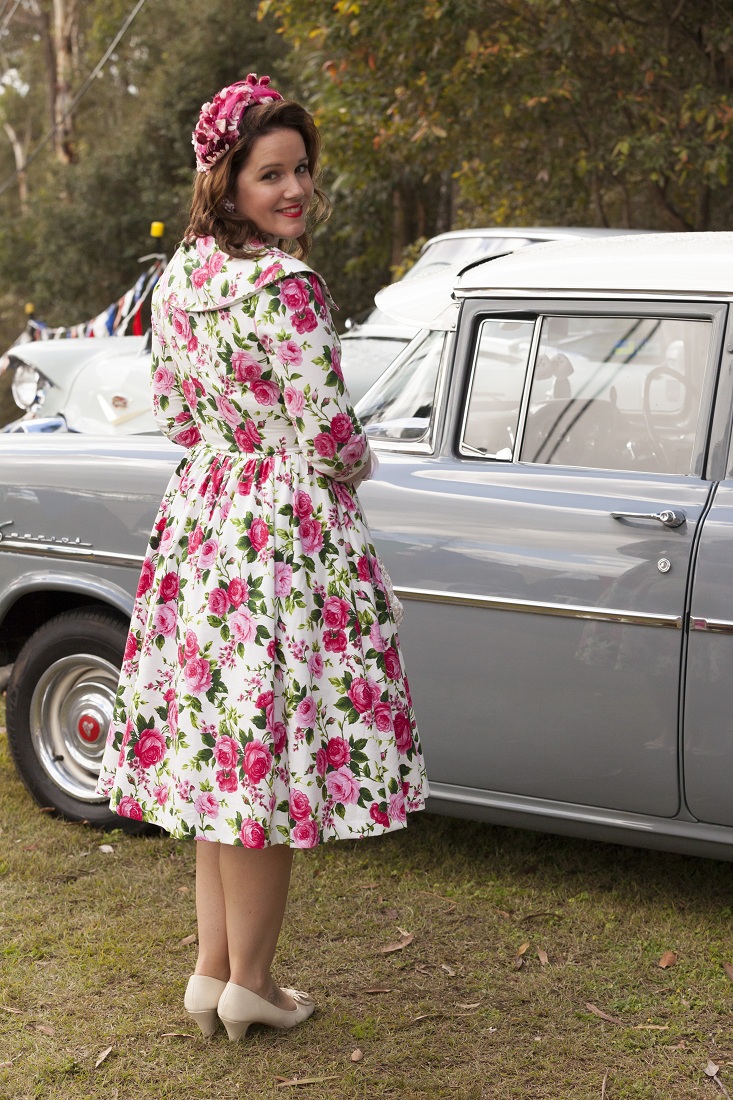 I did a small amount fitting during the construction but nothing major to be aware of - just a nip and tuck on the side seams and shoulder. To finish off the dress I put in a invisible zip down the side. I was going to make it more authentic and do a lapped zipper but given its on the side of the dress and with the busy-ness of the fabric, I think the invislble zipper is a better option. The pattern calls for two buttons down the front bodice which really aren't enough. I ended up sewing on three buttons and tried it on with a sash I had made previously but it still felt like it gaped so I ended up adding another button and foregoing the sash when I wore it. I recommend sewing four buttons down the front when making it.
The only other thing I would mention is the sleeves. If you tend to have to take out your sleeves thanks to bigger arms, I suggest sizing up. I cut out my sleeves in a bigger size and I still had to take them out so much I almost ran out of fabric. Right from the top to the bottom of the sleeve had to be taken out a lot. So be warned!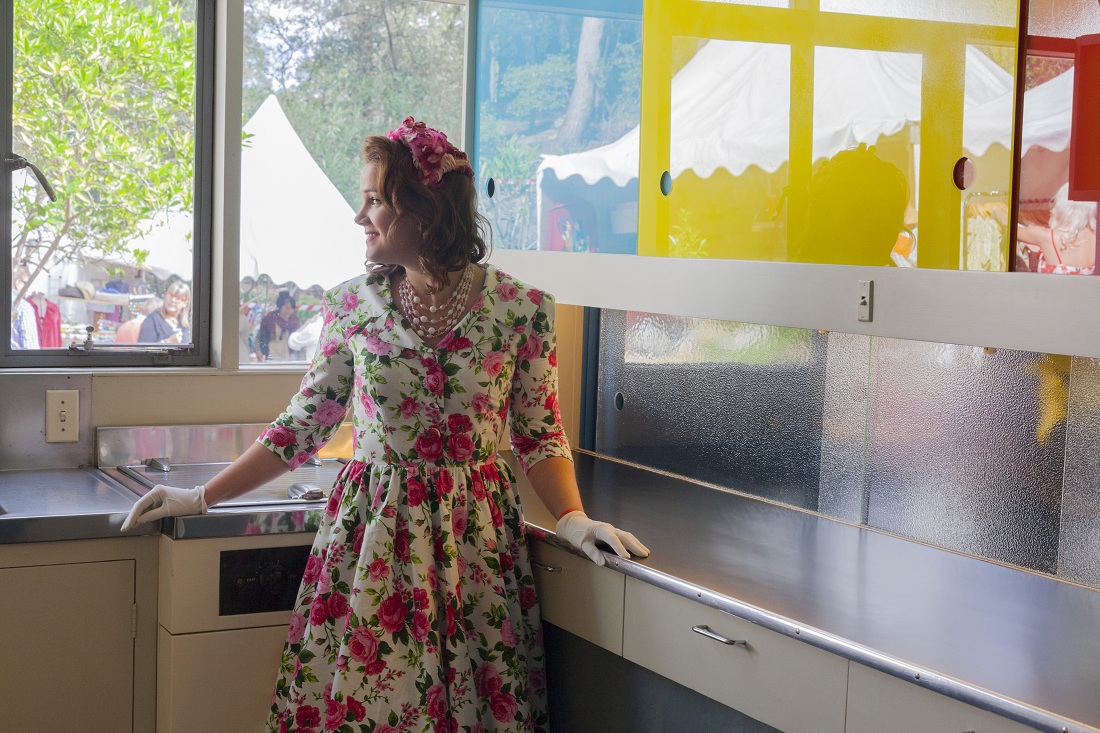 I LOVED wearing this dress to the fair. It was just so dam pretty. I would love to dress like this more often but there is something nice about doing it every once in a while. It would take a lot of effort to do this every day. Seeing a sea of women dressed in full circle skirts and things all kinds of girly is just lovely. Women were women in the 50's and we should look to that for inspiration in how we dress. Good bye crocs and harem pants. I didn't win the best dressed compeititon but it was fun to enter and try my luck. Here's to next year!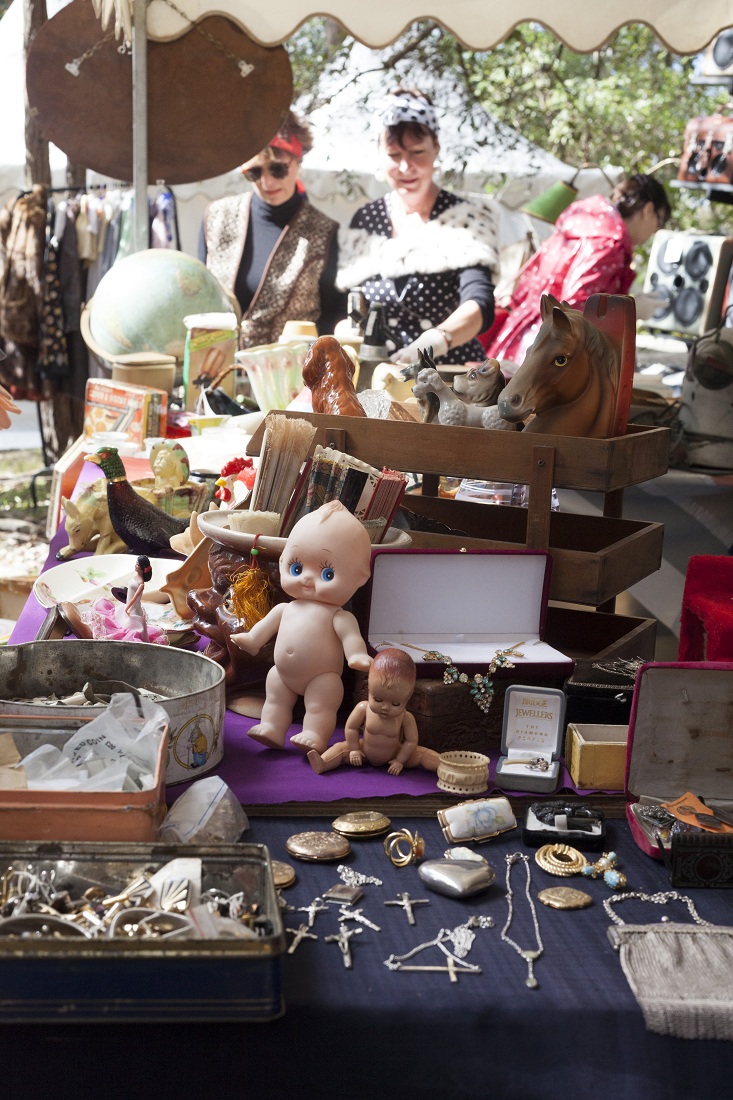 Photos by Sherry Lea Photography