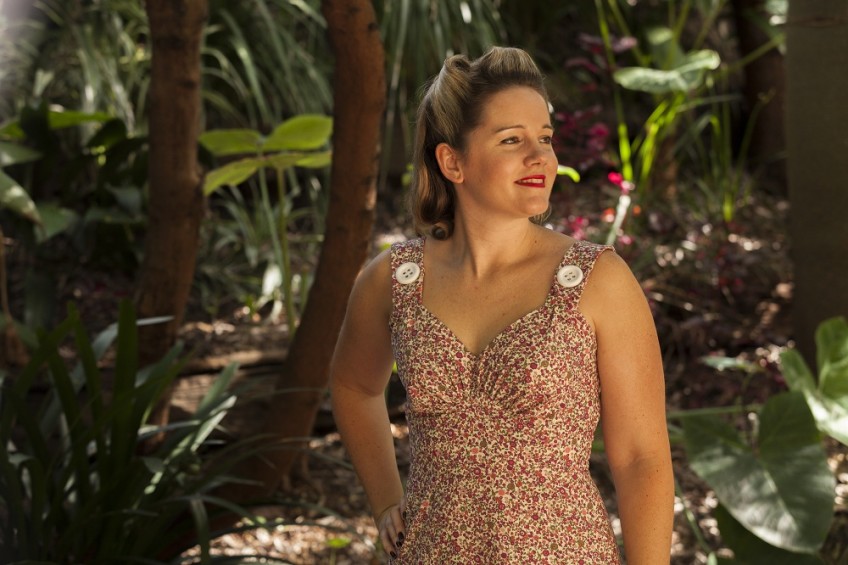 Ever have those UFO's (unfinished objects) floating around the house that you just don't seem to ever finish? Well I have about 3 of them, one being a cross stitch and the others a couple of sewing projects. Almost two years ago…eeek!...I cut out the Colette Parfait pattern in a gorgeous Liberty print corduroy fabric. After cutting it out I think I got distracted by other projects and at the time the pattern felt like it would be a bit hard so into the 'too hard basket' it went. I was starting to really get sick of the sight of this dress cut out and begging to be made so I took a weekend out recently to finally finish it.
The Colette Parfait dress pattern is a pretty feminine style dress, with an a-line skirt, gathered bust, button straps and side zipper. The pattern instructions were fantastic and not nearly as daunting as I thought they would be. The corduroy fabric I used was delightful to work with, as it is strong and because of its rough texture it doesn't slip making it easy to sew together. I cut out a size 6 (Australian size 10) and it required very little alterations at all. I did make the hem a little longer for my usual below the knee finish. I also lined the bodice in the same fabric as the corduroy isn't too thick for doubling up.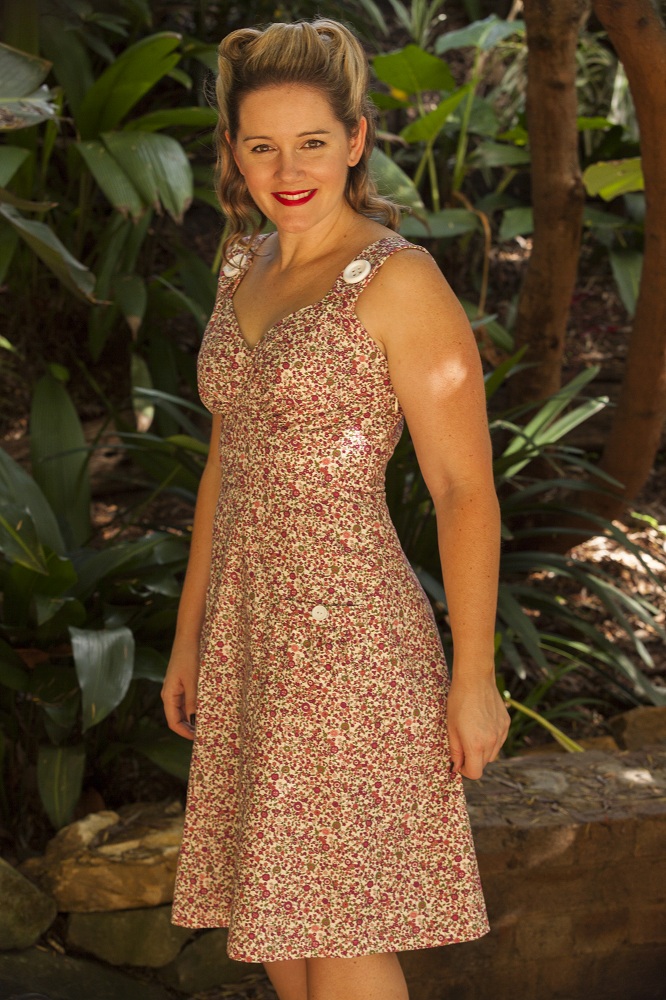 The pockets on this dress are the cutest thing ever although mine get a little lost in the fabric, so if I make up another one of these I might use a contrasting fabric for them to pop more. I put in the pockets before sewing up the skirt side seams to make it easier to place and sew them onto the skirt.
One thing I did end up changing was the bodice back piece. It asks that you put in darts but I felt adding the darts into the bodice back ended up giving it shape that didn't sit well with the back . They are quite deep darts too and even after pressing it felt like it would give me back boobs! Check out the image below of the bodice back with darts. Because it wasn't working for me I ended up using the back piece with the darts already sewn in as a pattern piece and cut out a new bodice back sans darts. It turned out perfectly.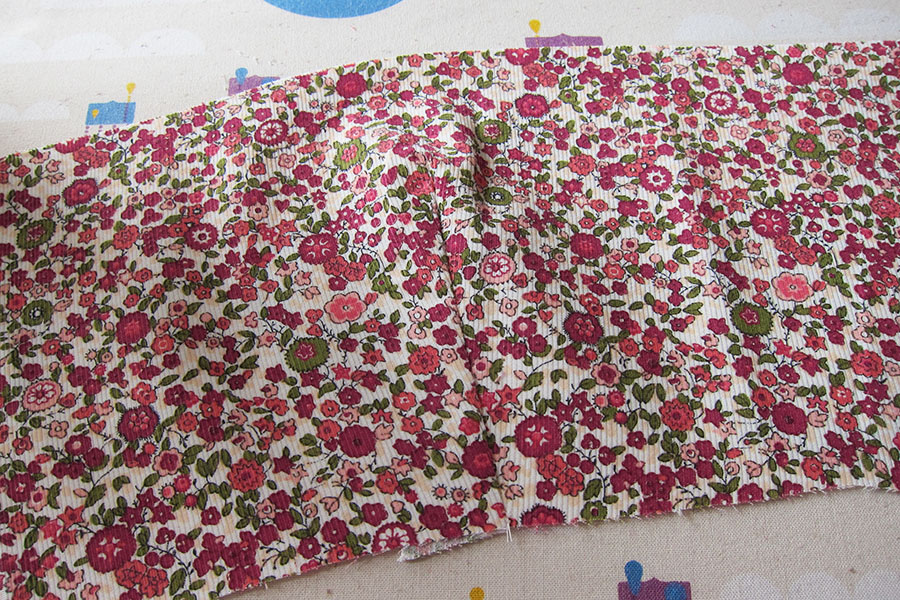 I had read a few reviews about this pattern being good for big busted women and because I am the exact opposite I was worried it would be too baggy in the bust but because you can control the gathered it seemed to work OK. I love when things just seem to work when you expect the exact opposite! The best bit of the gathered bust is that it sits right into your chest, no gaping or worrying about the bra showing as you bend over.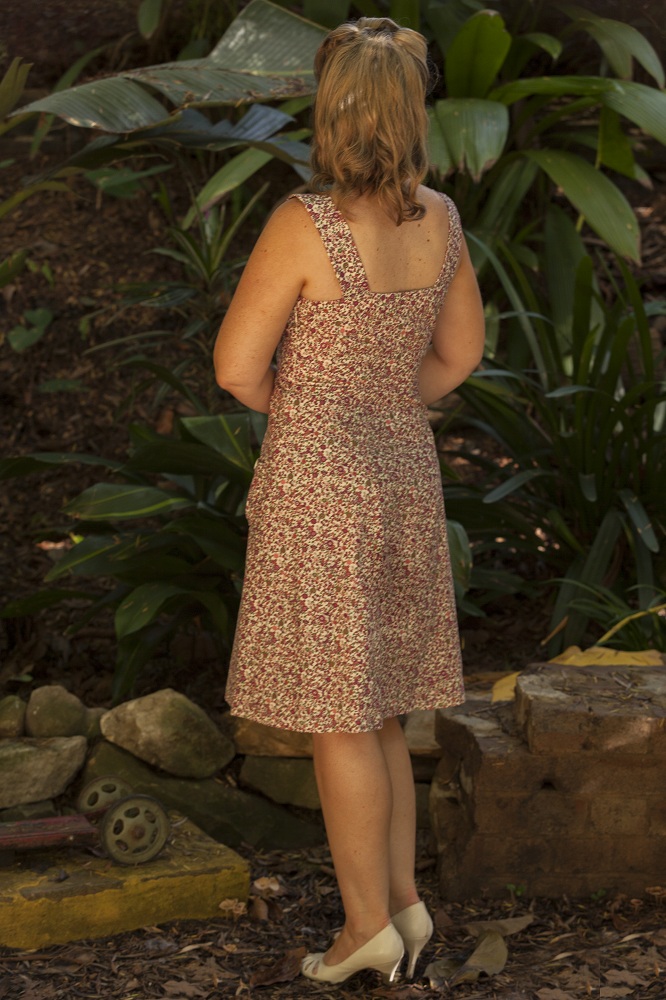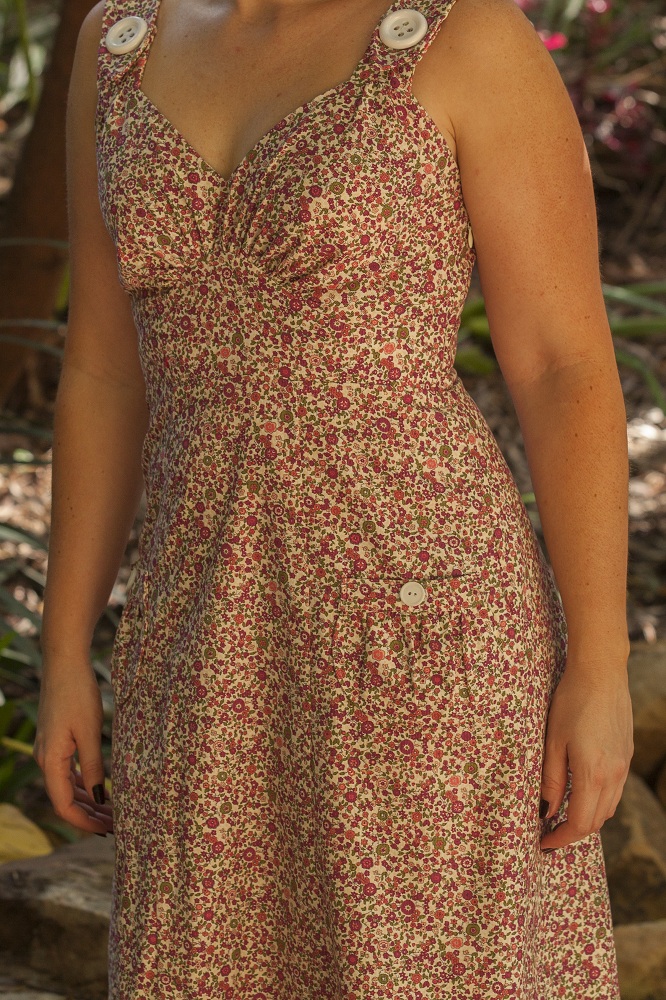 For the straps I didn't really follow the spot marked on the pattern pieces for placement as when I tried it on it didn't really seem to sit flush on my shoulders. I also wanted to make sure I could wear a bra with this dress so I tried it on with my bra and then pinned the straps in a position that would cover them up and sit flat on my shoulders. The straps are meant to button up at the front but I learnt that hard way that wasn't going to work with the big buttons I had chosen. I did do one button hole, a pretty big one to fit my buttons and it ended up stretching the fabric and not looking very neat so I ended up closing the button hole up with a zig-zag seam and then hand stitching the buttons onto the straps meaning that I now have faux button closures that are purely decorative and you can't actually undo the straps. It doesn't show or really bother me; as long as I can get in and out of the dress which thankfully I can!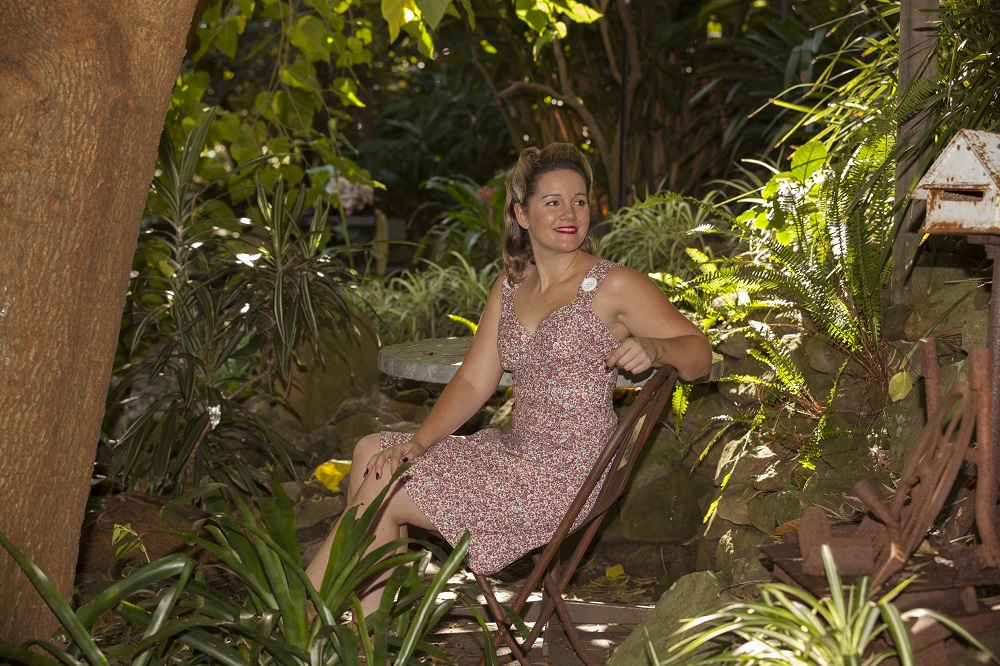 I finished off the dress with an invisible zipper down the side of the dress. I find invisible zippers a bit of a pain in the butt when it gets to the waistband as they struggle to get through several layers of fabric and corduroy is one of the worst so I cut down some of the excess fabric near the waistband and avoided overlocking that section to ensure it could zip up and down. I did a little hand stitching near the waistband to stop it fraying further and ta daa, dress done!
It was great to get this dress finally finished and it's actually a great Autumn dress so I picked the right time of year to finally get this finished. The pattern suggests you can layer it and wear as a pinafore and I think I will opt for that as it starts to get colder and it sure is over in Sydney town. at the moment. I sometimes wonder how I survived two years living in Scotland. Making this dress sure gave me the confidence to realise that I needn't be scared of dresses that may seem tricky on the outset, as sometimes they just aren't what they seem to be.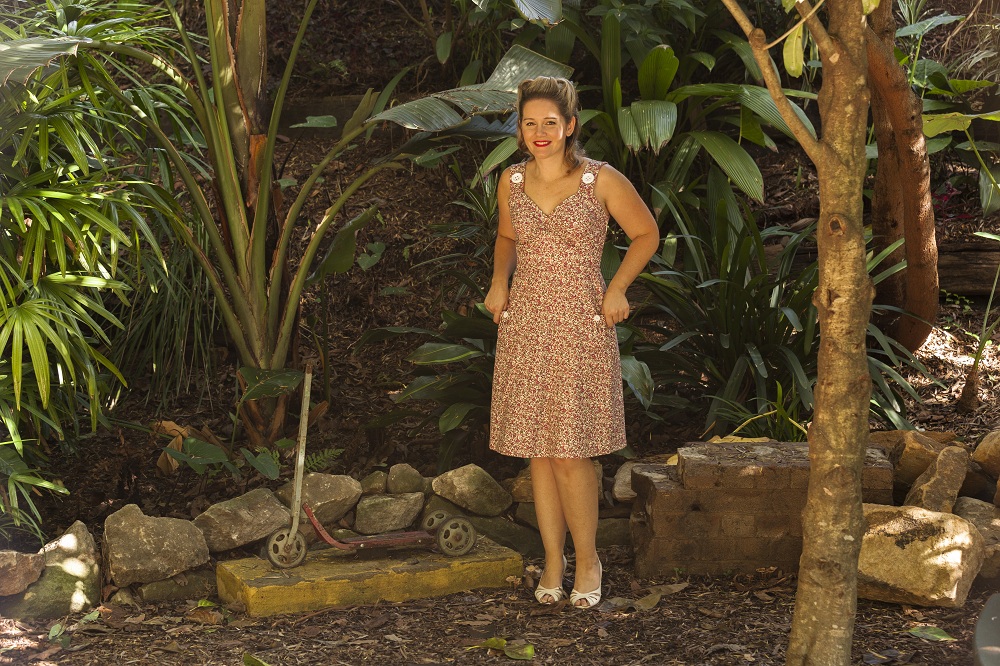 I wore this dress for the first time to the inaugural Sydney Sewing bloggers lunch. It was fantastic meeting all the sewers across Sydney & NSW and being able to talk shop. Something I don't often get to do….understandably not many of my friends want to hear me drone on about all things sewing!