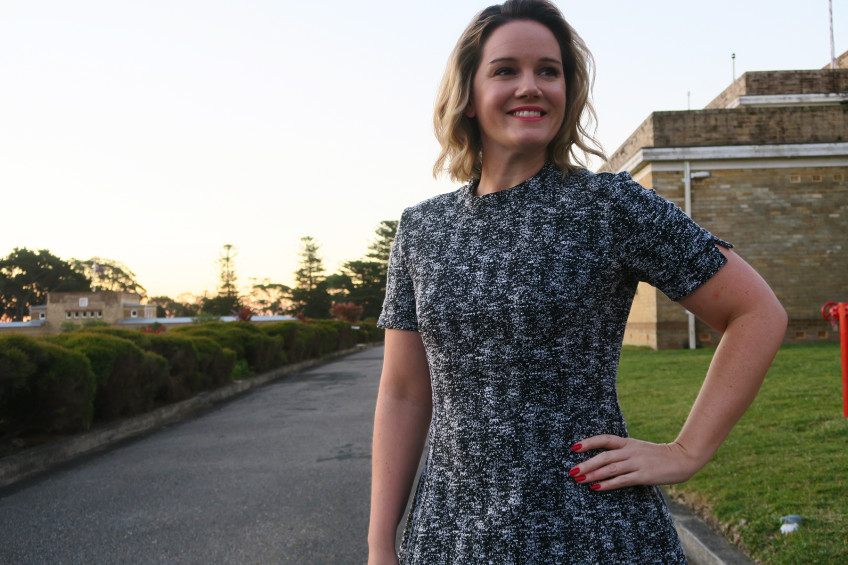 Happy Fri-yay! It was a busy week with work and uni busting my chops. But I'm on holiday and 'end of uni' countdown mode, so that's helping! One month and 3 days until I'm in NYC. Yas! ALL the shopping. Just don't tell my travel partner. ;)
Onto another black make. It must be winter around here given my current black clothing mode. I felt it was time to inject more black into my wardrobe. I am at heart a total colour and print girl, but you sometimes need some black to balance it out. In an effort to make more comfy yet not super daggy clothing for work I made this dress a couple of months back. I used McCalls 7651 for this dress. The dress has some amazing style lines which you could play up, but I ended up making it with a fabric that completely hides those seams. D'oh!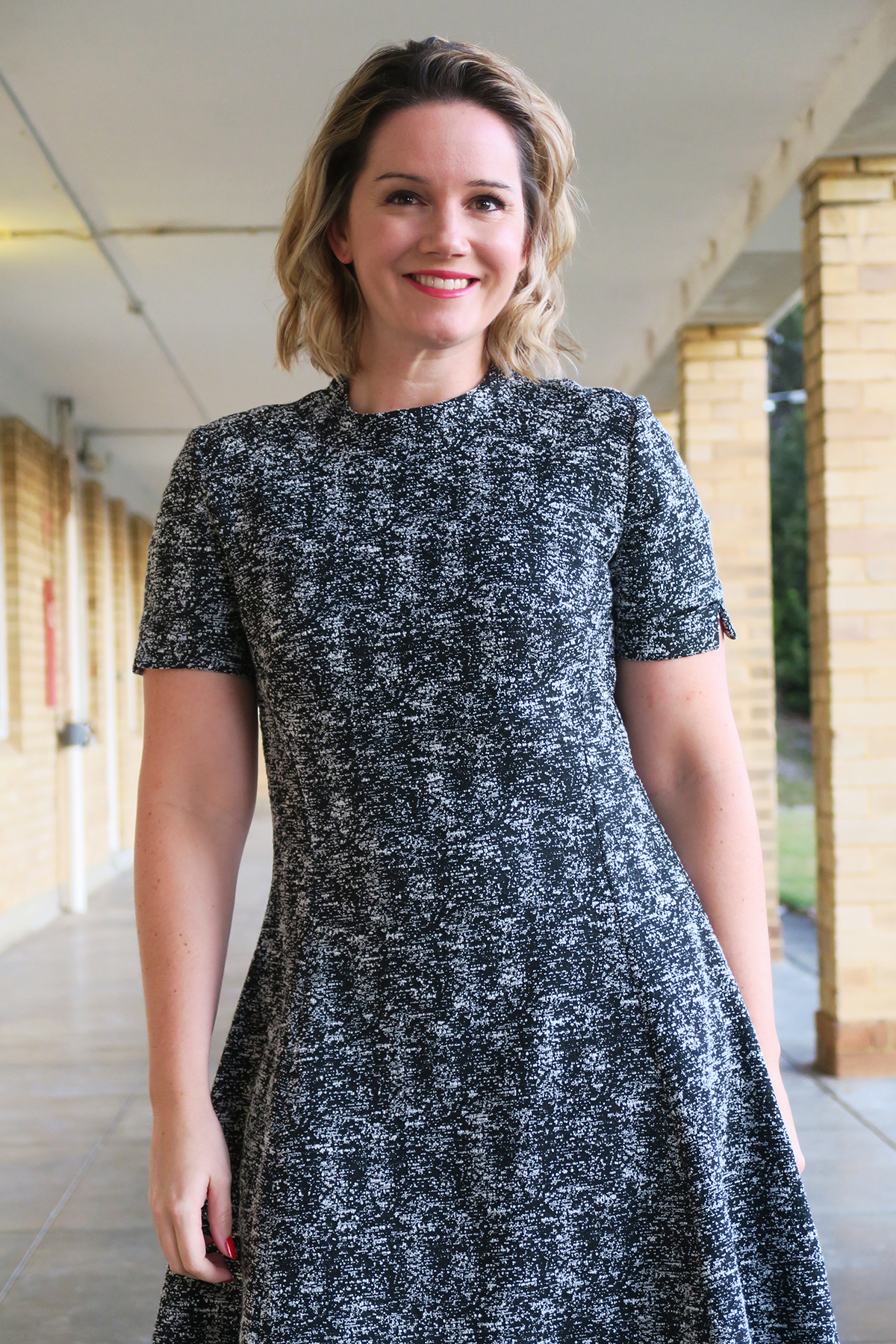 I made the dress with a stretch knit I picked up from The Remnant Warehouse. I've been really taken with their fabrics lately. Especially some of their ex-Rebecca Vallance, ex-Bec & Bridge and ex-Alice McCall fabrics. They are all just so lovely. This one is a pretty chunky knit which has quite a lot of stretch. The dress would only look right if it was fitted, especially given the stretch of the fabric, but I was nervous about wearing a fabric that doesn't breathe so close to my skin. I always prefer natural fibres. It's a comfy fabric, but it frayed like a mofo. Even after finishing the seams with overlocking, I've since had to repair two seams that have frayed. I'm sure there are ways to better solve for that and I'm pretty sure my washing machine gave it a beating which wouldn't have helped.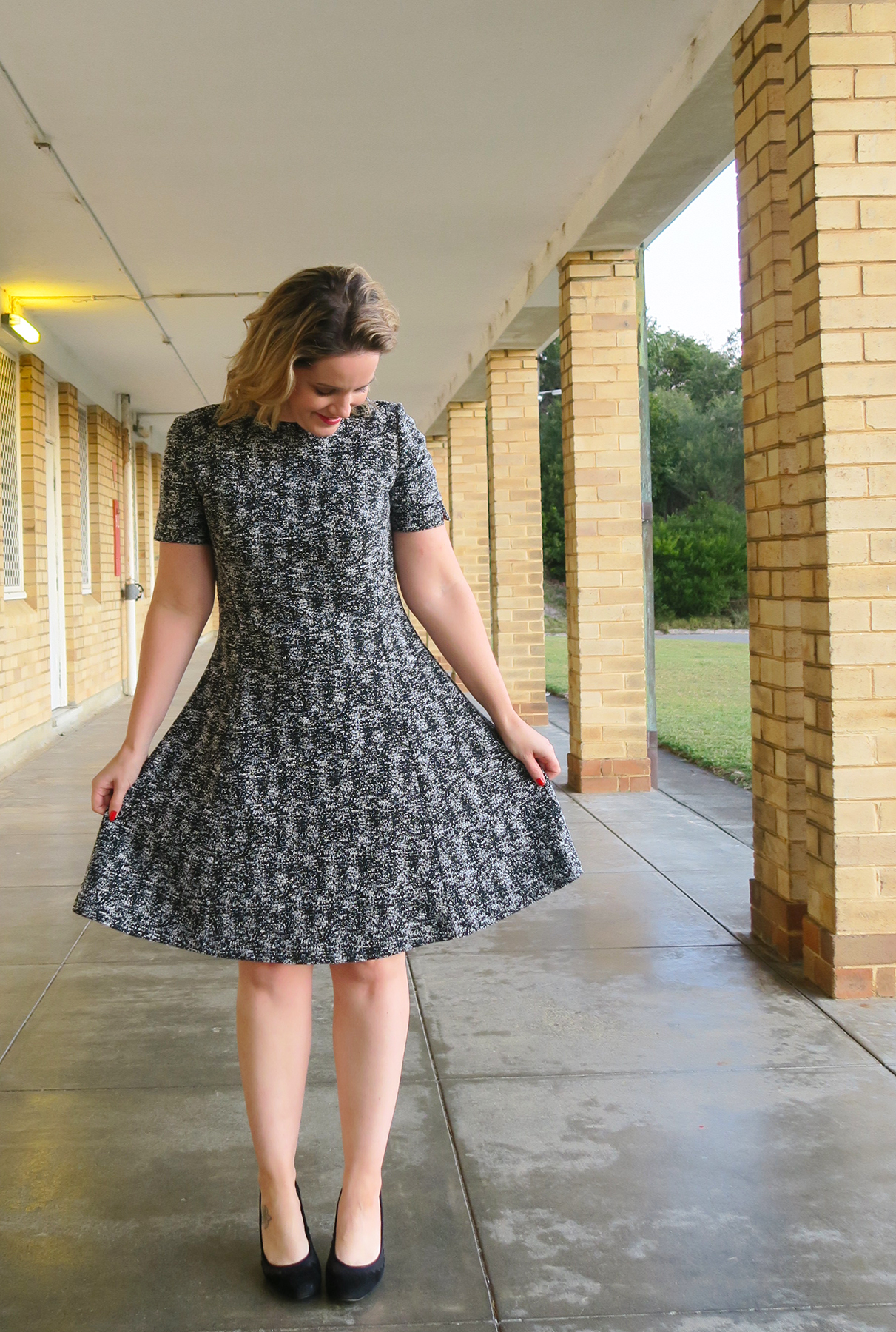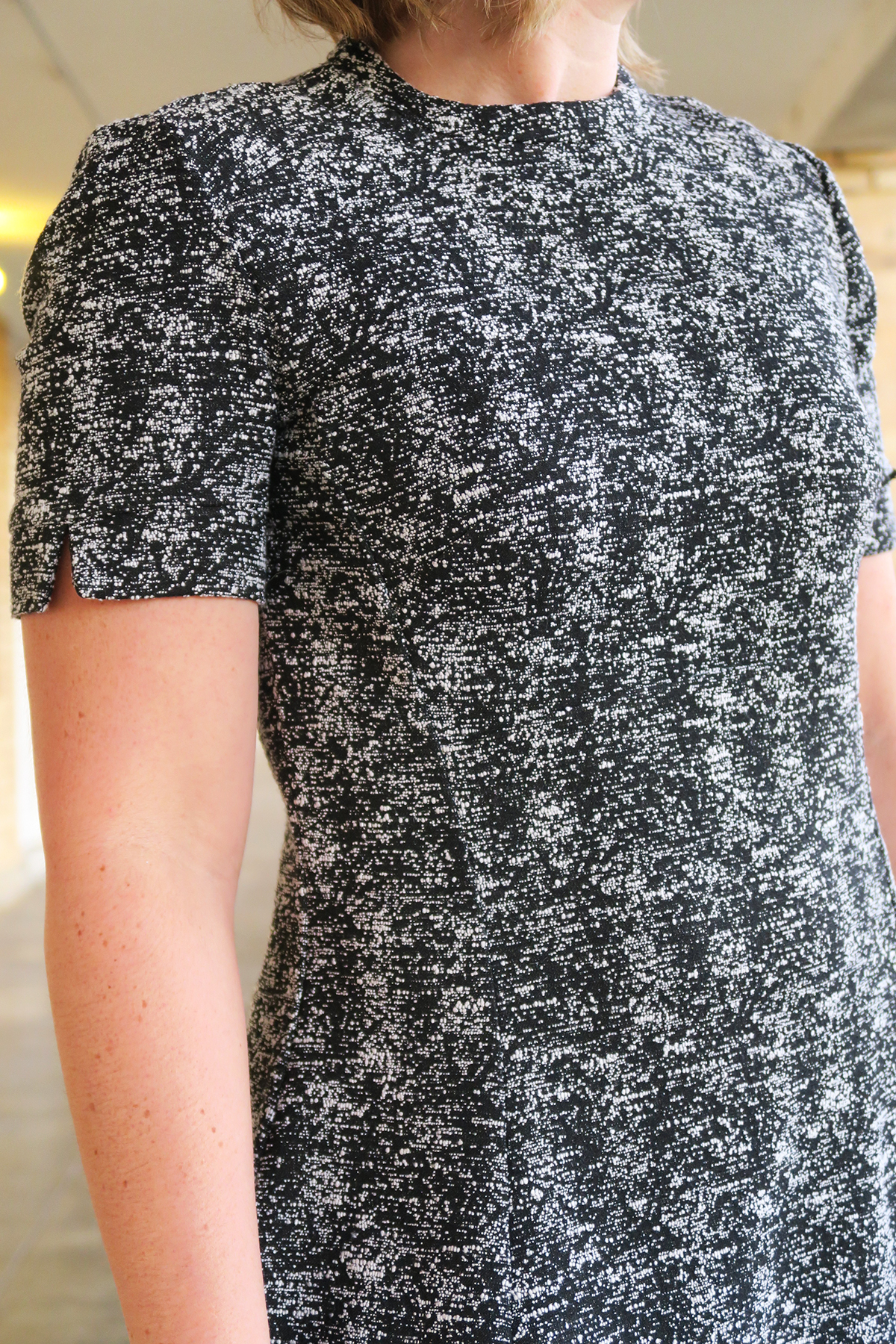 I cut out the dress in a size 12 grading out a touch at the hips. Turns out it wasn't really necessay as I ended up having to take the dress in heaps at the side from the bodice right down to the hem. It was looking just a little too flared for my liking, particularly in a chunky fabric. Construction of the dress was straight forward. I think it helps that I didn't line, so that saved quite a bit of time. Working with stretch always helps too, as fit is way more forgiving. I didn't follow the rules completely for the collar. It quickly became apparent when I started making the dress that it was going to fray like mad. So instead of hand stitching down the collar I machine stitched it. Knowing that the stitching would hide pretty well in this print. I did the same for the sleeve ends too. The only hand stitching is on the hem. And thats only because I have this obsession with hand stitching hems. I find it quite relaxing. I know, I am such a rager.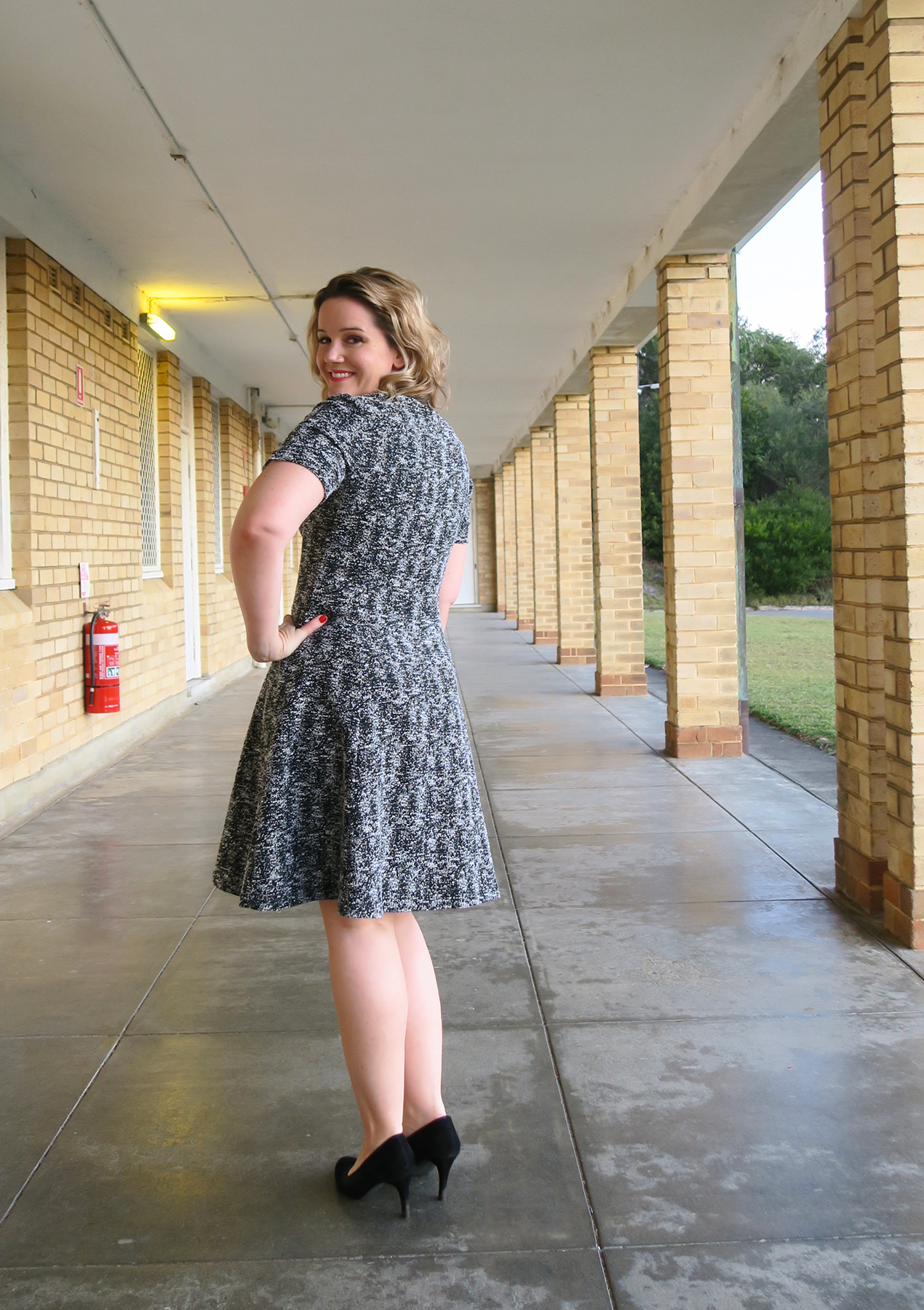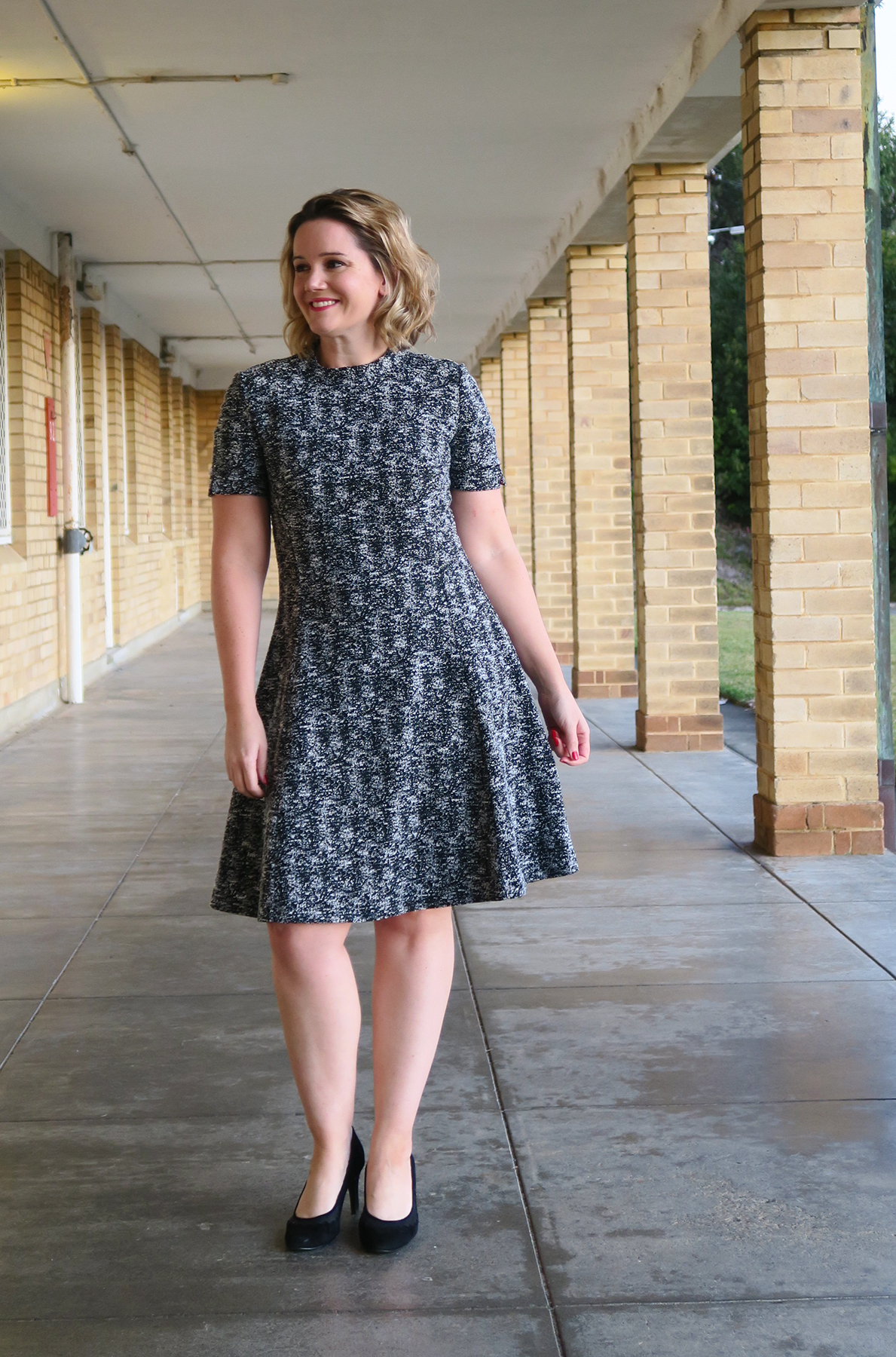 This dress does the job and it's been a good addition to the work wardrobe. I'm not sure the style is something I'd rush to make again, but I'll get my money's worth from it over the winter season I'm sure. Now only my next black dress...