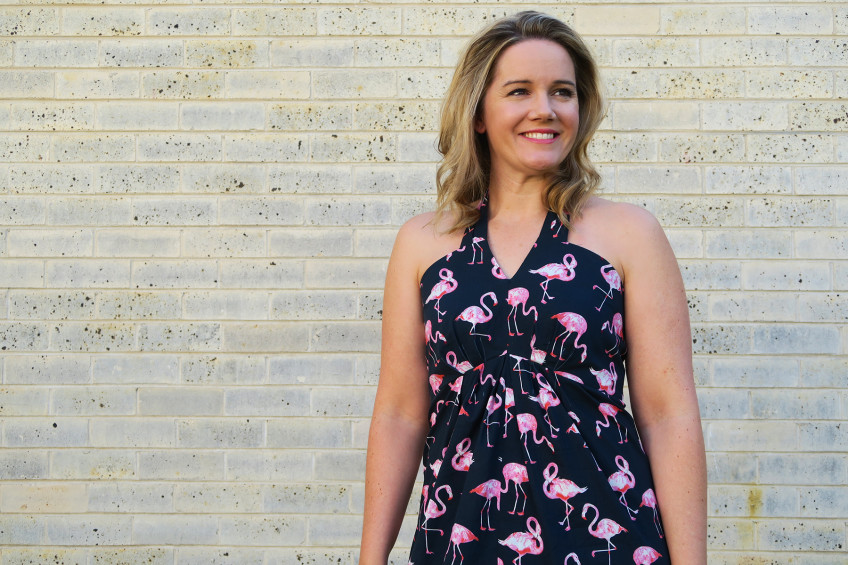 What is one to do when your uni lecture is so boring you might actually pass out? Write a blog post instead! I had hoped that my last semester of uni would be better than earlier semesters. But alas, this one appears to be heading down the same path, into boring town. I'm feeling pretty confident that I will learn nothing more than what I already know, and I say this as someone who knows I have a lot to still learn. So I'll be getting through my 3 hours of Monday evening class by a little blogging and a touch of life admin.
I think it has taken me about 10 years to make this dress. I don't know what the exact date of this pattern is, but it has been in my stash for a LONG time. No one can accuse me of never using my patterns, I get to them eventually. It is out of print, and I'm guessing it has been for quite a while. The pattern is Simplicity 1659, and I made version B.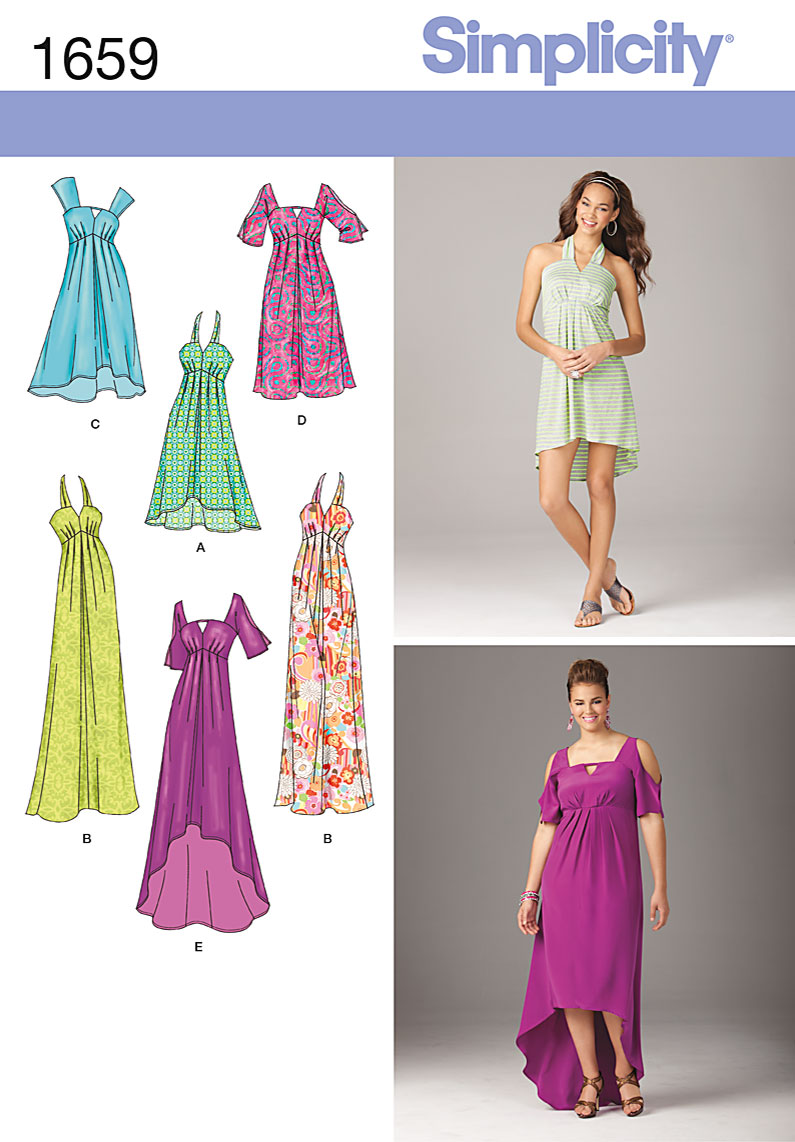 I made this dress up in a cotton voile I picked up a few months back from Spotlight. I made another summer dress with Spotlight cotton voile a few months back which I have gotten a lot of wear from (see here) so I figured I ought to make another one. The fabric is great quality, nice and light but not too sheer to wear. I was a bit concerned that the flamingo print would be a bit too full on, but I went with it anyway, because flamingos! I made sure I pre-washed the fabric beforehand because cotton like this is always going to shrink a little.
I cut out the pattern in a size 12 and graded out to a size 14 from the waist down because I wanted it nice and loose. There are quite a few pleats on this dress, and you can see how I mark those up in the pictures. I took photos of this dress pretty soon after making it so my crayon marks for the pleats still show in the photos - d'oh! I think I've probably gone through about 20 packets of Clover washable markers in my time. I use them so often in my sewing and quilting and they wash off with no problems. They are one of my favourite things.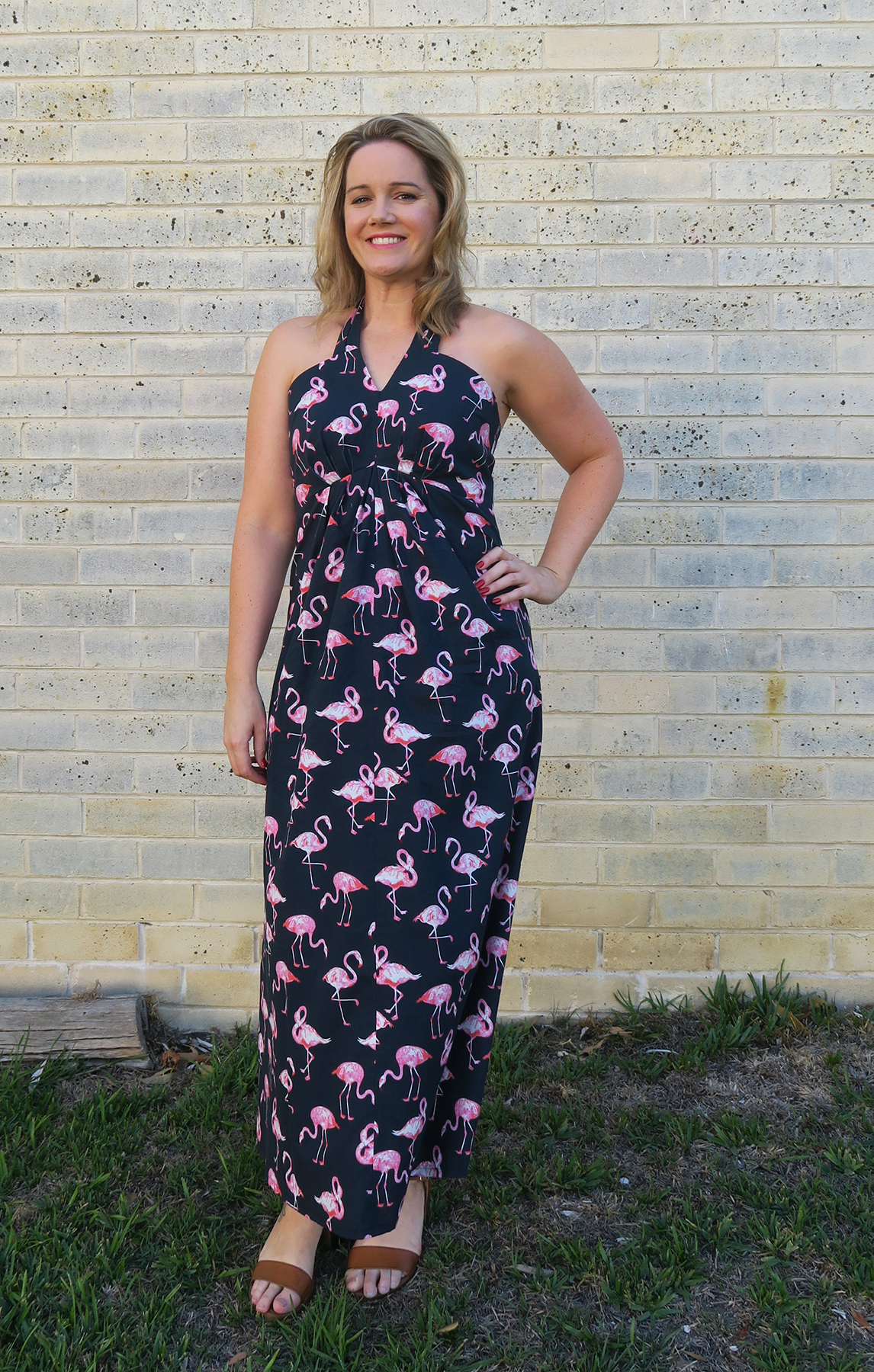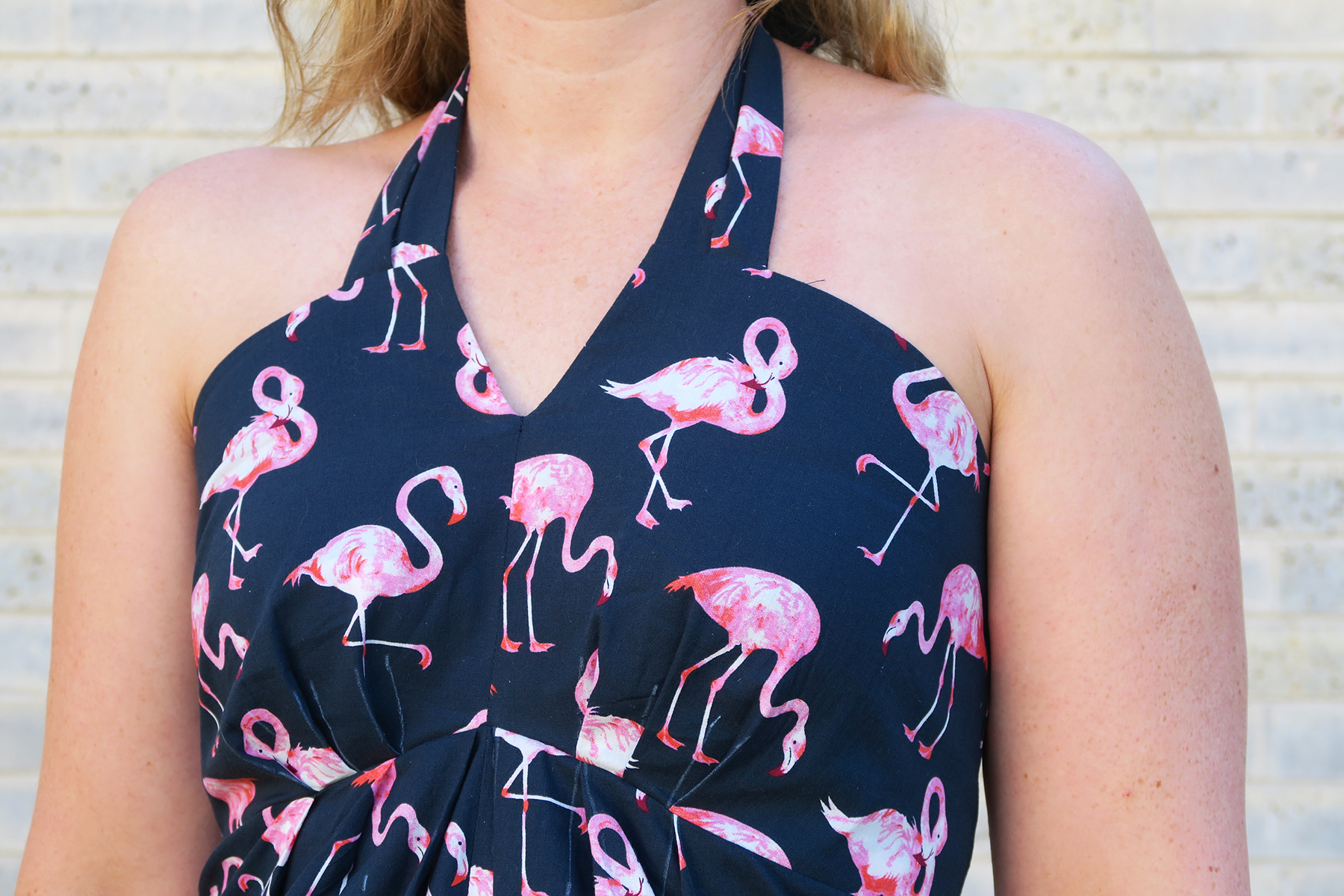 There weren't many alternations made to this dress. I took it in a little at the bodice sides to ensure it was snug enough to not fall down at all given halter neck styles can do that a bit at the back. But I made it loose enough that I don't look squeezed into it. I did cut it out for full length dress but I ended up cut about 4 inches off it so I can wear it just above the ankles when wearing flat.s I'm experimenting a ot more now with skirt lengths. Going longer, not shorter that is. I love mid-calf length. Not sure it is the most flattering length for me, but I feel most comfortable in it.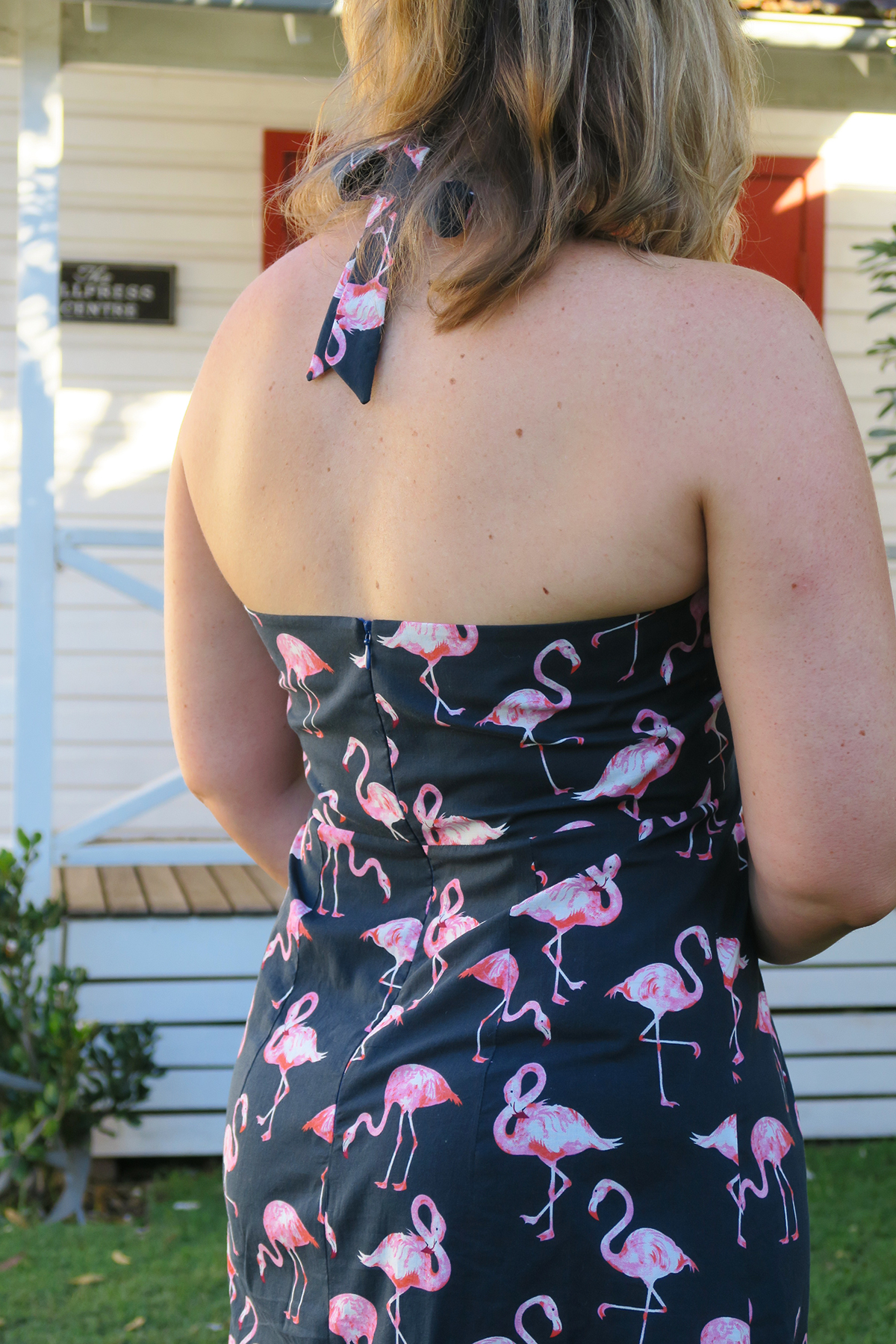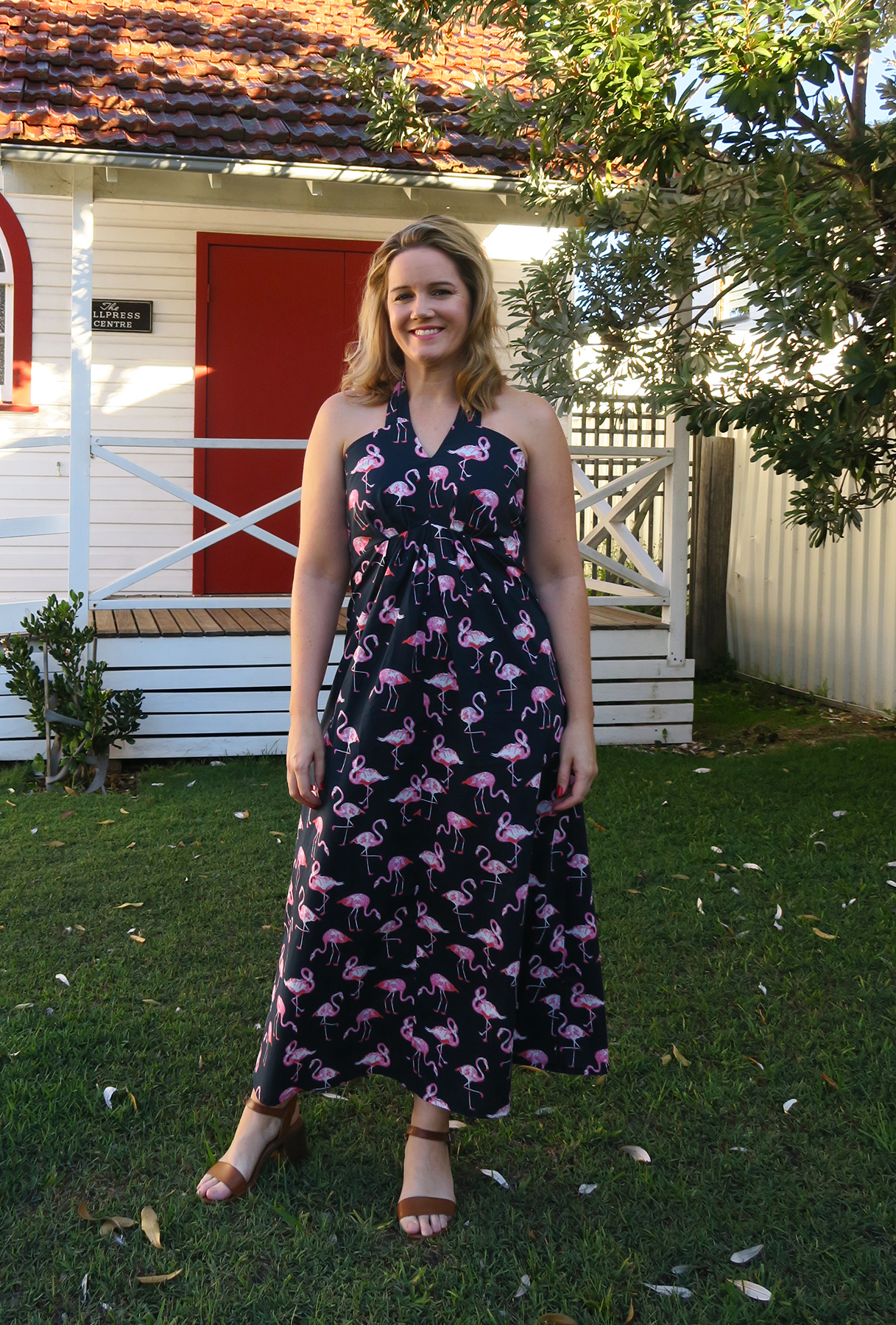 I finished the dress off with an invisible zipper down the back in a not-so-matching colour from my stash. Thankfully it's pretty hidden with the fabric print. I didn't really enjoy the construction process with this dress. I don't blame the dress or the fabric, I think I just didn't have a lot of sewjo happening at the time. But after finishing it and trying it on, I'm happy with how it turned out. I love when my low expectations are exceeded when sewing. Because the opposite is the worst! Till next time, happy sewing. :)