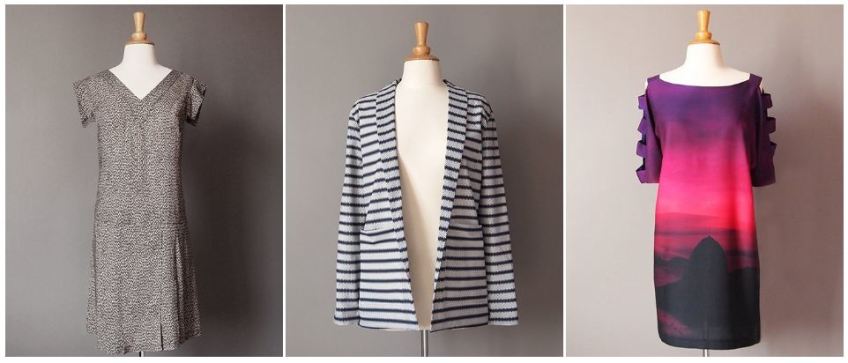 About 9 months ago I wrote a blog post about the increasing number of indie sewing pattern designers out there in the big wide world. Well the number of pattern designers out there continues to grow…plus, I think I also just continue to stumble across more of them too. So in light of that, I thought it time to present Part 2 of the post and let you in on some more designers to think about adding to your pattern stash. Admittedly, I haven't had the chance to try all of these designers out yet. I own most of their patterns but they are still on the sewing to do list, so I'd be keen to hear from you how you find them. So here's the next list of designers to check out –
Closet Case file
Closet Case Files is the work of Montreal local Heather Lou. A blogger turned designer – my favourite kind! I first stumbled across Closet Case Files after seeing gorgeous vintage style swimsuits popping up all over the web. Heather created the Bombshell Swimsuit pattern and it looks great. I'm yet to make it up but I did buy the fabric for it the other week, so once we get through Winter here I will be giving it a go. Heather also recently released the Nettie dress and bodysuit pattern. It is a great wardrobe staple and I've seen so many of these looking fabulous. Heather's website has two detailed sew-alongs for the patterns, so there's no excuse to get involved!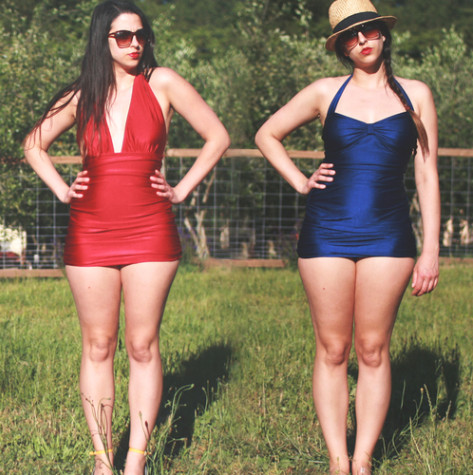 Measure Twice, Cut Once
Sydneysider Susan is the designer behind Measure Twice Cut Once patterns. The lovely Susan who I have had the pleasure to meet a couple of times started releasing her patterns only this year and if you have making knickers (and who wouldn't?) on your list, head to her website stat. Susan released a gorgeous range of knicker patterns early this year bound to appeal to all butts! I bought the Charlotte knicker pattern and plan to make up a couple of pairs in Liberty print. Susan has a great sew-along for the knickers too, making the task of sewing underwear fail safe. Hot off the press this month also, Susan has released the first item of the basics collection – a racer back singlet top. The perfect pattern to kick start more sewing comfort clothing. We can't always swan about in fancy dresses….sometimes a girl just wants to be lazy on the couch? Am I right!?
Christine Hayes
When someone describes their sewing aesthetic as 'vintage inspired sewing for the modern seamstress' it's pretty safe to say I am going to be all over it like white on rice. Christine is a LA based pattern designer who launched her sewing patterns in 2012. I first came across Christine's patterns when I read about the Sassy Librarian Blouse class you could do on Craftsy. I did the class about 6 months ago and I thought it was great. I sewed up the blouse in Liberty print and it looks super. I will blog about it soon. The other pattern of Christine's I see a lot in the world wide web and one that is great for a bit of pattern hacking, is the Emery dress. It definitely has the vintage aesthetic Christine promises and you can play around a bit with mix and matching bodices and skirt bottoms and choose sleeves or sleeveless. I bought some great vintage looking atomic print material to make up one of these, can't wait!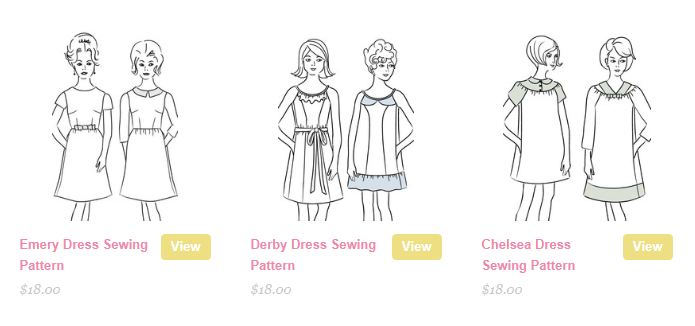 Tessuti
Tessuti is a fabric store in Australia that has shops in Sydney & Melbourne. Tessuti is the place to go for quality fabrics imported from Italy and ex-designer fabric from Aussie designers. They have a great online store so you can peruse the store from the comfort of your couch. Tessuti started designing and selling their own patterns in the last couple of years and they continue to grow their range. Tessuti patterns are great for their simple and stylish aesthetic which is great for wardrobe staples. Their patterns are really reasonable priced and can all be downloaded. I love the Suzy relaxed pant pattern and I recently bought up the Tokyo jacket pattern to make a loose jacket to wear at a upcoming Speakeasy Ball. I bought some black velvet silk to channel my inner flapper!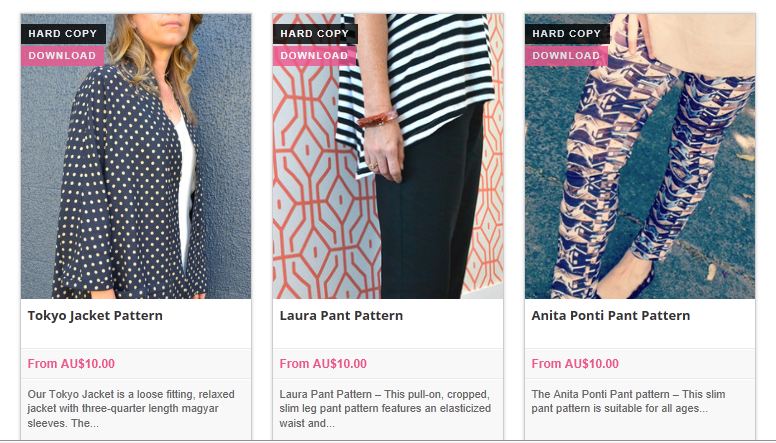 Sew Over It
Taking a trip to UK now and the patterns by designer Lisa Comfort. Lisa owns a sewing café in Clapham which I would love to visit when I can get back to the UK. Lisa's designs are beautiful and certainly caught my eye. I have seen the classic Betty dress pattern sewn up and blogged about a number of times and it looks fantastic. Lisa recently released a trouser pattern which I plan on giving a go soon as I avoid pants patterns like the plague. I think I have decided they will be hard to make or just look terrible due to poor fit. The Ultimate Wrap dress pattern also looks like it could be a winner.

Republique du Chiffon
This designer is one very new to me and I've only seen a couple of dresses sewn up from the range but they are different to anything I have seen and that's exactly why I think they are worth checking out. The label stems from France so if you like a challenge, buy a French pattern. From reading blogs from English speaking countries it sounds like you can get to work on these patterns by following the illustrations alone and relying on your own knowledge of sewing together outfits to figure out the steps. Failing that, you can always Google what some French sewing terms mean to keep you on track. My favourite pattern is the Monique dress/top. I think it rocks an 80's vibe but with the right fabric it can look fresh and not dated. Look forward to seeing more from this designer.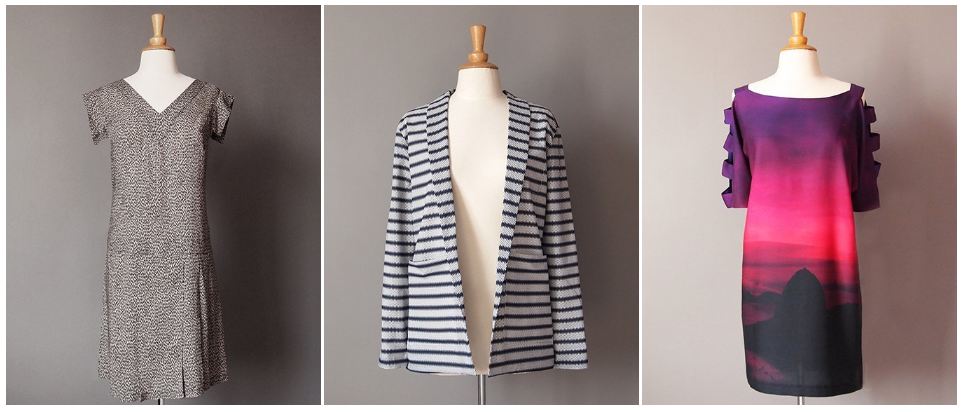 Named
Named sewing patterns hail from Finland and are created by sisters Saara and Laura Huhta. The designs have that Scandinavian clean simple look and look like they would be great for basics. I haven't had the chance to try out their patterns yet but have been eyeing them for a while Anyone tried them yet? They have a some great looking blouse styles that would be perfect for work wear. Hopefully I'll get onto trying them before the year finishes!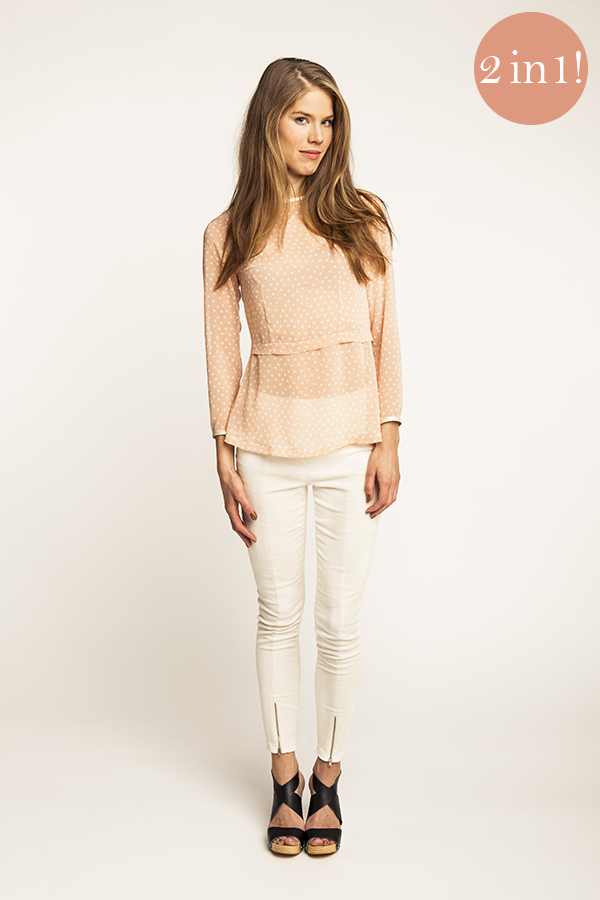 Well that's my latest wrap up of Indie patterns. This is by no means an exhausted list, because there are just so many. I predict a Part 3 blog post in 6 months' time. J