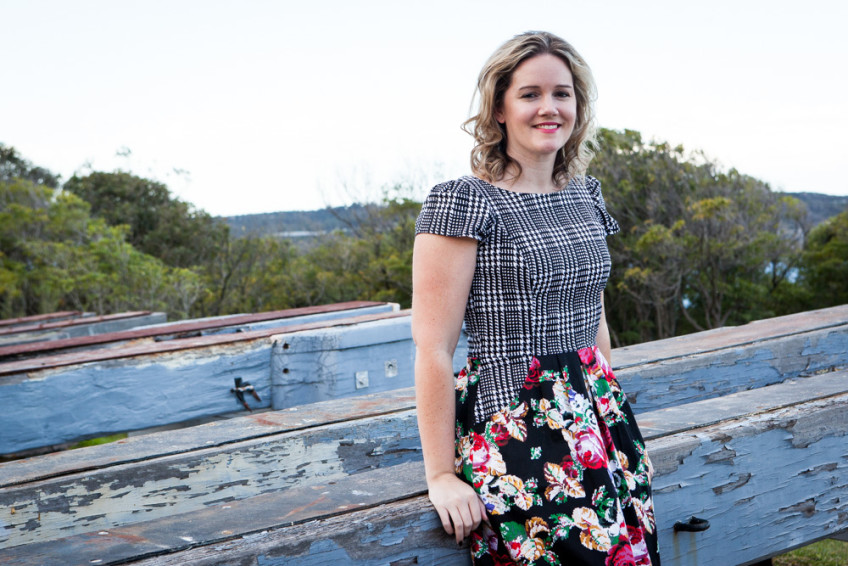 It's the end of the working week and thanks to a Bank Holiday Monday it has been a quick week. I think the Bank holiday is a bit of a double edged sword for me. I love the day off but in loving the day off it also reminds me how great it would be to go part time and have more time to devote to my craft pursuits. I guess I will just have to rely on holidays! I think the day dreaming about going part time has also increased this past week as I currently face a sewing overload at the moment. I don't know if you have any of those weeks/months in which you literally feel like you may actually end up entombed in your flat by half-finished sewing projects and a fear of not delivering on promises you made to friends and family – 'sure I can sew that up for you' x 5. I have got myself signed up to too many projects at the moment and need to go hammer and tongs over the next month to get everything done. This is pretty much typical of me, as I think I feel this sense of being overwhelmed by projects about 2-3 times a year. Once the hump is over I will end up taking about two weeks away from the sewing machine in recovery mode.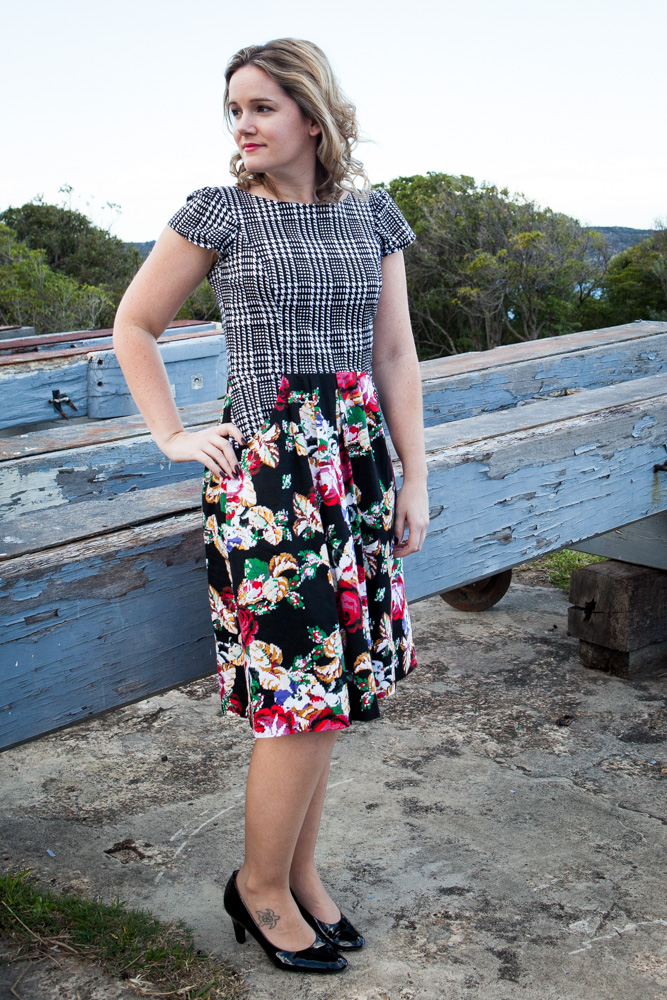 It was time to add to the work wardrobe again, especially in light of Winter as I was ill prepared. I have a rather dull work wardrobe and basically wear the same stuff over a two week cycle. It's the only part of my overall wardrobe in which I have to throw things out because they actually get worn enough they start to look saggy where it shouldn't and grey when it should be black. I watch Suits and all the ridiculous lush outfits the women swan about in on the show and wish my wardrobe came even close. I'm sure it could if I had the pocket money to buy Victoria Beckham sheath dresses.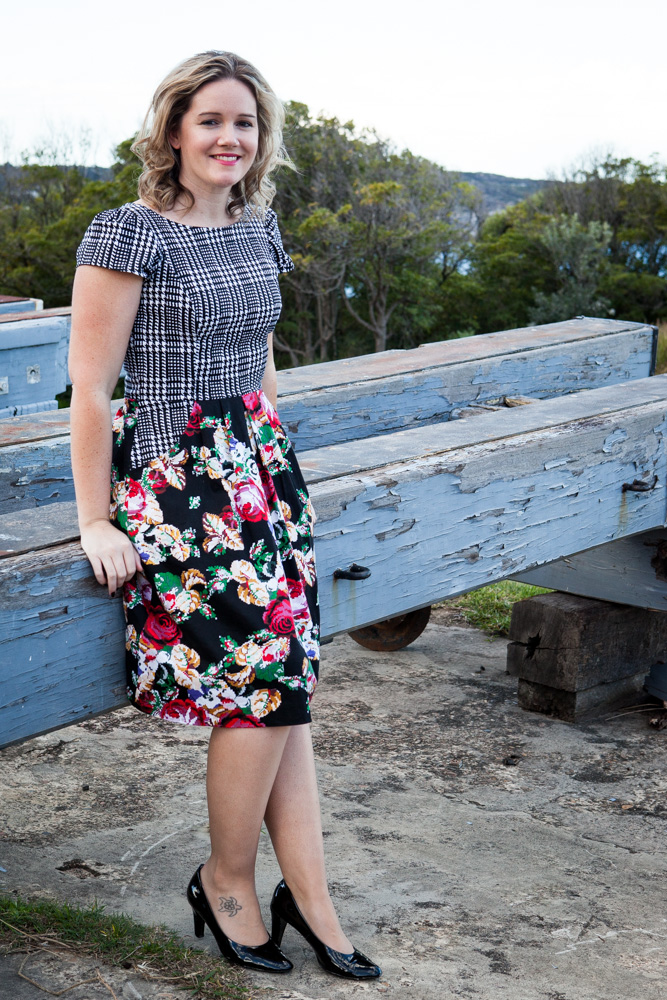 Instead I opted for a dress (read: easier to chuck on than sorting out top and bottom combos) in darker colours for Winter in an easy to sew and wash stretch cotton. Did I say forgiving also? I went to my trusty ever building Simplicity pattern stash for one of their Project Runway patterns –Simplicity 1610. There's a few options for style with the pattern including a great halter neck version but I decided to stick with the gathered sleeves. I love these types of sleeves as I prefer some sort of sleeve in a work dress and these ones are great if you are worried about tight fitting sleeves. I find a lot of the sewing patterns make the arms too tight for my build so I have to size up the arms but thankfully not in this pattern.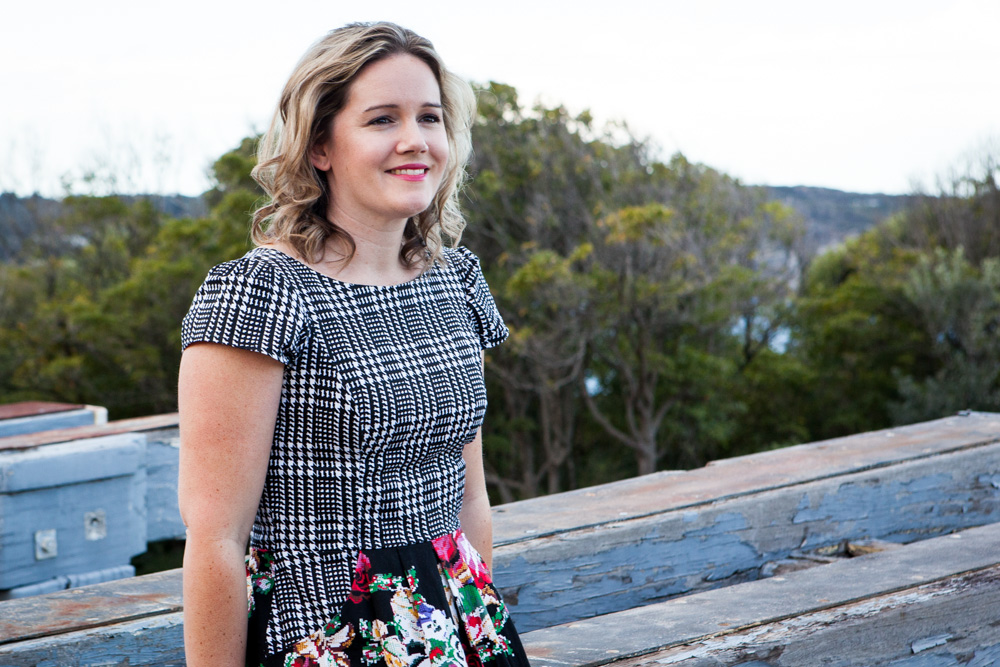 This pattern has great visible pockets and I wanted to show that off a little so I did a bit of fabric pattern mixing with the bodice and skirt bottom. I picked up two stretch cottons from my local Spotlight store and used the houndstooth print on the bodice and pockets, and a rose print on the skirt. I think they match in a not matching kind of way! I cut it out in a size 10 as I wanted the dress pretty fitted given I was making it out of a stretch cotton. I find most stretch cottons have quite a bit of lycra in them and it's not a fabric that works well in loose fitted styles. This dress came together really well and I would recommend for a lot of body shapes. I lined it in the same stretch cotton I used for the bodice and then popped an invisible zipper down the back to finish it off. It does have a v neck back but it isn't low enough to worry about your bra showing. My only fail moment is that I forgot about matching the print pattern on the bodice pieces. It wasn't until I almost finishng sewing up the bodice that I noticed the bodice front pieces have mismatched pattern. I'm hoping its not really noticeable enough. By sheer luck the bodice back matches. Gotta love an accidental win.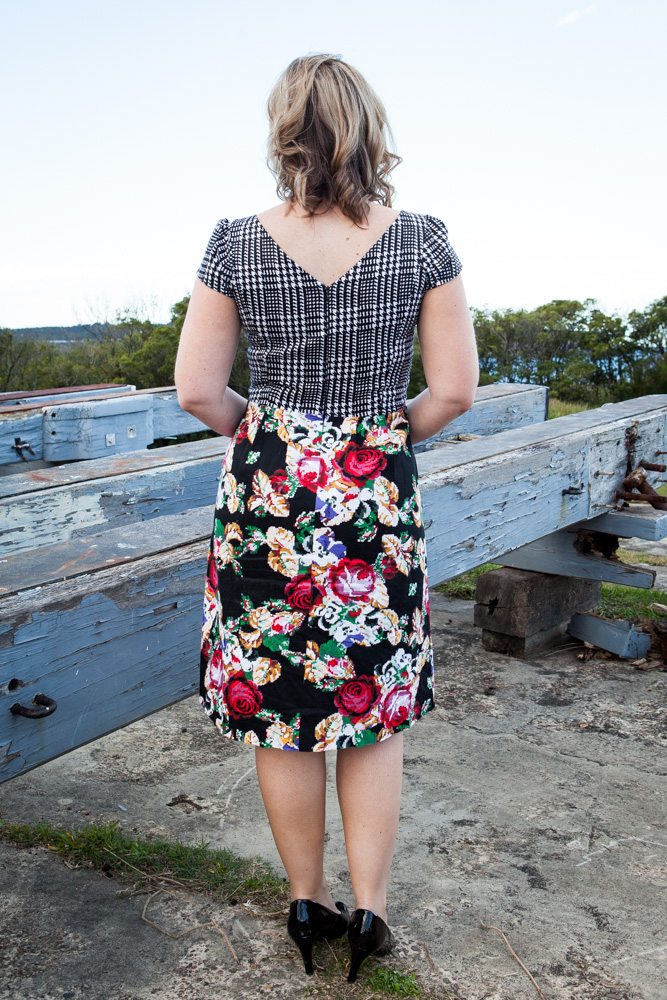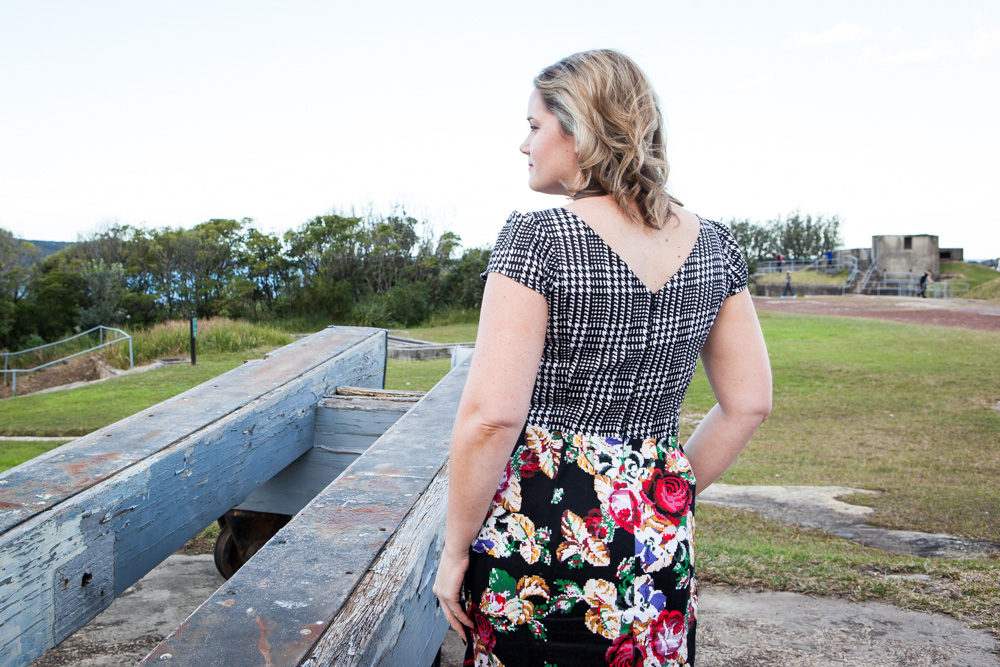 When I first wore the dress it felt like the sleeves were a bit sticky-outy because the armhole scye on the front of the bodice sits closer into the body than a normal armhole scye which is normally flush but I don't think it looks funny, I actually really like it. It's not only a few weeks before Spring - bring on Spring/Summer sewing!